Carmarthen Harriers were pleased to announce in 2020 that the NEW Club Kit supplied by Joma were available to order at any time of year online.
The "Total Team Wear" website has a Carmarthen Harriers page where you can order whenever you want throughout the year.
Training tops, joggers and kit bag are available just to name a few and have proved popular so far with athletes, volunteers and parents alike.
Great news - we have added new kit for sale in April including jackets, shorts and rucksacks.
Get your orders in for club kit now!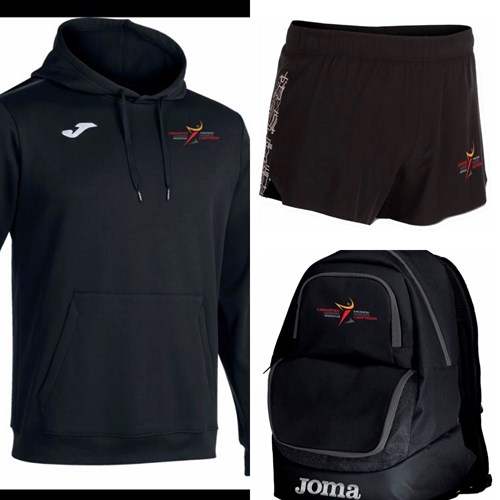 Here's the full kit list that we are currently offering (black and white and colour), all kit can include athletes' initials (optional):
CARMARTHEN HARRIERS TECH TEE
CARMARTHEN HARRIERS WOMEN'S TEE
CARMARTHEN HARRIERS TRAINING TOP
CARMARTHEN HARRIERS WOMEN'S TRAINING TOP
CARMARTHEN HARRIERS HOODED JACKET
CARMARTHEN HARRIERS WOMEN'S HOODED JACKET
CARMARTHEN HARRIERS SKINNY PANT
CARMARTHEN HARRIERS FEMALE SKINNY PANT
NEW: CARMARTHEN HARRIERS UNISEX TRACK TRAINING RUNNING SHORTS
NEW: CARMARTHEN HARRIERS UNISEX TRACK/TRAINING RUNNING SHORTS
NEW: CARMARTHEN HARRIERS FEMALE TRAINING LEGGINS
NEW: CARMARTHEN HARRIERS FEMALE 3/4 TRAINING LEGGINS
NEW: CARMARTHEN HARRIERS UNISEX OVERHEAD HOODIE
NEW: CARMARTHEN HARRIERS UNISEX FULL ZIP HOODED JACKET
CARMARTHEN HARRIERS SHOEBAG
CARMARTHEN HARRIERS RUCKSACK