Swansea University Athletics Track welcomed almost 100 endurance athletes to the third fixture of the MDAL / Welsh Milers Endurance Open Meeting on Wednesday evening (31st July) on another sunny evening. The conditions near Swansea Bay were ideal for distance running and for running quick times.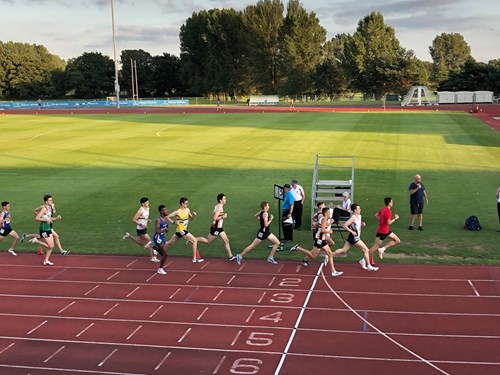 Having been to Cwmbran for the first two in May, the series moved down to West Wales and there was a good representation in attendance from the region.
Beginning the programme of events on Wednesday night was a come and try 1 mile walk equalling four laps of the track. One of the entries was Commonwealth Bronze Medalist Bethan Davies where the crowd could get a glimpse of her in action. The Cardiff athlete clocked 6:48.02 in Swansea.
Following the walk were seven heats of the 800m followed by a 3000m race and finishing off shortly after 8pm by two heats over the distance of 1500m. Over half of the athletes present either came away with a new personal best or season best, which is what the event is all about! All distance events included a pace maker who ran alongside the athletes to help them achieve new goals.
Nine Carmarthen Harriers travelled the midweek the journey to Swansea to take part with more than half achieving a new personal best; whilst Frank Morgan improved his club record performance in the under 15 boys 1500m. It was a great effort by all nine, running with athletes in various age groups.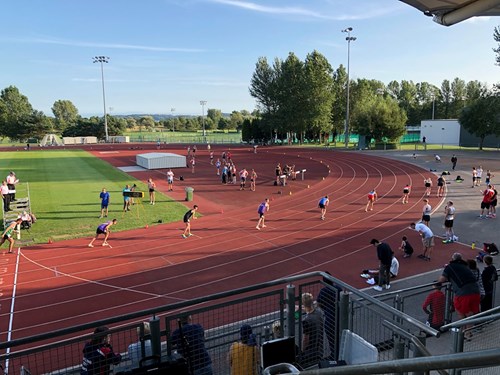 RESULTS/CANLYNIADAU:
Dafydd Jones (800m) 2:00.04 PB
Liam Edwards (800m) 2:00.24 PB
Rogan Cox (800m) 2:40.96
Frank Morgan (1500m) 4:10.38 PB & Club Record
Tomos Rees (1500m) 4:25.02
Iwan Thomas (1500m) 4:52.56 PB
Jake Lynock (1500m) 5:04.37 PB
Amy Greatrick (1500m) 5:17.83 PB
Frances Mackie (1500m) 5:35.00
The final event of the 2019 summer season will be at Newport Stadium on Wednesday 14th August.