We look back at last year's SIAB Schools Track & Field Athletics International hosted by Welsh Schools at Swansea University Athletics Track. This year's International was scheduled to take place in Derby, England this weekend (Saturday 18th July).
Wales, England, Scotland and Ireland Schools were set to compete at the 2020 event in mid-July, which was cancelled because of COVID-19 and will return in 2021.
______________________________________________________________
Swansea - Abertawe 20/07/19 - Hosted by Welsh Schools
A team of seventy young Welsh Schools athletes did not have to travel as far as they did in 2018 for the traditional showpiece event of the Schools Track & Field calendar. Hosted here in Wales last year, all roads led to the Swansea University Sports Village on Saturday 20th July 2019 and welcomed athletes, officials, coaches, team managers and spectators from the Wales, England, Ireland and Scotland nations.
Looking to take advantage on home turf in front of a very loud vocal crowd that were in attendance, Selectors had chosen a team of 75 athletes (38 boys and 37 girls) from across Wales. The majority shone at the Welsh Schools National Track & Field Championships in Cardiff earlier in the month, where the middle champions were automatically selected a fortnight ago.
The majority of athletes selected were from the Middle age grouping (years 10 & 11 in under 17 category) with a handful of outstanding juniors (under 15s) given the opportunity to gain experience of this level of competition for the first time.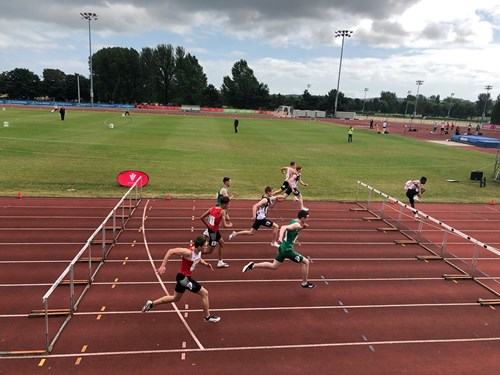 The team made up of 57 South Wales athletes and joined by 18 from Mid Wales and the North met up at Swansea University Singleton Campus on Friday Evening. This was for the pre-event dinner and the team meeting with an overnight stay at the nearby Singleton and Bay Campuses before battle commenced on Saturday morning 20th from 10:30am. The Hammer field discipline for girls got it all started after the traditional photographs were taken.
It turned out to be a very high standard of competition with a large number of champions from their respective country in attendance. Two championship best performances were broken for example and saw records go in the girls' hammer and shot put.
In 2019, Welsh Schools surpassed its total of seven at Grangemouth and in Swansea, picked up 5 silver and 6 bronze medals - making a total of eight individual medals and three sets of awards picked up in the boys and girls relay. In addition, there were several new personal bests recorded, sixteen in total and nine close fourth places. Welsh Schools medallists were as follows:
Silver: Macey Morris (U17G 300m Hurdles 44.13)
Silver: Harry Davies (U17B Discus 51.77m)
Silver: Osian Perrin (U17B 3000m 8.23.64)
Silver: Bree Cronin (U17G Discus 40.91m)
Silver: U17G 4 x 300m (Macey Morris, Alaw Evans, Ela Oliver & Sacha Didcote 2.46.01)
Bronze: Samia Jones (U17G 1500m 3.35.56)
Bronze: Ben Reynolds (U17B 1500m 3.56.39)
Bronze: Dafydd Jones (U17B 1500m Steeplechase 4.34.15)
Bronze: Sioned Cordiner (U17G 1500m Steeplechase 5.11.69)
Bronze: U17B 4 x 100m (Tyree Thompson, Thomas Payne, Shay Hardman & Zak Wall 42.56)
Bronze: U17B 4 x 400m (Iwan Glynn, Joseph Reynolds, Ben Hillman & Charlie Holland 3.26.50)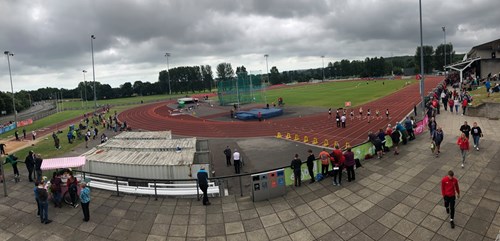 Each of the four countries awarded the best girl and best boy a Meritorious Award for "Best Performance" over the course of the day, with this decision made by the team management of England, Ireland, Scotland and Wales. Picking up the honours for Welsh Schools were Macey Morris (Girls) for her silver medal performance in the 300m Hurdles whilst in the boys, it went to Menai's Osian Perrin who broke the Welsh under 17 3,000m record as a result..
It was the perfect opportunity for Welsh youngsters, in particular those making their debut in a Welsh vest, to test themselves against the best at this top level and compete against athletes they would have not come across before in league fixtures.
It wasn't all about on the track but also off it - it was great to see all the athletes from different clubs across Wales making new friendships and supporting one another. Great team spirit was also clear to see at the end of competition, where all the nations came together to form one big picture at the finish line.
This was a team competition with four countries competing against each other - Welsh Schools, English Schools, Irish Schools and Scottish Schools. Medals were presented in the centre of the track to the top three and presented by members of Welsh Schools and the SIAB International Athletic Board.
Once again, the English Schools and Irish Schools teams proved very strong with the white vests of England coming out on top as they did on the last two occasions at Dublin and Grangemouth. Irish Schools were runners-up for the third time running with Scottish Schools' long journey rewarded in third. Welsh Schools' team enjoyed success and good performances across the board as the they finished in fourth spot.
The athletes were supported by the management team of eight alongside Team Leader Zane Maynard. With experience at the event and a wealth of experience across all of the disciplines, the Welsh Schools management team were Dai Williams, Peter Walton, Matthew Collins, John Messum, Joan Goldsmith, Delyth Brown, Naomi Davies and Lucy Griffiths.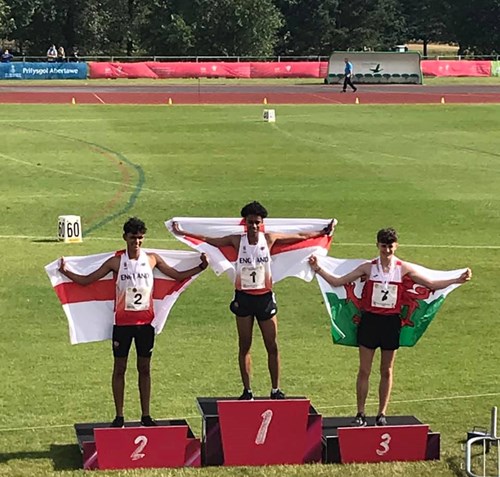 Fifteen Dyfed Schools Athletes join up with Welsh Country Teammates
Six club athletes from Carmarthen Harriers who were part of the 2019 squad were joined by another nine athletes from the Dyfed District. This included six Pembrokeshire Harriers and one Llanelli AC. Each one excelled as they ran, threw and jumped against high quality opposition.
LILI CHURCH - ABERAERON
JESSICA LEE - DYFFRYN TAF
BECA ROBERTS - BRO PEDR
NIA WILLIAMS - BRO DINEFWR
IWAN GLYNN - BRO MYRDDIN
DAFYDD JONES - BRO MYRDDIN
Dyfed Athletes also in International Action: Ella Wintle - Y Preseli; Joseph Reynolds - Milford Haven; Adam Beer - Glan Y Mor; Kasia Cook - Llandovery College; Tyree Thompson - Haverfordwest High; Meirion Lloyd - Bro Pedr; Harry Davies - St Michaels; Michael Jenkins - Y Preseli; Dylan Phillips - Bro Gwaun