Carmarthen and District Harriers Athletics Club look forward to welcoming athletes, clubs, spectators, coaches and officials to the third fixture 2021/2022 JOHN H COLLINS GWENT CROSS COUNTRY LEAGUE of the season which will be held THIS WEEKEND (SATURDAY 4TH December 2021) in West Wales.
VENUE/LLEOLIAD: Pembrey Country Park, Llanelli, Carmarthenshire, POSTCODE SA16 0EJ
This will be the fifth time that the league has visited the park located between Burry Port and Kidwelly having taken place here in 2016, 2017, 2018 and 2019. The Club are grateful for the support offered by Pembrey Country Park / Carmarthenshire County Council in hosting this event in their Park.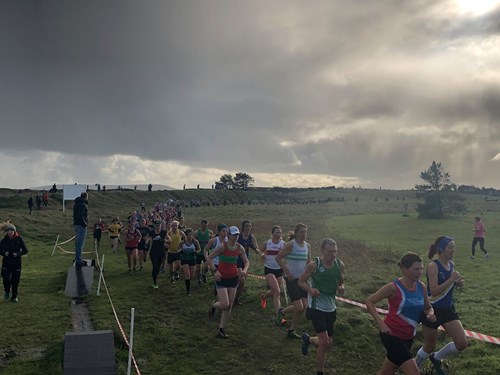 The park provides a stunning backdrop for this event. It has been transferred into one of Wales' top visitor attractions providing an unique blend of coast and countryside, with eight-miles of golden sands and comprises acres of grassland and woodland adjacent to Cefn Sidan Beach. Also there's a spectacular backdrop of the Gower overlooking the coastal scenery of Carmarthen Bay.
Pembrey Country Park are used to hosting big running and cycling events by now. Events staged here include the Welsh Athletics Cross Country Championships, Welsh Athletics Road Relays Championships, John H Collins Gwent Cross Country League and the Llanelli Secondary Schools Area Cross Country.
The 2021/2022 John H Collins Gwent Cross Country League season began at Llandaff Fields in Cardiff on 16th October in conjunction with the first British Athletics Cross Challenge Series followed by the last event on 14th November in Mid Wales at Parc de Pugh in Brecon.
The "John Collins Gwent Cross Country League" formed in 1963 has now been going strong for numerous years and is one of the best grassroots leagues around, attracting athletes - juniors and seniors - from more than fifty clubs across South Wales and the South West of England.
For many Welsh based endurance athletes, this will be the second visit to Pembrey in just over two months, after the Welsh Athletics Road Relay Championships returned to the National Closed Cycling Circuit last September.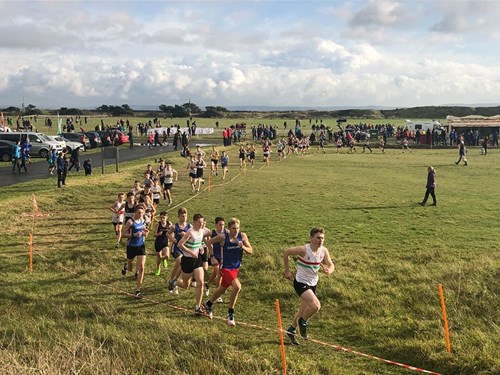 Competitors of all ages and abilities will be travelling from all over Mid and South Wales and the South West of England to Pembrey on race day...from areas such as Pembrokeshire, Swansea, Bridgend, Cardiff, Newport and Brecon to across the bridge from Bristol and further afield.
The course is a mixture of flat parkland, forest trails, man-made hills and a little bit of sand! It has been designed to be accessible for all runners of all speeds and abilities.
The West Wales Cross Country Championships will be held on home turf at Pembrey. Medals will be awarded to the top 3 West Wales eligible runners in some junior races - U11, U13 and U15 at the finish line on the day.
This year, medals will not just be awarded to the top 3 in the seniors/masters regardless of age group, but to the top 3 Men & Women in all the Seniors, Masters 35-44, Masters 45-54, Masters 55-64 & Masters 65+ categories. With the challenge of identifying the correct athletes in the mixed under 17 and 20 and mixed senior/master races at the finish line, these medals will be distributed by post/hand once full results have been published and ratified by the league.
The 2021/2022 John H Collins Gwent Cross Country League programme, after Pembrey is set to head in the New Year to Blaise Castle in Bristol on February 19th before a grand finale to the league at Singleton Park in Swansea next to the Mumbles seafront on March 19th.
EVENT INFORMATION (WHAT YOU NEED TO KNOW) / GWYBODAETH Y DIGWYDDIAD (BETH SYDD ANGEN GWYBOD) - 04/12/21
Where is Pembrey / Ble mae Pen-bre?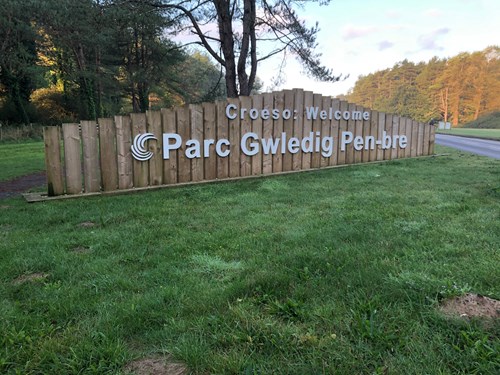 Pembrey Country Park has excellent road communications. Situated just off the main A484 road between Carmarthen and Llanelli (Burry Port to Kidwelly road). The M4 junction 49 (follow the Brown directional signs) is just a short hop to the East of Llanelli (approx 30 minutes away) and the A40 covers the approach West and North of Carmarthen.
The post code is SA16 0EJ
Approximately: travel time from selected destinations to event location SA16 0EJ:
Swansea / Abertawe - Approximately 45 minutes
Pembrokeshire / Sir Benfro - Approximately 1 hour
Bridgend / Penybont - Approximately 1 hour
Cardiff / Caerdydd - Approximately 1 hour 20 minutes
Brecon / Aberhonddu - Approximately 1 hour 30 minutes
Newport / Casnewydd - Approximately 1 hour 40 minutes
Bristol / Briste - Approximately 2 hours
Entry to the Park / Mynediad i mewn i'r parc
Pembrey Country Park has a barrier system in place where there is a Vehicle Number Plate Registration (ANPR) system. On arrival:
Drive up to barrier which will open automatically. If it does not open press for a ticket and barrier will open.
Payments must be made before leaving at any of the 3 pay stations situated at: Beach Entrance, Ski & Activity Centre & Log Cabin near the entrance before you exit the park.
There are no pay stations at the exit barrier.
Car Parking charges will be in operation and are £3.50 for all day and £3.00 for no more than 2 hours. All Pay Stations are clearly marked and will accept card, contactless and cash payments.
You can pre-pay you're parking online before arriving at the park (this must be 90mins or more before entering)
Event Car & Coach Parking / Maes Parcio Y Digwyddiad
When you enter the Park you should follow the signs to the designated Gwent League car parks. These are clearly signed in the Park and cater for over 1,000 cars. The course map shows where the car parks are in relation to the course.
Several parking areas will be available by the beach side of the park, a short walk from the course
Limited parking will be available at Archery Field by the National Closed Road Circuit, a short walk from the course
Please do not park at the Ski Centre
Race Details for Athletes / Gwybodaeth i athletwyr
Please plan your journey in advance and aim to arrive at the venue at least 1 hour before your event start time. This is to ensure that you have left plenty of time to park up, walk the course and warm up! £1 juniors and £4 seniors is payable to your club team manager.
Team managers/Parents should ensure that runners are close to the start line 10 minutes before scheduled start time on the event timetable. The starter and their assistant will give final instructions before the race which will be started by a gun.
Athletes will not be required to wear a race number for this event unless competing for a non affiliated club in the West Wales championships.
At the finish line/funnel, each athlete will be issued with a disc each showing their finishing position. Then, athletes need to find their club team manager near the finish area to pass the disc on that it is recorded on the envelope for official results (position, first name and surname)
Race Details for Team Managers / Gwybodaeth i rheolwyr
On arrival at the venue, please make your way to registration at the marquee to give your age group declaration forms in and to collect the envelopes that you can put all the discs in at the finish line. Blank declaration forms and declaration instructions are available here.
Team Managers to collect all the discs from your athletes at the end of all races as they finish and record in finishing order on the envelope (noting the age group and your club at the top) (position, first name and surname).
All envelopes must be dropped off in the wooden boxes that will be situated near the funnel exit to feature on the official results, one box for juniors up to under 20's and one box for seniors and masters.
Clothing / Dillad
Athletes should wear their club vest when competing.
Club Tents
There is a large space for clubs tents as marked on the course map. Located on the opposite field to the start/finish/small lap where you'll have some excellent views of the races!
Litter / Sbwriel
Please place your litter in the rubbish bins provided at the park or please take them home with you. Thank you.
First Aid / Cymorth Cyntaf
First aid services for this event will be supplied by St John's Cymru, who will be based near the start/finish and out on the course as and when required.
Refreshments & Toilets / Lluniaeth a Toiledau
There is a new restaurant (Yr Orsaf) open in the Park situated just outside the campsite serving beautiful breakfasts, lovely lunches and delicious dinners. It also has a licenced bar. There is also a small café and accessible toilets in the Ski and Activity Centre and there will be mobile catering units by the course (near the start/finish/tents area). Portaloos will also be available near the course.
Health & Safety / Iechyd a Diogelwch
Athletes are advised that Health & Safety regulations recommend that you should examine the course for potential hazards before competing. The course has been checked by the organisers and a risk assessment conducted. The Race Referee has inspected the course and declared it suitable for use.
Marshals on the course / Gwirfoddolwyr ar y cwrs
There will be volunteer marshals out on the course at all the key points. You will be able to identify them wearing yellow bibs.
Events at the park 04/12/21 - 05/12/21 / Digwyddiadau yn y parc 04/12/21 - 05/12/21: Traditional Christmas Fayre
10am - 4pm; Situated outside of the Visitor Centre & Restaurant building a selection of crafts and local produce stalls along with entertainment and The Alpaca Sanctuary.
TIMETABLE / AMSERLEN -JOHN H COLLINS GWENT CROSS COUNTRY LEAGUE FIXTURE 3 @ PEMBREY COUNTRY PARK - 04/12/21 - 10 RACES
(Small Lap) - A, B, F; (Medium Lap) - A, B, C, E, F; (Large Lap) - A, B, C, D, E, F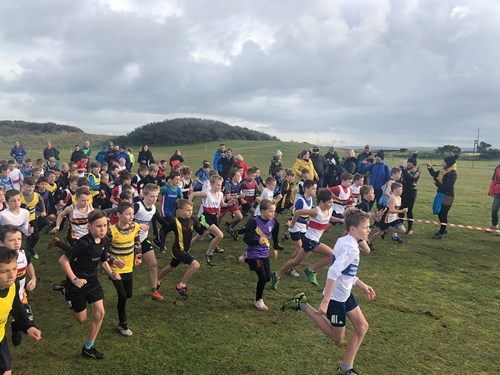 11:30 Novice Girls (Under 11 / O Dan 11) (Start, 1 small + finish 1,600m)
11:40 Novice Booys (Under 11 / O Dan 11) (Start, 1 small + finish 1,600m)
11:50 Under 13 Girls / Merched O Dan 13 (Start, 2 small + finish 3,000m)
12:05 Under 13 Boys / Bechgyn O Dan 13 (Start, 2 small + finish 3,000m)
12:20 Under 15 Girls / Merched O Dan 15 (Start, 1 medium + finish 3,700m)
12:40 Under 15 Boys / Bechgyn O Dan 15 (Start, 1 medium + finish 3,700m)
13:00 Senior Women & Master Women / Menywod (Start, 2 medium + finish 7,300m)
13:45 Under 17 & 20 Women / Merched O Dan 17 a 20 (Start, 1 large + finish 5,000m)
14:10 Under 17 & 20 Men / Bechgyn O Dan 17 a 20 (Start, 1 large + finish 5,000m)
14:35 Senior Men & Master Men / Dynion (Start, 2 large + finish 9,800m)
ONLINE & SOCIAL MEDIA COVERAGE BEFORE THE DAY, ON RACE DAY AND POST-EVENT / AR-LEIN AC AR Y CYFRYNGAU CYMDEITHASOL CYN Y DYDD, AR Y DIWRNOD AC AR OL Y DIGWYDDIAD
Follow us on our social media channels and keep up-to-date on the club website for all the latest news and fixture information ahead of event day.
There will be live updates, photos, videos and results available from Pembrey Country Park throughout the weekend/ race day on our Facebook, Twitter and Instagram pages, with videos also following on our YouTube channel after the event.
Carmarthen Harriers Athletics Club - Clwb Athletau Harriers Caerfyrddin - Facebook
@CarmsHarriers - Twitter
carmarthenharriers - Instagram
Carmarthen Harriers - YouTube Videos after the event
Get involved on Twitter... tweet us your event photos and results on social media @CarmsHarriers using the hashtag #GwentLeaguePembrey that they can be shared with all our followers!
A John H Collins Gwent League full story/results from Pembrey Country Park will be available on the website www.carmarthenharriers.co.uk when results are made available on the Monday/Tuesday.
DOWNLOAD THE COURSE MAP, TIMETABLE, RACE DAY INFORMATION / LAWRLWYTHWCH MAP Y CWRS, AMSERLEN, GWYBODAETH - 04/12/21
COURSE MAP / MAP Y CWRS - PEMBREY COUNTRY PARK
TIMETABLE / AMSERLEN - PEMBREY COUNTRY PARK
INFORMATION / GWYBODAETH - PEMBREY COUNTRY PARK
FACEBOOK EVENT PAGE / TUDALEN DIGWYDDIAD AR FACEBOOK
VENUE LOCATION / BLE MAE'R LLEOLIAD - PEMBREY COUNTRY PARK (GOOGLE MAPS)
Pembrey Country Park,
Pembrey,
Llanelli,
Carmarthenshire,
SA16 0EJ
We hope you all have a safe journey to and from Pembrey and have an ENJOYABLE DAY!! Good Luck to everyone competing on the 4th! Pob Lwc i bawb fydd yn cymryd rhan ar y 4ydd!
HOST CLUB - CARMARTHEN HARRIERS:
https://www.carmarthenharriers.co.uk/
JOHN H COLLINS GWENT CROSS COUNTRY LEAGUE:
https://www.gwent-league.org.uk/
EVENT VENUE - PEMBREY COUNTRY PARK: