Following a few weeks of indoor action at Cardiff featuring Wales' top juniors and seniors and a two-month break, the John H Collins Gwent Cross Country League was back on Saturday 8th February at the first fixture of 2020 and the fourth of the campaign.
Cardiff, Pembrey and Bristol have already hosted matches back in October, November and December, and the fourth of five rounds went to a new venue at the Chepstow Racecourse in Monmouthshire hosted by Bristol & West Athletics Club.
The course provided a different cross country challenge to other venues and described by many as tough, as runners made their way around the popular venue with the start and finish located near each other at the lower end of the route.
Over 1,000 competitors from more than 30 clubs at all corners of South Wales and the South West of England made their way to the Racecourse as the league entered the second half of the season.
The Novice Girls and Boys got the action underway shortly before lunchtime over 1,800m, and was followed by the other eight races in the under 13, under 15, combined under 17 and 20 and of course, the senior and master races which saw another bumper turnout ranging in distance from 2,600m to 9,200m.
Carmarthen Harriers Results - Round 4 of 5 in Full: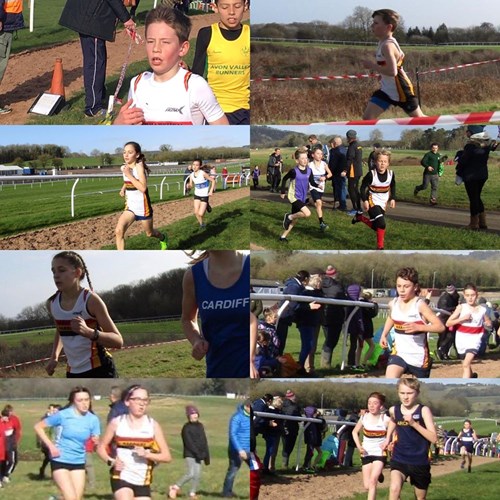 Da iawn pawb a diolch i bawb wnaeth deithio i Chepstow...Well done everyone and thanks to all those who made another long trip to Chepstow following up Bristol. There were some excellent placings and team spirit across several of the junior age groups including a trio of age group victories in the first three races and consistent results elsewhere.
Check out the 4th fixture results in full below:
Novice Boys / Bechgyn O Dan 11: 1 William Coles (6:12); 7 Jac Jones (6:39); 47 Jimmy Davis (7:30); 56 Tristan Warrender (7:40)
Novice Girls / Merched O Dan 11: 1 Amelia Williams (6:45); 8 Jessica Norman (7:17); 15 Martha Morgan (7:31); 18 Esme Lynock (7:38); 38 Gwenan Jones (8:05)
Under 13 Boys / Bechgyn O Dan 13: 1 Iwan Thomas (9:13); 6 Ifan Bowen (9:32); 10 Macsen Toogood (9:45); 19 Jake Lynock (9:59); 26 Alex Coles (10:08); 50 James Sloyan (10:55)
Under 13 Girls / Merched O Dan 13: 16 Carys Wood (10:56); 28 Ellie-May John (11:41)
Under 15 Boys / Bechgyn O Dan 15: 11 Zach Elvy (13:49); 23 Morgan Williams (14:24); 31 Jack Thomas (15:06)
Under 15 Girls / Merched O Dan 15: 13 Amy Greatrick (15:53)
Senior Women / Menywod: Kate Lynock F40 (29:56)
John H Collins Gwent Cross Country League Round 4 - Chepstow 08/02/20 RESULTS https://www.carmarthenharriers.co.uk/results/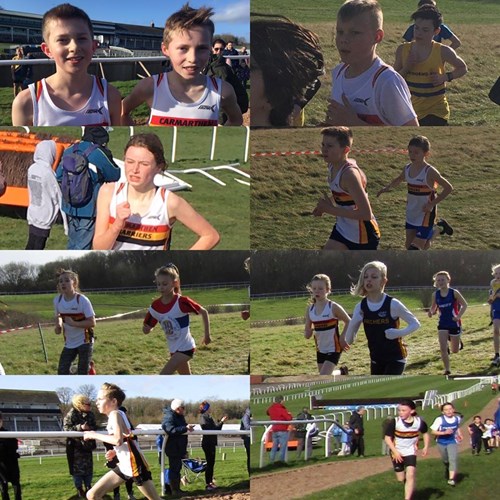 The fifth and final league match of the 2019/2020 season will be held at Singleton Park in Swansea in just three weeks' time on Sunday 1st March 2020 a short drive from the Mumbles seafront. The league will conclude here and will use an identical course to the Welsh Athletics Cross Country Championships which took place at this Swansea park for three years in 2016-2018.
The Novice Boys, Novice Girls and Under 13 Boys remain in contention to pick up some individual and team end-of-season awards at the end of that fixture.
Local Club, Carmarthen & District Harriers and Carmarthenshire County Council again worked in partnership to bring the Gwent League back to the county of Carmarthenshire which saw almost 1,450 competitors take part over the ten-race programme in round 2 on November 9th 2019.
The Risk Kitchen Llanelli Half Marathon was due to be held less than 24 hours later at Parc Y Scarlets, however this was postponed earlier on in the week due to poor weather conditions and storm warnings for Sunday 9th February. Much to the disappointment of athletes, spectators and organisers alike, the decision wasn't taken lightly and the half marathon has been re-scheduled for Sunday 8th March at 09:00 in Llanelli.
** Many thanks and a shoutout to Eliza Wood (Carys Wood's sister) for taking the photos of the Harriers in action included in this round-up! We're sure you'll see more of her work on our website and social platforms in upcoming events  **