Carmarthen and District Harriers Athletics Club held another successful Annual Club Dinner and Awards Evening for 2019 tonight in Carmarthen.
The Ivy Bush Hotel in the heart of Carmarthen Town Centre has been the host venue of the Dinner & Awards Evening for several years and on Saturday evening 12th October, we were back there again using the fantastic facilities on offer at one of the town's main hotels for the ninth year in succession.
Carmarthen Harriers were established in 1948, 71 years ago. It was when RB Evans became the Chairman between the period 1948 to 1981 before current President Dr Hedydd Davies took over from 1981 to 2018. Last year, 70 years was celebrated with a special dinner at the Ivy Bush.
In that time, the likes of Lynn Davies, Colin Jackson, Jamie Baulch, Rhys Williams, Matt Elias, Dewi Griffiths, Steve Brace, Angharad Mair, Steve Perks, JJ Williams, Mike Delaney, Lynette Harries, Hedydd Davies, Fred Bell, Roy Bergiers, Wayne Griffiths, Mike Walters, Gwynne Griffiths, Peter Hughes-Griffiths, John H Collins, Berwyn Price, Wynford Leyshon, Claire Williams, Steffan Hughes and Malcolm Arnold have all been past speakers of this annual event.
This year's gathering moved to an earlier date to previous years and also moved from a Friday to a Saturday night. The room was once again full of athletes, members, friends, parents and guests as around 160 people attended the dinner to meet and celebrate the successes of the club and its members during the year along with thanking those who work hard in front of and behind the scenes every week.
Also in attendance was Cllr Kevin Madge, the Chair of Carmarthenshire County Council.
The continued sponsorship of new sponsors Castell Howell has been gratefully recieved along with our partnership with Carmarthenshire County Council where we hope to have a new track laid in time for the 2020 track season which will provide a premium venue for the athletes to train and compete. Following the announcement at the last dinner and support of Peter Hughes Griffiths, the stand at the athletics track has been renamed in honour of the club President Dr Hedydd Davies. Thanks also to Welsh Athletics for their continued support of the club.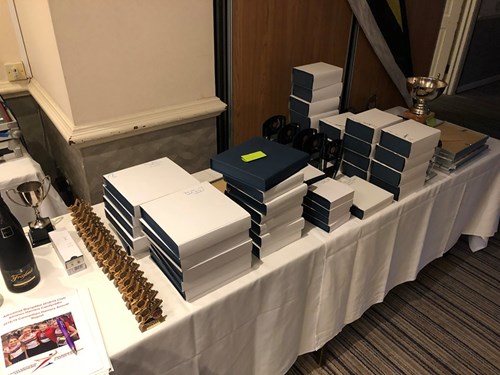 Behind the scenes, the club continued to modernise the club with this new website launched a few months ago that saw online payments trialled for the first time. We could not have done this work without the support of the Tinint team in Llanelli (Adam Edwards and Dyfed Lloyd leading the project by designing it.) A new bilingual logo and up to date club kit helps our members feel pride in the club. 
During the three-hour event, there was the chance for athletes, coaches, officials and parents alike to get together in each other's company whilst enjoying the activities on offer, including a two-course meal, awards, speakers, raffle and a lot of fun!
A copy of the Annual Report was given out on the evening including reports, results and pictures from the year's events at the end of 2018 and up to the summer of 2019 as well as club records and outstanding performances.
The club currently has real strength in depth across events with 33 individuals achieving a top 10 Welsh ranking up from 20 last year. Four of our athletes ranked in the UK's top 10. Progress and ambition in our athletes were demonstrated when 6 qualified to make the trip to compete in Bedford at the England/British championships, returning with two medals.
It has been a season of great results and performances from our youngsters and seniors in the past 12 months and these were evident in the awards. Our success has included coming second in the 2019 Welsh Junior U15 League (Louise Arthur League) in the overall and gender competition for both boys and girls.
Meanwhile, there was a third in the 2019 Gerald Codd Trophy competition, a fifth in the Welsh Athletics Junior League Cup Final and twelfth at the Welsh Athletics Senior League.
Away from the track, cross country individuals and teams have been excelling too with the under 11 boys and under 13 boys becoming John H Collins Gwent Cross Country League team champions backed up by second place for under 13 girls and third for the novice girls.
The Welsh Athletics Clubs Cross Country Championships came to Pembrey Country Park in Carmarthenshire for the first year back in February and saw the under 11 boys, under 13 boys, under 15 boys and the Female Master 40 teams come away with gold medals on home turf whilst there were bronze medals for the under 11 girls.
The under 11 boys and under 13 boys came away with comfortably victories at the recent Welsh Athletics Road Relays Championships and have got off a great start to the 2019 winter season in October.
For the seniors in particular, there has been plenty of activity out on the road running and mountain circuit with a number of events having representation from the club locally and afar. The most recent event was the Cardiff University Half Marathon last week where twelve completed the 13.1-mile course around the roads of the Welsh Capital.
Our two Louise Arthur League 2019 captains Frank Morgan and Jessica Lee were presented with a small gift with Alison Thomas, Kayleigh John, Cressy Morgan and Kathryn Jones also recognised. The time then came to hand over to the two new captains for the upcoming campaign which begins in April 2020. They will be boys - Ellis Caddick and girls - Sophia Reid-Thomas.
GUEST SPEAKERS / SIARADWYR GWADD
Having welcomed Dewi Griffiths, Josh Griffiths, Jake Heyward, Caryl Jones and Claire Williams 12 months ago, We were in good company again as the guest speakers for the 2019 dinner were former Carmarthen Harriers members and current club record holders Bruce Tasker and Caryl Granville.
It was a pleasure to welcome these talented athletes to the dinner and inspire the next generation of athletes from this great club.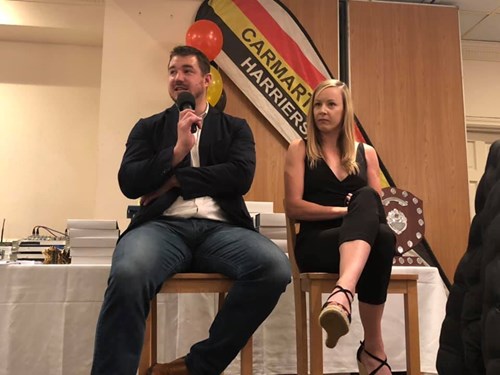 The duo took part in an inspiring question and answer session, led by Edward Morgan. This was a great opportunity for the parents and coaches, as well as the athletes themselves to ask questions and listen to experiences that they might not have heard about before. The Commonwealth Games, Winter Olympics, championships and other training and competition facts were shared.
Bruce Tasker is currently the club record holder in the under 15 boys 400m (52.51) 2002 and under 17 / 20 men 400m in 2004 (49.85).
Bruce was a talented athlete, which led to him joining Carmarthen Harriers Athletics Club at the age of 11 (1998). Specialising in the 100m, 200m and 400m disciplines, he broke club records as a youth and won at both distances at several meets, including the Welsh Championships where he won the 200m at Swansea in 2008 and the BUSA Championships, the 400m in Bedford in 2007. In 2006, Bruce was ranked as the United Kingdom's top under-20s athlete in the indoor 400m.
In Bobsleigh which he began doing in 2010, he was a part of the four-man team which represented Great Britain at the 2013 World Championships coming fifth and the 2014 Bobsleigh European Championships, winning a silver medal. He represented Great Britain at the 2014 Winter Olympics in the 4-man discipline at Russia in his debut Olympics.
Tasker announced his retirement from competition in October 2018 after a career in which he competed at six World Championships and an Olympics in the sport.
Caryl Granville is currently the club record holder in the under 20 women age group for 400m (55.89) 2008, Triple Jump (11.69m) 2005, Pentathlon (3736 points) 2007 and Heptathlon (4807 points) 2007. In addition, she has had further success in the under 17 women too and is currently the club record holder over both the long hurdles distances; 300m Hurdles (42.65) 2006 and 400m Hurdles (61.55) 2006.
Caryl, who joined Carmarthen Harriers in 1999/2000 has been an inspiring athlete from a young age and has been very positive and learnt from a young age to manage her training.
She has come a long way since winning bronze at Dyfed schools 1500m in 5:44 when she was 12 years of age. At Carmarthen, she was coached by Carol Jones and Delyth Brown (Endurance) and Combined events training with Dorrien Thomas and Richard Wyer. Caryl's first National vest came in cross country in 2004 when she was in year 9 in Ayr, Scotland.
Following this she went on to have a vest at combined events International as well as competing in the 300m Hurdles, Triple Jump and 4 x 300m at the SIAB Schools International in 2005, coming away with bronze.
She has achieved many Welsh and Welsh Schools individual titles and went on to gain her first Great Britain vest in the u20/23 combined events against France and Spain. Caryl went on to University at Cardiff and is now coached by Darren Maynard.
Her determination paid off as she was selected to represent Wales at the Gold Coast Commonwealth Games in April last year, competing over both the 100m in 13.98 and 400m hurdles in a time of 59.28.
On returning to the Carmarthen Harriers Dinner & Awards Evening, Caryl said: "I attended the Carmarthen Harries Dinner every year when I was a member of the club. I always aspired to have achieved enough in my athletics career to attend as the guest speaker one day. So to have been invited this year was a huge honour and a privilege.
"All of my junior achievements occurred as a Carmarthen Harrier: winning my first race, achieving my first welsh vest, breaking my first welsh record and earning my first GB vest. My time at Carmarthen Harriers was a very happy one and it was nostalgic to see everyone again. Although I left the club for a higher level of competition with Swansea in the UK Women's League, I have always considered myself a Carmarthen Harrier even after 12 years away from the club."
AWARDS / GWOBRAU
A total of more than 60 awards across 22 categories were made on the evening - from the athletes and volunteers to coaches and team success. As well as categories that have been a regular at the dinner, there were a number of new awards presented in 2019 which included recognising International athletes who were selected in all disciplines and awards for athletes who ranked in the top 10 in Wales and the United Kingdom - over 30 of these which shows the strength in depth at present across all disciplines!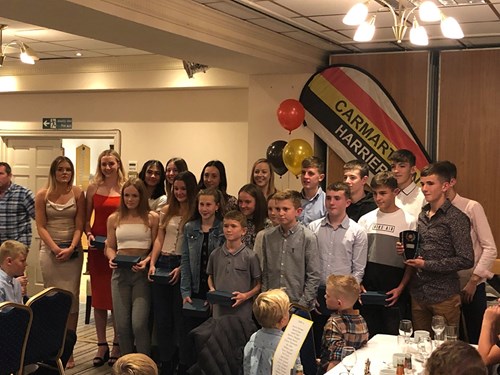 The club record was one award which was back for the second season to recognise those who broke club records during the year. Seven records ranging from the under 15 to under 20 age groups were the recipients of these, two of which date back to the 1970's. (full list are available further down this report).
Making presentations throughout the evening to all the winners were Bruce Tasker, Caryl Granville, Cllr Kevin Madge and Hedydd Davies.
2019 AWARDS / GWOBRAU 2019 - Who were the recipients for each award? Find out the answers below:
Bursary Awards 2019: William Coles, Jimmy Davis, Jac Jones, Rhys James, Cai Allen, Tom Williams, Tygan Davies, Tristan Warrender, Daniel Warrender, Beatrice Morgan, Amelia Williams, Jessica Norman, Chloe Thomas, Megan Pridmore, Luned Dafis, Mared Jones, Erin Morgan, Rogan Cox
Welsh Champion & International New 2019: Jessica Lee
Welsh Champion New 2019: Wendy Price, Zara Evans, Frances Mackie, Morgan Batten, Dion James, Cordelia Walker, Osian Roberts, Iwan Thomas, Liam Upton-Boorman, James Sloyan
Welsh Champion & International Repeat 2019: Frank Morgan, Ben Thomas, Beca Roberts, Lili Church, Iwan Glynn, Dafydd Jones
Welsh International Repeat 2019: Nia Williams, Eva Edwards
Welsh Inter-Regional Sprint Relay Champions 2019: Sophia Reid-Thomas, Ellie Loweth, Jessica Lee, Casi Gregson
Welsh Cross-Country Under 13 Team Champions 2019: Ifan Bowen, Zach Elvy, Iwan Thomas, Jack Thomas
Welsh Cross-Country Under 15 Team Champions 2019: Frank Morgan, Liam Edwards, Ioan Cressey-Rodgers, Liam Evans
Welsh Cross-Country W40 Team Champions: Wendy Price, Kate Lynock, Lisa Forrest
Welsh International Mini Marathon 2019: Jack Thomas, Zach Elvy
Top 10 UK Award 2019: Frank Morgan, Ben Thomas, Jessica Lee, Cai Allen, Dafydd Jones
Top 10 Wales Award 2019: Casi Gregson, Frances Mackie, Zara Evans, Sophia Reid-Thomas, Cordelia Walker, Thaia Davies, Ellie Loweth, Lili Church, Beca Roberts, Maddie Morgan, Nia Williams, Eva Edwards, Macsen Toogood, Ifan Bowen, Dion James, Harry Fuller, Finlay Hayes, Osian Roberts, Sion O'Keefe, Iwan Glynn, Morgan Batten, Trystan Leech, Ben Proctor, Matthew Williams, Ronnie Rees, Oliver Moruzzi
Club Record Award 2019: Jessica Lee (U15 Long Jump 5.51m & 100m 12.20), Frank Morgan (U15 1500m 4:10.38 & 3000m 9:12.65), Ben Thomas (U20 3000m Steeplechase 9:07.78), Zara Evans (U15 Triple Jump 9.92m), Sophia Reid-Thomas, Thaia Davies, Zara Evans, Jessica Lee (U15 4 x 100m Relay 51.10)
Richard Wyer Throws Memorial Award 2019: Nia Williams
Ossie Morgan Hurdles Memorial Award 2019: Harry Fuller
Outstanding Club Contribution Award 2019: Ellis Caddick, Brynmor Peters, Carys Wood, Amy Greatrick, Chloe Hale, Ellie-May John, Oliver Moruzzi, Grace Page, Cerys Davies, Jake Lynock
Young Club Volunteer of the Year 2019: Ellie Loweth
Club Service Award 2019: Julie Coles, Aron Defis
Ernie Jones Memorial Award 2019 (International): Ben Thomas
J Eirwyn Walters Memorial Award 2019 (Best International Performance): Dafydd Jones
RB Evans Award 2019: Richard Jones
Carmarthen Harriers Past Junior Club Captains 2019: Frank Morgan, Jessica Lee
ONLINE / AR-LEIN
Our social media platforms were updating LIVE from the dinner as it happened on Saturday evening across Facebook, Twitter and Instagram. For those unable to attend or those making use of the free WiFi at the venue, this was another great way of keeping up-to-date with everything that was happening in Carmarthen. Catch up on the links below
FACEBOOK: https://www.facebook.com/CarmarthenHarriers/
TWITTER: https://twitter.com/CarmsHarriers
INSTAGRAM: https://www.instagram.com/carmarthenharriers/
Presentation photographs will follow online with us when they are available (next few days).
CLUB RECORD & ANNUAL REPORT LINKS
CARMARTHEN HARRIERS CLUB RECORDS UPDATED TO SEPTEMBER 2019 (PDF)
CARMARTHEN HARRIERS ANNUAL REPORT 2018/19 (PDF)
The club would like to thank the staff at the Ivy Bush Hotel for their excellent services. Also, it took hours/days/months to prepare for this dinner event and we're sure you'd all like to thank all for their tireless work in ensuring that the evening was a great success, it was a great committee team effort! Special thanks to Cressy Morgan, Kathryn Jones, Alison Thomas, Richard Jones and Jake Morgan for their hard work before the event which doesn't go unnoticed.
Thanks to all that attended, We hope that all the guests enjoyed their visit to Carmarthen tonight. Post-event content will be provided for editors at the Carmarthen Journal / Llanelli Star, Carmarthenshire / Llanelli Herald, West Wales Chronicle & Llanelli Online in the next few weeks.
Photos/Lluniau: Nathan Jones
www.carmarthenharriers.co.uk