For the 57th time and eighteenth consecutive year at the venue, Welsh Schools hosted its National Cross Country Championships at the Penlan Playing Fields in Brecon earlier today (Wednesday 13th February 2019). There was plenty at stake as Welsh vests were up for grabs for the junior and middle age groups next month in Ireland.
Fe ddaeth Bencampwriaeth Traws Gwlad Ysgolion Cymru i Aberhonddu am yr 57fed tro yn gynharach heddiw (Dydd Mercher 13eg Chwefror 2019) gyda lle yn nhim ysgolion Cymru ar gyfer cystadleuaeth SIAB draw yn Iwerddon mis nesaf, yn yfantol.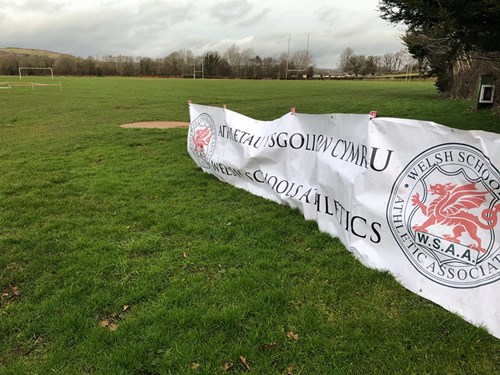 All Roads Led to Brecon Leisure Centre for Wales' Schools...
School Pupils got their moment to shine this week as one of Welsh Schools Athletic Association's biggest competitions returned to Brecon as the end of the winter season draws nearer.
Welsh Schools again used its traditional midweek date for the National Championships and used the same course as they did at the Welsh Inter-Schools Cross Country Championships towards the end of 2018 in November. This proved popular with athletes, parents and coaches alike and is slightly more of a traditional cross-country examination than the course used in previous years.
The course consisted of a small lap and large lap over the two far fields and distances varied per age group.
Eight districts were represented on the day which were: Afan Nedd Tawe, Cardiff & Vale, Dyfed, Eryri, Glamorgan Valleys, North East Wales, Powys and South East Wales. Each District had held qualifying selection races in January and beginning of February for the right to battle it out against other school pupils across Wales.
For the spectators, they enjoyed a total of eight races featuring around 550 athletes, which included the year 7 races who made their first appearances at these National Championships since moving up from primary level. There were also junior, middle and senior categories which meant that all secondary school ages could get involved.
Weather Conditions were kind too and even the sun made an appearance by the beginning of the races. Despite some rain in the days leading up, underfoot was very good and this helped produce some fast racing and excellent individual battles.
Each team could field up to 12 athletes per age group with the first six finishers scoring for their team.
Presentations were made to the first three individuals in each race as well as the first three Districts which resulted in over 160 awards being made throughout the afternoon.
In his programme notes, Welsh Schools Chairman Dai Gatehouse commented:
"It gave me great pleasure to welcome athletes, spectators and officials to the 57th Schools National Championships at Brecon. Congratulations to all the athletes who won through their various District's selection proccesses and represented their District in a National competition. Representing your District is an honour and hopefully just the start of many further honours in the future."
"Today would have not been possible without all the various volunteers who gave their time freely and we are truely indebuted to you all. Special mention must be made of the hard work of Mr Derek Price and Steve Jones (Support Officer) along with officials, Welsh Athletics staff, First Aiders and the staff of Brecon Leisure Centre and Freedom Leisure in ensuring that the day ran smoothly."
Dublin Bound for Junior & Middle Leading Finishers...
Junior and Middle Leading finishers will now look forward to representing the association at the Schools International Athletic Board Cross Country which heads to Dublin in 2019. The first six finishers were guaranteed a place in the squad with 2 discretionary places decided by the selection panel.
The Middle section at SIAB this year on Saturday 23rd March also includes a 4 x 1500m relay where an additional 2 boys and 2 girls will be invited to participate in this event.
Teams from England, Wales, Northern Ireland and Scotland will battle it out in the end of season match at Dublin this year. Back 12 months ago, the international was held in Nottingham where Wales athletes performed brilliantly.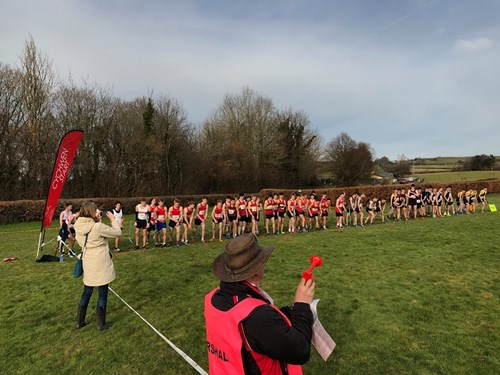 Great Individual & Team Battles - Round-Up of the Action Race by Race...
13:00 JUNIOR GIRLS - MERCHED IAU:
Race 1 saw Gwenno Goode (YG Bro Morgannwg) take the first victory of the day 15 seconds ahead of her nearest rival. The Glamorgan Valleys duo of Sophie Evans (Y Dderwen) and Abigail Davies (Porthcawl) led their team home. Erin Andrews and Evie Watkins, both from Cowbridge School and representing Cardiff & Vale ensured that they won the team medals thanks to their fourth and fifth placings respectively.
It was a comfortably win for Cardiff & Vale in the team competition, scoring a low tally of 47pts. Joining them on the podium were Dyfed in second (127pts) and South East Wales in third (Just!) (133pts) who got the better of Glamorgan Valleys on the sixth counter.
13:20 JUNIOR BOYS - BECHGYN IAU:
In the biggest field of the day with 81 runners, Pre-Race favourite Frank Morgan (Bro Myrddin) went to the front from the very start. After a tight first few hundred metres, Morgan pulled away and never looked back as he confirmed his spot in the SIAB team for the second year running. Five seconds further back were Oliver Jones (Newtown) and Osian Tyrrell (YG Plasmawr) who had their own sprint finish with Jones coming out on top. Math Thomas (Dyffryn Conwy) was the first Eryri finisher and completing the top five was Callum Morgan (Welshpool).
With another five finishers in the top 20 behind Tyrrell, Cardiff & Vale made it a clean sweep in the Junior category, claiming gold medals in the team event (74pts). Powys enjoyed their first awards of the day in second (90pts) and Dyfed scoring 111pts in third spot.
13:40 SENIOR GIRLS - MERCHED HYN:
After being in the chasing pack early on in the race, Ysgol Y Creuddyn's Bethan Davies came through to take the Senior Girls' title in under 20 minutes. Eva Edwards (Bro Myrddin) and Ffion Higginson (Archbishop McGrath) joined Davies in the first three before a short time later, North East Wales athletes Holly Roberts (Deeside College) and Lauren Watchorn (Alun School) picked up valuable points for their District.
In 11th, 12th, 15th, 16th, 17th and 22nd, Cardiff & Vale came out on top. Second place went to Dyfed (119pts) as the only other scoring team out of the eight Districts with three of them one short.
14:05 YEAR 7 BOYS - BECHGYN BLWYDDYN 7:
A group of three led this one from the off with the medallists guaranteed to come from the trio of Iwan Thomas (Strade), Harry Dawes (Monmouth Boys) and Finlay Tarling (Aberaeron). Towards the latter stages of the race, the Dyfed duo started to stride away and Thomas had enough left to become Welsh Schools champion. Tarling was second and Dawes in third in an event that was always going to be an exciting one. Dyfed's third scorer in four was Ifan Bowen (Bro Myrddin) followed by fifth-placed Brychan Gwilym (Syr Hugh Owen).
There was no surprise to see Dyfed Schools claim victory in the Year 7 Boys, scoring a low 33pts after crossing in 7th, 8th and 11th to make up the top six. Cardiff & Vale and South East Wales' points tally were very close with 115 and 121 with the latter filling second.
14:20 YEAR 7 GIRLS - MERCHED BLWYDDYN 7:
The Year 7 Girls probably threw up the most exciting finish of the afternoon as far as indidivual and team positions were concerned. There was no doubt with the winner however as Anna Rose Merchant (Porthcawl) added another title to her name representing Glamorgan Valleys. There was a great sprint finish down the home straight between Kate Dunglinson (Cowbridge), Madeline Sinfield (Dyffryn Ogwen) and Iona Roderick (YG Glantaf) who all received the same time but finished in that order. Becca Bowen in fifth ensured that Eryri scored two in the first five.
Cardiff & Vale (74pts), South East Wales (78pts) and Eryri (86pts) were the District's who enjoyed team success in this race over 2920m.
14:35 SENIOR BOYS - BECHGYN HYN:
The Senior Boys' course was over 5,810m which meant that there was plenty of time for the race to be won or lost. Larry Ryan (Radyr) moved away from the rest of the field after the half way mark who was followed by Welsh Inter-Schools Champion and Dyfed's Ben Thomas (Strade) in runner up spot. Next in were Remi Adebyi (Gwynllyw), Devin Coombes (Archbishop McGrath) and Jackson Mountford (Rougemont).
South East Wales (96pts) got the better of Cardiff & Vale (114pts) this time round. Third spot in the teams were filled by local District, Powys (115pts)
15:00 MIDDLE GIRLS - MERCHED GANOL:
Ysgol Syr Hugh Owen's Samia Jones was a huge favourite for the middle girls' title and she didn't dissappoint. Heading straight to the front of the field within the first 100m or so, she continued her fine form over the last 12 months to win another Welsh Schools event. Familiar names at the top end of the field Moli Lyons (YG Bro Morgannwg), Ashleigh Willis (Olchfa), Alanah Hill (Radyr) and Nia Clatworthy (Porthcawl) occupied second to fifth positions.
Title number five for Cardiff & Vale was in the middle girls (42pts). Eryri (95pts) and South East Wales (161pts) also finished in the top three in the penultimate race.
15:20 MIDDLE BOYS - BECHGYN GANOL:
The final race of the day was always expected to be a close one with several top athletes in the starting line up. After changing hands a few times, Osian Perrin's experienced showed as he won in 16 and a half minutes. Heading to Ireland to represent Welsh Schools in the MB age group with Perrin in a few weeks' time will be second placed Ben Reynolds (Y Gwyndy), Lloyd Sheppard (Blackwood) third, Adam Beer (Glan Y Mor) fourth, Joe Reardon (Rhydywaun) fifth and in sixth, Finley Hines (Ystalyfera).
Eryri finished the day off on a high note in the team event winning gold (69pts) with the other podium positions going to Glamorgan Valleys (88pts) in silver and Dyfed (96pts) bronze.
The Final Team Results were...
1 Cardiff & Vale District - 114pts
2 Dyfed District - 104pts
3 South East Wales District - 97pts
4 Eryri District - 92pts
5 Powys District - 76pts
6 Glamorgan Valleys District - 74pts
7 North East Wales District - 66pts
8 Afan Nedd Tawe District - 65pts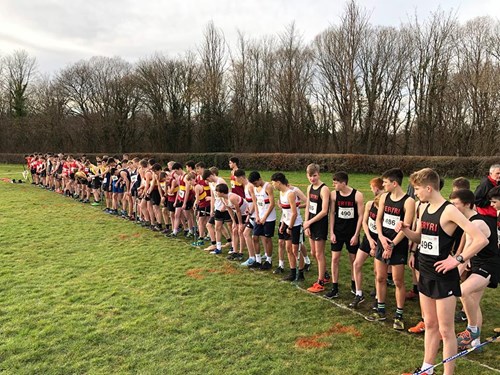 Brianne, Pembrokeshire, Ceredigion & Llanelli Schools make up the Dyfed Team...
The Welsh Schools Cross Country Championships have been very successful for Dyfed Schools over the years, winning the overall title 25 times since 1990.
Dyfed Schools had another good day with the best results of the day no doubt coming in the year 7 boys, where they were victorious thanks to their six scorers inside the first 11. There were second places for the Junior Girls and Senior Girls where the six scorers picked up silver medals whilst taking bronze were the Junior Boys and Middle Boys squads.
Those wearing the vest of the District qualified for the main championships through the Dyfed schools selection race, which took place at Oakwood Theme Park three weeks ago. Some not able to compete that day were brought in to fill spaces for Brecon.
Team Captains were Frances Mackie (Year 7 Girls), Ffion Ouseley (Junior Girls), Daisy Thompson (Middle Girls). Eliza Martin and Eva Edwards (Senior Girls), Iwan Thomas (Year 7 Boys), Frank Morgan (Junior Boys), Adam Beer (Middle Boys) and Ben Thomas (Senior Boys)
75 athletes travelled and competed for the Dyfed District in Brecon on Wednesday and the Dyfed Schools Secretary Hedydd Davies wishes to thank both the athletes and parents / teachers who supported the championships in Brecon and assisted with on the day duties. A list of names and finishing positions are listed below:
Dyfed Year 7 Girls / Merched Blwyddyn 7 (fourth)
8 Frances Mackie (QE High 11:14), 11 Erin Morgan (Bro Myrddin 11:24), 15 Seren Davies (Bro Teifi 11:42), 18 Carys Wood (Greenhill 11:48), 33 Bessy Hill (Emlyn 12:20), 36 Leisa Thomas (Bro Teifi 12:26), 40 Katie David (Haverfordwest High 12:32), 54 Maddy James (Harri Tudur 12:59)
Dyfed Junior Girls / Merched Iau (second)
12 Ffion Ouseley (Preseli 15:13), 14 Lucy Wintle (Preseli 15:20), 19 Mila Blackwell (Greenhill 15:25), 20 Jasmine Jones (Bro Pedr 15:27), 21 Amy Greatrick (QE High 15:33), 41 Gracie Griffiths (Haverfordwest High 16:39), 49 Bethany Bennett (Bryngwyn 17:00), 50 Grace Stoddart (Penrhyn Dewi 17:01), 57 Chloe Hale (Bro Gwaun 17:19), 59 Chloe Simmonite (Coedcae 17:25)
Dyfed Middle Girls / Merched Ganol (fourth)
13 Daisy Thompson (Bro Myrddin 19:13); 28 Jessica Morris (Harri Tudur 20:45), 31 Phoebe Davis (Bro Dinefwr 21:05), 36 Kaitlin Morgan (Haverfordwest High 21:27), 37 Tanwen Moon (Maes Y Gwendraeth 21:29), 50 Tirion Lloyd (Henry Richard 22:24), 54 Flavia Jenkins (Dyffryn Taf 22:40), 64 Heledd Jones (Bro Teifi 23:19), 68 Meleri Hopkins (Llandovery College 24:00), 73 Bethan Pickersgill (Dyffryn Taf 24:45), 74 Katie Fear (Llandovery College 25:00)
Dyfed Senior Girls / Merched Hyn (second)
2 Eva Edwards (Bro Myrddin 19:57), 8 Alice Evans (Haverfordwest High 20:48), 23 Ella Townsend (Haverfordwest High 23:22), 25 Eliza Martin (Pembrokeshire College 24:16), 29 Grace Page (Bro Pedr 25:50), 32 Emily Shawyer (Bro Dinefwr 26:25)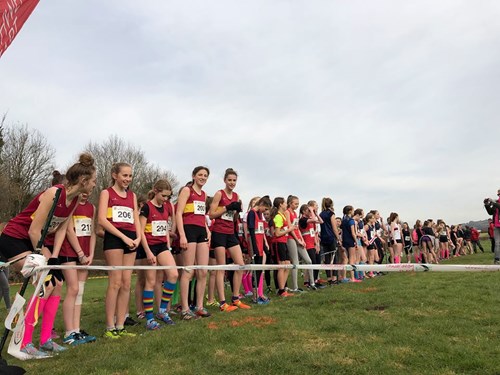 Dyfed Year 7 Boys / Bechgyn Blwyddyn 7 (first)
1 Iwan Thomas (Strade 10:09), 2 Finlay Tarling (Aberaeron 10:14), 4 Ifan Bowen (Bro Myrddin 10:33), 7 Cai Prendiville (Strade 10:42), 8 Rory Gravelle (QE High 10:44), 11 Rhys Caygill (Preseli 10:46), 18 Llyr Jones (Aberaeron 10:54), 24 Finley Bruce (Preseli 11:01), 27 Brychan Hopkins (Aberaeron 11:05), 31 Sion Jones (Bro Dinefwr 11:13), 48 Tomos Lewis (Bro Myrddin 11:31), 54 Jake Lynock (Bro Dinefwr 11:39)
Dyfed Junior Boys / Bechgyn Iau (third)
1 Frank Morgan (Bro Myrddin 16:22), 7 Rhys Llewellyn (Haverfordwest High 17:11), 9 Ioan Cressey-Rodgers (Bro Myrddin 17:15), 21 Zach Elvy (Bro Myrddin 17:56), 30 Steffan Davies (Bro Myrddin 18:16), 43 Jack Thomas (QE High 18:42), 50 Scott Price (Bro Dinefwr 18:54), 55 Jack Bruce (Preseli 19:02), 58 Jac Walters (Glan Y Mor 19:10), 60 Rhys Williams (Bro Pedr 19:12), 62 Iago Williams (Maes Y Gwendraeth 19:17)
Dyfed Middle Boys / Bechgyn Ganol (third)
4 Adam Beer (Glan Y Mor 16:51), 8 Iori Humphreys (Harri Tudur 17:17), 12 Dafydd Jones (Bro Myrddin 17:34), 17 Liam Edwards (Bro Myrddin 17:55), 20 Oliver George (Preseli 18:04), 35 Iwan Dugmore (Preseli 18:39), 38 Ieuan Griffiths (Bryngwyn 18:48), 41 Cian Harries (Haverfordwest High 18:53), 43 Dafydd Lloyd (Bro Pedr 19:00), 50 Joshua Jones (Bryngwyn 19:06), 75 Lewis Jackson-Peck (Emlyn 20:36), 77 Samuel Bird (Bryngwyn 20:47)
Dyfed Senior Boys / Bechgyn Hyn (fifth)
2 Ben Thomas (Strade 19:39), 17 Callum Campion (Coleg Sir Gar 21:26), 45 Joseph Coope-Franklin (Llandovery College 25:59), 49 George Gould (Aberaeron 29:16), 50 Robbie Bull (Aberaeron 29:24), 53 Joshua Williams (Haverfordwest High 31:37), 54 Joe Colwill (Haverfordwest High 31:38)
Results Link & Where to Find Social Media Updates...
A Highlights Video has been added to our YouTube Channel, Click Here for 7 minutes of Wednesday's racing.
Our friends at Llanelli Online have also posted a Report Link
Social Media Coverage was available via the Welsh Athletics Social Media Pages which was updated with the latest as it happened on Wednesday afternoon.
Twitter Additionally, Carmarthen Harriers:
Facebook - Twitter - Instagram
LIVE RESULTS ONLINE / CANLYNIADAU LLAWN BYW - Welsh Schools Cross Country Championships @ Brecon
Congratulations and good luck to the athletes who will be heading over to Dublin in a few weeks' time! Llongyfarchiadau a phob lwc i'r athletwyr sydd yn mynd draw i Nulyn i gystadlu ym mis Mawrth!
Thanks also to all the Welsh Schools officers, teachers and Welsh Athletics volunteers who contributed on the day. Excellent afternoon of cross country with local talent out on show.
With the winter season now coming to a close after the Welsh Sportshall Final and SIAB Schools, attention will turn to the busy summer track and field season which will see a number of school league and cup competitions between April and August 2019.