For the 58th time and nineteenth consecutive year at the venue, Welsh Schools hosted its National Cross Country Championships at the Penlan Playing Fields in Brecon earlier today (Wednesday 11th March 2020).
Fe ddaeth Bencampwriaeth Traws Gwlad Ysgolion Cymru i Aberhonddu am yr 58fed tro yn gynharach heddiw (Dydd Mercher 11eg Chwefror 2020).
All Roads Led to Brecon Leisure Centre for Wales' Schools...
School Pupils got their moment to shine this week as one of Welsh Schools Athletic Association's biggest competitions in the year returned to Brecon as the end of the winter season draws nearer.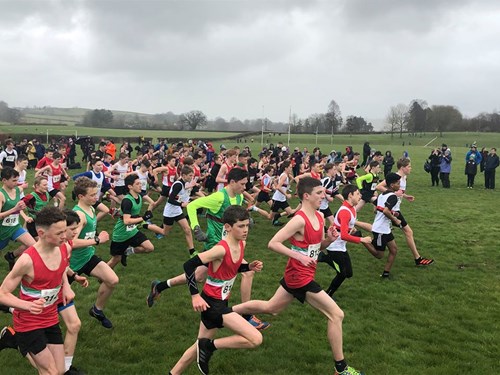 Welsh Schools again used its traditional midweek date for the National Championships and used an identical course to the Welsh Inter-Schools and Welsh Athletics Inter-Regional Cross Country Championships held in November 2019. This proved popular with athletes, parents and coaches alike and is slightly more of a traditional cross-country examination.
Due to recent wet weather, The course was altered slightly and consisted of a small lap and large lap within the one field opposite the new school. Despite the course changes, there were some fast running and excellent individual battles on a showery and windy afternoon in Mid-Wales.
Eight districts were represented on the day from Afan Nedd Tawe, Cardiff & Vale, Dyfed, Eryri, Glamorgan Valleys, North East Wales, Powys and South East Wales. Each District had held qualifying selection races in January and beginning of February for the right to battle it out against other school pupils across Wales.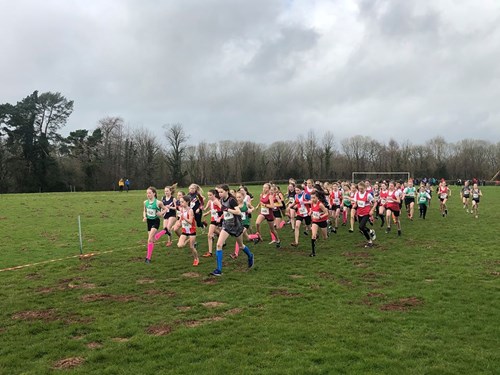 Each team could field up to 12 athletes per age group with the first six finishers scoring for their District in the team element.
For the spectators that turned out, they enjoyed a total of eight races featuring around 550 athletes, which included the year 7 races who made their first appearances at these National Championships since moving up from primary level. There were also junior, middle and senior categories which meant that all secondary school ages could get involved.
Presentations were awarded to the first three individuals in each race as well as the first three Districts (in due course) which resulted in over 160 medals given out.
With the winter season now coming to a close after the SIAB Schools Cross Country International, attention will turn to the busy summer track and field season which will see a number of school league and cup competitions between April and August 2019.

Brianne, Pembrokeshire, Ceredigion & Llanelli Schools pupils make up the Dyfed Team...
Dyfed Schools had another successful day at the championships with the best results of the day coming from the year 7 boys, junior boys and middle boys age groups, where they were all victorious in the team results and announced as champions. The middle boys category was particularly impressive, with the six scorers finishing in the first eight spots whilst the first four finishers in the Year 7 boys' race were occupied by Dyfed schools athletes!
Those wearing the vest of the District qualified for the Welsh Schools National championships through the Dyfed schools cross country championships selection race, which took place at the Lower Racecourse in Haverfordwest, Pembrokeshire five weeks ago.
78 athletes travelled and competed for the Dyfed District in Brecon on Wednesday and under the guidance of Pembrokeshire PE teachers / Lucy Griffiths on team managing duties for the first time, they wish to thank both the athletes and parents / teachers who supported the midweek championships in Brecon and assisted with on the day duties. A list of finishing positions are listed below:
Dyfed Year 7 Girls / Merched Blwyddyn 7 (fifth)
8 Ana Joyce (Penweddig); 18 Mared Jones (Bro Myrddin); 22 Marged Jones (Bro Myrddin); 33 Ellie-May John (Y Strade); 45 Scarlett Evans (Y Strade); 46 Lleucu Mathias (Bro Teifi); 50 Megan Williams (QE High); 52 Amelie Campion (Bryngwyn); 53 Anna Bradley (Caer Elen); 71 Ffion Bowen (Y Preseli)
Dyfed Junior Girls / Merched Iau (fourth)
12 Mila Blackwell (Greenhill); 21 Eleanor White (Haverfordwest High); 22 Jasmine Jones (Llandovery College); 25 Frances Mackie (Glan-Y-Mor); 29 Ffion Ouseley (Y Preseli); 39 Amy Greatrick (QE High); 40 Erin Morgan (Bro Myrddin); 56 Emma Ferns (Dyffryn Aman); 65 Katie David (Haverfordwest High)
Dyfed Middle Girls / Merched Ganol (sixth)
20 Amy White (Haverfordwest High); 34 Awen Roberts (Maes Y Gwendraeth); 43 Lucy Davies (Bro Pedr); 49 Bethany Bennett (Bryngwyn); 53 Jessica Morris (Henri Tudur); 56 Megan Poupard (Haverfordwest High); 62 Lucy Beddowes (Aberaeron); 68 Lowri Richards (Aberaeron); 70 TBC; Amy Tucker (St John Lloyd)
Dyfed Senior Girls / Merched Hyn (fourth)
5 Eva Edwards (Bro Myrddin); 9 Alice Evans (Haverfordwest High); 19 Ella Townsend (Haverfordwest High); 27 Katie Fear (Llandovery College)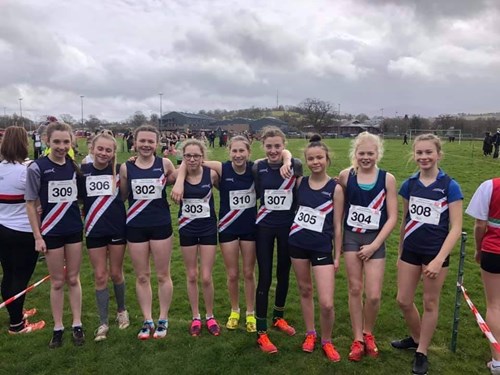 Dyfed Year 7 Boys / Bechgyn Blwyddyn 7 (first)
1 William Harries (Haverfordwest High); 2 Gordon Clement (Castle School); 3 Macsen Toogood (Bro Dinefwr); 4 Josh Barnett (Dyffryn Taf); 15 Rowan Dixon (Milford Haven); 20 Alex Coles (Bro Dinefwr); 28 Steffan Gilles (Penweddig); 29 Thomas Dalziel (Bryngwyn); 39 Daniel Issacs (Haverfordwest High); 44 Corin Maxwell (QE High); 56 Joshua Barrett (Haverfordwest High)
Dyfed Junior Boys / Bechgyn Iau (first)
6 Finlay Tarling (Aberaeron); 7 Zach Elvy (Bro Myrddin); 8 Iwan Thomas (Glan-Y-Mor); 11 Ifan Bowen (Bro Myrddin); 22 Rory Gravelle (QE High); 26 Rhys Caygill (Y Preseli); 29 Jake Lynock (Bro Dinefwr); 34 Jack Thomas (QE High); 43 Finley Bruce (Y Preseli); 46 Osian Herbert (Dyffryn Aman); 52 Brychan Hopkins (Aberaeron) 
Dyfed Middle Boys / Bechgyn Ganol (first)
1 Adam Beer (Glan-Y-Mor); 3 Dafydd Jones (Bro Myrddin); 4 Frank Morgan (Bro Myrddin); 5 Rhys Llewellyn (Haverfordwest High); 7 Iori Humphreys (Harri Tudur); 8 Liam Edwards (Bro Myrddin); 19 Oliver George (Y Preseli); 31 Lewys Jones (Maes Y Gwendraeth); 51 Cian Harries (Haverfordwest High); 54 Scott Price (Bro Dinefwr); 62 Oliver Wray (Maes Y Gwendraeth)
Dyfed Senior Boys / Bechgyn Hyn (fourth)
9 Callum Campion (Coleg Sir Gar); 19 James Ouslnam (Coleg Sir Gar); 26 Joshua Jones (Coleg Sir Gar); 27 Osian Williams (Coleg Sir Gar); 33 Dafydd Lloyd (Coleg Sir Gar); 34 Lewis Jones (Coleg Sir Gar); 39 Daniel Jones (Coleg Sir Gar); 44 Jamie Walker (Aberaeron); 47 Dafydd Wright (Aberaeron); 48 Ben Davies (Aberaeron); 50 Georgy Gould (Aberaeron); 51 Daniel Williams (Aberaeron)
Results Link & Social Media Updates...
For the full results from Wednesday's Welsh Schools Cross Country Championships at Brecon, CLICK HERE
You can find much more photos and videos of the action as it happened in Brecon LIVE on the Welsh Athletics and Carmarthen Harriers Social Media (Facebook, Twitter, Instagram) pages.