The Welsh Athletics Under 14 and Welsh Schools Under 16 and Under 18 Indoor Combined Events Championships took place last weekend at the National Indoor Athletics Centre in Cyncoed, Cardiff on Sunday 3rd November.
It has only been a few months since the dust settled on the 2019 outdoor season, but the weekend just gone welcomed the opening fixture of the 2019-2020 indoor season.
Under 18 and Under 16 athletes competed in a Pentathlon whilst the Under 14 athletes contested the Quadrathlon. 116 entrants along with parents, coaches and supporters arrived at NIAC early on Sunday morning ready for competition at the campus sporting facility which began on the track and on the field at 11:00 and concluded shortly before 17:00.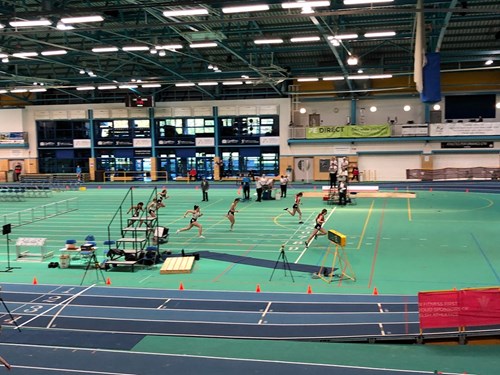 Events on the track were the 60m Hurdles, 200m and 800m whilst over on the field, Long Jump, High Jump and Shot Put were the trio of disciplines contested to make up the Quadrathlon or Pentathlon.
The Schools International Combined Events Championships takes place this year at the Emirates Arena in Glasgow on Saturday 30th November 2019. Following on from the Cardiff competition, Welsh Schools team managers and committee members have selected a team to make the trip up North for the big International in four weeks' time. A few youngsters from West Wales are expected to feature here and wear the red vest of Welsh Schools.
A group of athletes from Dyfed Schools, 11 in total (from Carmarthen Harriers, Pembrokeshire Harriers and Llanelli AC) entered the season opener indoors to test themselves against other top athletes from across all corners of the country.
Many gained their first experience of indoor disciplines and a number of new personal bests were recorded between all the participants. This was a great way to begin the season ahead of upcoming indoor championships and cross country league matches over the coming months.
Jessica Lee recorded a new championship best of 5 metres 26 in the Under 16 Girls' Long Jump!
Flavia Jenkins - Beca Roberts - Jessica Lee - Lucy Wintle - Emily Tucker - Harry Fuller - Osian Roberts - Liam Topp - William Harries - Daniel Isaac - Oscar Willington
Carmarthen Harriers Athletes & Individual Performances/Best:
- HARRY FULLER:
60m Hurdles (9.39); 200m (26.11); 800m (2:44.06); Long Jump (4.99m); Shot Put (7.70m)
- OSIAN ROBERTS:
60m Hurdles (9.35); 200m (25.93); 800m (2:35.15); Long Jump (5.32m); Shot Put (8.91m)
- JESSICA LEE:
60m Hurdles (9.65); 800m (2:45.14); High Jump (1.38m); Long Jump (5.26m CBP); Shot Put (8.26m)
- BECA ROBERTS:
60m Hurdles (9.66); 800m (2:39.38); High Jump (1.47m); Long Jump (5.04); Shot Put (9.51m)
Once the competition concluded and athletes had competed in their four or five event programme, announced as the age group winners and top three Welsh athletes having accumulated the most points tally and presented with a medal were the following: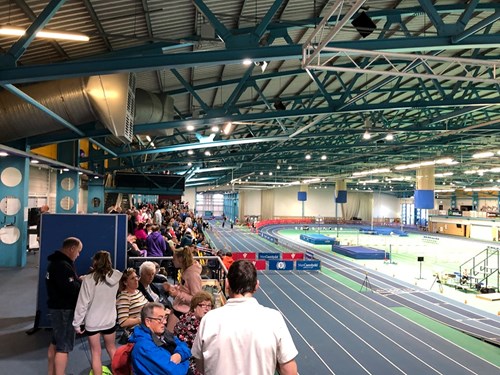 Under 14 Boys Medallists / Bechgyn O Dan 14:
1 Benjamin Parker - 1809pts
2  Kai Sengul - 1776pts
3 Abdul Afolabi - 1479pts
Under 14 Girls Medallists / Merched O Dan 14:
1 Nia Powell - 2261pts
2 Seren Redfern - 1965pts
3 Matilda Quick - 1822pts
Under 16 Boys Medallists / Bechgyn O Dan 16:
1 Dylan Morgan - 2915pts
2 William Hawker - 2808pts
3 Zac Davies - 2774pts
Under 16 Girls Medallists / Merched O Dan 16:
1 Sophie Lisk - 3022pts
2 Lucy Wintle - 2954pts
3 Ellie-Mae Wainwright - 2951pts
Under 18 Boys Medallists / Bechgyn O Dan 18:
1 Zak Wall - 3152pts
2 Evan Williams - 2765pts
3 Will Lovejoy - 2730pts
Under 18 Girls Medallists / Merched O Dan 18:
1 Ellie-Rose Isaac - 3350pts
2 Gabby Dickinson - 3285pts
3 Flavia Jenkins - 3112pts
4 Beca Roberts - 3012pts
Presentations to the first three were made by Dai Gatehouse, the Chairman of the Welsh Schools Athletic Association.
Click here for the full up-to-date results from Sunday along with the individual combined points totals.
Good Luck to all those athletes who have been selected to represent Welsh Schools and will be heading up North to Glasgow for the British Schools Combined Events International at the end of the month (30/11/19)! Pob Lwc.
Coming up next will be the first day of two Welsh Athletics Indoor Junior Open incorporating the East Wales, South Wales, West Wales and South West England Championships. Held in December and January, the opening day of competition will be held on Sunday 1st December at NIAC Indoor Athletics Centre with a closing date for day 1 of Thursday 21st November.
Photos: Nathan Jones