Fantastic Start to the Triathlon Season here in Carmarthenshire as popular event welcomes its biggest numbers yet!
Six months after the last season finished, the brand new Healthy Life Activities Carmarthenshire Triathlon Series for 2019 kicked off over the weekend. A record number of entrants got involved than ever before for the opening fixture!
With the focus on the youngsters in a fortnight at Carmarthen, Senior Triathletes got their 2019 campaigns up and running earlier this morning (Sunday 14th April) at the Amman Valley Sprint Triathlon around the grounds of Ammanford Leisure Centre and the streets of the Amman Valley. Sponsoring and supporting all of the events are Cycle Specific and Victoria Prendiville.
Dylan Morris from Cycle Specific commented that it's an absolute privilege to be a sponsor and more importantly to be a part of the Healthy Life Activities Team at Amman Valley Triathlon: "Where else can you be at event to spectate beginners, intermediate and elite Triathletes giving it their all in the same event, from juniors 15 years through to 60+ years young. It's inspiring to witness so many people at different parts of their fitness journey exceeding their own expectations with a drive and determination that makes you want to be a part of it.
"It's no wonder that the sport of triathlon is continuing to grow. We wish to increase our support for Healthy Life Activities events and add to Noelwyn and Sharon's already exceptional team."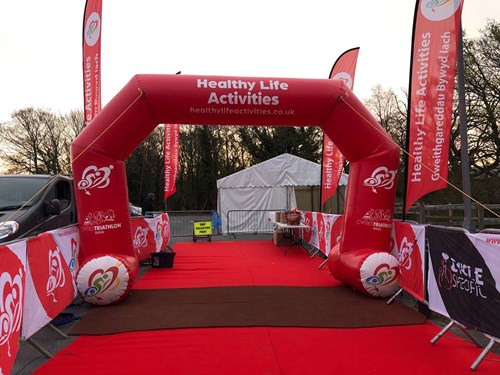 Having attracted up to 250 athletes over the years, it's now become a firm favourite with athletes and spectators alike, and this was evident in the number seen in 2019. Sold out in record time of seven weeks, over 300 athletes entered on time with more than 100 of them taking part in their first ever Triathlon event.
It was ideal for first time athletes and those looking to start their season with a short sprint triathlon ahead of the up-and-coming events, which included chip timing and full race day equipment. The feedback was very positive, with competitors and spectators taking to social media afterwards to praise the event, organisers and the friendly volunteers who encouraged on the key points.
More than 50 volunteers all contributed towards the success of the day where they were situated all around the course. As well as a number of organisations who were helping back in HQ, local clubs Llanelli Gymnastics Club and Amman Valley Harriers as well as students and parents of Maes Y Gwendraeth Comprehensive School Cefneithin were marshalling the swim, bike and run routes for the duration. Debutants to the sport of triathlon were looked after in transition well by the British Triathlon Chief Officials.
The weather conditions throughout couldn't have been any better on Sunday morning with athletes and supporters greeted by a dry morning and cool conditions with the temperature around 7 degrees celsius for most of the morning.
The transition area where bikes were stored was placed in the Leisure Centre Car Park with a great atmosphere as usual at the venue as other athletes encouraged those behind them through to the end.
All finishers were rewarded with a 2019 finishers medal which reflected the former mining history of Ammanford and the legendary Twrch Trwyth connected with the story of Culhwch and Olwen from the Mabinogion. The old miners wheel with the Twrch Trwyth and the miners pick on the Ribbon is featured on the excellent medal.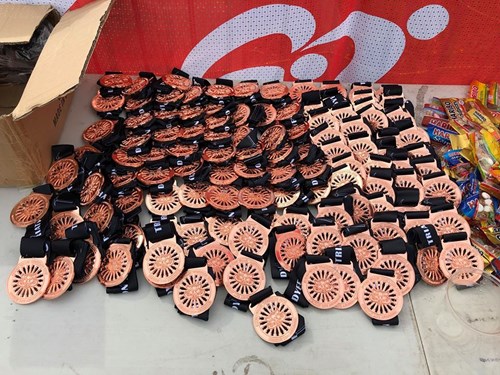 Swim, Transition, Bike, Transition, Run, Finish
With the first wave getting underway as early as 7.00am on Sunday and continuing until just before 11am, the course facing the competitors first off was a 400m swim (16 lengths) inside the Amman Valley Swimming Pool.
Next up after passing transition was the 16K bike ride up the main road East from Ammanford to Garnant and back the same way, followed by the 5K run which took runners along the cycle path in Pontamman on a picturesque trail. Returning along the same route, all participants were welcomed home on the red carpet at the Leisure Centre in a grand stand finish where family, friends and the announcer were waiting to cheer them to the line!
The Amman Valley Triathlon was the first of five Carmarthenshire Triathlon Series events, where those wanting to be included need to complete three out of the five locations. The series positions will be determined by adding up overall finish positions in each event. Other events in the series will be at the Llanelli Sprint Triathlon (May 12th), Sospan Sizzler Middle Distance Triathlon (July 21st), RNLI Burry Port Standard Distance Triathlon and Carmarthen Sprint Triathlon (October 6th).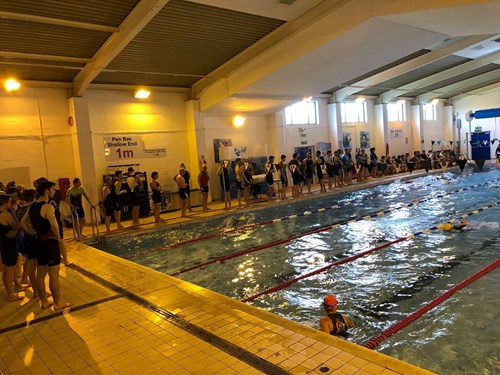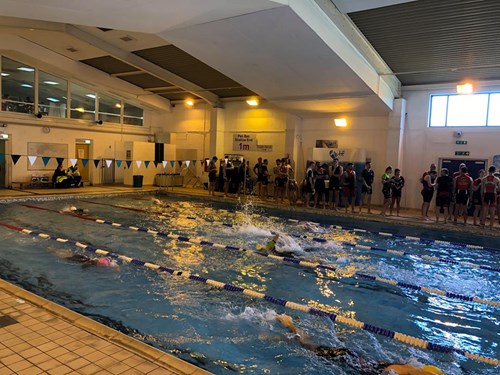 Overall Victories at the 2019 Amman Valley Sprint Tri to Lloyd & Bowyer
Llanelli, Wales and British Triathlete Liam Lloyd began his 2019 Triathlon campaign with the Amman Valley Sprint Triathlon. He's already been crowned the Welsh Duathlon Champion for 2019 and added the overall male trophy to his collection in Ammanford. Looking strong throughout, he finished with a time of 45:50, four minutes faster than last year's winning margin. Racing for Cycle Specific he is benefiting from the support and expertise on offer there.
Sion Slymon was second overall and as a result won the senior male with Jamie Best victorious in the Male 40 age group.
Elsewhere, Jasmine Bowyer from Bynea CC made her race debut in the Amman Valley Tri and it turned out to be a successful one. She won the overall title alongisde Lloyd this time in the female gender, clocking 61:46. Elizabeth John and Paige Horsnell were closely followed behind her.
Presentations were made inside the Marquee shortly in front of a decent crowd who had stayed after all athletes had finished the event. Representing sponsors Cycle Specific and making the awards were Leighton Davies and Dylan Morris.
Category trophies were up for grabs too in each of the age groups. The following male and female awards went to the following victors:
Overall Male: Liam Lloyd (45:50)
Senior Male: 1 Sion Slyman (51:15); 2 Daniel Evans (54:32); 3 Rhys Thomas (56:24)
Junior Male: 1 Nathanial Harries (53:37)
Youth Male: 1 Neo Seppman (1:04:30)
Male 40: 1 Jamie Best (52:44); 2 Dean Johnston (54:37); 3 John Thomas (56:40)
Male 50: 1 Chris Morris (58:22); 2 Paul Arnold (1:00:41); 3 James Thomas Davies (1:01:48)
Male 60: 1 Phillip Murrow (1:11:42); 2 Stephen Skubala (1:12:57); 3 Paul Bennett (1:14:12)
Overall Female: 1 Jasmine Bowyer (1:01:46)
Senior Female: 1 Page Horsnell (1:05:37); 2 Erin Maher (1:06:59); 3 Nia Davies (1:07:20)
Junior Female: 1 Seren Everett (1:22:43)
Youth Female: 1 Eden Rae Davies (1:11:56)
Female 40: 1 Elizabeth John (1:02:59); 2 Caryl Williams-Ford (1:05:41); 3 Sarah Moody (1:07:31)
Female 50: 1 Jennifer Aylward (1:10:18); 2 Carolyn Williams (1:14:09); 3 Mandy Jack (1:14:35)
Team Relay: 1 Ellis Banner Relay Team (55:50)
Reaction to the morning's Sprint Triathlon
Nathan Jones caught up with two of the category winners on conclusion of the event, here's what the two Cycle Specific athletes had to tell us:
Overall Male winner Liam Lloyd from Cycle Specific: "I always thoroughly enjoy racing at local events. It was fantastic to see and support so many taking part. It was a challenging course with tough conditions today!
"Well done to everyone, especially those competing in their first Triathlon! There was a great atmosphere. A big thank you to all the Healthy Life Activities and Cycle Specific Team for putting on a brilliant event!
"I'm looking forward to seeing you all at the Llanelli Sprint Triathlon!" (on May 12th)
Junior Male winner Nathanial Harries from Cycle Specific: "It was a great event as always put on by Healthy Life Activities where there was a great field of competition and support.
"There was a wide range of abilities that took part which is great for the community, to give people the opportunity to take part in an ever-growing triathlon event. It was a chilly start to the morning with some heavy headwind on the bike which made the course that much more challenging. Starting with the swim, I loved it as it is my strong discipline out of the three.
"I found the course challenging but managed to gain a good rhythm on the last 8km of the bike, leading into the run strong.
"I was very happy with my result (winning the junior male category) and I hope to continue to achieve my goals throughout the season."
Amman Valley Sprint Triathlon 2019 Event Results (Provisional)
Tri and Enter were in attendance to produce their professional results again in 2019. As a result of athletes wearing their own individual chips for the three disciplines, the document shows all of your split times across the swim, bike and run as well as the overall finishing time. Category and overall positions can be viewed on the right hand side of each athlete. Click the link below for the full results file of all finishers.
HLA AMMAN VALLEY SPRINT TRI 2019 EVENT RESULTS (Provisional)
Watch a 4-minute Highlights Video via the Harriers YouTube channel from the Sprint Triathlon at HQ along with parts of the course CLICK HERE TO WATCH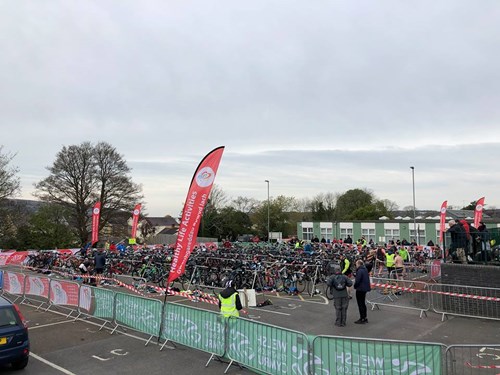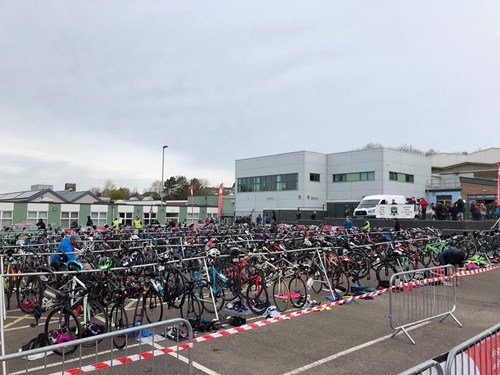 One Event Down...Nine Events To Go! What's Coming Up This Season?
HLA have set the following remaining dates for 2019 / Mae Gweithgareddau Bywyd Iach wedi cadarnhau'r dyddiadau canlynol ar gyfer 2019:
Carmarthen Junior Fun Triathlon - April 27th
Carmarthen Mayor's Fun Run 5k & Junior Races - May 6th
Sospan Charity Swim - May 10th
Llanelli Junior Duathlon - May 11th
Sospan Sprint Triathlon Llanelli - British Super Series - May 11th
Llanelli Sprint Triathlon - May 12th
Sospan Sizzler Middle Distance Triathlon - July 21st
Myrddin Junior Triathlon Carmarthen - October 5th

Carmarthen Sprint Triathlon - October 6th
For further details on the above events coming up and to enter, visit www.healthylifeactivities.co.uk
www.carmarthenharriers.co.uk will cover events organised by our friends at HLA as the season progresses between now and the final event on October 5th & 6th in Carmarthen!
Diolch Noelwyn Daniel a Sharon Daniel am drefnu digwyddiad llwyddiannus arall yn Nyffryn Aman!