The weekend saw the John H Collins Gwent Cross Country League return for the first time in 2019 as it headed to the first venue back in 1963, whilst on Sunday it was the Llanelli Half Marathon at Parc Y Scarlets.
Saturday 9th February - Sunday 10th February / Dydd Sadwrn 9fed Chwefror - Dydd Sul 10fed Chwefror
After a few weeks of indoor action at Cardiff featuring Wales' top juniors and seniors, a popular cross country league and a half marathon returned for the start of 2019. The John H Collins Gwent Cross Country League headed back to the first venue where the league all started in 1963 and Parc Y Scarlets welcomed over 2,000 runners to the Llanelli Half Marathon.
John H Collins Gwent Cross Country League Round 4 - Pontypool Park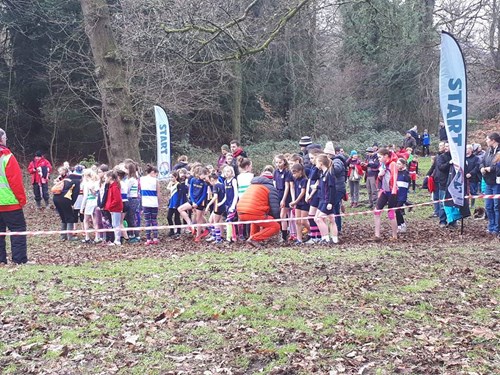 Following a two month break, the John H Collins Gwent Cross Country League was back at the first event to be held in 2019. Cardiff, Pembrey and Tredegar have already hosted matches and the fourth of five rounds returned to Pontypool Park on Saturday 9th February.
The course provided a real cross country test, with a tough hill for athletes to climb as they made their way around the perimeter of the rugby field towards the finish.
Whilst the older endurance athletes decided to take the weekend off to focus on the midweek Welsh Schools' event, a team of 30 including Carmarthen Harriers novice and under 13 members in particular were out in force which was great to see, and were rewarded with encouraging performances and good team spirit.
Over 1,000 competitors from all corners of South Wales and the South West of England made their way to the Park as the league entered the second half of the season.
The Novice Girls and Boys got the action underway shortly before lunchtime and was followed in the hail and strong wind by the other eight races in the under 13, under 15, under 17/20 and of course, the popular Senior races which saw another bumper turnout of men and women from several clubs.
The fifth and final league match of the 2018/19 season will be held at Blaise Castle in Bristol. The juniors in particular will make the trip over the bridge to the castle grounds, with the Novice Boys, Novice Girls, Under 13 Boys and Under 13 Girls still in contention and in a good position to pick up end-of-season awards. Details will follow on a separate story next week.
Bristol's event, hosted by Westbury Harriers takes place in a few weeks' time on Saturday 2nd March 2019.
Carmarthen Harriers Athletes & Results as follows... (some age groups without finishing times)
Under 11 Boys / Bechgyn O Dan 11 (1st): 1 Macsen Toogood; 4 Alex Coles; 6 Daniel Warrender; 11 William Coles; 21 Tristan Warrender; 25 Liam Upton-Boorman; 27 Jac Jones; 50 Jimmy Davies; 52 William Davies
Under 11 Girls / Merched O Dan 11 (3rd): 12 Jessica Norman (7:10); 14 Ellie-May John (7:12); 20 Martha Morgan (7:20); 39 Esme Lynock (7:42); 66 Grace Toogood (8:13)
Under 13 Boys / Bechgyn O Dan 13 (1st): 2 Zach Elvy (11:11); 5 Iwan Thomas (11:27); 10 Jack Thomas (11:42); 12 Ifan Bowen (11:47); 14 Steffan Davies (11:56); 20 Ellis Caddick (12:21); 30 Jake Lynock (12:48); 33 Brynmor Peters (13:01)
Under 13 Girls / Merched O Dan 13 (2nd): 10 Erin Morgan (14:41); 11 Amy Greatrick (14:42); 12 Carys Wood (14:43); 19 Chloe Hale (15:12); 20 Frances Mackie (15:13)
Under 15 Boys / Bechgyn O Dan 15: 44 Liam Evans
Under 15 Girls / Merched O Dan 15: 22 Tanwen Moon
Senior Men / Dynion: 49 Huw Davies (47:05)
Senior Women / Menywod: 101 Lisa Forrest (39:24)
Well Done all on your efforts! For the John Collins Gwent Cross Country League Fourth Match Provisional Results in full, go to CLICK HERE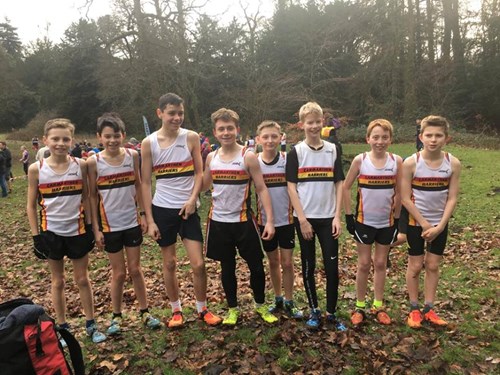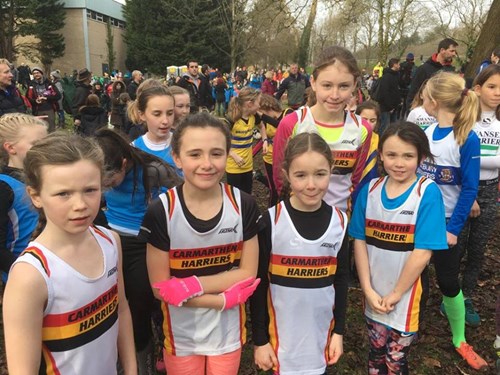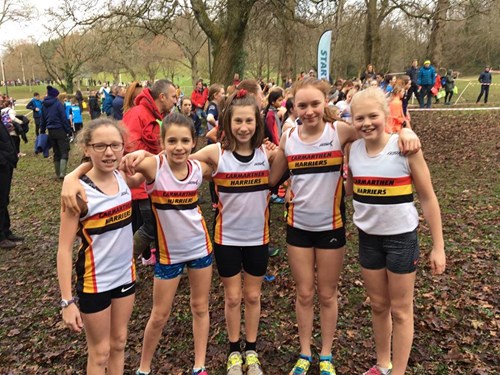 Llanelli Half Marathon - Parc Y Scarlets
The flat, fast and scenic 13.1 mile Llanelli Half Marathon arrived on Sunday 10th February as the race saw its largest number of participants to date.
Exceeding the number of every previous race, a field of 2,300 runners took to the start of the third edition of the Llanelli Half Marathon since Front Runner Events Ltd took over the race at the end of 2016. It didn't only welcome athletes from Carmarthenshire and the local area, but also Wales and beyond.
The route took runners on fully closed roads past Parc Trostre along the Coastal Link Road to Sandy Water Park and along the Millenium Coastal Park (MCP) to Pwll where the runners turned round and headed back towards Parc Y Scarlets via the MCP and the A484.
Recently voted the UK's Best Half Marathon at the Running Awards 2018, the course was equally suitable for first-time runners as well as elite and club runners with the conditions on the morning of the race perfect.
For those looking for new personal bests and targets, runners were able to take advantage of race pacers supporting runners the whole way round. They helped runners get their pacing spot on and enabled them to hit their target time on race whether it was an hour and a half or two and a half hours.
The day's activities were just not only open to adults and the older generation, but whilst they were out on the course, families were also able to join in at the Family Fun Run. Enabling young runners and families to experience the thrilling atmosphere of a big sporting event in Llanelli, the fun run took in 2km of the half marathon route around Parc Y Scarlets.
Richie Powell took the Wheelchair crown as the only competitor in a time of 01:19:37.
Cardiff AAC's Matt Clowes and Swansea Harriers' Caryl Jones both successfully defended their titles won in 2018 and added further victories to their name. Clowes won in 01:06:44 nearly 6 minutes ahead of his nearest rival, whilst Jones comfortably made it home in 01:17:05.
Carmarthen Harriers Athletes & Results as follows...
Wendy Price: 01:31:39
Emma Lovell: 02:24:38
Amanda Toogood: 02:31:38
Race Director David Martin-Jewell said:
"We are absolutely delighted to have quadrupled the field of runners since taking over the race. To have the race sell out for a third consecutive year is fantastic, this alongside being able to announce a new route which takes in more of Llanelli has meant we can look to increase the field going forward.
"It's been fantastic to see Matt Clowes and Caryl Jones retain their 2018 crowns, as well as Richie Powell being our wheelchair champion.
"I would like to thank each and everyone of our 150 or so volunteers who have helped us create a special day. Without the help of the volunteers it would be far more difficult for us to hold events such as this.
"We would like to thank Brecon Carreg (Hydration Partner) for supplying water for the runners during and after the event. And we would also like to thank Carmarthenshire County Council and Parc Y Scarlets for helping us to put on today's event."
For the Llanelli Half Marathon Provisional Results and finishing times in full, go to CLICK HERE