Our Busy Week continues with the Third Event Report in Five Days...Today it was the West Glamorgan Primary Schools v Dyfed Primary Schools Inter County Cross Country Match @ Swansea 08/04/19
24 hours after Swansea Harriers hosted the Club's Outdoor Track & Field Meeting, racing returned to the Ashleigh Road Playing Fields near Swansea University Campus Fields on Monday afternoon (8th), and focused on youngsters from two counties.
24 awr ar ôl i Glwb Harriers Abertawe drefnu Cyfarfod Agored Trac a Maes cyntaf y flwyddyn, wnaeth Gaeau Chwarae Ffordd Ashleigh ger campws Prifysgol Abertawe groeswau cystadleuaeth Ysgolion Cynradd Gorllewin Morgannwg ac Ysgolion Cynradd Dyfed nos Lun (8fed).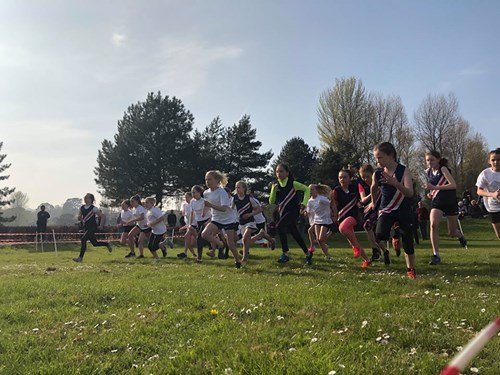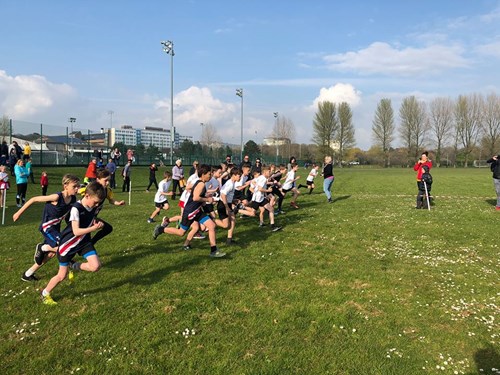 The annual West Glamorgan Primary Schools v Dyfed Primary Schools Inter County Cross Country Match returned to the Ashleigh Road Playing Fields for a successive year and saw forty five pupils compete in 2019.
It was hosted by the West Glamorgan Schools on the field directly in front of the athletics track which will look forward to welcoming hundreds of athletes of all ages to the various competitions throughout the summer months.
Around a dozen schools league meetings took place throughout the past few months in West Glamorgan and Dyfed, and the finale all came down to the inter county match.
Local Swansea Harrier, Bronwen Stratton-Thomas was on hand to be the hare and lead the athletes around the University facility course.
This Inter County match in the past has taken place at Parc Dinefwr in Llandeilo back in 2016 before it was incorporated into the SIAB Schools & Home Countries International in Margam Park near Port Talbot in 2017 as the curtain raiser ahead of the main races where International runners from Wales, England, Northern Ireland and Scotland battled it out.
With many of the athletes involved last year having moved up an age group, it was the ideal opportunity for several new faces to represent their district with up to 24 athletes in years 5 and years 6 featuring in both of the afternoon's races. Athletes in action at Swansea in the boys and girls categories qualified to attend after high-place finishes at their respective county championships held over the last ten days or so.
For those who qualified from matches split into groups, the top West Glamorgan cross country runners battled it out against each other at the primary schools county final on the final week of March (29th), taking place at the same venue as Monday's match.
Meanwhile, Four days back on Thursday 4th April, Dyfed primary schools turned out in their numbers as more than 1,200 children from 60 schools took part at the United Counties Showground in Nantyci. Following the same process as in the past, the first 10 in the year 6 and first 2 in year 5 were invited to compete here.
Up to 12 boys and 12 girls were invited to represent the two West Wales counties. The course was the same for boys as it was for girls, with competitors running around the edge of the two rugby pitches and the wooded area equalling 1500m. They returned back the same way before arriving at the finishing line near the Swansea University Indoor Athletics Track end, where parents and supporters were waiting to welcome them across the line in the early evening sunshine.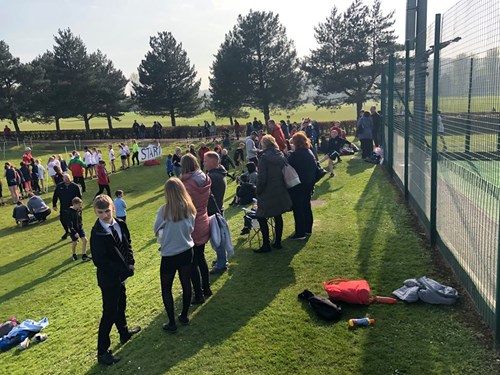 Dyfed & West Glamorgan Athletes Pick Up Medals in Tight Team Events
Medals were awarded to the first three individuals along with the first placed team members and they were presented back at the cafe area in front of a large crowd by Stratton-Thomas. It was great to see individual awards being shared across both counties with three apiece thanks to Hale, Norman, Joyce, Harries, Gillett and Johnson.
The scores at the end of the match were close as they've ever been in the 40 year running of the match. In the girls the it was Dyfed (39) West Glamorgan (41) whilst in the boys, there were nothing to separate them with Dyfed and West Glamorgan scoring 41 points each. As a result, all twenty-three athletes who ran were given a medal for their efforts.
GIRLS / MERCHED
1 Libby Hale (Newton/WG), 2 Jessica Norman (Llansteffan/D), 3 Anna Joyce (Penllwyn/D), 4 Chloe Hartley-Green (Newton/WG), 5 Mari Stephens (YGG Castell Nedd/WG), 6 Ellie-May John (Gwenllian/D), 7 Ava Carter (YGG Lonlas/WG), 8 Martha Morgan (Teilo Sant/D), 9 Martha Brandy-Phillips (Gymraeg Aberaeron/D), 10 Ella Harries (Waunarlwydd/WG), 11 Phyllis Davies (Tavernspite/D), 12 Lleucu Mathias (T Llew Jones/D), 13 Carys Kenniford (Lamphey/D), 14 Milly Bray (Newton/WG), 15 Sophie Stevens (YGG Pontybrenin/WG), 16 Erin Crabbe (Brynymor/WG), 17 Caitlin Morris (Newton/WG), 18 Lottie Robinson (Newton/WG), 19 Izzie Richards (Gowerton/WG), 20 Sara Stephens (YGG Castell Nedd/WG), 21 Jemimah Brown (Gowerton/WG), 22 Thea Jenkins (St Joseph's Port Talbot/WG)
BOYS / BECHGYN
1 William Harries (Hook/D), 2 Oliver Gillett (Llwynderw/WG), 3 Riley Johnson (St Joseph's Port Talbot/WG), 4 Zac Beddows (Ynystawe/WG), 5 Ashton Parry (St Joseph's Clydach/WG), 6 Daniel Warrender (Plascrug/D), 7 Alex Coles (Llangadog/D), 8 James Sloyan (Model/D), 9 William Coles (Llangadog/D), 10 Josh Barrett (Prendergast/D), 11 Gwilym Jac Jones (Nantgaredig/D), 12 Daniel Isaac (Prendergast/D), 13 Callum Jones (YGG Lonlas/WG), 14 Oliver Banwell-Clode (Hendrefoilan/WG), 15 Jake Williams (YGG Lonlas/WG), 16 Noah John (St Joseph's Port Talbot/WG), 17 Breydon Morris-Carlyon (Login Fach/WG), 18 Charlie Hill (Crwys/WG), 19 Evan Jones (YGG Pontybrenin/WG), 20 Olly Reid (Gyncollen/WG), 21 Tristan Warrender (Plascrug/D), 22 Tom Robinson (St Joseph's Port Talbot/WG), 23 Liam Upton-Boorman (Johnstown/D)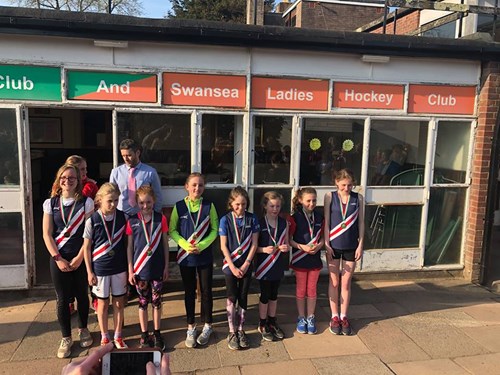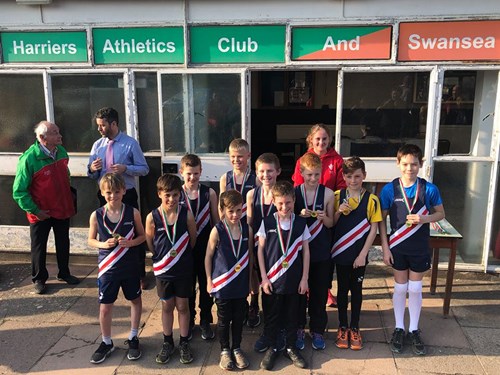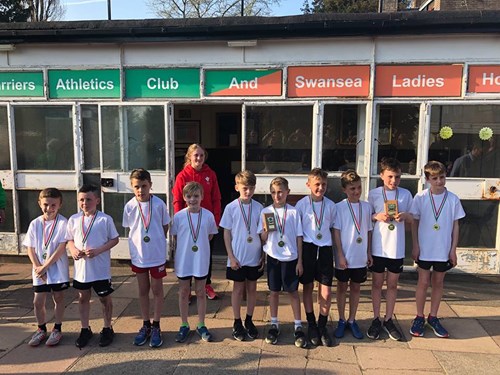 Congratulations to all the athletes who qualified to compete at tonight's event, we hope you enjoyed running for your county in this friendly competition. Da iawn pawb!
Next up is the summer track and field, having kicked off over the weekend and running through until the end of August. The West Glamorgan Primary Schools v Dyfed Primary Schools track and field competition will be held later this summer in Swansea (TBC) where there will be selection for the 60m Hurdles, 100m Sprint, 800m, 4 x 100m Relay, Long Jump, High Jump and Shot Put.
Both counties will have up to four boys and four girls in each of the events on that occasion.
Photos: Nathan Jones