Dyfed Schools pupils are preparing for a busy fortnight which will see four area events held in the next week, before the leading finishers head tot he big District championships on the final few days of January.
The grounds of Haverfordwest Racecourse will be the venue for the 2020 Dyfed Secondary Schools Cross Country Championships.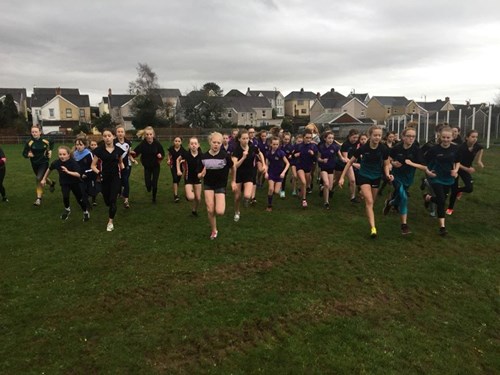 It will feature pupils from Brianne, Pembrokeshire, Ceredigion and Llanelli schools. It takes place on Tuesday 28th January, starting at 11.00am.
Each area, weather permitting, is due to hold their respective area events over the next ten days at Ammanford, Llanelli, Aberaeron and Haverfordwest. The first 10 in each of the races will go forward to represent their area on the 28th January in Pembrokeshire. Many of the top cross country athletes in the district are expected to feature as another action-packed year gets underway.
There will be eight races on the programme with the age groups beginning at Year 7 and is followed by the Year 8/9, Year 10/11 and Year 12/13 (both boys and girls)
After the championships in Haverfordwest, 12 in each age group will be selected to compete for Dyfed schools in the Welsh Schools Cross Country Championships at Penlan Arena Fields, Brecon Leisure Centre on Wednesday 11th March 2020 where they will be joined by teams from Afan Nedd Tawe, Cardiff & Vale, Glamorgan Valleys, Powys, North East Wales, South East Wales and Eryri.
To find out more information and how to get involved at the area events, please speak to your PE Teacher. Dyfed Schools Cross Country Championships Build-up and details will be published on www.carmarthenharriers.co.uk next week.
LLANELLI SECONDARY SCHOOLS AREA CROSS COUNTRY CHAMPIONSHIPS
FRIDAY 17TH JANUARY 2020
Pembrey Country Park, starting at 12.30pm
Year 7, Year 8/9, Year 10/11, Year 12/13
BRIANNE SECONDARY SCHOOLS AREA CROSS COUNTRY CHAMPIONSHIPS
MONDAY 20TH JANUARY 2020 (NEW DATE, postponed on Tuesday 14th January because of poor weather forecast)
Amman Valley Comprehensive School (field across the road from the school/leisure centre), starting at 1.00pm
Year 7, Year 8/9, Year 10/11, Year 12/13
PEMBROKESHIRE SECONDARY SCHOOLS AREA CROSS COUNTRY CHAMPIONSHIPS
TUESDAY 21ST JANUARY 2020 (NEW DATE, postponed on Wednesday 15th January because of poor weather forecast)
Haverfordwest Racecourse, starting at 10:30am
Year 7, Year 8/9, Year 10/11, Year 12/13
CEREDIGION SECONDARY SCHOOLS AREA CROSS COUNTRY CHAMPIONSHIPS
TUESDAY 21ST JANUARY 2020 (NEW DATE, postponed on Thursday 16th January because of poor weather forecast)
Ysgol Aberaeron Playing Fields, starting at 11.00am
Year 7, Year 8/9, Year 10/11, Year 12/13
LAST UPDATED: 16/01/2020 22:20