Carmarthen & District Harriers Athletics Club will be holding its annual Dinner & Awards Evening in 2019 on SATURDAY EVENING 12TH OCTOBER at the Ivy Bush Royal Hotel, Spilman Street, Carmarthen. (19:30 Start)
Bydd Clwb Athletau Harriers Caerfyrddin a'r Cylch yn cynnal ei Noson Ginio a Gwobrau Blynyddol yn 2019 ar DDYDD SADWRN 12FED HYDREF yng Ngwesty Brenhinol Ivy Bush, Stryd Spilman, Caerfyrddin. (Dechrau am 19:30)
An invite is extended to all club members, families and friends at this year's dinner in the heart of Carmarthen.
The price of the dinner is £18 per adult and £16 per child. Dress Informal.
The dinner will include a copy of the 2018/19 Annual Report which will have all the year's activities and results inside.
It is the only event in the year where the club can all meet to celebrate the successes of the club and its members during the year, so all members are asked to make every effort to attend.
The guest speaker for this year's event will be former Harriers Bruce Tasker and Caryl Granville. 
The club celebrated 70 years in 2018 having started in 1948 and a special evening was held at the Ivy Bush Hotel in November 2018, with guests Dewi Griffiths, Josh Griffiths, Jake Heyward, Claire Williams and Caryl Jones. Having competed since young ages for their local club, Welsh Schools, Wales and by now Great Britain in some of the biggest competitions in the world, it was great to hear their interesting stories and how they have developed into what they are now. The five took part in an inspiring question and answer session, led by Edward Morgan.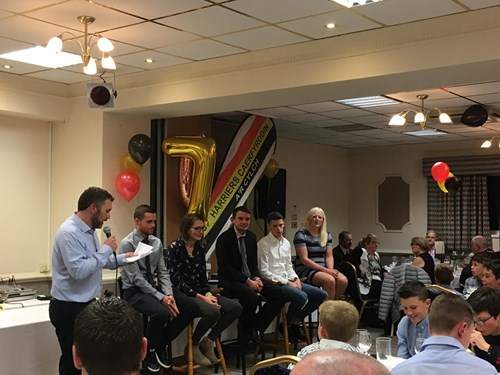 RB Evans was the Chairman between the period 1948 and 1981 before current President Dr Hedydd Davies took over from 1981 to 2018. The Ivy Bush has been our destination for the past eight years, having seen the first ever dinner take place a few minutes up the road at the Boars Head in Lammas Street, Carmarthen.
VIP guests were invited last year to hand out awards and give a speech.
In attendance on the evening last November included Peter Hughes-Griffiths (Carmarthenshire County Council Executive Board Member for Sport and Leisure); Emlyn Schiavone (Mayor of Carmarthen); Mansel Charles (Chair of Carmarthenshire County Council) and his consort, Bethan Charles-Davies.
We will see many awards given out in a range of categories. Awards to be presented on the evening include all the following:
Bursary Award
Repeat Welsh Champion & International
New Welsh Champion & International
Welsh International - Mini Marathon & SIAB
Sprint Relay Champion
Welsh Cross Country and Inter Regional Champion
Welsh Cross Country Team Champion
Richard Wyer Memorial Award
Ossie Morgan Memorial Award
Top 10 UK Award
Top 10 Wales Award
Outstanding Club Contribution
Club Record
Gwent League Team Winners
Young Volunteer of the Year
Club Service Award
Ernie Jones Memorial Award
J Eirwyn Walters Memorial Award
RB Evans Award
Junior Club Captains
Those to receive awards have been confirmed following a discussion at a recent committee meeting.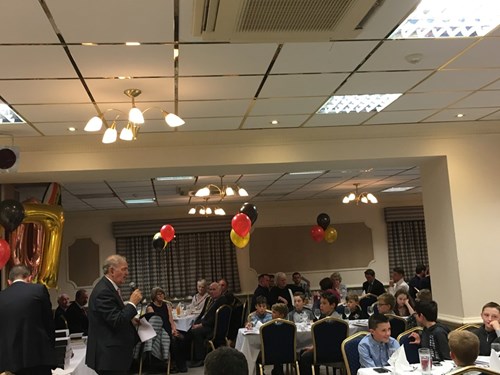 BOOK NOW / ARCHEBWCH NAWR
The application form for places at the dinner need to be returned to the Club Secretary, Cressy Morgan as soon as possible and no later than Monday 30th September.
CARMARTHEN HARRIERS 2019 ANNUAL DINNER & AWARDS EVENING BOOKING FORM - 12/10/19
A cheque and form is preferred. If you would like to pay through BACS/online, please email treasurer.carmarthenharriers@hotmail.com / secretary.carmarthenharriers@hotmail.com beforehand.