With five months of summer track and field athletics now completed, the cross country season returns shortly, with the first destination being in Nantyci with the 2019 Carmarthenshire Primary Schools Cross Country Championships. It will take place at the United Counties Showground in Carmarthen on the outskirts of the A40 dual carriageway.
It is being held on the evening of Thursday 19th September, with the first event at 4.30pm and sponsored by McDonalds and Welsh Athletics.
Year 3 & 4 - 2 Big Laps; Year 5 & 6 - 1 Small & 2 Big Laps
4.30pm - Year 3 Boys
4.45pm - Year 3 Girls
5.00pm - Year 4 Boys
5.15pm - Year 4 Girls
5.30pm - Year 5 Boys
5.40pm - Year 5 Girls
5.50pm - Year 6 Boys
6.00pm - Year 6 Girls
6.10pm approx - Presentation of Awards
Each event will be over a 1000m or 1200m course for boys and girls in years 3, 4, 5 and 6. All schools in Carmarthenshire have been invited to enter teams in this popular annual sporting event in West Wales. Schools will be reminded and sent forms at the beginning of the school term with reply slips to be returned to Mr Dylan Evans Head Teacher of Ysgol Y Dderwen by Monday 16th September 2019. Entry fee for teams of £4 per team.
The first 10 in each race will receive medals along with the first 3 teams in each race (first 3 members of school to score).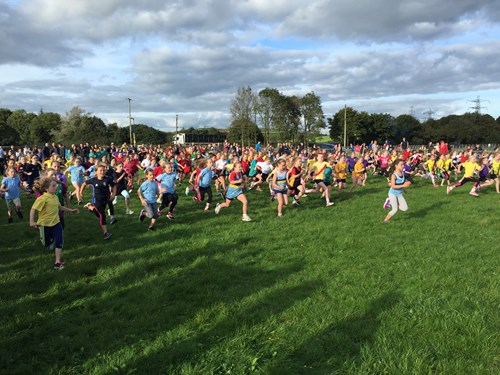 Bydd Pencampwriaeth Trawsgwlad Ysgolion Cynradd Sir Gaerfyrddin y flwyddyn hon yn cael ei cynnal ar Gae Sioe Y Dair Sir, Nantyci, Caerfyrddin ar Ddydd Iau 19eg Medi gyda'r ras gyntaf am 4.30yp a wedi'i noddi gan McDonalds ac Athletau Cymru.
Blwyddyn 3 a 4 - 2 Lap Mawr; Blwyddyn 5 a 6 - 1 Lap Bach, 2 Lap Mawr
4.30yp - Bechgyn Blwyddyn 3
4.45yp - Merched Blwyddyn 3
5.00yp - Bechgyn Blwyddyn 4
5.15yp - Merched Blwyddyn 4
5.30yp - Bechgyn Blwyddyn 5
5.40yp - Merched Blwyddyn 5
5.50yp - Bechgyn Blwyddyn 6
6.00yp - Merched Blwyddyn 6
6.10yp Tua - Cyflwyno Gwobrau
Bydd pob digwyddiad dros gwrs 1000 metr neu 1200 metr ar gyfer bechgyn a merched ym mlynyddoedd 3, 4, 5 a 6. Gwahoddwyd pob ysgol yn Sir Gaerfyrddin i fynychu yn y digwyddiad chwaraeon blynyddol poblogaidd hwn yng Nghorllewin Cymru. Bydd ysgolion yn cael ei hatgoffa ac yn anfon ffurflennu ar ddechrau'r tymor ysgol gyda slipiau ateb i'w dychwelyd at Mr Dylan Evans Pennaeth Ysgol Y Dderwen erbyn Dydd Llun 16eg Medi 2019. Tal mynediad i dimau o £4 y tim.
Bydd y 10 cyntaf ymhob ras yn derbyn gwobrau ac hefyd y 3 tim cyntaf ymhob un o'r wyth ras (tri aelod cytaf o'r ysgol i sgorio).
IF SCHOOLS ARE NOT ENTERING A TEAM FOR AN AGE GROUP, INDIVIDUALS ARE WELCOME TO TAKE PART WITH NO CHARGE. SIMPLY TURN UP ON THE EVENING AND HEAD STRAIGHT TO THE START LINE. OS YDY YSGOLION DDIM YN CORESTRU TIM, MAE YNA CROESO I UNIGOLION GYMRYD RHAN GYDA DIM TAL.
It's the first time that the championships in Carmarthenshire will return in two years following the unfortunate postponement last September due to the adverse weather and unsafe conditions.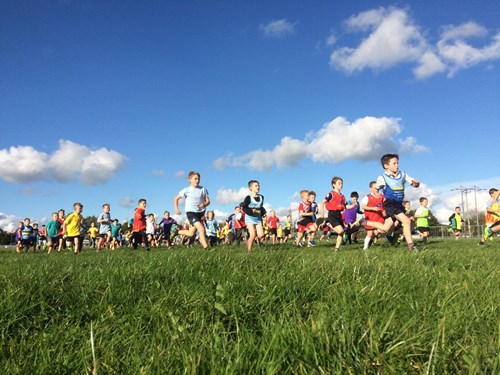 The championships follow on from the successful Dyfed Primary Schools Cross Country and Athletics Championships held at the beginning of April and middle of May as children from Carmarthenshire, Ceredigion and Pembrokeshire descended on the Showground fields and the Leisure Centre Athletics Track last term.
In 2017's edition, the athletes turned out in their numbers as over 45 schools were represented and a record number of almost 1,100 runners took part. In the team competition, there were four different team winners which were Ysgol Griffith Jones, Ysgol Y Dderwen, Ysgol Teilo Sant and Ysgol Iau Llangennech. These are likely to feature again but other teams will also be looking to impress on the big stage.
Ron Mounsey, from McDonalds has been a great supporter of school athletics and cross country in Carmarthenshire and the Dyfed District for a number of years and said: "We at McDonalds are very pleased to once again be sponsoring primary schools athletics and cross country competitions staged in Dyfed this year.
"It is a privilege to see so many young children taking part in the sport."
Postcode & Directions - How to get to the United Counties Showground in Nantyci?
From the East (from Llanelli / Cross Hands / Ammanford)
As you enter Carmarthen on the A48 to Pensarn Roundabout, follow the signs for the A40 St Clears and Showground is approx 1 mile west of Carmarthen on the dual carriageway, take the slip road and go straight ahead before arriving at the entrance.
From the North (from Llandeilo / Llandovery)
Travel on the A40 into Carmarthen and follow signs for the A40 and A48 towards Pensarn Roundabout, follow the signs for the A40 St Clears and Showground is approx 1 mile west of Carmarthen on the dual carriageway, take the slip road and go straight ahead before arriving at the entrance.
From the West (from St Clears / Whitland)
Travel to St Clears on the A40 from Haverfordwest (of A477 from Tenby & Pembroke) and follow Showground signs on dual carrigeaway just before reaching Carmarthen, take the slip road and go right on the roundabout, travel straight ahead and follow the signs to the Showground to arrive at the entrance.
2019 RACE EVENT INFORMATION / GWYBODAETH DIGWYDDIAD 2019 
Race Details for Pupils
Team managers should ensure that runners are close to the start 10 minutes before scheduled start time on timetable. The starter and marksman will give final instructions before the start. It will begin either through a hooter, gun or whistle.
At the finish line, each athlete will be issued with a disc showing their finishing position. As quickly as they can, athletes need to find their team manager/teachers near the finish to pass the disc on.
Race Details for Team Managers
You will need to collect your school envelopes inside the stand when you arrive. (and pay if not already done so)
Team Managers to collect all the discs from your school pupils at the end of all eight events. All envelopes must be taken inside to the recorders by teachers as soon as the race is finished to count in the team score. Envelopes that get sent back late might not be included in the final result that is announced.
First Aid
First aid cover will be provided by Carmarthen St John's Ambulance, who are likely to be based on the corner of the grandstand.
Refreshments & Toilets
Refreshments (hot and cold food and drink) will be on sale in the trailer at the front of the grandstand by Cegin Fach Y Wlad. Toilets are available in the building behind the stand as located on the course map.
Presentations
Awards will be presented to the first 10 individuals in each race, the first three school teams and the overall school winners. The presentation will be done in front of the stand at around 6.10pm.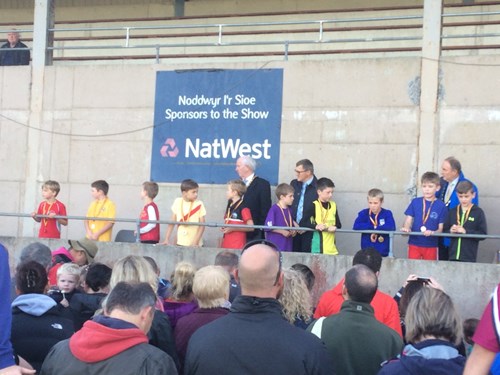 Health & Safety
Athletes are advised that Health & Safety regulations recommend that you should examine the course for potential hazards before competing. The course has been checked by the organisers and a risk assessment conducted. The Race Referee has inspected the course and declared it suitable for use. Any competitor who has concerns about a safety aspect on the course should bring it to the attention of the organisers and/or Race Referee immediately.
Volunteers
The event runs successfully with the help of volunteers each time. Volunteers will be required for this event - marshals and car park assistants. Please get in touch if you can spare a few hours on race day. Carmarthen Harriers club distance runners are also welcome to come and along and assist with front running "hairs" and tail runners.
Spectating
Everyone is welcome to attend and support the competitors - entry is free for all spectators all evening.
Car Parking & Travel
All Cars & Mini Buses / Coaches will be parking in the main car park as shown on the course map. There will be marshals on hand to help.
Schools and Spectators are suggested to arrive in good time, we will not be able to delay any of the races from the original timetable. Delays could be likely entering the car park after 3.30pm with a big attendance expected. Again, car park marshals will be there to assist by the entrance right through to parking.
Results
The provisional results of the top 10 individuals and the top 10 school teams in each school year event will be available and published online www.carmarthenharriers.co.uk and on our social media channels by 10:00pm on Thursday 19th September, with a report published before the end of the evening/overnight period.
Event Photos and Social Media
The Harriers Social Media Officer Nathan Jones will also be out tweeting and posting live content online as it happens, follow the club's social media pages on Facebook, Twitter, Instagram and YouTube on the day of the event from 12 noon. Get involved by tweeting us your photos and messages! Press content will also be included in the local newspapers a week after too.
Good Luck to all the athletes taking part and thanks to all those who will make the event possible. It is expected to be another brilliant afternoon of cross country running and plenty of local talent out on show. Pob Lwc i bawb sy'n cymryd rhan a diolch i'r rhai sydd yn helpu allan.