We are delighted to confirm that after three and a half months of no activity, Carmarthen Harriers Athletics Club sessions have re-started at Carmarthen Leisure Centre in Johnstown for some members following the easing of latest restrictions which were introduced across Wales a few days before Christmas.
Sessions at the club for limited numbers were held on town roads, fields, beaches, country park and Pemberton Athletics Track in Llanelli last summer (2020) whilst the track was resurfaced and upgraded from a six-lane to an eight-lane track. Some members/athletes and coaches by arrangement returned to the brand-new facility at Johnstown for the first time in 9 months to train for a period of four weeks under COVID-19 guidelines before athletics activity was once again suspended in mid-December.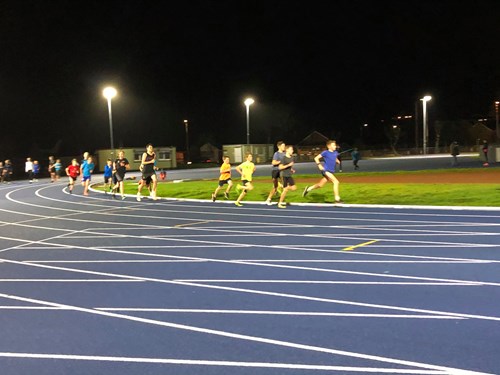 Following the recent announcements from the Welsh Government on 12th March and 26th March that 'outdoor sports facilities' and 'organised outdoor children's activities' including team sports can open and re-start, Carmarthen Harriers can confirm its plans for returning in-person (March/April 2021).
There will now be the opportunity for existing training groups who attended in November and December to train once again on our new track, which was officially opened last November.
Over the last few weeks, the Committee have worked hard to put arrangements in place that meet the requirements of Welsh Athletics and Carmarthenshire County Council that are designed to keep athletes and coaches safe during this time.
As a result, we have put in new arrangements for training and how the club must be run during the COVID-19 pandemic and restrictions that are in place.
Further Welsh Government guidance on the phased return of sport, recreation and leisure can be found here.
Welsh Athletics - Return to Training Documents
Training at the track will be opened to members in several stages:
CURRENT ARRANGEMENTS - Open to existing members (predominantly those in existing groups who are under 18 (and 18 on 31/08/20) and attended training at the track in November and December 2020).
TO BE CONFIRMED/UPDATE TO FOLLOW - Other members (in particular current competing under 11, under 13 and under 15 members) followed by some new members who are on a waiting list to join.
Arrangements at Carmarthen Harriers Training Sessions from Saturday 27th March 2021:
- Training will take place from 6:00pm to 8:00pm on Tuesdays (first session 30 March) and from 6:00pm to 7:00pm on Thursdays (first session 1 April). No athlete will be allowed onto the track before the start time of the session. No unauthorised entry.
- Every member attending a session will be required to complete an online pre-registration form on a weekly basis for track and trace, this link will be sent to be completed by athletes/parents 24 hours before each session. This form must be completed in order for the athlete to attend training with coaches.
- Please do not just turn up unless each athlete has a clear arrangement from their coach.
- Athletes are asked to wear a face covering when entering and exiting the venue.
- Hand sanitiser is available at the main track entrance.
- There is a one-way system in operation including a separate entry and exit gate. Entry is via the main entrance near the Leisure Centre main door.
- The athletics track spectator stand has been taped and zoned out in order for the different groups on track to be kept separately.
- Athletes will train in a group assigned to a specific coach/es. All reasonable steps to maintain social distancing will be taken.
- Only athletes with an up-to-date Carmarthen Harriers Athletics Club membership will be able to train at club times with no exceptions.
- No parents or relatives will be allowed within the track enclosure although with the new layout there is plenty of space to watch from outside.
- Carmarthen Harriers and the facility operator, Actif Sport and Leisure have carried out a COVID-19 risk assessment prior to the first training session.
- No athlete or coach should attend a training session if they or any member of their household is suffering from a symptom of COVID-19.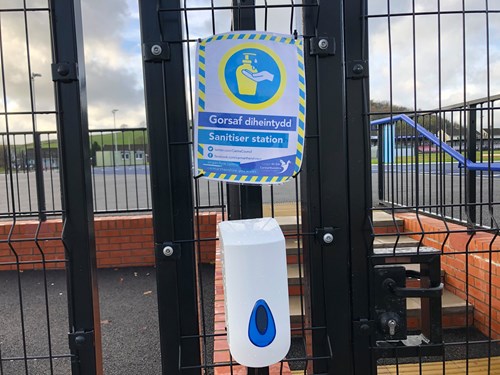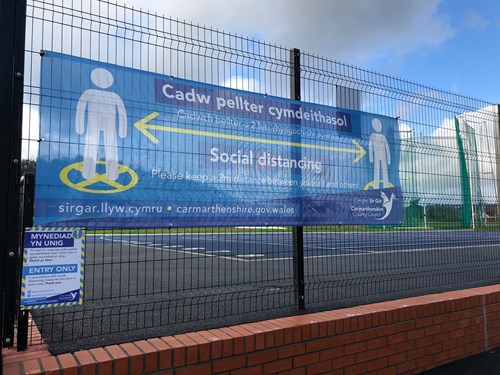 If you have any questions, please contact or speak to a coach or a member of the club committee.
We're looking forward to welcoming back many of our current members to the track shortly.
Thank you for your continued support/Diolch am eich cefnogaeth.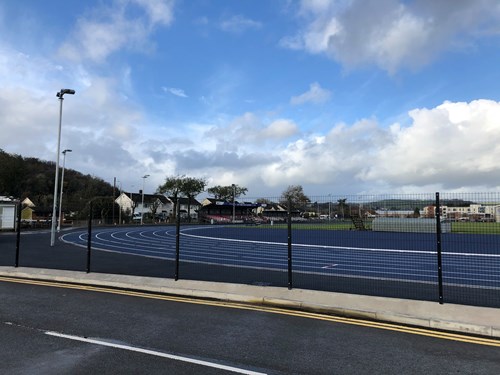 - Please check the club website, social media channels and WhatsApp groups for the latest club training developments over the next few weeks and months...
Website: www.carmarthenharriers.co.uk
Facebook: Carmarthen Harriers Athletics Club
Twitter: @CarmsHarriers
Instagram: carmarthenharriers
WhatsApp: Connect@CarmsHarriers & Info@CarmsHarriers