As covid secure track and field open meetings return during the month of September, there's been fourteen club members out on the road at several events over the past seven days; in Swansea and Cardiff down to the South West of England at Bristol, Braunton and Yate.
Here in Wales on Saturday (12th September), Welsh Athletics held its eighth event in this shortened track and field season at Cardiff and saw twenty-two from the Dyfed district participate in a great turnout.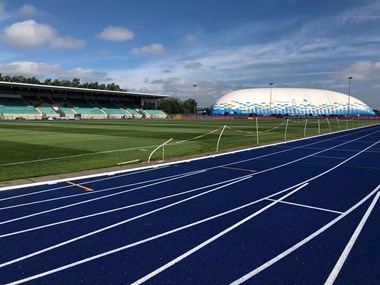 Following the staging of four pilot events as well as endurance, throws and sprints open meetings at Aberdare, Swansea and Bangor since the middle of August, it was the turn of the under 13 and under 15 youngsters to get the chance to compete over the weekend.
The Welsh Athletics Junior Sprints Open took place at Cardiff International Sports Stadium at Leckwith and featured many athletes competing on the track for the first time since last summer (or the indoor and cross country championships in February).
Run in races of four, there were more than 20 heats of the 100m and 200m sprint disciplines in the Welsh Capital and plenty of fast times and good performances from the athletes in attendance, approximately 90 from clubs across Wales.
IN OTHER NEWS...
Also last weekend (6th September), there were a further two events held in Swansea and up in Bangor: the Welsh Athletics Throws Open and Menai Track & Field Sprints competition.
As sprints, distance, jumps and throws events begin to return thick and fast in England, there's been track and field open meetings organised down the South West in Bristol, Devon, Yate and further afield in England too.
It was great to see so many Carmarthen Harriers vests out on show at these destinations with the long trips rewarded thanks to brilliant performances in the sprints, distance and jumps disciplines. (below)
There's more events to look forward to next weekend, we'll see athletes competing at Cardiff, Newport and in England too at Yeovil and Yate.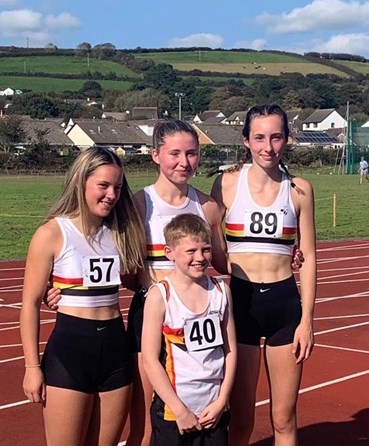 Recent Result Round-Up:
WELSH ATHLETICS THROWS OPEN - SWANSEA - 06/09/20
Morgan Batten - Javelin (47.04m)
MENAI TRACK & FIELD SPRINTS COMPETITION - BANGOR - 06/09/20
WELSH ATHLETICS JUNIOR SPRINTS OPEN - CARDIFF - 12/09/20
Jessica Lee - 100m (12.61)
Elli-May Williams - 100m (13.88)
Casi Gregson - 100m (13.77)
Hugo Douglas - 100m (14.52)
Beatrice Morgan - 100m (14.55)
Eleanor Fuller - 200m (30.71)
BRISTOL & WEST AC OPEN FESTIVAL OF SPEED - WHITEHALL
Sophia Reid-Thomas - 100m (13.2) & 200m (27.8)
Ellie Loweth - 200m (28.0)
DEVON TRACK & FIELD OPEN - BRAUNTON - 13/09/20
Zara Evans - 200m (27.42) & Triple Jump (10.42m)
Jessica Lee - 200m (25.55) & Long Jump (5.46m)
Casi Gregson - 100m (13.94) & 200m (28.38)
Iago Evans - 75m (12.24), 150m (25.09) & 600m (2:19.47)
YEOVIL & DISTRICT ATHLETICS CLUB SPRINTS & HURDLES OPEN MEETING - YEOVIL - 13/09/20
Osian Roberts - 100m Hurdles (14.8)
Beca Roberts - Triple Jump (10.90m)
BIGish HIGH JUMP MINI SERIES 2020 - CHELMSFORD - 13/09/20
Lili Church - High Jump (1.67m)

Results/Canlyniadau - Welsh Athletics Throws Open - Swansea
Results/Canlyniadau - Menai Track and Field Sprints - Bangor
Results/Canlyniadau - Welsh Athletics Junior Sprints Open - Cardiff
Results/Canlyniadau - Elsewhere (Bristol, Braunton, Yeovil, Chelmsford & More)