Ahead of the Actif Carmarthenshire Sports Awards in Llanelli at the end of this week, the Carmarthen Town Sports Awards was the first ceremony of the year held locally here in Carmarthenshire last Friday evening, 24th January.
The annual awards, held at the Carmarthen Quins Rugby Football Club and organised by Carmarthen Town Council again recognised the sporting achievements and the successes by athletes, volunteers and teams in the town of Carmarthen over the past 12 months.
The council had invited the public to nominate for this year's edition with an independent selection panel of sporting experts then deciding on the winners and runners up of each category. The awards which are separate from the Carmarthenshire Sports Awards, champion success within the town across all sporting fields.
All shortlisted finalists were all invited to attend the presentation evening in Carmarthen. Several sports were again nominated for the awards, ranging from athletics, rugby, gymnastics and football to judo, darts, karate, skiing and cycling. All nominations were of a very high standard which shows how strong sport is here in Carmarthenshire over multiple fields.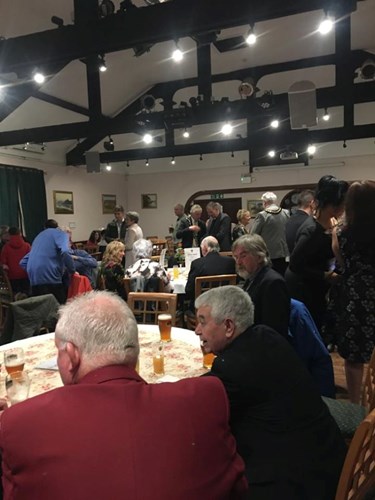 The eleven categories were: Senior Men / Dynion Hyn, Senior Female / Menywod Hyn, U13s Junior Male / Bechgyn Iau O Dan 13, U13s Junior Female / Merched Iau O Dan 13, U16s Intermediate Male / Bechgyn Ganol O Dan 16, U16s Female Intermediate / Merched Ganol O Dan 16, U19s Youth Male / Bechgyn Ieuenctid O Dan 19, U19s Youth Female / Merched Ieuenctid O Dan 19, Junior Team / Tim Iau, Senior Team / Tim Hyn and Coach/Organiser/Volunteer / Hyfforddwr/Trefnwr/Gwirfoddolwr.
A full room again gathered inside the first floor of the Rugby Clubhouse on a cold January's night for the occasion.
Carmarthen Town Council were most fortunate for another year in obtaining two sponsors for the event - E D Davies MBE (Ifan JCB) and J H Morse and Sons Ltd.
The club would like to congratulate the Town Council for staging another successful presentation evening as well as congratulating the shortlisted athletes, teams and volunteers who picked up awards on Friday evening.
These awards have been a great success for Carmarthen & District Harriers Athletics Club over the years and this year was no different as a dozen nominations had been put in with 7 being shortlisted to attend on the evening. Congratulations everyone / Llongyfarchiadau i bawb!
CATEGORIES AND AWARDS WERE AS FOLLOWS AT THE PRESENTATION EVENING ON FRIDAY 24TH JANUARY...
First / Cyntaf:
- Osian Roberts (Under 13 Junior Male)
- Frank Morgan (Under 16 Intermediate Male)
- Emily Shawyer (Under 19 Youth Female)
- Rhys Davies (Under 19 Youth Male)
Runners-Up / Ail:
- Jessica Lee (Under 13 Junior Female)
- Beca Roberts (Under 16 Intermediate Female)
- Carmarthen Harriers Junior Cross Country and Road Relays
The county sports awards continues on Friday 31st January in the Ffwrnes Theatre in the heart of Llanelli Town Centre, where the Actif Carmarthenshire Sports Awards will return in 2020 following its great success in recent years. More than thirty of the county's best are up for eleven awards to be announced at a ceremony at the end of the week. The awards are organised by Carmarthenshire County Council's Sport and Leisure team.
Full story and award winners/runners up will be available on www.carmarthenharriers.co.uk in the early hours of Saturday morning 1st February.