The 2019 Carmarthen Open Throws Meeting series has been a great success again this summer campaign. Mae Cyfarfodydd Taflu Caerfyrddin wedi mynd o nerth i nerth unwaith eto yn ystod yr haf.
The series, organised by Carmarthen & District Harriers Athletics Club took place in West Wales at the Carmarthen Athletics Track in Johnstown on the final Thursday of each month in April, May, June and July totalling four midweek meetings.
It has become a popular annual fixture on the Welsh Athletics calendar and has been going for ten years. The under 13 plus competition organised by javelin coach Ralph Siggery has given young and senior athletes from clubs across South Wales and further afield the opportunity to make new friendships and achieve new targets. A large number of athletes has used the throws series as a platform to go on and succeed in league meetings and Welsh Championships.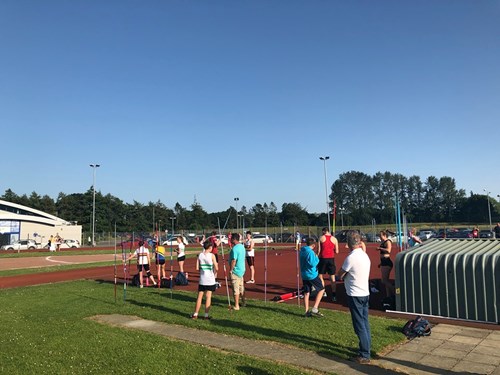 Each fixture alternated between throw disciplines with the javelin held on each one as the first one ever started with this field discipline. Shot and Discus were also open to throwers to compete in on a laid back evening with competitors coming from as far as Pontyclun and Cardiff to Birchfield Harriers in Birmingham and Yeovil Olympiads.
During the last four months, it has attracted over 50 talented throwers from the Pembrokeshire Harriers, Carmarthen Harriers, Swansea Harriers, Neath Harriers, Cardiff Athletics, Cardiff Archers, Newport Harriers, Brecon AC, Pontyclun AC, Llanelli AC, Yeovil Olympiads, Birchfield Harriers and DSW Para Academy.
Open meetings this summer have gone from strength to strength, especially with the RunWithTheWind Sprints Open and MDAL Middle Distance / Welsh Milers Series, run by Welsh Athletics having been well supported across the South of the country in Cwmbran, Swansea, Newport and Cardiff recently.
The likes of Bethany Moule, James Tomlinson, Brett Morse and Aled Davies as well as a few Paralympic athletes, such as Harrison Walsh are just some of the big names who have attended the throws meetings over recent years and continue to be great role models for the future generation of throwers.
In addition to club throwers, it has been a real pleasure for us as a club to see a number of DSW Para Academy (Disability Sport Wales) members having travelled down the M4 from Cardiff to take part at the same time as the able bodied athletes. Whatever weight they were throwing and whatever age, the event continues to show that it's open to anyone to achieve their goals just like we saw at fixture three mentioned below.: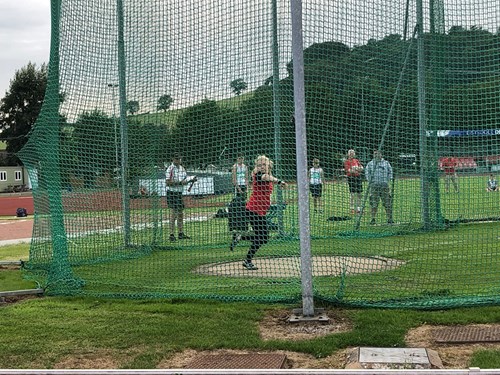 The highlight of the series no doubt came on June 25th where the sun shone down on DSW Para Academy athlete Harrison Walsh (DSW Para Academy).
After throwing 15.93m in Italy at the World Para Athletics Championships at the beginning of June resulting in a F44 Shot Put World Record, the DSW Para Academy athlete Walsh threw a massive PB unofficial WR of 16.21m at the Carmarthen Open Throws Meeting 2.
He told us that evening: "These open throws competitions are so useful to my development especially when they are well run. The best part about the these events is that it's time spent working out technical issues in a competition setting."
Watch the 16.21m throw in our video at the bottom of this article.
The club would like to thank the small army of committed volunteers and Welsh Athletics officials who once again gave up their free time this season to assist and ensure that the athletes could have these opportunities and stage to perform. Diolch!
All Results from the four matches can be found on the Carmarthen Harriers Website Results Page, Power of 10 athlete profiles and below. The 2020 edition of the Carmarthen Open Throws will return at the end of April 2020 and is open to all athletes from all clubs to attend.
Find more pictures, videos, results and news on our club social media pages: Facebook, Twitter & Instagram on the relevant event dates.