The summer Track and Field season is drawing to an end and even though there hasn't been a full time table of events, we hope that everyone who has wanted to has had the chance to compete and achieve your revised season goals.
Now we turn our attention to winter training. Winter training is all about Endurance,  predominately for the Cross Country season and partly by necessity of living in West Wales and training in wet, cold and windy conditions when all you can do is run.
The Tuesday 7pm athletes will already know their winter training programme, set by their coaches.
For the Tuesday 6pm athletes David and Cressy will coach Endurance sessions for all athletes who want to run distance and compete in the Cross Country events.
For everyone else the rest of the coaching team will continue to offer Run/Jump/Throw Sessions, which we are in the process of planning, but will include a combination of fitness, strength and conditioning and technical event sessions, depending on the weather. Athletes will be kept in year groups for RJT, but are free to choose between the Endurance group or their RJT group on a weekly basis and remember to fill in the form before training!
Our aim will be to have a bit of fun whilst getting fit, however we do not have indoor facilities this winter, so on the really awful nights please come over-dressed for the occasion, be prepared for an evening of running and bring a change of clothes and a sense of humour!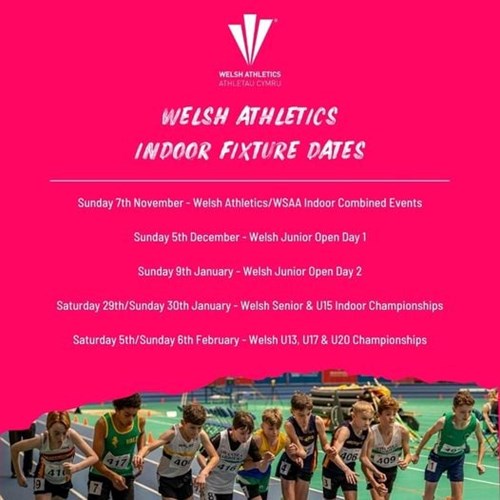 Welsh Athletics have now included some indoor competitions, details of which are below.
If any athletes are interested in competing in any of these events, please come and talk to Jane, as I am happy to coach indoor-competition event specific sessions at 7pm on a Tuesday and/or 6pm Thursday by request over the winter (weather depending)