Carmarthen Harriers are pleased to announce that NEW CLUB KIT is now available to order from the "Total Team Wear" Website Club Page as of Tuesday 18th June with training tops, tracksuits and shoe bag currently for sale.
You will also notice on the kit that we have recently introduced a brand new billingual Club Logo too!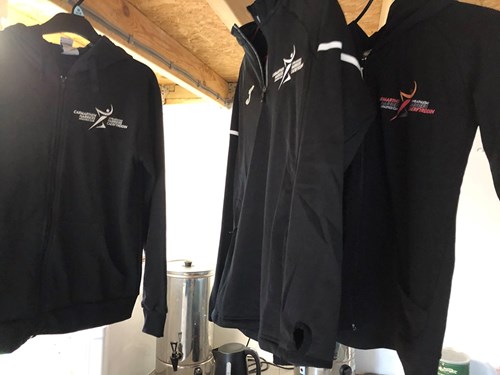 New joma kit can now be ordered from June 18th. Our company "Total Team Wear"
Some of our members are already wearing them to training sessions and they look great!
See images below for the type of kit that we are currently offering (black and white and colour), all kit can include athletes' initials (optional)...
Carmarthen Harriers Tech Tee (T-Shirt)
Adult Size: S, M, L, XL, XXL
Junior Size: 8, 10, 12, 14
Carmarthen Harriers Women's Tee
Adult Size: S, M, L, XL, XXL
Junior Size: 8, 10, 12, 14
Carmarthen Harriers Training Top
Adult Size: S, M, L, XL, XXL
Junior Size: 8, 10, 12, 14
Carmarthen Harriers Women's Training Top
Adult Size: S, M, L, XL, XXL
Junior Size: 8, 10, 12, 14
Carmarthen Harriers Hooded Jacket
Adult Size: S, M, L, XL, XXL
Junior Size: 8, 10, 12, 14
Carmarthen Harriers Women's Hooded Jacket
Adult Size: S, M, L, XL, XXL
Junior Size: 8, 10, 12, 14
Carmarthen Harriers Skinny Pant Trousers
Adult Size: S, M, L, XL, XXL
Junior Size: 8, 10, 12, 14
Carmarthen Harriers Female Skinny Pant Trousers
Adult Size: S, M, L, XL, XXL
Junior Size: 8, 10, 12, 14
Carmarthen Harriers Shoe Bag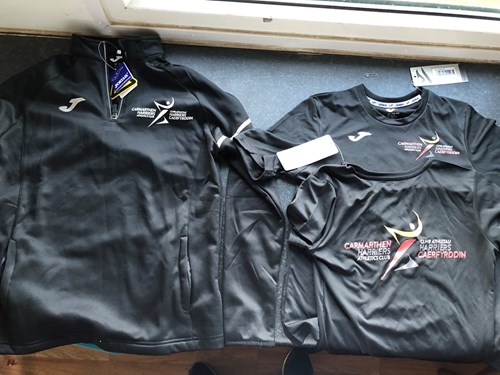 Company Website: www.totalteamwearuk.com
ORDER HERE / ARCHEBWCH YMA: via the club's page http://www.totalteamwearuk.com/clientshops/carmarthenharriers/default.htm