Carmarthen Harriers Membership Now Due
The 2019/20 annual Carmarthen & District Harriers AC Membership fe
Only paid up Carmarthen Harriers members will be allowed to train on the Carmarthen Athletics track on club training nights (Tuesday and Thursday)
Only paid up Carmarthen Harriers members are covered under the Carmarthen Harriers insurance policy and are able to compete for the club.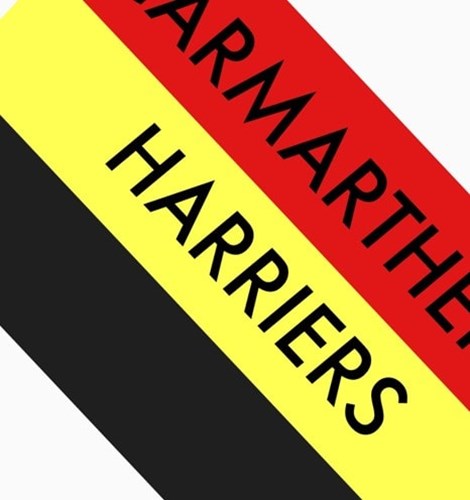 Please note that priority will be given to existing Under 11 members and the new members will be taken when we know how many spaces we have. During the summer, it is possible that a waiting list will be re-introduced for the under 11 and under 13 age groups via the club secretary.
Membership forms are now available and it is important that everyone pays up for the year ahead as soon as possible. Each athlete will be registered on the Welsh Athletics portal.
There are three ways that you can renew membership this year:
1 Print, Complete and Return the form with payment (cheques: Carmarthen Harriers) on a training night
2 As above but post to: Membership Secretary, 10 Penllwyn Park, SA31 3BU
3 Complete a Digital Membership and pay by BACS - please email Cressy Morgan for details - secretary.carmarthenharriers@hotmail.com
PLEASE COLLECT A MEMBERSHIP FORM AT THE TRACK OR PRINT ONE BELOW AND SEND BACK WITH PAYMENT AS SOON AS POSSIBLE.
Membership Rates for the year beginning 1st March are:
(Fees include Welsh Athletics registration fee and the Carmarthen Harriers personal accident insurance scheme)
Athletes nine and under 20 years of age: £30.00
Student (full time education): £35.00
Adult 20+ years of age: £40.00
Household (4 people): £70.00 (£10 for each additional person beyond 4)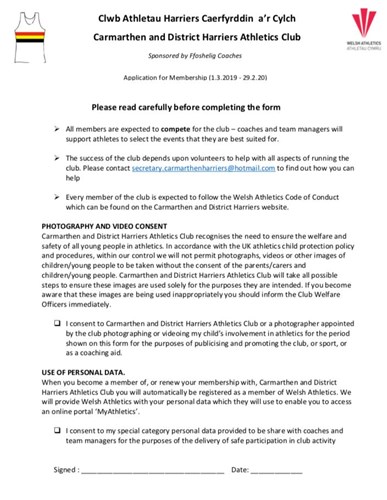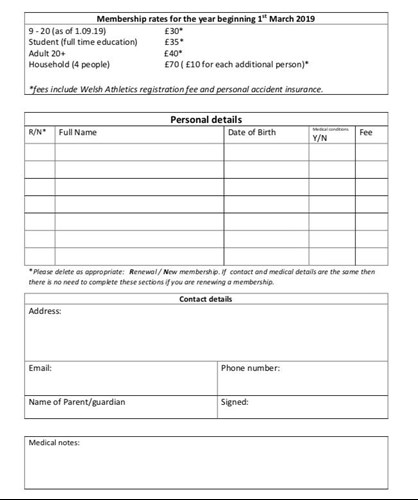 Print off a copy of the 2019-20 membership form here:
2019 CARMARTHEN HARRIERS ANNUAL MEMBERSHIP FORM
Note New Training Fees from 1st April
From Monday 1st April, there will be a slight change on training fees for weekly attendance at the track. See below:
Tuesday Evening - £3 per athlete
Thursday Evening - £3 per athlete
Non-Club Members on a Tuesday or Thursday Evening - £5 per athlete
Many Thanks