Llandaff Fields in Cardiff played host to the first #MuddyBrilliant British Athletics Cross Challenge leg along with the re-named John H Collins Gwent Cross Country League last weekend -- Saturday 12th October.
The park in the Welsh Capital just north of the City alongside the River Taf attracted many of the UK's top endurance runners and club athletes from all over the United Kingdom to kick-start their winter campaigns. There were some good races held in all age groups with the route incorporating a mixture of flat fast running and interesting woodland and riverside sections on a heavy underfoot course following recent days of heavy rain.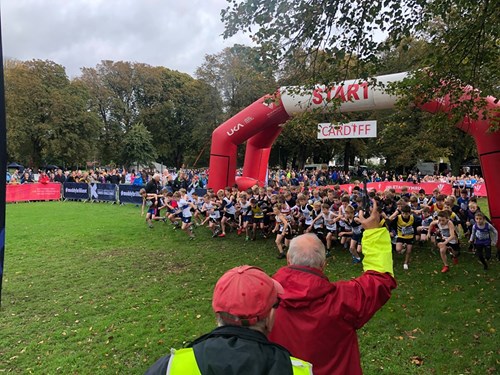 Founded in 1997, the Cardiff Cross Challenge started the 2019 / 2020 British Athletics Cross Challenge Series in October and sees it last through to March with some exciting races anticipated.
It incorporated a full range of men's, women's and children's races and was open to runners of almost any age (from 9 right up to over 70).
The 2019 John H Collins Gwent Cross Country League programme is set to visit Cardiff, Pembrey, Bristol, Chepstow and Swansea between October and March 2020.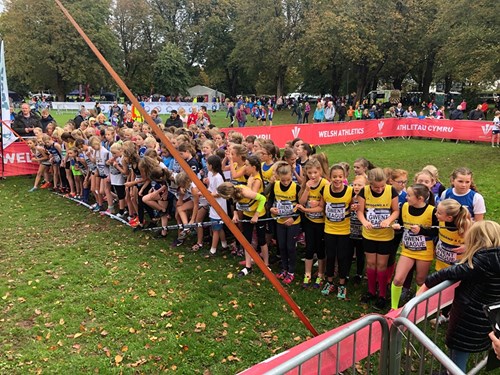 The newly named "John Collins Gwent Cross Country League" in 2018 has now been going strong for numerous years, attracting athletes - juniors and seniors - from across South Wales and the South West of England. The league is open to those trying cross country for the first time in the novices going through under 13, under 15, under 17/20 and seniors/masters, so there's a chance for everyone to get involved during the winter season!
Round 2 heads to Milton Keynes on the second Saturday of November before a big day out in Liverpool on Saturday 26th November.
There's a new venue to look forward at the beginning of 2020 - with the fourth fixture heading to Kings Park in Stirling on the second Saturday of January. In its usual format, the series concludes at the UK Inter-Counties Cross Country Championships at Prestwold Hall in Loughborough in early March 2020.
The senior races was the highlight of the day with several big names in the line up as athletes next look towards the British Athletics Cross Challenge in Liverpool for the trials where European Championships spots will be up for grabs to represent Great Britain at Lisbon, Portugal in December. There was a one-two for the Cardiff Athletics club with Charlotte Arter and Jenny Nesbitt finishing in first and second in the women's whilst in the men's, the top three were Marc Scott, Mahamed Mahamed and Michael Ward.
Incorporated into round 1 of 5 of the John H Collins Gwent League on 12th October was the West Wales trials to represent the region in the Welsh Inter Regional Championships at Brecon on Saturday 16th November.
Selection letters for the U13 to Masters age categories were distributed at the finish line. Having received the news from Welsh Athletics that the Inter Regional will be held earlier this year in the same event as the Welsh Inter-Schools Cross Country Championships, the selection race was held earlier.
NOTE: All Replies must be returned to the address provided on the letter by Wednesday 23rd October before reserves will be invited.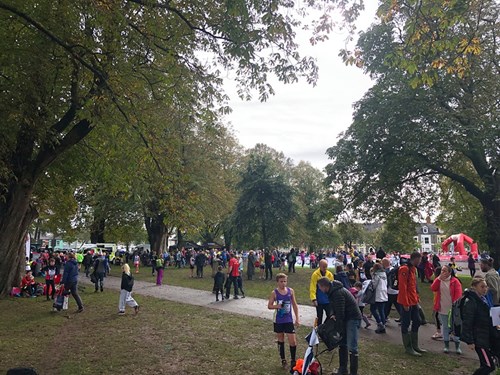 Carmarthen Harriers athletes made the 120-mile round trip to Cardiff ahead of the club's Annual Dinner & Awards Evening to participate in the 2019/2020 league's opener and it turned out to be a successful day.
It's been a great start to the winter from the distance runners following great results at the Welsh Athletics Road Relay Championships in Pembrey in mid-September, and it continued here.
Under 11 Boys, Under 11 Girls, Under 13 Boys, Under 13 Girls and Under 15 Boys age groups saw at least a quartet start to make up a team. There were a number of high individual placing too with a few making it into the top 10, too many to highlight!
Well Done to all runners and thanks to the parents and coaches who also turned out/ Da iawn i'r rhedwyr i gyd.
Check out the 1st fixture results in full below:
Novice Boys / Bechgyn O Dan 11: 1 William Coles 4:40, 3 Jac Jones 4:44, 16 Tristan Warrender 5:05, 36 Joseph Thomas 5:19, 49 Ashton Williams 5:26, 57 Jimmy Davis 5:32
Novice Girls / Merched O Dan 11: 2 Amelia Williams 4:54, 4 Jessica Norman 5:08, 19 Gwenan Jones 5:24, 29 Martha Morgan 5:36
Under 13 Boys / Bechgyn O Dan 13: 1 Iwan Thomas 9:46, 2 Ifan Bowen 9:59, 3 Macsen Toogood 10:06, 22 Alex Coles 10:39, 25 Jake Lynock 10:44, 31 Daniel Warrender 10:55, 34 James Sloyan 10:56, 44 Aron Hedd Jones 11:14
Under 13 Girls / Merched O Dan 13: 20 Carys Wood 11:30, 24 Frances Mackie 11:40, 25 Erin Morgan 11:44, 32 Ellie-May John 12:02
Under 15 Boys / Bechgyn O Dan 15: 1 Frank Morgan 10:31, 12 Zach Elvy 11:21, 27 Scott Price 11:51, 43 Jack Thomas 12:17, 53 Steffan Davies 12:34, 64 Morgan Williams 13:07, 65 Brynmor Peters 13:10, 82 Ellis Caddick 14:20
Under 15 Girls / Merched O Dan 15: 15 Amy Greatrick 12:55
Under 17 Men / Bechgyn O Dan 17: 6 Dafydd Jones 18:49
Under 17 Women / Merched O Dan 17: 33 Megan Jones 20:46
Under 20 Men / Bechgyn O Dan 20: 12 Ben Thomas 22:04
Under 20 Women / Merched O Dan 20: 16 Cerys Davies 21:01
Senior Women / Menywod: Wendy Price (F35 27:12), Ellie Kiff (U23 28:53), Amanda Toogood (F35 38:02), Peter Moody (M75 36:03)
Senior Men / Dynion: Huw Davies (M45 42:01)
British Athletics Cardiff Cross Challenge and John H Collins Gwent League RESULTS https://www.carmarthenharriers.co.uk/results/
Looking ahead, Carmarthen Harriers have been delighted to host one of their own matches for the past three years at the magnificent Pembrey Country Park, with many of the runners describing it as one of the best courses of the year. We are pleased to announce that the second league match will head back to West Wales on Saturday 9th November organised again by the club and Carmarthenshire County Council. # (next event)
The West Wales Championships will still be held on home turf in Pembrey on 9th November with medals awarded to the first three from the West across the line.