Saturday 2nd March - Dydd Sadwrn 2ail Mawrth - Sunday 3rd March - Dydd Sul 3ydd Mawrth
Our reporting this weekend comes from further East, starting with the cross country league finale in South West of England, whilst for indoor athletes, they represented the Welsh Athletics team at the annual Welsh Athletics Indoor International fixture.
Thankfully, there was no repeat of 2018 where both these events were cancelled this time last year due to the "beast from the east" and snow that hit the country hard.
All eyes was on the other side of the Severn Bridge at Bristol on Saturday at Blaise Castle before indoor action took centre stage on Sunday back in Wales, as did events at Newport for the Admiral City of Newport Half Marathon.
Read more on what our athletes got up to on the final few days of the half term holidays...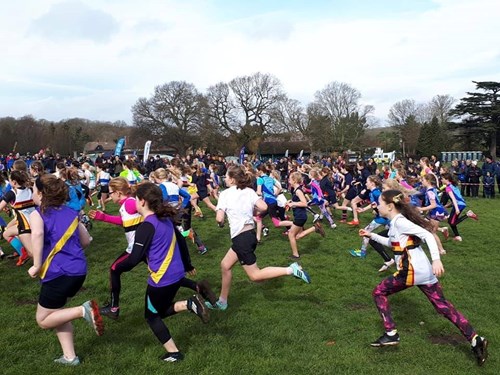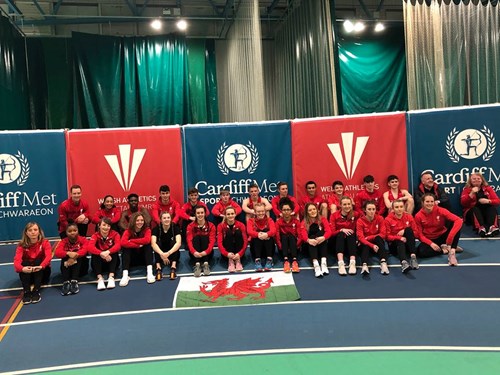 JOHN H COLLINS GWENT CROSS COUNTRY LEAGUE ROUND 5 - BLAISE CASTLE, BRISTOL
Just four weeks after the fourth match at Pontypool Park, the 2018 & 2019 John H Collins Gwent Cross Country League campaign ended in South West England on Saturday (March 2nd). This followed an action-packed five matches which began back in October at the British Athletics Cardiff Cross Challenge and visited Pembrey, Parc Bryn Bach and Pontypool Park in the middle. For the first time in two years, hosts Westbury Harriers welcomed athletes, officials and spectators to the magnificent Blaise Castle Grounds who again put on a great event.
Carmarthen Harriers' Novice Boys, Novice Girls, Under 13 Boys and Under 13 Girls teams knew that one more team performance would ensure that they came away from Bristol with deserving team medals for their efforts over the season's five rounds. Following some great results in the recent Welsh Schools Championships, Welsh Athletics Junior Indoor Championships and the Welsh Athletics Cross Country Championships last week, there was more success to follow here heading into the month of March.
The course provided a different test to those at the Park in Pontypool as athletes made their way around the perimeter of the fields and woods before there was a grand stand finish opposite the playground with good spectating views on the final straight. The Novice Girls and Boys got the action underway shortly before lunchtime and was followed in difficult conditions by the other eight races in the under 13, under 15, under 17/20 and of course, the popular Senior races which saw another bumper turnout of men and women from the majority of clubs affiliated in the league.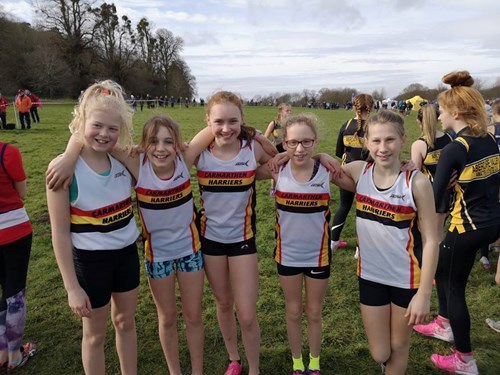 Here's a Full Summary of the Harriers that made the over 4-hour round trip to Bristol...
We start with the best result of the season which is the Novice Boys, who won team gold by over 300 points and the B team in 7th. There was another win for Macsen Toogood (5:49) who finished off with four wins and a second and he was led in 3rd, 4th and 5th by Alex Coles (6:00), Daniel Warrender (6:02) and William Coles (6:07) to make up the A team in dominant fashion. The B team was led in by Liam Upton-Boorman (6:13) in 12th followed by Jac Jones (6:30) in 23rd, Tristan Warrender (6:36) 29th and Jimmy Daviesmaking up the 4 in 68th (7:21). Toogood, Warrender, Coles, Upton-Boorman and Coles were all in the top 10 individually.
The Novice Girls came away with comfortable team bronze medals which is a reward for the youngsters' hard work. First in at Bristol was Jessica Norman (6:44) breaking into the top ten and the work was completed by her teammates Ellie-May John (6:51), Martha Morgan (6:54) and Esme Lynock (7:21) who scored for the A team in 14th, 18th and 32nd. Joining them at the finish line were 37th Gwennan Jones (7:36) and 72nd Grace Toogood (8:29).
As with the NB, our under 13 boys also performed consistently throughout the campaign and ended up on the top of the table with the B team also finishing in an excellent fifth. Jack Thomas and Iwan Thomas (8:22) came 8th and 10th respectively and were followed over the finish by the trio of Zach Elvy one place back (8:26), Ellis Caddick (9:00) 20th and Brynmor Peters (9:27) in 31st.
Five under 13 girls headed to England looking to hold on to silver which is very much what they did. The fab five packed in together and ensured that they finished runners-up to the Cardiff Archers club. Representing the club on Saturday were Amy Greatrick (9:28) in 14th, Erin Morgan (9:36) 16th, Frances Mackie (9:39) 18th, Chloe Hale (9:58) 28th and Carys Wood (10:01) in the top 30.
In the under 15 boys' race, Frank Morgan continued his preparations towards SIAB in a few weeks' time with another fine run here in fourth position (14:13). After top three finishes at the Welsh Schools and Welsh Athletics Cross Country Championships recently, he's in great shape ahead of Dublin. The U15 boys team finished in 6th.
Congratulations to you all on fantastic results and thanks to the athletes who supported the club in the league over the last six months! A John H Collins Gwent Cross Country League Carmarthen Harriers Special Report and further reaction on the above will be published on www.carmarthenharriers.co.uk on Tuesday 12th March.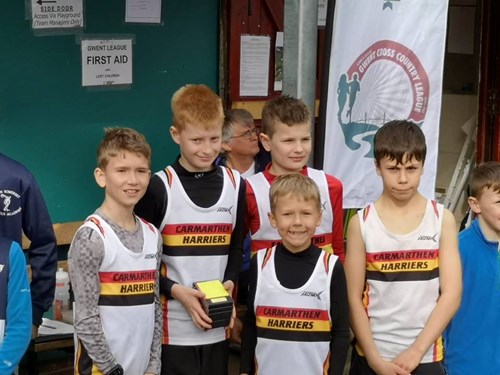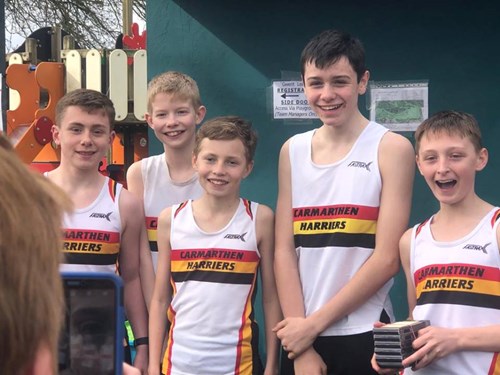 WELSH ATHLETICS UNDER 20 INDOOR INTERNATIONAL - NIAC, CARDIFF
Welsh Athletics' busy schedule of indoor competition came to an end on Sunday (March 3rd) with the 2019 edition of the Welsh Athletics Under 20 Indoor International. A season that has hosted events such as the Junior & Senior Indoor Athletics Championships and the Cardiff Met Grand Prix, the National Indoor Athletics Centre in Cyncoed Campus, Cardiff provided an ideal venue for producing an excellent end-of-season competition featuring top class athletes from both countries.
The International match, back for the first time since 2017, saw Junior teams from Wales and England compete and they were joined by a haul of guest athletes who were also invited to compete in specified events. Welsh Athletics' Under 20 team was selected last month and included a strong team of over 30 junior athletes full of club and international experience. It was great to see the team spirit within the camp and each and every one having a great time representing their country.
Final Match Score: England 145pts; Wales 70pts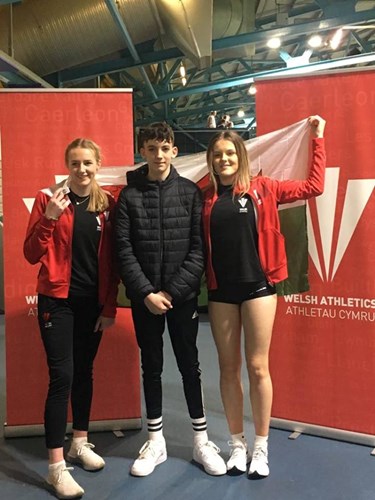 Carmarthen Harriers' Under 17 Duo among those to pick up more International Vests...
Lili Church and Beca Roberts deservedly received their Welsh International call ups to the team, despite the two still being under 17 athletes. They are used to competing on the big stage by now, having had the experience of travelling to Scotland for the SIAB Schools and Celtic Games International last summer. The Schools International will surely be another event for them to aim for over the next few months when it arrives in Swansea in July 2019.
Back in Cardiff, Roberts was the first to put on the vest in the women's triple jump at midday. The event featured three athletes including two of England's best triple jumpers in Sears and Hughes. Beca produced six legal jumps on her way to a best of 10.74m in third which was just shy of her personal best this year. Throughout the competition, she also went to 10.52m, 10.66m, 10.67m and 10.70m and was one of the first athletes to score for Wales.
Towards the half way mark in the afternoon and as the competition was hotting up, the high jump bed made an appearance at the end of the 60m straight. This is where Lili Church aimed to test herself in a high quality women's high jump field. Again, England were first and second individually with Church clearing heights of 1.51m, 1.56m and 1.61m on her way to fifth and a positive result.
Third member Osian Roberts was also in action. He was invited to participate in the combined under 15 boys and girls triple jump development event which went off at the same time as the women's match competition, following the regional development day in Cardiff last year. Eight athletes went in this one with Roberts winning the overall competition with a leap of 9.66m performed in the opening round.
All three have been in fine form over the 2018 & early 2019 indoor season in the high jump, hurdles, combined events and triple jump including gold medal winning performances at the West Wales Indoor Athletics Championships and Welsh Athletics Junior Indoor Championships recently. This rounded off a great year for the trio, and will look forward to getting going in summer training with their coach Dorrien Thomas.
Da iawn Lili, Beca a Osian, profiad arbennig i gystadlu mewn gystadleuaeth rhyngwladol arall.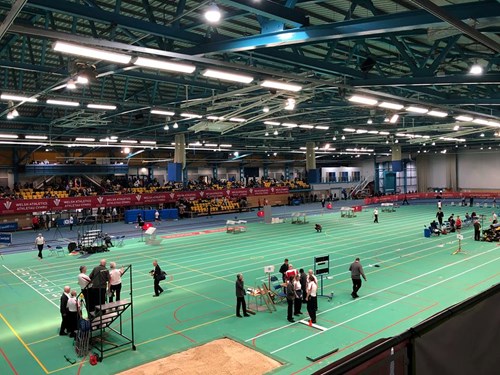 For the John Collins Gwent Cross Country League Fifth Match Provisional Results in full, go to CLICK HERE
For the Welsh Athletics Indoor International Provisional Results & Start Lists in full, go to CLICK HERE