Saturday 12th October will see the British Athletics Cardiff Cross Challenge and the opening John H Collins Gwent Cross Country League combine into one event for the second year in succession.
Founded in 1997, the Cardiff Cross Challenge will start the 2019 / 2020 British Athletics Cross Challenge Series in October and lasts through to March with some exciting races anticipated. The races on 12th October will take place at Llandaff Fields in Cardiff just north of the City alongside the River Taff.
As it did in 2018, the venue offers a change of scenery for the Cardiff Cross Challenge which had been held in Bute Park for several years.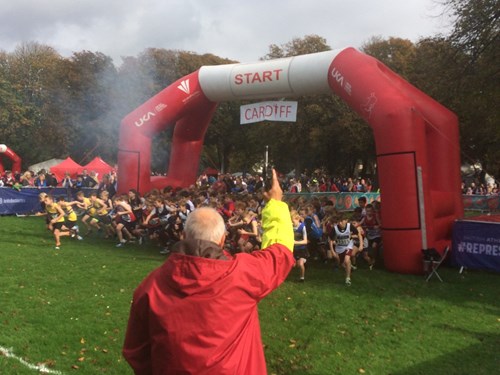 The season opener will provide a great opportunity to face the best British athletes ahead of the European Trials at Liverpool in November and also feature an International field of athletes as the fixture continues to grow.
Round 2 heads to Milton Keynes ahead of the European Trials at Sefton Park, Liverpool as athletes aim to book their place on the plane for the trip out to Lisbon, Portugal in December.
There's a new venue to look forward at the beginning of 2020 - with the fourth fixture heading to Kings Park in Stirling on the second Saturday of January. In its usual format, the series concludes at the UK Inter-Counties Cross Country Championships at Prestwold Hall in Loughborough in early March 2020.
2018's edition saw many of the best British endurance athletes run around the Welsh Capital course including Anna Molle, Charlotte Arter, Frank Tickner, Peter Riley, Andy Vernon, Louise Damen, Jess Judd and Dewi Griffiths.
It will incorporate a full range of men's, women's and children's races and is open to runners of almost any age (from 9 right up to over 70) and always attracts many of the UK's top endurance runners. The course is marked to national standards and incorporates a mixture of flat fast running, and interesting woodland and riverside sections.
Entries for the Cross Challenge will only be taken by Bespoke Entries. ENTRIES FOR THE CARDIFF CROSS CHALLENGE (FIRST EVENT OF THE SEASON SERIES) HAS A CLOSING DATE OF 22:00 ON SUNDAY 6TH OCTOBER. Athletes will have an option to indicate they also wish to be scored in the Gwent League.
TIMETABLE / AMSERLEN - Cross Challenge / John H Collins Gwent League openers 12/10/19
11:30 Under 11 Girls / Merched O Dan 11
11:40 Under 11 Boys / Bechgyn O Dan 11
11:50 Under 13 Girls / Merched O Dan 13
12:05 Under 13 Boys / Bechgyn O Dan 13
12:20 Under 17 Men / Bechgyn O Dan 17
12:45 Under 17 & 20 Women / Merched O Dan 17 a 20
13:10 Under 15 Girls / Merched O Dan 15
13:25 Under 15 Boys / Bechgyn O Dan 15
13:40 Senior Women & Masters / Menywod
14:25 Under 20 Men / Bechgyn O Dan 20
14:50 Senior Men & Masters / Dynion
Further Carmarthen Harriers Gwent League Details will be coming up on the weekend, but in the meantime put the 12th October in your diaries for the season opener in Cardiff!