Brecon welcomes hundreds of athletes from all corners of the country as Welsh Athletics and Welsh Schools Athletic Association work in partnership to host the Inter-Schools and Colleges and Inter-Regional Cross Country Championships on the same day...
Saturday 16th November was a big day as far as Welsh secondary schools and Regions were concerned, as all roads from the Eight Welsh Districts - Afan Nedd Tawe, Cardiff & Vale, Dyfed, Eryri, Glamorgan Valleys, North East Wales, Powys and South East Wales led to the Penlan Arena / High School in the centre of Brecon.
The 43rd Welsh Inter-Schools and Colleges Cross Country Championships and the 21st edition of the Welsh Athletics Inter-Regional Cross Country Championships combined into one fixture for the first time in Mid Wales on the weekend.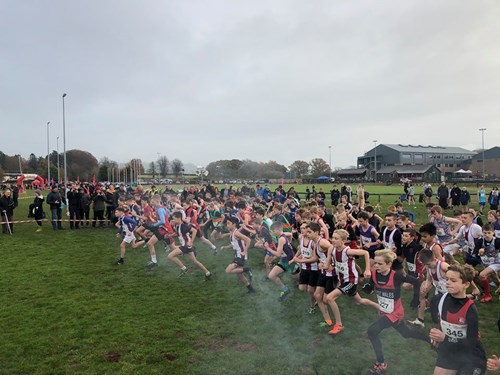 Roedd Dydd Sadwrn 16eg o Dachwedd yn ddiwrnod mawr yng nghalendr traws gwlad Ysgolion, Colegau a Rhanbarthau Cymru. Daeth yr athletwyr gorau o'r wyth ardal yng Nghymru - Afan Nedd Tawe, Caerdydd a'r Fro, Dyfed, Eryri, Cymoedd Morgannwg, Gogledd Ddwyrain Cymru, Powys a De Ddwyrain Cymru at ei gilydd i Gaeau Penlan / Ysgol Uwchradd Aberhonddu yn ganol y dref.
Gwnaeth y 43ain Pecampwriaeth Traws Gwlad Ysgolion a Cholegau Cymru a Bencampwriaeth Traws Gwlad Rhanbarthol Athletau Cymru am y 21ain tro ddod mewn i un ddigwyddiad am y tro cyntaf yng Nghanolbarth Cymru dros y penwythnos.
Welsh Schools Athletic Association and Welsh Athletics launched their cross country programme as the fixture list presented its first serious test of the winter with these annual events over a difficult course.
Cool and overcast conditions greeted athletes, spectators, coaches and officials to the venue for race day, ideal conditions for cross country conditions. It remained the same throughout with the ground easily cutting up in several parts as the events progressed.
The event took place on the same Welsh Inter-Schools & Colleges course used in 2018 due to the construction work that has been in progress on the new Brecon High School on parts of the old route outside the Leisure Centre in the past year. This meant that all races were held on the fields beyond the athletes track and used the far end fields where senior athletes used to run in Gwent League fixtures.
The course in Brecon offered a different challenge to those experienced at the John H Collins Gwent Cross Country League match at Pembrey Country Park just seven days earlier, where many club runners had competed the Saturday before.
There were three sections which consisted of a small lap, medium lap and large lap with the finish for everyone situated near the throwing cage end.
The Inter-Schools & Colleges Cross Country Championships made a return in its usual Mid-November slot. Having been open to every school to attend, over 50 different schools and colleges were represented which again incorporated the Welsh Colleges Championships.
Medals were presented to the top 3 individuals and winning teams which consisted of four school athletes in a team.
Having been cancelled the last time it was due to be held in Brecon due to wintry conditions (December 2017), the Welsh Athletics Inter-Regional cross country championships in 2018 headed to a new venue of Trefonnen School in Llandrindod Wells for its 20th staging. It offered a testing terrain around a looping and undulating route over agricultural land.
The four regions from the West, South, East and North selected teams of 15 in each of the age groups and competed on the venue next to the brand-new Brecon High School building, as another action-packed year in 2019 slowly heads towards its climax.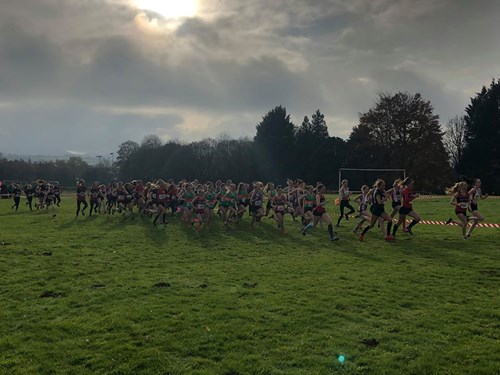 The Senior Men & Women again attracted the most totals, which comes as no surprise looking at John H Collins Gwent Cross Country League and other cross country league attendances so far this winter.
Matt Edwards and Alaw Beynon-Thomas were in great form heading into the Brecon fixture, following their excellent performances at the John H Collins Gwent League in Pembrey. Alaw, representing West Wales followed up the Gwent League victory by winning the women's Inter-Regional title for the third successive year a day after celebrating her birthday. Meanwhile Matt, third last week was a comfortable winner in the men's race leading his South contingent home.
More than 800 competitors wore the red, purple, white and green vests of the region or their school vests as age group distances varied from 1,370m for the primaries up to the senior men's total of 9,530m.
Every individual position counted across all twelve races as presentations were made to the first three individuals and the winning regional teams (5 or 8 to score).
As in previous years, the 12-event programme began at 11:30am with two primary school races for boys and girls. This was a great opportunity for those in years 5 and 6 to get involved in this high-quality event and get to see what they'll be up against in years to come once they get to secondary age. Fifty-Five youngsters took part in this element either as an individual or as part of a team.
West Wales come away with selection of medals in 2019...
Selection for the West Wales team was at Cardiff on Saturday 12th October as part of the British Athletics Cardiff Cross Challenge & John H Collins Gwent Cross Country League round 1 in the Welsh Capital with reserves also invited.
Representing the region were athletes from the following West Wales clubs (along with a few from clubs outside the region such as Cardiff Athletics) and Pontypridd Roadents): Pembrokeshire Harriers, Carmarthen Harriers, Llanelli AC, Swansea Harriers, 3M's Gorseinon, TROTs, Amman Valley Harriers, Neath Harriers, Celtic Tri, Sarn Helen, Aberystwyth AC, Run4All Neath and Port Talbot Harriers.
West Wales picked up several individual medals for finishing in the top 3 and also claimed team medals in the following age categories: Senior Women, Master Female 35, Under 13 Boys, Under 17 Men, Under 20 Women, Under 20 Men and Master Men 35.
A total of 13 medals were picked up individually - 5 gold, 4 silver and 4 bronze.
West Wales Team Managers Rob Campion, Kelly Griffiths and Brian Fox with the support of Andrew Jenkins (Network Officer) thanked all those runners who travelled to Brecon on Saturday to represent the region in these annual championships.
Harriers Juniors and Seniors Represent their School / Region...
Here's the Round-Up of Results Race by Race which featured Carmarthen Harriers athletes:
30 of the club athletes represented their region and secondary schools in Dyfed on Saturday, with each and every one performing excellently in Brecon. This included a spread of juniors (primary and secondary age) and seniors/masters.
One highlight to note was Frank Morgan fresh from last weekend's British Athletics Cross Challenge in Milton Keynes, who dominated the under 15 boys' race from the starting gun to the finish line. After pulling away in the first lap, Morgan never looked back and came through to win the title in excellent fashion.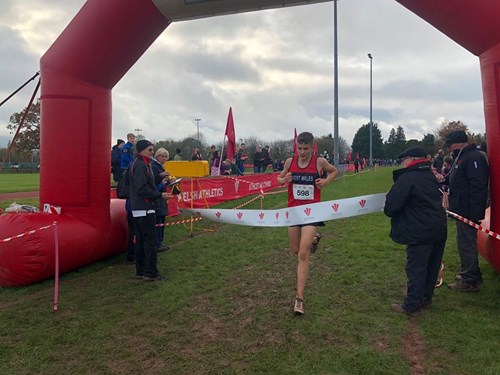 PRIMARY SCHOOLS GIRLS / YSGOLION CYNRADD MERCHED
6 Esme Lynock
PRIMARY SCHOOLS BOYS / YSGOLION CYNRADD BECHGYN
3 Jac Jones
UNDER 13 GIRLS / MERCHED O DAN 13
8 Frances Mackie (4th Welsh Inter-School), 35 Carys Wood, 52 Ellie-May John
UNDER 13 BOYS / BECHGYN O DAN 13
1 Iwan Thomas (2nd Welsh Inter-School), 3 Macsen Toogood (4th Welsh Inter-School), 8 Ifan Bowen (5th Welsh Inter-School), 26 Jake Lynock (12th Welsh Inter-School), 28 Alex Coles (13th Welsh Inter-School), 54 Daniel Warrender, 70 James Sloyan (44th Welsh Inter-School), 106 Liam Upton-Boorman (73rd Welsh Inter-School)
UNDER 15 GIRLS / MERCHED O DAN 15
31 Amy Greatrick (15th Welsh Inter-School)
UNDER 15 BOYS / BECHGYN O DAN 15
1 Frank Morgan (1st Welsh Inter-School), 28 Zach Elvy (18th Welsh Inter-School), 38 Scott Price (23rd Welsh Inter-School), 39 Jack Thomas (24th Welsh Inter-School), 49 Steffan Davies (31st Welsh Inter-School), 53 Brynmor Peters (35th Welsh Inter-School), 54 Morgan Williams (36th Welsh Inter-School), 77 Rogan Cox (57th Welsh Inter-School)
UNDER 17 MEN / BECHGYN O DAN 17
6 Dafydd Jones (4th Welsh Inter-School), 9 Liam Edwards (5th Welsh Inter-School), 40 Lewis Jones (25th Welsh Inter-School)
UNDER 17 WOMEN / MERCHED O DAN 17
29 Tanwen Moon
UNDER 20 WOMEN / MERCHED O DAN 20
3 Eva Edwards (3rd Welsh Inter-School)
SENIOR MEN & MASTER MEN / DYNION
25 Paul Lynock MM45 (40:04), 36 Dafydd Bowen MM35 (42:09), 41 Huw Davies MM45 (42:08)
SENIOR WOMEN & MASTER WOMEN / MENYWOD
24 Kate Lynock MW35 (29:08), 33 Amanda Toogood MW35 (35:40)
Well Done to everyone who took part on Saturday and thanks to all the organisers from Welsh Schools and Welsh Athletics, volunteers, officials and others who contributed towards a great day.
Da iawn i bawb wnaeth cymryd rhan Dydd Sadwrn a diolch i'r holl trefnwyr o Ysgolion Cymru ac Athletau Cymru, gwirfoddolwyr, swyddogion ac eraill wnaeth cyfrannu tuag at diwrnod arbennig.
WELSH INTER-SCHOOLS & COLLEGES CROSS COUNTRY CHAMPIONSHIPS 2019 RESULTS
WELSH ATHLETICS INTER-REGIONAL CROSS COUNTRY CHAMPIONSHIPS 2019 RESULTS