Catch-Up on another excellent Ammanford Junior Fun Run at Amman Valley Leisure Centre on Wednesday Evening
Dal i fyny ar Rasys Hwyl Iau Rhydaman ardderchog arall yng Nghanolfan Hamdden Dyffryn Aman Nos Fercher
All roads for sporty schoolchildren from Ammanford and the surrounding areas in the Amman Valley and Carmarthenshire led to the Amman Valley Leisure Centre, Ammanford on Wednesday evening (5th June) for the 2019 edition of the Ammanford Junior Fun Run.
With a total of five age groups and nine different races, there was something for the whole family to enjoy in the Amman Valley festival of running at an event which has continued to go from strength to strength..
The event for the third year in succession altered slightly to past years, with a separate race for the reception/nursery children and under. Starting with the younger ages, parents, friends and guardians were able to run alongside the little ones before making their way through to the finish line under the Healthy Life Activities inflatable arch in the middle of the field. It was great to see everyone having a great time in the hope that this is just the beginning of the journey for them as they become older.
They completed one lap with the remaining four categories which followed shortly after ran a distance of 2 laps of the town track. Due to the large numbers, most of the age groups were split into two with an event each for boys and girls. Other category age groups included years 1 & 2, years 3 & 4, years 5 & 6 and finishing off with a comprehensive schools' race for years 7 and 8.
Every finisher on the evening received a finishers medal and in addition, those who finished in the top three of the Year 1-8 were also presented with a trophy.
The conditions were ideal for an evening of sporting action with the sun strongly shining over the Amman Valley LC facility, following wet and windy weather 24 hours earlier. The crowds again turned up to support this local event in Carmarthenshire which has become one of the most well attended events for primary school children. The interest shown with schools and club runners this year was clear to see in the entries received, where over 370 children signed up and enjoyed the occasion and the race day atmosphere. They were all cheered on by spectators and families who lined both sides of the track. The most number of finishers was found in the Year 1 & 2 Boys race.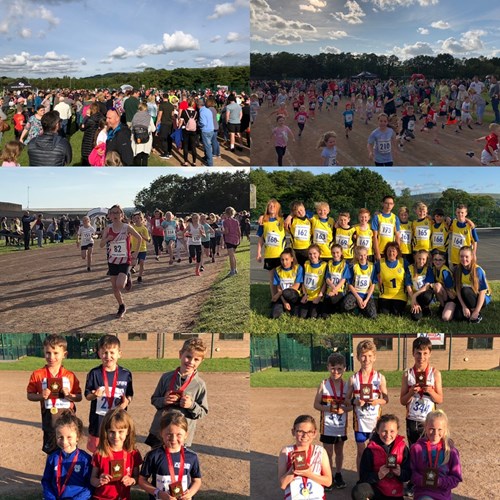 Local Club Amman Valley Harriers stage event alongside sponsors Healthy Life Activities
The event was organised by the local running club, Amman Valley Harriers and a large number of the ever-growing senior members were acting as tail runners to support everyone to the finish line, as well as many others who volunteered and officiated in several other ways. It was promoted locally and afar and saw a brilliant response as organisers welcomed familiar faces, returning year after year as well as a number of visitors from destinations such as Swansea and Neath, including a team of almost 20 athletes from Morriston Comprehensive School, Swansea.
Once again in 2019, the junior fun run staged on the first week after the half term holidays, was kindly sponsored by Noelwyn Daniel & Sharon Daniel at Healthy Life Activities. They generously provided all the magnificent medals and trophies along with full race commentary.
Healthy Life Activities offers triathlon competition for all abilities and for all ages with a series of events available across the county every year including Carmarthen, Llanelli, Ammanford and Burry Port. Healthy Life Activities also offer plenty of opportunities for children to participate in events and believe in investing time and effort to ensure as many children take part in their events.
Daniel, sponsor from Healthy Life Activities commented after the event: "Healthy Life Activities were delighted to be sponsoring and supporting this excellent event with Amman Valley Harriers. We are keen to see as many youngsters as possible lead a healthy lifestyle and these events are a great way for the children to become active and enjoy themselves at the same time."
The event organisers, led by Rachel Allcock and Cathrin Owen from Amman Valley Harriers would like to thank all participants, parents and supporters who turned out for the annual fun run on Wednesday and to those who volunteered, sponsored and helped out in any way to ensure that the Ammanford fun run was another overwhelming success!
The club look forward to welcoming you all again to the fun run in 2020 / Mae'r clwb yn edrych 'mlaen i groesawu chi i gyd i'r digwyddiad yn 2020!
Top Three Age Group Results
Reception & Under Girls / Merched Dosbarth Derbyn ac o dan:
1 Arabelle Grace Evans (Iau Llangennech)
2 Erin Davies (Llangynnwr)
3 Loti Adams (Gymraeg Rhydaman)
Reception & Under Boys / Bechgyn Dosbarth Derbyn ac o dan:
1 Gwion Davies (Gymraeg Rhydaman)
2 Osian Broderick (Gymraeg Rhydaman)
3 Steffan Richards (Gymraeg Rhydaman)
Year 1 & 2 Girls / Merched Blwyddyn 1 a 2:
1 Gwenllian Jones (Gymraeg Rhydaman)
2 Sara Mai Harries (Teilo Sant)
3 Millie Lewis (Iau Llangennech)
Year 1 & 2 Boys / Bechgyn Blwyddyn 1 a 2:
1 Noah Jac Thomas (Y Dderwen)
2 Oscar Toogood (Teilo Sant)
3 Cian Murphy (Gymraeg Rhydaman)
Year 3 & 4 Girls / Merched Blwyddyn 3 a 4:
1 Esme Lynock (Llangadog/Carmarthen Harriers)
2 Fflur Moon (Gymraeg Rhydaman)
3 Lili Knight (Brynaman)
Year 3 & 4 Boys / Bechgyn Blwyddyn 3 a 4:
1 Dewi Williams (Llandovery College)
2 William Harnett-Jones (Llandovery College)
3 Ethan Issac (Tycroes)
Year 5 & 6 Girls / Merched Blwyddyn 5 a 6:
1 Mari Stephens (Castell-Nedd/Neath Harriers)
2 Amelie Campion (Brynteg/Llanelli AAC)
3 Martha Morgan (Teilo Sant/Carmarthen Harriers)
Year 5 & 6 Boys / Bechgyn Blwyddyn 5 a 6:
1 Macsen Toogood (Teilo Sant/Carmarthen Harriers)
2 Alex Coles (Llangadog/Carmarthen Harriers)
3 William Coles (Llangadog/Carmarthen Harriers)
Year 7 & 8 Girls / Merched Blwyddyn 7 a 8:
1 Mai Davies (YG Gwyr/Swansea Harriers)
2 Amy Greatrick (QE High/Carmarthen Harriers)
3 Emily Tucker (St John Lloyd/Llanelli AAC)
Year 7 & 8 Boys / Bechgyn Blwyddyn 7 a 8:
1 Sion Davies (Dyffryn Aman)
2 Jake Lynock (Bro Dinefwr/Carmarthen Harriers)
3 Tomos Phillips (Dyffryn Aman)