Following the Carmarthen Town Sports Awards last week, the theme of celebrating success continued earlier tonight as the Actif Carmarthenshire Sports Awards recipients were announced (Friday 31st January) at an awards ceremony in Llanelli.
A host of Carmarthenshire's top sporting talents were celebrated earlier tonight at the Actif Carmarthenshire Sports Awards which was attended by around 250 guests.
Staged for the 21st time, it took place at the Ffwrnes Theatre in Llanelli on 31st January and organised by the Carmarthenshire County Council Sports and Leisure team.
Dathlwyd llu o dalentau chwaraeon gorau Sir Gaerfyrddin yn gynharach heno yng Nghwobrau Chwaraeon Actif Sir Gaerfyrddin wrth i tua 250 o westion fynychu.
Am yr 21ain tro, fe'i gynhaliwyd yn Theatr Y Ffwrnes yn Llanelli ar 31ain Ionawr a'i drefnwyd gan dim Chwaraeon a Hamdden Cyngor Sir Gaerfyrddin.
CARMARTHEN HARRIERS MORGAN DESERVED NOMINATION IN THE YOUNG SPORTSMAN CATEGORY
Congratulations / Llongyfarchiadau to Under 15 Carmarthen Harrier Frank Morgan who was shortlisted in the Young Sportsman of the Year category and came as the runner-up (full list below) What a 2019 he has had!
Frank was unbeaten in Wales at cross country in his year group for 4 years and a winner at the Welsh Schools cross country championships. Frank went to the SIAB Schools International cross country in Dublin last March.
He dug in running 3500m, over grass and hills with only 1 spike to finish 9th beating all in Wales and Scotland and some of the best runners in England and Ireland, showing true grit. This grit and work ethic has lead to an outstanding track season where he was unbeaten on the track in his age group this year over 800m, 1500m and 3K.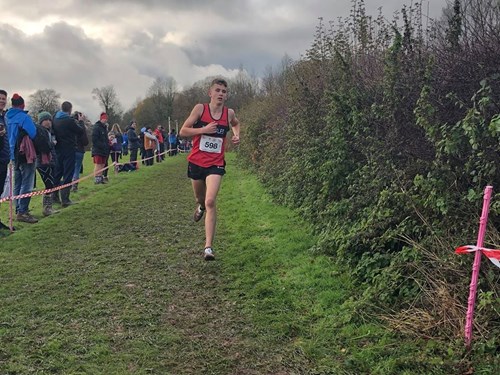 He finished the season winning the British Championships under 15 boys 3000m at Bedford Stadium at the end of August in a fantastic sprint to the line in what was described as one of the races of the championship.
He broke the club record at 1500m and Dewi Griffiths' club record over 3000m proving he is the best under 15 endurance athlete Carmarthen Harriers has ever had. As junior club captain, he also won team gold in the road relays, Welsh Schools cross country for Bro Myrddin and the Welsh Championships. Last September, he ran the fastest leg in Wales in the Welsh Road Relay Championships at Pembrey Country Park.
A team player he ran in every league match for the club last summer, happy to fill team gaps for points in javelin, long jump and sprints. Da iawn Frank, hollol haeddianol!
Celebrating Sporting Achievements by people across Carmarthenshire...Categories for Athletes, Volunteers, Coaches, Clubs and Teams...
The annual Actif Carmarthenshire Sports Awards recognised the sporting achievements and successes of individual athletes and sports clubs as well as acknowledging the contribution made by dedicated coaches and hardworking volunteers who make a difference through sport and their communities. Some of these represent their sport on a local, national or even international level and the event again recognised those people.
The theme of celebrating success continued here, just seven days after the Carmarthen Town Council Sports Awards took place over at the Carmarthen Quins Rugby Football Club on 24th January.
The awards in Llanelli gave local people the opportunity to honour sporting stars and unsung heroes who keep their clubs on the go and the standard received were of a high standard. Nominations had been open for two months for the public to nominate their coaches, athletes and teams for their successes in 2019 before the shortlist panel had the hard job of cutting each category down to three shortlisted people or groups. Finalists, supporters and special guests all attended the ceremony inside the fantastic Ffwrnes Theatre.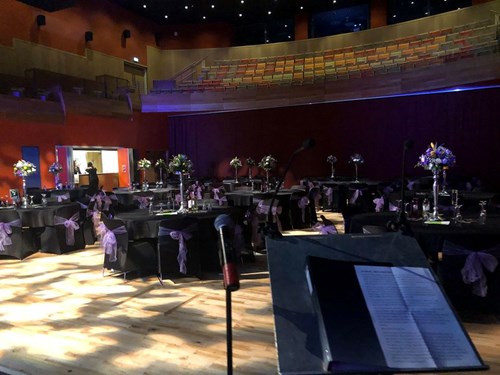 Over thirty of the county's best were up for a total of 11 awards. A range of sports and backgrounds were involved again this year, including Athletics, Cycling, Hockey, Rugby and Gymnastics to Football, Cricket, Tug of War, Netball, Karate, Trampolining and Life Saving.
In his programme notes, Senior Sport & Leisure Manager, Carl Daniels said:
"Reflecting on a great year of sport, Carmarthenshire continues to drive sport forward through its focus, development and achievements.
"We're steering huge investment into sport – £30m+ into facilities to make them 'fit for the future', and £80k per year to develop workforce and resource in sports clubs for community sport to thrive. And thriving it is! This evening we honour you – 'Carmarthenshire's best' from the world of sport.
"Nominations flooded in, giving us the unenviable job of picking finalists and winners. Tonight, you hear for yourself how deserving nominees are and I'm sure you agree this is something for us all to be proud of.
"I'd like to thank the organising committee, kind sponsors and you for supporting this event; it simply would not happen without you. Have a truly enjoyable and inspirational evening, leading to even more success in the future."
As well as the Main Sports Personality of the Year, the categories included Young Sportsman and Young Sportswoman, Disabled Sportsperson, Community Sports Coach and High Performance Sports Coach, Sports Volunteer, Young Sports Volunteer, Young Team of the Year and the Ryan Jones Memorial Award for Outstanding Services to Sport. The Sports Club of the Year was a category added in to these Actif Carmarthenshire Awards for the second year.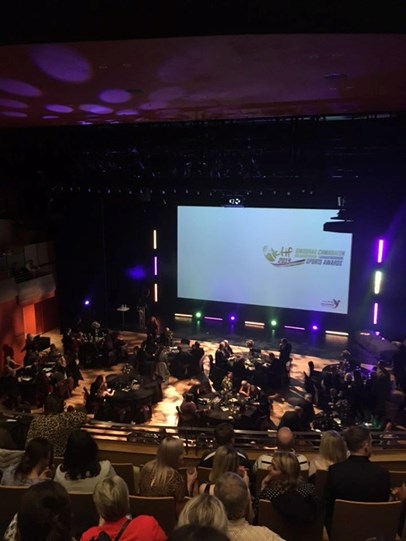 WeCreate Film company went up and down the county to film the finalists in action last month and each of the videos and clips were shown on the big screen before the Tommo announced the victors.
A full house gathered in the centre of Llanelli and welcomed main sponsor McDonalds and Media partners Radio Carmarthenshire. Awards sponsors were: Alliance Leisure, Castell Howell Foods, Coleg Sir Gar, GD Harries and Sons, Sport Wales, TAD Builders, University of Wales Trinity St Davids and First Line Funeral Care.
The Charity for the evening was Ty Hafan and guests kindly donated a total of over £700 for this worthy cause.
Tŷ Hafan is one of the UK's leading paediatric palliative care charities and offers care to children and support for their families, throughout Wales.
The evening was hosted by Radio presenter and Scarlets matchday stadium announcer, Andrew 'Tommo' Thomas. There was also the chance to speak to the Carmarthenshire Gold and Platinum Young Ambassador Lilly Mellar and Elin Hendra whilst Actif Sport & Leisure Senior Manager Carl Daniels took to the stage at the beginning to address the crowd and look ahead to the night. Concluding the evening was Leader of Carmarthenshire County Council Emlyn Dole, who shared some exciting and positive news and plans on improving leisure centres and its facilities in the next few years.
Actif Carmarthenshire Sports Awards 2019 Winners & Shortlisted Finalists:
Congratulations to all the winners, shortlisted finalists and nominees / llongyfarchiadau i'r enillwyr, y terfynwyr a'r enwebwyr i gyd!
ACTIF CARMARTHENSHIRE SPORTS PERSONALITY OF THE YEAR (sponsored by McDonalds)
WINNER: TENNESSEE RANDALL (Kickboxing / Cic-Focsio)
RUNNERS-UP: CHRISSIE APPLEBY-PHILLIPS (Power lifting / Codi pŵer) JESSICA ROBERTS (Cycling / Seiclo)
YOUNG SPORTSWOMAN OF THE YEAR (sponsored by Coleg Sir Gar)
WINNER: LARA WHITTON (Table Tennis / Tenis Bwrdd)
RUNNERS-UP: EMMA FINUCANE (Cycling / Seiclo) BETSAN THOMAS (Hockey / Hoci)
YOUNG SPORTSMAN OF THE YEAR (sponsored by First Line Funeral Care)
WINNER: JUSTIN WILLIAMS (Seishin Karate / Carate Seishin)
RUNNERS-UP: FRANK MORGAN (Athletics / Athletau) LEO WESTON (Tennis / Tenis)
DISABLED SPORTSPERSON OF THE YEAR (presented by Carmarthenshire County Council)
WINNER: LUKE JONES (Paracycling / Para-Beicio)
RUNNERS-UP: MADISON DAVIES (Trampolining / Trampolino) YOUSSEF EL TAWAB (Rugby / Rygbi)
HIGH PERFORMANCE SPORTS COACH OF THE YEAR (sponsored by Alliance Leisure)
WINNER: CHRIS MOUNTFIELD (Ski Racing / Rasio Sgio)
RUNNERS-UP: JONATHAN GARCIA (Football / Pêl-droed) TOM LAXTON (Swimming / Nofio)
COMMUNITY SPORTS COACH OF THE YEAR (sponsored by Sport Wales)
WINNER: JONATHAN CLARKE (Lifesaving / Achub Bywyd)
RUNNERS-UP: LOUISE BEARD (Judo / Jiwdo) HELEN THOMAS (Netball / Pêl-rwyd)
SPORTS VOLUNTEER OF THE YEAR (presented by McDonalds)
WINNER: MARGARET JONES (Hockey / Hoci)
RUNNERS-UP: SIMON PHILLIPS (Triathlon / Treiathlon) BEN CLARKE (Lifesaving / Achub Bywyd)
YOUNG SPORTS VOLUNTEER OF THE YEAR (sponsored by Castell Howell Foods)
WINNER: JACOB WILLIAMS (Lifesaving / Achub Bywyd)
RUNNERS-UP: SARA GOVIER (Netball / Pêl-rwyd) ELLIS HUDSON (Football / Pêl-droed)
YOUNG TEAM OF THE YEAR (sponsored by TAD Builders)
WINNER: YSGOL GYMRAEG GWENLLIAN CRICKET TEAM (Cricket / Criced)
RUNNERS-UP: TIM PEL-DROED BRO MYRDDIN (Football / Pêl-droed) BURRY PORT RFC U14s 2018/2019 (Rugby / Rygbi)
SPORTS CLUB OF THE YEAR (sponsored by GD Harries)
WINNER: LLANDDAROG TUG OF THE WAR CLUB (Tug of War / Tynnu Rhaff)
RUNNERS-UP: LLANELLI SURF LIFESAVING CLUB (Lifesaving / Achub Bywyd) TEIGROD TYWI HOCKEY CLUB (Hockey / Hoci)
THE RYAN JONES MEMORIAL AWARD FOR OUTSTANDING SERVICES TO SPORT (sponsored by University of Wales, Trinity St Davids)
WINNER: Dorian Phillips (TUG OF WAR)
Write-Up & Photos from the Actif Carmarthenshire Sports Awards 2019 held at the Ffwrnes Theatre, Llanelli on Friday 31st January.