This Weekend (10th October 2020) was set to see Llandaff Fields in Cardiff host the opening round of the British Athletics Cross Challenge Series and the first fixture of the John H Collins Gwent Cross Country League.
Unfortunately, because of the ongoing COVID-19 restrictions over recent months, the event was cancelled in 2020 with the Cross Challenge Series aiming to begin in Milton Keynes on 7th November.
Here's a look back at the 2019 event report when it was held in Cardiff 12 months ago...
Roedd y Penwythnos hwn (10fed Hydref 2020) ar fin gweld Caeau Llandaf yng Nghaerdydd yn cynnal rownd agoriadol Cyfres Her Traws Gwlad Athletau Prydain a digwyddiad gyntaf Cynghrair Traws Gwlad John H Collins Gwent.
Yn anffodus, oherwydd y cyfyngiadau COVID-19 parhaus dros y misoedd diwethaf, mae'r digwyddiad wedi'i ganslo yn 2020 gyda Cyfres Traws Gwlad Prydain yn anelu at ddechrau yn Milton Keynes ar y 7fed o Dachwedd.
Dyma edrych yn ôl ar adroddiad digwyddiad 2019 pan gafodd ei gynnal yng Nghaerdydd 12 mis yn ôl...
_________________________________________________________________________
OCTOBER / HYDREF 2019: Llandaff Fields in Cardiff played host to the first #MuddyBrilliant British Athletics Cross Challenge leg along with the re-named John H Collins Gwent Cross Country League.
The park in the Welsh Capital just north of the City alongside the River Taf attracted many of the UK's top endurance runners and club athletes from all over the United Kingdom to kick-start their winter campaigns. There were some good races held in all age groups with the route incorporating a mixture of flat fast running and interesting woodland and riverside sections on a heavy underfoot course.
Founded in 1997, the Cardiff Cross Challenge started the 2019 / 2020 British Athletics Cross Challenge Series in October and saw it last through to March. It incorporated a full range of men's, women's and children's races and was open to runners of almost any age (from 9 right up to over 70).
The newly named "John Collins Gwent Cross Country League" has now been going strong for numerous years, attracting athletes - juniors and seniors - from across South Wales and the South West of England. The league is open to those trying cross country for the first time in the novices going through under 13, under 15, under 17/20 and seniors/masters.
Incorporated into the Llandaff Fields event in 2019 was the West Wales Cross Country Championships, with selection made for the Welsh Athletics Inter-Regional Championships which were in Brecon a few weeks afterwards.
Other British Athletics Cross Challenge fixtures were held in Milton Keynes, Liverpool, Stirling and rounded off in Loghborough last year. Meanwhile, John H Collins Gwent Cross Country League rounds arrived in Pembrey, Bristol and Chepstow last winter.
Photos: Nathan Jones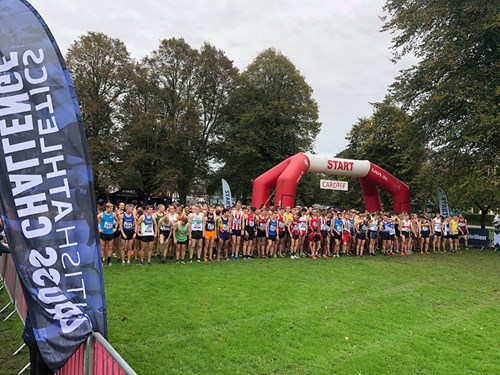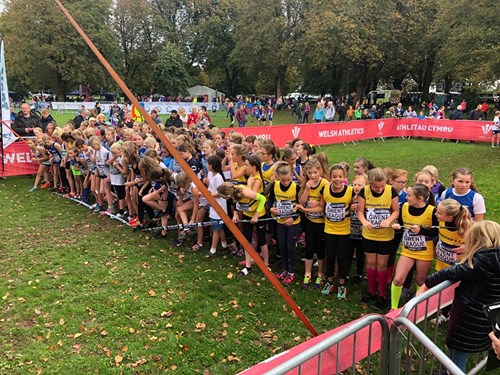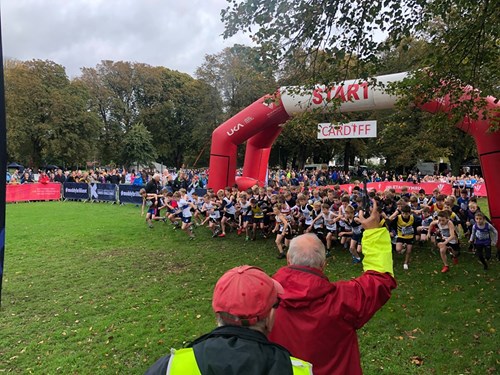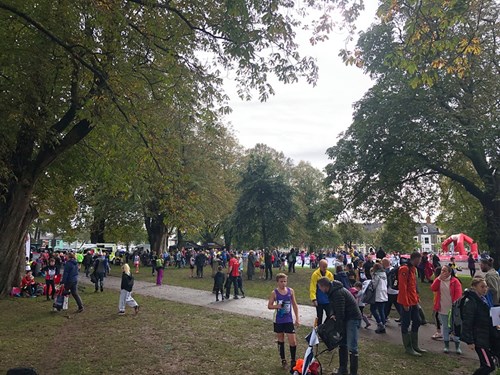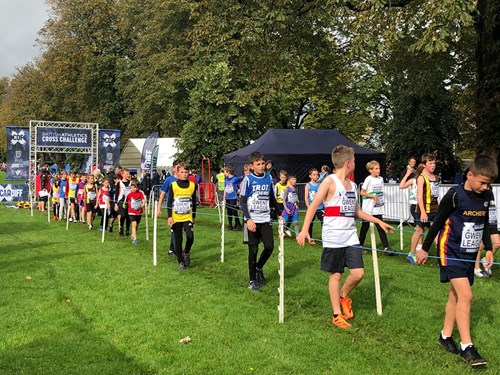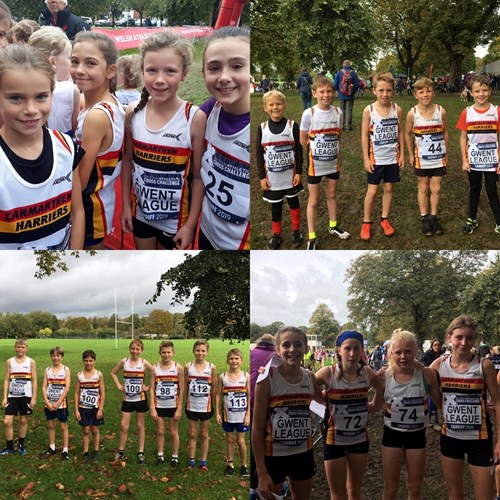 Here are the Carmarthen Harriers athletes who made the 120-mile round trip to Cardiff on this weekend last year ahead of the club's Annual Dinner & Awards Evening later on that evening... on what was a successful Saturday.
Novice Boys / Bechgyn O Dan 11: William Coles, Jac Jones, Tristan Warrender, Joseph Thomas, Ashton Williams, Jimmy Davis
Novice Girls / Merched O Dan 11: Amelia Williams, Jessica Norman, Gwenan Jones, Martha Morgan
Under 13 Boys / Bechgyn O Dan 13: Iwan Thomas, Ifan Bowen, Macsen Toogood, Alex Coles, Jake Lynock, Daniel Warrender, James Sloyan, Aron Hedd Jones
Under 13 Girls / Merched O Dan 13: Carys Wood, Frances Mackie, Erin Morgan, Ellie-May John
Under 15 Boys / Bechgyn O Dan 15: Frank Morgan, Zach Elvy, Scott Price, Jack Thomas, Steffan Davies, Morgan Williams, Brynmor Peters, Ellis Caddick
Under 15 Girls / Merched O Dan 15: Amy Greatrick
Under 17 Men / Bechgyn O Dan 17: Dafydd Jones
Under 17 Women / Merched O Dan 17: Megan Jones
Under 20 Men / Bechgyn O Dan 20: Ben Thomas
Under 20 Women / Merched O Dan 20: Cerys Davies
Senior Women / Menywod: Wendy Price, Ellie Kiff, Amanda Toogood, Peter Moody
Senior Men / Dynion: Huw Davies