The National Botanic Gardens of Wales, in Llanarthne will play host to a double-header of running events over 2.5K, 5K and 10K in March & October with online entries now open.
Upcoming events are outlined below:
Tenovus Cancer Care Spring 10K & 5K & 2.5K - 28/04/19
Taking place on Sunday 28th April, The Tenovus Cancer Care 10K is now in its 7th year at the spectacular National Botanic Gardens of Wales.
There's no requirement to fundraise, however any monies raised will help support cancer patients and their loved ones.
10K run entry is £14 - with steady inclines and mixed terrain, there is no doubt that this is one of the most beautiful yet enjoyable 10k races in Wales.
5K run entry is £8 - the 5k route through the beautiful gardens is perfect for new runners and a great challenge to kick off the running season.
2.5K Family Fun Run entry is £5 - the 2.5k is perfect for the whole family, and stays within the garden grounds on hard surfaces. Perfect for buggies, strollers and little feet.
The races will start at 11am and on the day registration is from 8am - 10am.
Trophies will be given for category winners and supporters and spectators will get half price entry to the Gardens. It's sure to be a great day out for all those who come to cheer on the runners.
Don't fancy running yourself, or know somebody that is? You could always help by volunteering on the day. Organisers are looking for volunteers to help with the event and provide encouragement along the way at cheering stations.
REGISTER FOR THE TENOVUS CANCER CARE SPRING 10K, 5K 2.5K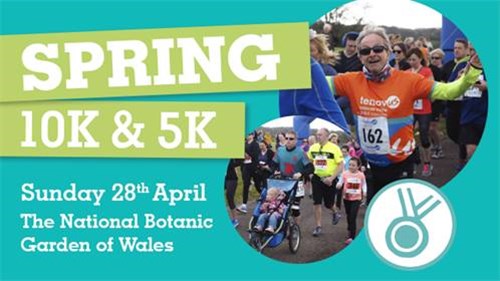 Royal Welsh Run 2019 - 27/10/19
After the re-arranged date in November 2018 and a good turnout, the Royal Welsh Run will be back at the National Botanic Gardens of Wales in Llanarthne for the third edition on Sunday 27th October 2019.
Events will suit all ages and abilities; 2.5K Walk & Run, 5K Run and a 10K Run.
Free T-Shirt to all who book their tickets for the 10K by September 23rd.
Cash Prizes: 1st Male, 1st Female plus many other prizes. Medals to all who finish the event.
Super Early Bird Offer: Book your tickets by March 31st to be entered into our draw to win two tickets to the Wales v England Rugby World Cup warm up game at the Principlaity Stadium in Cardiff on Saturday 17th August 2019.
Schedule:
8:00am - Registration (£2 extra per person per category if you register on the day and no free 10k T-Shirt)
10:00am - 5K Run
10:30am- 2.5K Run, 2.5K Walk
11:00am - 10K Run
REGISTER FOR THE ROYAL WELSH RUN 10K, 5K 2.5K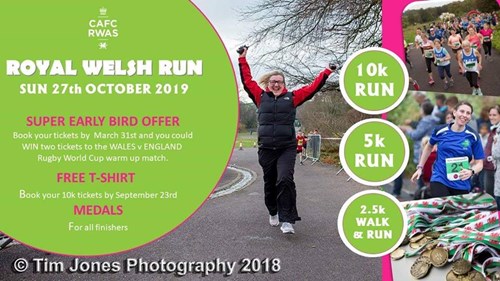 Event Location / Lleoliad y Digwyddiadau
National Botanic Gardens of Wales
Llanarthne
Carmarthenshire
SA32 8HN