Written by Nathan Jones
Monday, 25 January 2016 09:46
Round Up from the Cardiff Cross Challenge, plus results from the West Wales Indoor Championships & Cardiff Met Grand Prix.
HARRIERS EXCEL CARDIFF CROSS COUNTRY
The British Cross country league came to Cardiff this Sunday and more than 20 athletes made the journey from Carmarthen, down the M4 to compete against some of the best athletes in Britain.
The largest number of Harriers competed in the under 11 boys category. In a highly competitive race Frank Morgan took the lead after 600 metres and ,clearly relishing the muddy conditions, stretched his lead throughout the 1.75 kilometre race finally winning by 30 metres from a host of English and Welsh athletes. This was to be Harriers only win of the day. There was strength in depth in this age group with Ifan Bowen continuing his fine form in 7th and brothers Ioan and Huw Cressy-Rogers finishing 13th and 19th respectively to win the team competition for the Harriers.
Two new athletes to the club Harry Billingham (22nd) and Iwan Thomas 24th also showed outstanding promise as they raced against boys older than them. Brynmor Roberts did well to finish despite cramp, coming home 59th in the same category.
In the under 15 boys Ben Thomas raced against some outstanding athletes, losing contact with the leaders early on, he fought back hard in the second half of the race to be the first Welsh athlete home and 4th overall. In another strong teamage group for Carmarthen Tomos Rees followed him home in 18th, Callum Lovatt in 30th and Gareth Thompson in 35th. Only one athlete represented Carmarthen in the Under 13 boys and Iwan Glynn ran hard to finish 5th overall with possibly the fastest finish of the day.
The under 13 girls category was dominated by English and Scottish athletes. Daisy Thompson ran an excellent race to finish 7th overall and was the second Welsh athlete home. She was closely followed by a fast finishing Phoebe Davis in 8th, Maddie Morgan in 25th and Siwan Jones -Evans in 35th.
In the under 17 girls Ellie Kiff  finished 11th in 20.46 and, on the comeback after injury, Sioned Glynn was only 16 seconds behind Ellie in 14th
The under 11 girls also did well with Emma Brazier running hard against a field dominated by English and Scottish athletes to finish 18th with Caryl Haf-Lloyd and Jessica Lee finishing 33rd and 35th.
Ashraf Liles led the Under 20 team finishing in 4th and was followed by Ryan Jenkins in 6th and Sion Lewis in 14th.
Other notable performances included Senior woman Louise Jones-Evans (38th overall and first female over 45); Amber Howell 22nd in the under 20's and Lloyd Heckler 28th in the under 23 men.
It was also great to see two former Carmarthen Harriers members win the major events at Cardiff
Dewi Griffiths senior men and Caryl Jones senior ladies. Both athletes have had many long lasting injury problems but came back to succeed in the most major cross country event to be held in Wales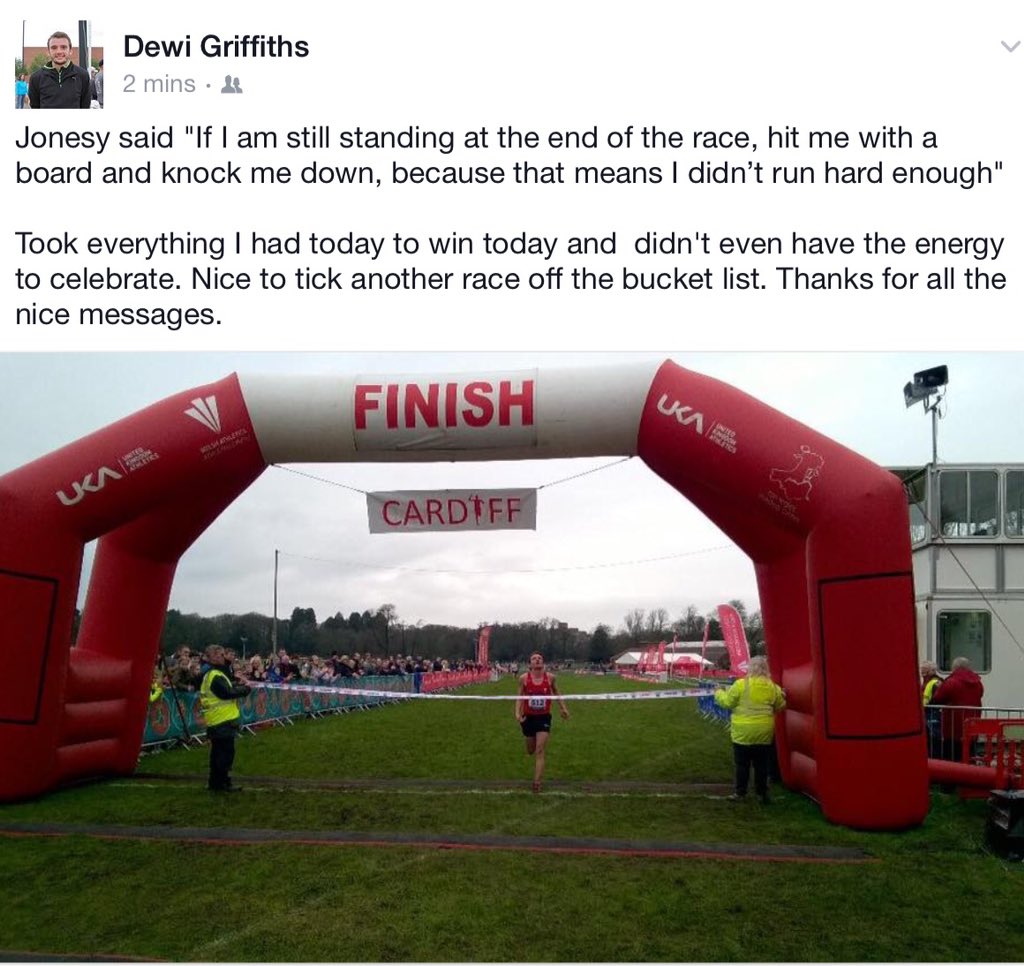 Elsewhere...also on the weekend there were some more Indoor athletics and here is a round up:
Cardiff Met Grand Prix Indoor 3 - Cardiff:
Three athletes from Carmarthen competed at the Cardiff Met GP3 - Non Thomas Open at NIAC. Charles Griffiths - 60m 8.55, 200m 29.33; Dwayne Griffiths 800m 2.07.02 & Iestyn Williams 1500m 4.32.49
West Wales Indoor Athletics Championships - Swansea
Carmarthen won 3 gold and a silver in this year's championships. Gold were won by Sophie Pick in the High Jump (1.50m), and Shot Putt (8.43m)  and Owain Harri-Davies in the Under 11 60m final (9.32) Owain-Hari qualified with the fastest time. Danielle Jones in the Under 17 women's threw 10.52m in the shot putt to take second.
Other performances came from: Morgan Batten (U13 60m 10.13), Abbie Painter (U15 60m 9.03), Olwen Batten (U15 60m 9.34, Shot Putt 7.26m) and Rhun Edwards (U17 60m F 7.60m)
More news, results and images from Cardiff Cross & West Wales Indoors - click here