| | | | |
| --- | --- | --- | --- |
| Carmarthenshire Primary Schools Athletics 2018: Championships going from strength to strength as local Carmarthen school take the spoils... | | | |
Written by Nathan Jones
Wednesday, 09 May 2018 20:25
Hundreds of young schoolchildren and over 30 schools were involved at the 2018 Carmarthenshire Primary Schools Athletics Championships on Wednesday evening at Carmarthen. Catch up with some of the evening's results, published live from the track in Johnstown...
Earlier tonight on Wednesday evening, 9th May, Carmarthen Leisure Centre's Athletics Track hosted its latest schools event...the Carmarthenshire Primary Schools Athletics Championships sponsored by McDonalds and has grown year on year. There was another fantastic turnout from smiling youngsters and spectators alike, despite the cool and wet conditions which we saw mostly throughout, a total contrast to recent days. The Louise Arthur League match was held in perfect conditions just four days earlier over the bank holiday weekend!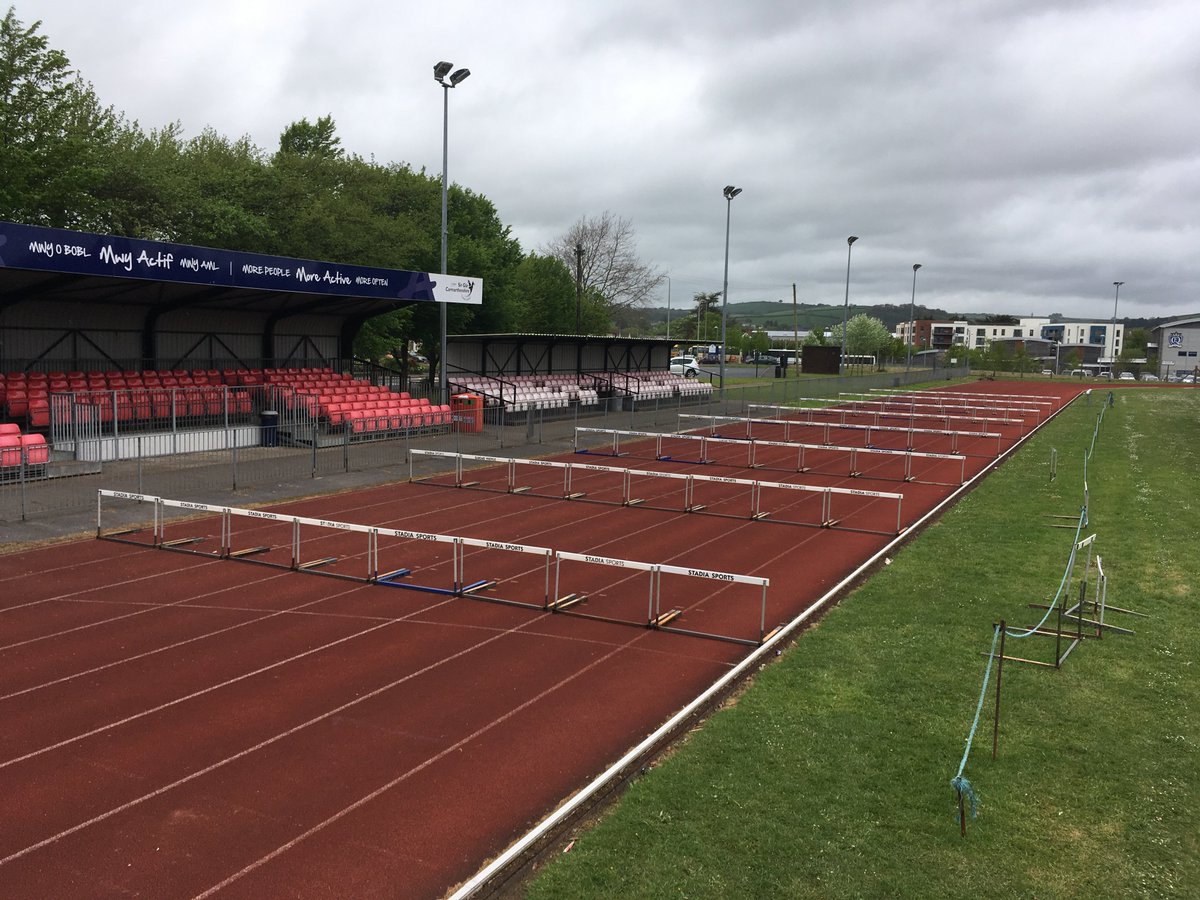 This was the next event for schools in the space of 14 days after the Dyfed Secondary Schools Relays Competition kicked things off for a brand new season a fortnight back where pupils years 7 to 13 were in action before their upcoming championship matches very soon.
The match started the primary schools athletics action for the summer as more than 30 Carmarthenshire schools attended from all corners of the county. Once again, the track was full, car park packed and food quickly sold with plenty of local talent out on show. As well as the few hundred children participating and getting opportunity to get involved in sport, several hundred spectators and teachers watched the 14 event programme from the side-lines which continued until 8.00pm on Wednesday evening!
The events held were 70m Hurdles, 100m sprint, 800m, 4 x 100m Relay, Long Jump, Shot and High Jump. Schools were invited to enter up to 4 athletes per school in the track events and one per school in the field events.
All 100m and relays were heats through to a final while the 800m and 70m Hurdles races were all time trials due to the poor weather conditions early on. Points were awarded in finals and after doing all the adding up, the scores were very close with the winners being decided up until the very last heat of the last event!
Last year winners Ysgol Y Dderwen came out on top once again with 55 points, only 6 ahead of Ysgol Iau Llangennech with 49 in runners up spot. Ysgol Griffith Jones continued their fine form in this event with successive third.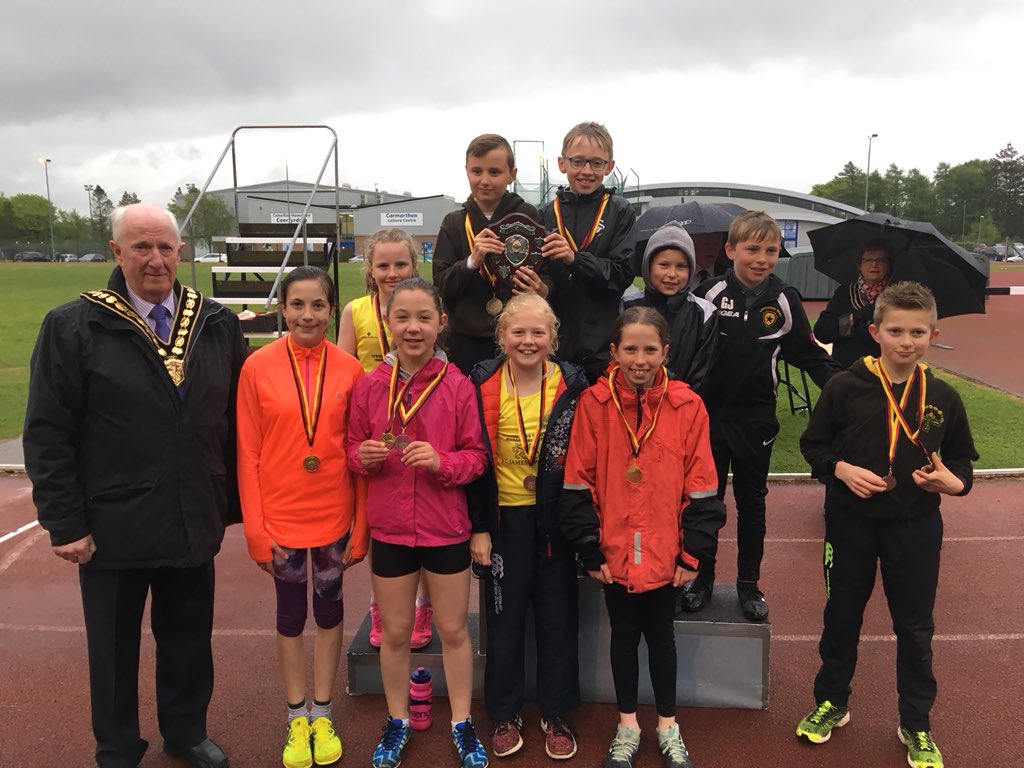 Assisted by Carmarthen Harriers Chairman Jake Morgan, presentation of awards to the top 3 in each event at the end of the races was made by the following: Mr Ron Mounsey, representative from McDonalds, Mr Gareth Morgans, the Director of education and children services, Cllr Irfon Jones, Chairman of Carmarthenshire County Council, Mrs Jean Jones, CCC Chairman Consort, and Cllr Emlyn Shivone, Deputy Mayor of Carmarthen Town Council.
All of our guests were very pleased to see the event going from strength to strength and seeing all the children enjoying themselves.
The championships could have not gone ahead without the support of the volunteers that helped out on the evening...organised by Hedydd Davies. Many thanks to those who contributed in any way in difficult conditions at times...including Welsh Athletics officials and teachers/parents track judges recorders, field event judges, sponsors and presentation guests, St John Ambulance, Carmarthen Leisure Centre stewards and the Carmarthen Harriers members who sold plenty of refreshments during the evening.
Excellent effort by everybody - well done / da iawn! We hope that you all enjoyed the evening's action and your visit to the Carmarthen track on Wednesday despite the wintry weather!
NOTE: the Dyfed Primary Schools Athletics Championships is at Carmarthen on Wednesday 6th June. We will be bringing you information soon and schools will be informed. selection will follow from this for the Dyfed team v West Glamorgan Primary Schools in July. Another big entry number is expected so make sure that you speak to your school teacher to get involved!
Elsewhere, athletics in schools in continuing in the next few days for secondary pupils with the staging of the Ceredigion, Brianne, Pembrokeshire and Llanelli Secondary Schools Area Matches which will lead onto the Dyfed championships in Carmarthen over a two day competition in June. Brianne hold their event in Carmarthen on Thursday (10th May) followed by the Llanelli schools at Pemberton on Friday (11th May). Pembrokeshire go to St Thomas Picton's Pembrokeshire Harriers' track in a weeks time (16th May) and then Ceredigion pupils will travel down to Carmarthen on Wednesday 23rd May.
Carmarthenshire Primary Schools Athletics Championships - Carmarthen - WEDNESDAY 9 MAY RESULTS (published at 20:55)
Boys and Girls Results / Canlyniadau Bechgyn a Merched
Overall Results / Canlyniad Terfynol
Any queries on the results from the Carmarthenshire Primary Schools Athletics Championships, please contact: results co-ordinator directly at This e-mail address is being protected from spambots. You need JavaScript enabled to view it
Event Website Report, Images & Event Press Reporter: Nathan Jones