| | | | |
| --- | --- | --- | --- |
| London Marathon & Mini Marathon Coverage: Welsh Schools pupils descend on English Capital streets... | | | |
Written by Nathan Jones
Sunday, 22 April 2018 15:55
The roads of London were filled by thousands of runners earlier on Sunday for the 2018 Virgin Money Giving London Marathon. Ahead of the main 26.2 mile route, hundreds of the next generation were in Mini Marathon action featuring Welsh Schools...
A squad of thirty six Welsh Schools pupils again represented Wales at this year's London Mini Marathon in the heart of the English Capital on Sunday 22nd April, which acted as the British Athletics Road Running Championships for the 10th time.
The main 26.2 mile in its 38th edition again saw thousands of elite and novice runners take to the start line from 9.00am, 40,000 in all. There were many inspiring stories and all running for many different reasons including raising money for many charities and organisations.
Unwaith eto, fe wnaeth sgwad o dri deg chwech o ddisgyblion Ysgol Cymru gynrychioli Cymru yn Marathon Mini Llundain eleni yng nghanol Lloegr ar Ddydd Sul 22ain Ebrill.
Gwelodd y brif ras 26.2 milltir am y 38fed tro, miloedd o rhedwyr clybiau a hwyl yn croesi'r llinell dechrau o 9 o'r gloch y bore, 40,000 i gyd. Roedd nifer o storiau yn ysbrydoli pobl a pob un yn rhedeg am nifer o wahanol resymau, gan gynnwys codi arian ar gyfer elusennau.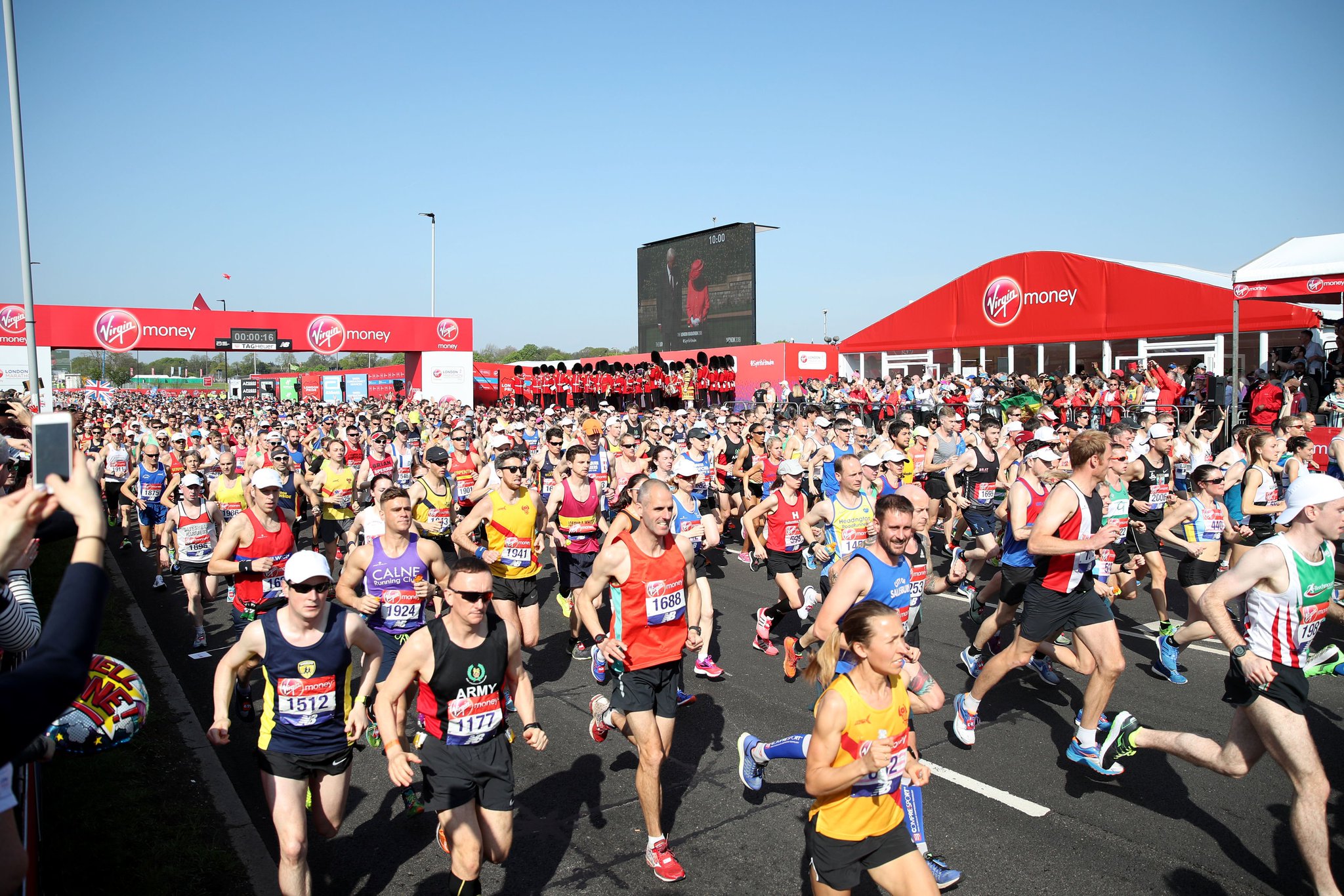 2017: Swansea Harrier Josh Griffiths stole the show 12 months ago from a Welsh point of view, where he was the first British athlete home in sub 2:15 and then went on to compete at the World Championships in London last summer and was in amongst the best at the Gold Coast Commonwealth Games Men's Marathon Race last Saturday evening, where he placed 15th. Elsewhere, the Swansea club took the spotlight for two reasons. Matthew Rees was hailed as a hero for stopping to help Chorlton Harrier David Wyeth finish the race. This year on Sunday, the duo started off together watched on by the world.
But before that, the stars of the future took centre stage, following in the footsteps of their heroes including Mo Farah, Shelly Woods and David Weir.
The Wheelchair races were the first to set off for under 14 and under 17 boys and girls and was followed by the series of age group races. The under 17 boys first battled through the 3 miles before the under 15 boys, under 13 boys, under 17 girls, under 15 girls and under 13 girls followed shortly after 9.00am as the elite and thousands on the other side of the Capital began on their 26.1 journey.
Described as one of the warmest London Marathon events on record reaching over 20 degrees Celsius - in fact a record - hopes were high going into this road event after the good team effort at the SIAB Schools & Home Countries International at Wollaton Park in Nottingham this time last month.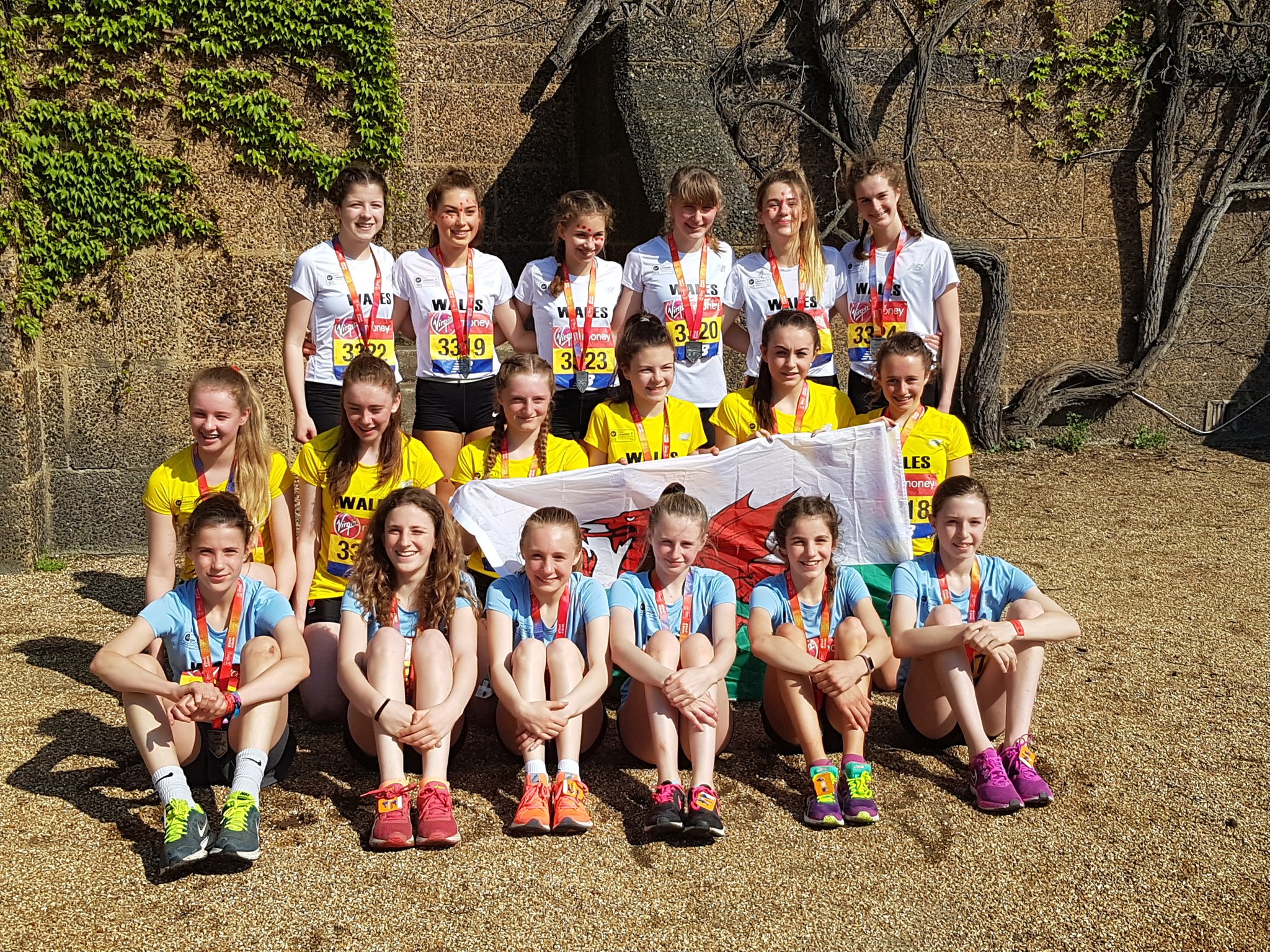 Sunday was the sixteenth successive year that teams from Welsh Schools had attended this prestigious event held over the last 3 miles of the London Marathon course. They had the chance to take in one of the London Marathon's most famous stretches before they ran across the iconic finish line on the Mall having started at London's Old Billingsgate.
Welsh Schools were pleased to announce the make-up of the teams for this year's Virgin Money Giving Mini London Marathon and it provided an opportunity for young athletes from Wales to test themselves against the best in Great Britain & Northern Ireland, competing against the other Celtic nations, the powerful English regions and athletes from 33 of the London boroughs. It has been held in London every year since its launch in 1986.
The difficult task of choosing the athletes representing the schools association was completed last month with selectors inviting athletes from across three age groups consisting of under 13, under 15 and under 17 (boys and girls). The Welsh Inter Schools Cross Country Championships (Brecon); and the Welsh Cross Country Championships (Swansea) were the two selection races this year, following the cancellation of the Welsh Inter Regional Cross Country Championships at Brecon just before Christmas.
While now a familiar challenge for many of the top end club runners, for others it provided an opportunity to gain experience and learn about both the event and the road racing discipline. This came into action in particular for many of the under 13 athletes.
The team of thirty six were supported by a management team of five: Steve Jones (Afan Nedd Tawe/WSAA); Rhys Jones (Neath Harriers AC); Sharon Fletcher (SEW Schools) alongside Steve Livett & Steve Jones (Menai AC). Thanks was also given to Med Richards (Dyfed) and Hedydd Davies (Dyfed) for their hard work in preparation for the event.
The full squad and their team managers travelled up on Saturday morning starting at Carmarthen and picking up in Swansea, Bridgend, Cardiff and Newport. Met by their North Walians teammates, and following an overnight stay at the Royal Holloway College, the team continued into the English Capital early on Sunday morning ahead of the start.
In the team competition (4 to score), the best scoring Welsh team came from the under 17 boys, who came in 4th place. Meanwhile, other positions recorded in the other races were two sixths, two eighths and a ninth.
Many congratulations to everyone that took part and was selected in this year's Virgin London Marathon & Mini Marathon Races. You should all be proud of your achievements.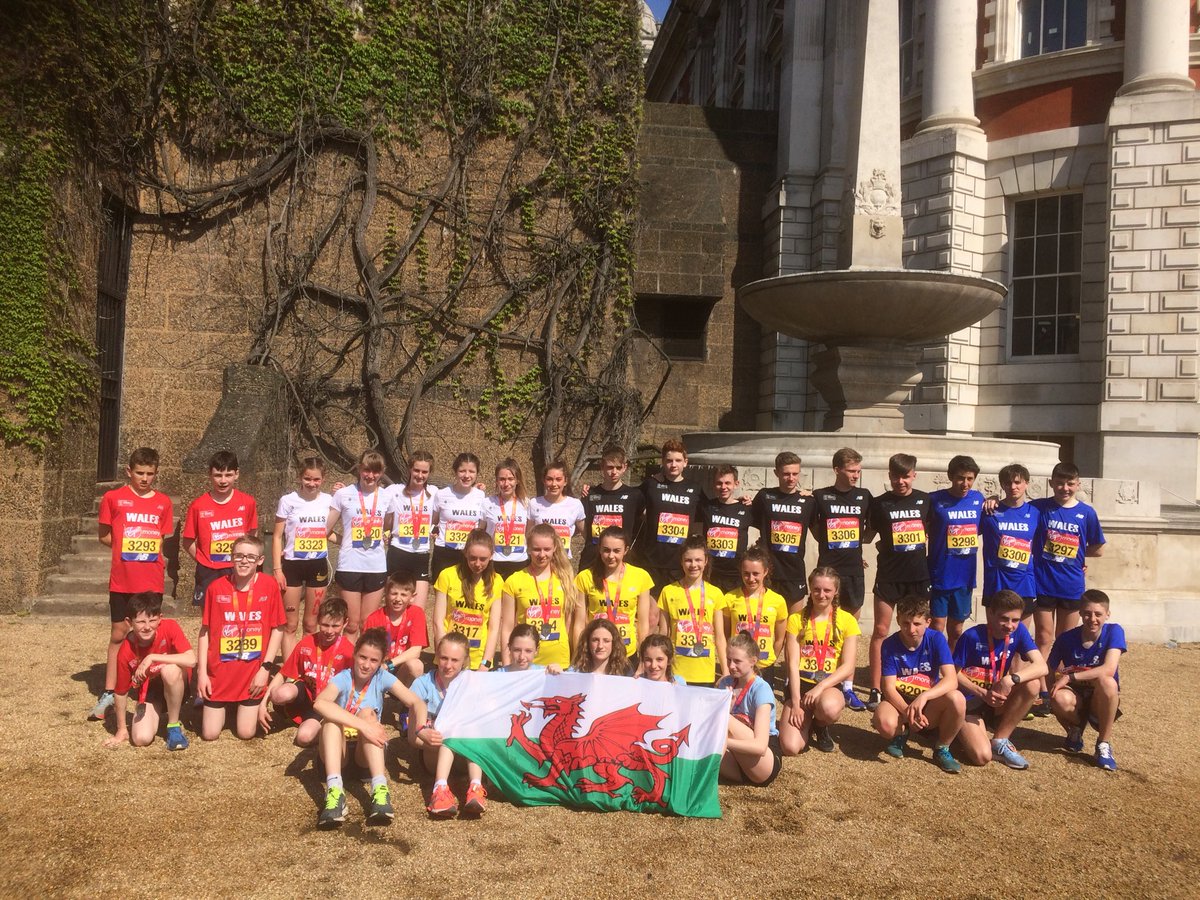 UNDER 13 BOYS / BECHGYN O DAN 13:
11 TUDUR HARPER-LLOYD (David Hughes) 16:54; 13 MATH THOMAS (Tryfan) 16:58); 41 IOAN CRESSEY-RODGERS (Bro Myrddin) 17:42; 45 OLLIE JONES (Newtown) 17:59; DNF FRANK MORGAN (Bro Myrddin); DNF ROMAN HODGSON (Prestatyn)
UNDER 13 GIRLS / MERCHED O DAN 13:
5 NEISHA ROBERTS (Brynhyfryd) 17:54; 34 LILY WILLIAMS (Chepstow) 19:22; 37 ABIGAIL DAVIES (Porthcawl) 19:30; 40 GWENNO GOODE (Bro Morgannwg) 19:41; 54 JEMIMA ROBINSON (Stanwell) 20:07; 55 ERIN ANDREWS (Cowbridge) 20:07
UNDER 15 BOYS / BECHGYN O DAN 15:
6 RHYS JAMES (Dwr-Y-Felin) 15:24; 7 JOSEPH REARDON (Rhydywaun) 15:25; 33 LLOYD SHEPPARD (Blackwood) 16:20; 36 FINLEY HINES (Ystalyfera) 16:21; 39 ADAM BEER (Glan-Y-Mor) 16:22); 59 IORI HUMPHREYS (Pembroke) 17:00
UNDER 15 GIRLS / MERCHED O DAN 15:
9 SAMIA JONES (Syr Hugh Owen) 17:39; 11 NIA CLATWORTHY (Porthcawl) 17:47; 33 ASHLEIGH WILLIS (Olchfa) 18:16; 44 DAISY THOMPSON (Bro Myrddin) 18:36; 55 MOLI LYONS (Bro Morgannwg) 18:53; 69 ORLA DAVIES (Middleton College) 19:46
UNDER 17 BOYS / BECHGYN O DAN 17:
9 LARRY RYAN (Radyr) 14:46; 18 BEN THOMAS (Y Strade) 14:56; 21 MORGAN JAMES (Cwm Rhymni - Gelli Haf) 15:01; 38 JACKSON MOUNTFORD (Rougemont) 15:20; 63 ETHAN ACKROYD (Mold Alun) 16:10; 66 JAMES PENROSE (Wycliff) 16:17
UNDER 17 GIRLS / MERCHED O DAN 17:
3 KIARA FRIZELLE (Radyr) 16:53; 27 ABI FISHER (Crickhowell) 18:07; 47 ELUNED KING (Gwyr) 18:43; 63 FFION HIGGINSON (Archbishop McGrath) 19:28; 65 HOLLY ROBERTS (Coleg Cambria) 19:37; 67 HANNAH JENKINS (Bryntirion) 19:48
A Welsh Schools AA day's report will follow in the next few days...