Written by Nathan Jones
Sunday, 15 April 2018 20:07
Team Wales' Gold Coast efforts rewarded with most successful Commonwealth Games by equalling their medal tally from Glasgow...as Welsh Athletes Davies, Breen, Arnold and Courtney secure podium positions in the Carrara Stadium...
The Gold Coast Commonwealth Games has now come to an end / Mae Gemau'r Gymynwlad yn Awstralia nawr wedi dod i ben...following eleven days of competition in Australia. A 108-strong Team Wales travelled the long distance ahead of the 21st Games that run between 4th and 15th April. It welcomed more than 6,600 athletes and team officials to share in the celebration of sport, entertainment and culture.
Team Wales, 320 in all, were one of the 71 Nations and territories who sent teams to take part in 19 different sports around Queensland over the Easter holidays: Athletics, Badminton, Basketball, Boxing, Cycling, Diving, Gymnastics, Lawn Bowls, Shooting, Squash, Swimming, Table Tennis, Triathlon, Weightlifting, Volleyball, Wrestling, Hockey, Netball and Rugby Sevens.
The opening ceremony got things underway on Wednesday 4th April, with the closing ceremony rounding off a great Games on Sunday 15th April.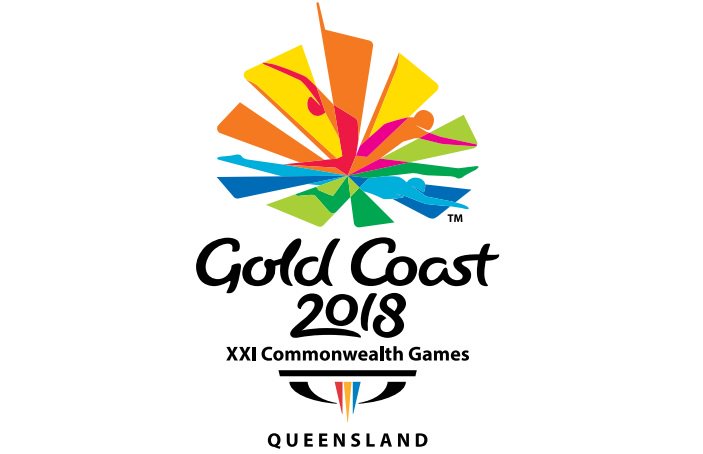 As the competition got underway last Thursday, medals started to be won and it was clear that each athlete wanted to put on a big performance for their country. Wales won a few medals in the swimming during the first few days and then continued in other sports.
At the 2018 Gold Coast Commonwealth Games, Team Wales secured their best ever Games to date since its beginning winning an equal record medal tally of 36 including more gold medals than ever before. The total medals matched the highest games haul four years ago in Glasgow when Wales won five medals as well as 11 silver and 20 bronze.
By the half way stage in Australia, they had already surpassed their gold medal tally thanks to swimming, athletics, cycling, shooting and boxing victories in particular. Host nation Australia led the medal table from the beginning with England coming in second followed by India. Wales went on to conclude the games in 7th with Scotland one place behind in 8th position.
Team Wales finished off the 2018 Games with the following: 10 GOLD; 12 SILVER; 14 BRONZE
Welsh Athletics were delighted to announce the squad heading down under back in January at a special launch at the National Indoor Athletics Centre in Cardiff. We were delighted to see a small number of West Wales athletes being chosen to represent their country but also credit to the full team who all gave 100% which their country would have been proud of. They picked up a total of five medals altogether in the athletics thanks to Davies (Race Walk), Breen (Long Jump & 100m), Arnold (Javelin) and Courtney (1500m).
All our Welsh Athletes and their performances are listed below:
BETHAN DAVIES - 20k Race Walk - Davies won Wales' first athletics medal on the opening day of the action in the Race Walk in the early hours of Sunday 8th April. Bethan was in fourth for much of the race but finished in third as the Aussie athlete in front of her was disqualified for three red cards.
HEATHER LEWIS - 20k Race Walk - Competing in conditions of 28C in Australia, Lewis joined her Team Wales medallist on Sunday 8th April. The Pembrokeshire Harrier did her club proud moving through the field to cross in 7th.
OLIVIA BREEN - Long Jump & T38 100m - Breen was in action in her first event on Sunday 8th April, just a few hours after the race walkers had finished. In one of the first events to take place inside the Carrara Stadium, the Paralympic athlete produced Wales' first gold medal in the sport. Her opening day was complete with a games record and new personal best of 4.86m.
On Thursday 12th April, Breen changed from the field to the track to contest the T38 100m final. In a field of six athletes, Breen claimed her second medal of the Games, picking up bronze to add to her gold earlier in the week. Her time of 13.35 was the third quickest.
OSIAN JONES - Hammer - In an event that saw a new games and British record performance by England's Nick Miller, North Walian Jones threw the 7th biggest throw of 70.14m on Sunday 8th April.
BEN GREGORY - Decathlon - Ben got his Decathlon competition underway in the early UK hours of Monday 9th April. He ran 11.60 in the 100m off to a good start followed by a 6.94m best jump in the Long Jump. Moving on to the Shot Put, Gregory threw 12.80m in the first round and then cleared 1.89m in the High Jump. In the final event of the first session, he clocked 50.31 to finish 4th in the 400m.
On Day 2 on Tuesday 10th April, Gregory's latest result was 15.16 in the 110m Hurdles and then enjoyed bests of 38.85m, 4.80m and 57.30m in the Discus, Pole Vault and Javelin respectively. At the end of an action-packed competition was the 1500m final and Ben dominated from the start to finish off in the best way possible 4.30. Gregory after 10 events was placed 7th with 7449 points.
RHYS JONES - T38 100m - On Monday 9th April, Rhys got his opportunity inside the Carrara Stadium to take part in the T38 100m final. In a quick race, Jones was pleased with his 7th placed finish.
CURTIS MATTHEWS - Decathlon - Curtis competed alongside his teammate as the competition began on Monday 9th April. A 11.39 in the 100m sprint was a quick start to the day's events and then came a Long Jump measurement of 6.89m. Unfortunately, he registered three foul throws in the Shot which ended his hopes. He did however battle strong in the High Jump to clear a 1.89m the same as his Welsh teammate.
DAVID OMOREGIE - 110m Hurdles - Starting his career at Pembrokeshire Harriers, Omoregie made his Commonwealth Games debut on Monday 9th April inside the Carrara Stadium in the 110m Hurdles heat. He finished in 7th place in heat 2 which sadly wasn't quite enough to qualify for the final despite a good time of 14.20.
MELISSA COURTNEY - 1500m & 5000m - Courtney produced one of the stand out performances of the week in the 1500m where she not only made the final but also claimed her place on the podium in front of thousands watching and present. Finishing in fourth place in the heat, she went in the final looking to go one better...and certainly did. She passed the Aussie on the home straight to claim a bronze medal and Wales' latest in a lifetime best time of 4:03:44.
A few days after, Courtney was back on familiar territory this time competing in the longer 5000m distance. In hot temperatures, she came in 9th overall in 15.46 which rounded off a good week.
JENNY NESBITT - 10,000m - Nesbitt was a late call up to the Welsh team to travel and go in the 10,000m race on Monday 9th April. Crossing in 17th place, she came away with a new personal best of 32:58:14.
CARYL GRANVILLE - 100m & 400m Hurdles - The Swansea Harrier got her games up and running with an 8th place (59.28) finish on Tuesday 10th April in the 400m Hurdles heat and was then back for the 100m Hurdles heat on Thursday 12th April. This time, it was another great effort and she was 6th in the first heat with a time of 13.98.
HOLLIE ARNOLD - F46 Javelin - Arnold went head to head with her nearest rival, New Zeland's Holly Robinson for this latest episode on the Commonwealth stage. When Robinson threw a new World Record of 43.32 in her first round it was all to do for Arnold if she was to get another victory. It was left until the last round where the Welsh athlete produced the throw of her life to claim her Welsh record back and win another great gold medal, throwing 44.43m in round 6. A great competition to watch!
CARYS PARRY - Hammer - 48 hours after Jones competed, it was Parry's turn to take to the cage in heavy rain at times on Tuesday 10th April. She threw over 60 metres in the 2nd throw to finish in 6th position with a best of 61.58m.
REBECCA CHAPMAN - Long Jump -The Cardiff AAC was the only Welsh Athletics team athlete in action on Wednesday 11th April. Our representative was amongst the start list over in the Long Jump Qualification and despite a best of 6.02m this wasn't quite enough to qualify for the final which took place the day after.
JAMES LEDGER - T12 100m - Another West Walian Ledger enjoyed his debut in these Games in the T12 100m on Thursday 12th April. With 2 heats run, James was 3rd in his heat but sadly was not quite enough to progress.
TOM MARSHALL - 1500m - Marshall alongside Axe were the Welsh representatives in action in the early hours of Friday 13th April. Tom headed to the start line firstly to finish in 8th with a time of 3.50 in heat 1 of 2.
ROWAN AXE - 1500m - Axe also made his debut in the same men's 1500m heat event on Friday 13th April and matched his club athlete result, also coming in 8th. Their times were also identical with Axe crossing a second quicker in 3.49.
JON HOPKINS - 3000m Steeplechase - On Friday 13th April, the 3000m Steeplechase took place completing 7 and a half laps of the track. Jon finished in 6th overall (8.34)
IEUAN THOMAS - 3000m Steeplechase - Ieuan on Friday 13th April made it two athletes involved in the 3000m Steeplechase. He crossed the final line just behind Hopkins next in 7th (8.40)
MORGAN JONES - T47 100m - The DSW Para Academy athlete made his Commonwealth Games debut in the T47 100m final on Friday 13th April. He just missed out on a medal in the end by finishing 4th in 11.93 not too far behind third.
SALLY PEAKE- Pole Vault - The silver medallist from Glasgow 2014 got off to the perfect start over in the pole vault on Friday 13th April clearing heights of 4.00m, 4.15m and 4.30m but then failed her three attempts at 4.40m. A 10th place finish for Peake.
ELI KIRK & CARYL JONES - Marathon - The women's marathon was the penultimate event of the athletics programme on the Gold Coast, with the women's first off at 07:20 local time (11:15pm UK on Saturday 14th April). Jones went off with the leading pack in the early stages before running most of the course in the top 10. As the end neared, she passed another two athletes to come in a very creditable 8th position 2:43:58. Swansea's Kirk also enjoyed a Commonwealth Games debut to her name in amongst the 17 athletes on the start line. She battled all the way to the final straight to cross the line in 15th 2:57:01.
JOSH GRIFFITHS & ANDREW DAVIES - Marathon - The men had to contend with the worst of the heat which got up to 30C by start time on Saturday 14th April. They got underway at 08:15 just 45 minutes or so behind the women. With larger numbers and a strong field, it was there for the taking for several of the big names involved. Andrew Davies moved up the field after halfway to come in 11th place (2:26:05). Likewise, former Carmarthen Harrier and Gorslas' Josh Griffiths shocked the world 12 months ago and took his opportunity well. Battling through the hot and humid conditions over in Australia, Griffiths also finished strongly in 15th (2:37:10). Great running in brutal conditions!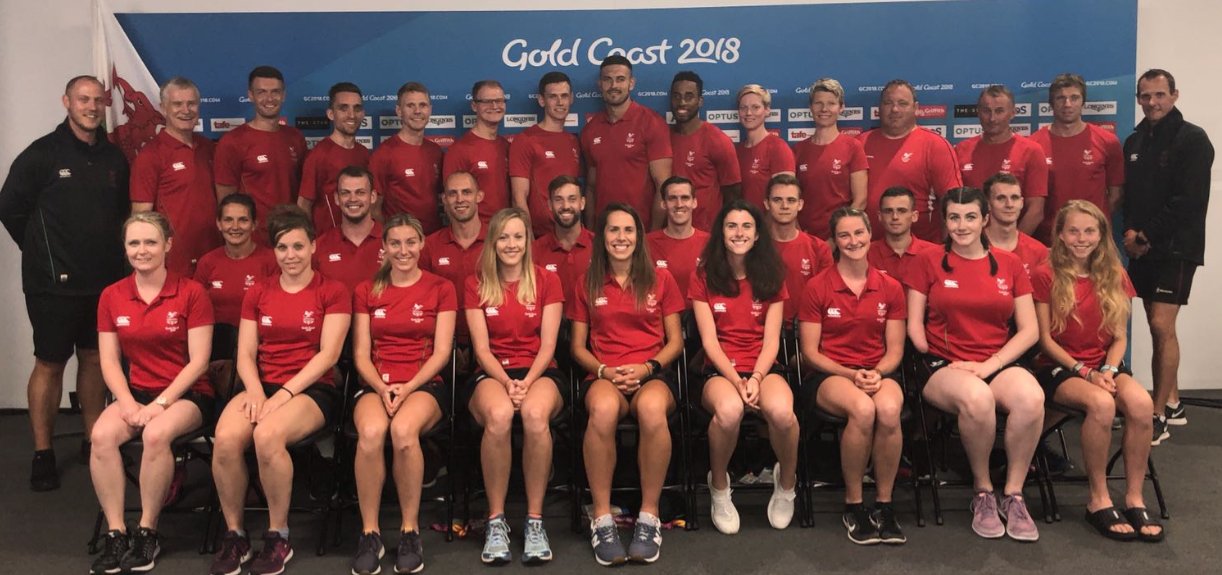 Welsh Athletics Comms Team were busy during the week catching all the action online and social media - see all the news here http://www.welshathletics.org/athletes/commonwealth-games--gemau-gymanwlad-gold-coast-2018.aspx
Catch up with BBC Sport daily coverage and latest news on the BBC iPlayer and BBC Sport Website.
All results from the past fortnight can be found on the 2018 Gold Coast Commonwealth Games website.
CONGRATULATIONS TO THE WHOLE TEAM / LLONGYFARCHIADAU I'R TIM I GYD! A very successful week...it's now on to Birmingham in 2022 where we're sure another big team will head there wearing the red of Wales.