Written by Nathan Jones
Sunday, 08 April 2018 16:35
Welcome to a brand new Track & Field Athletics Season in Wales! Croeso i dymor newydd Athletau yma yng Nghymru! The opening open meeting fixture of the season headed to Swansea University Athletics Track earlier today (Sunday)...
As the first three of twenty-six Welsh athletes were getting started in the early hours of Sunday at the Gold Coast Commonwealth Games down under in Australia...closer to home, nearly 400 Welsh club athletes of all ages got their track and field event season underway at the Swansea Harriers Outdoor Track & Field Open Meeting held at the magnificent Swansea University Outdoor Athletics Track on Sunday 8th April.
Wrth i athletwyr cyntaf tim Cymru dechrau ei hymgyrch yng Ngemau'r Gymynwlad yn Awstralia yn yr oriau man y bore Dydd Sul...yn agosach at adref, fe wnaeth bron i 400 o athletwyr clybiau Cymru o bob oed dechrau ei tymor trac a maes yng Nghyfarfod Agored Trac a Maes Harriers Abertawe a gynhaliwyd ar drac Prifysgol Abertawe ar Ddydd Sul 8fed Ebrill.
Roedd y rheini oedd yn cymryd rhan wedi cymryd mantais cynnar yng nghystadleuaeth cyntaf yr haf, o flaen ddigwyddiadau cynghrair a pencampwriaeth sydd i ddod rhwng nawr a diwedd mis Awst i fyny ac i lawr y wlad i blant ac oedolion!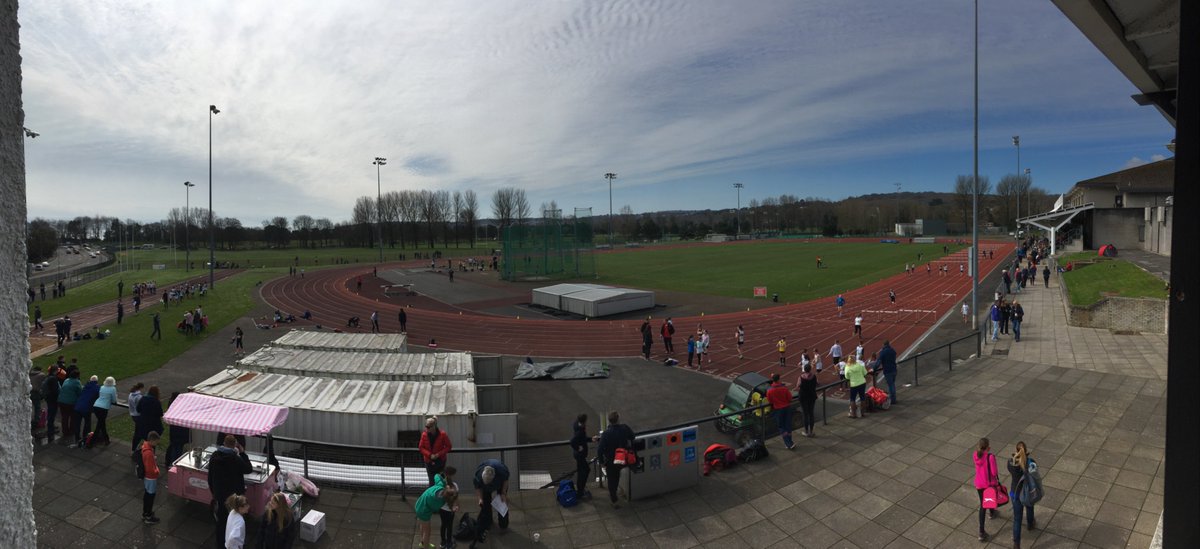 It turned out to be a pleasant afternoon of early season competition near the Mumbles seafront with the rain, wind and mud of the cross country campaign now forgotten about!!, The stunning venue, looking ahead to hosting the first UK Youth Development League Midland Premier Division U13/15 next weekend, and the large number of spectators was welcomed by early April sunny and mild conditions. Several of those in action were looking to get some good early practice in ahead of the upcoming league and championship fixtures to come between now and the end of August.
It was also the chance to impress the hardworking club team managers who will have the difficult task in numerous of the competitions in weeks to come in selecting athletes with limited numbers allowed in junior and UK leagues!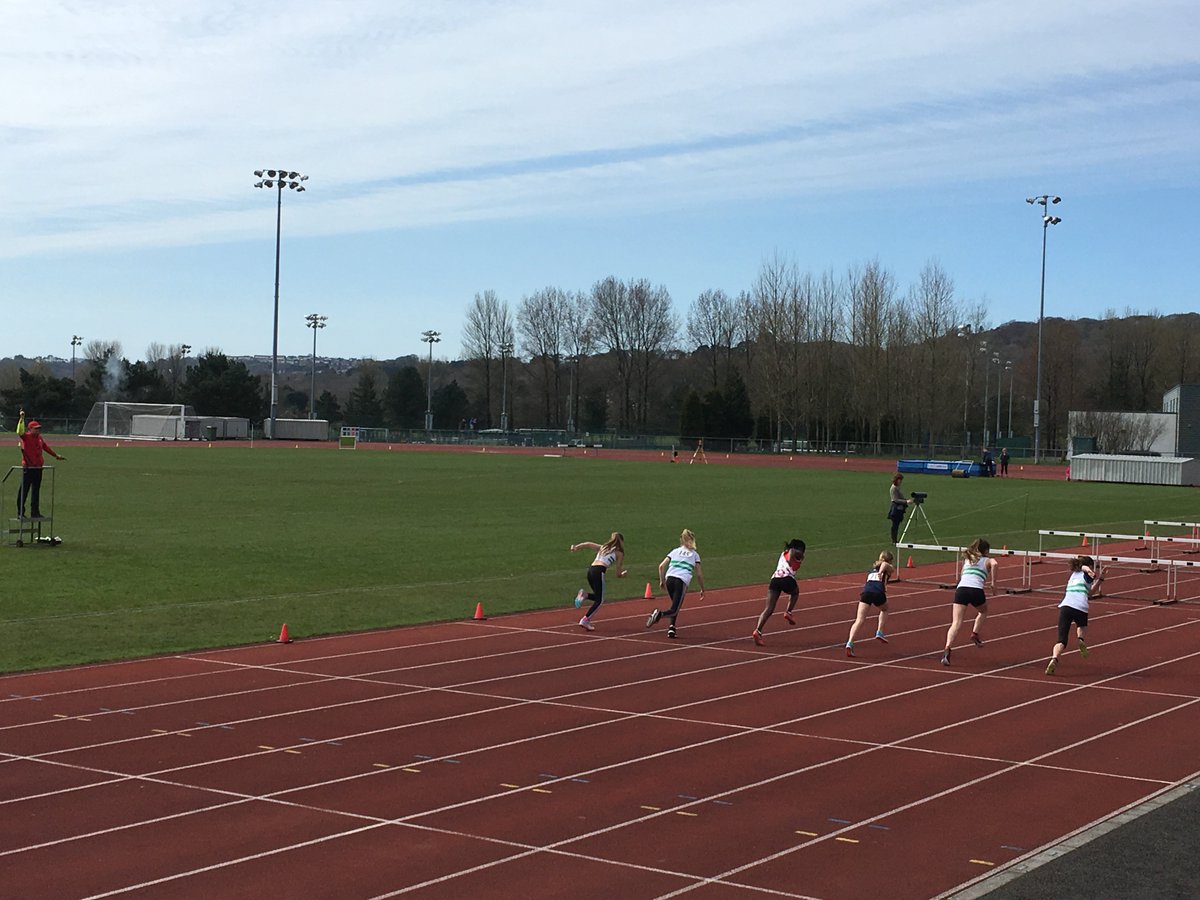 The Swansea Open Meeting, again this year kicking off the brand new season, offered the sprint hurdles, 75m, 100m, 300m, 400m, 800m, 3000m, Long Jump, High Jump, Javelin and Shot track and field disciplines. There were a number of close races and an Under 17 Welsh record broken in the latter part of the day, with Bethany Moule (Neath Harriers) providing the stand out performance with her 52.91m best throw in the javelin age group. Due to its popularity these days, organisers had limited the entries to 350 and this was reached several days before the closing date set. 392 were entered in full.
With the likes of West Wales based athletes Josh Griffiths, Caryl Granville, Caryl Jones, Heather Lewis, David Omoregie, Jonathan Hopkins, Dai Greene and Eli Kirk completing their last minute preparations ahead of tough competition at the Commonwealth Games over the forthcoming week and a half, many of the next generation of athletes were back on home soil in South Wales taking advantage of the open Power of 10 performance event put on by the Swansea based club. The event could have not run, as with any other without all its volunteers and Welsh Athletics officials who helped out on the day.
Boys and Girls in the Under 11 (Year 4 & 5), Under 13 (Year 6 & 7), Under 15 Year 8 & 9), Under 17 (Year 10 & 11), Under 20 (Year 12+) and Senior Men & Women categories were open. In front of club mates and family, over 30 clubs were represented from across West, South and East Wales along with over the bridge in South West England and as far as London, Leicester and Sheffield!
From a Carmarthen Harriers point of view, a total of seventeen athletes made the shot journey up the M4 and produced good starts to their campaigns where they will now look to keep up consistent performances going forward. FULL CLUB RESULTS LISTED BELOW / CANLYNIADAU LLAWN Y CLWB O DAN:
Jessica Lee - Under 13 Girls 70m Hurdles (13.1) & Shot Putt (5.90m) & Long Jump (4.37m)
James Sloyan - Under 11 Boys Long Jump (3.38m) & 75 metres (12.0) & 800 metres (2.56.1)
Beca Roberts - Under 17 Women 80m Hurdles (13.0) & Long Jump (4.68m) & High Jump (1.50m)
Sophia-Reid Thomas - Under 13 Girls 100 metres (14.2)
Megan Roberts - Under 13 Girls 100 metres (13.9)
Thaia Davies - Under 15 Girls 100 metres (14.1)
Alicia Samuel - Under 20 Women 100 metres (12.0)
Kacper Krawcewicz - Under 13 Boys Shot Putt (7.94m)
Casi Gregson - Under 11 Girls 75 metres (11.2)
Nia Seren Thomas - Under 11 Girls 75 metres (13.5) & 800 metres (3.12.6)
Ellie May John - Under 11 Girls 75 metres (12.3) & 800 metres (3.07.4)
Macsen Toogood - Under 11 Boys 75 metres (11.9) & 800 metres (2.43.3)
Ellie Loweth - Under 15 Girls 300 metres (43.8)
Megan Rowe - Under 20 Women 400 metres (63.0)
Jake Lynock - Under 13 Boys 800 metres (2.41.2)
Dafydd Jones - Under 15 Boys 800 metres (2.13.2)
Ryan Thomas - Under 17 Men High Jump (1.65m)
Morgan Batten - Under 15 Boys Javelin (40.00m)
Swansea Harriers T&F Open Meeting FULL RESULTS 08/04/18
Digwyddiad agored Trac a Maes Harriers Abertawe CANLYNIADAU LLAWN 08/04/18
Events are now coming thick and fast over the next few months including junior and senior league meetings, schools competitions and Welsh championships. Details will be posted on the website closer to their dates and on the fixture page.
Elsewhere over the previous two weekends including Easter weekend (Mar 25th & Mar 30-April 2) there were two events held at Cardiff and Lampeter. On Sunday 25th March in the Welsh capital, over 6,000 people were running at the Brecon Carreg Cardiff Bay 2K and 10K Races in perfect weather. Under 11 Carmarthen Harrier Carys Wood had an exceptional run as she finished as the second finisher in the opening 2K race open to all youngsters and families. Sharon Leech was the first F45 category across the line in 41:04.
Meanwhile, on Easter Sunday (1st April) last week, there was good representation too at the Teifi 10 Mile Road Race in Lampeter from Carmarthenshire athletes who made the journey up to South Ceredigion. Carmarthen's David Jones was sixth overall (58:43) while Wendy Price followed, and crossed as the female champion (1:06:17). 10 of Llanelli's Seniors were also in attendance for this local Dyfed annual event. Well done everyone! Da iawn pawb!
Events Round-Up & Photos from Nathan Jones...