| | | | |
| --- | --- | --- | --- |
| Dyfed Primary Schools Cross Country Championships in the Media & Press... | | | |
Written by Nathan Jones
Friday, 30 March 2018 07:59
Dyfed Primary Schools Cross Country Championships all over the press / Pencampwriaeth Traws Gwlad Ysgolion Cynradd Dyfed dros y wasg...online and in the Dyfed region press.
CATCH UP / DAL I FYNY - recap of the Dyfed Primary Schools Cross Country Championships & Media & Press
Back on Thursday 15th March at the United Counties Showground at Nantyci, Carmarthen, Dyfed primary schools once again turned out in their numbers for the 2018 edition of the Dyfed Primary Schools Cross Country Championships. A total of 1,417 runners from 75 Dyfed primary schools competed in this annual event now in its 31st year sponsored by the Masonic Province of West Wales and McDonalds Carmarthen.
A total of eight races were held with the year 3 and 4 perhaps competing for their school for the first time, followed by the year 5 and 6 athletes making their final progress at primary school level. There was a grand stand finish for everyone in front of the stand, where school friends and parents encouraged them through.
Ysgol Y Dderwen, Carmarthen came out on top in the team awards as they were rewarded with good performances to be announced as the championship 2018 winners, winning a total of five age groups in the process. Ysgol Dewi Sant, Ysgol Griffith Jones and Ysgol Gymraeg Aberaeron were the other top placing schools.
Esme Lynock (Rhys Pritchard); Rhys James (Y Dderwen); Ophelia Jenkins (Tavernspite); Steffan Thomas (Teilo Sant); Martha Brandy-Phillips (Aberaeron); Macsen Toogood (Telio Sant); Erin Morgan (Y Dderwen) and Ifan Bowen (Y Dderwen) took the spoils in each of the eight races as they were victorious and claimed gold medals.
DID YOU MISS OUR FULL REPORT FROM THE EVENT, PUBLISHED ONLINE ON THE EVENING OF THE RACING? CLICK HERE TO READ THE CARMARTHEN HARRIERS WEBSITE ROUND-UP AND A SELECTION OF IMAGES FROM AN ACTION-PACKED MIDWEEK AFTERNOON FEATURING OVER 1,400 RUNNERS!!
The first 10 in the year 6 races and the first 2 in year 5 were invited to compete for Dyfed schools primary schools in the annual inter match with West Glamorgan primary schools at Ashleigh Road Playing Fields, Swansea University last Wednesday (21st March). We were there covering the two races with Y Dderwen's duo of Bowen and Morgan keeping going from where they left a week earlier, by winning the respective boys and girls' age group races. Team medals also came back down further West to Carmarthenshire, Pembrokeshire and Ceredigion school pupils.
YOU CAN LOOK AT FULL RESULTS, IMAGES AND FULL ROUND-UP FROM SWANSEA BY CLICKING HERE
Dyfed Primary Schools Cross Country Championships Coverage in the Media & Press
The Harriers Communications, Media and Press Officer Nathan Jones was out and about catching the action for those following our social media pages at the venue and back home in picture and video. Visit the FACEBOOK PAGE & TWITTER PAGE for the news as it happened that night.
In addition, you might not have been aware that we covered the 2018 primary schools championships in a number of ways in the media and in press stories across the Dyfed region (Carmarthenshire, Pembrokeshire and Ceredigion) A two page special was published along with main headline in the back page of the Herald Newspaper as an example.
HERE ARE SOME OF THE NEWSPAPERS AND ONLINE LINKS WHERE REPORTS, IMAGES AND RESULTS APPEARED VIA OUR MEDIA FRIENDS AND CONTACTS IN THE PAST 2 WEEKS:
Carmarthen Journal Newspaper
South Wales Guardian Newspaper
Western Telegraph Newspaper
Cambrian News Newspaper
Carmarthenshire Herald Newspaper
Llanelli Herald Newspaper
Ceredigion Herald Newspaper
Pembrokeshire Herald Newspaper
Tenby Observer Newspaper

S4C's weeknight programme "Heno"
Athletics Weekly News Magazine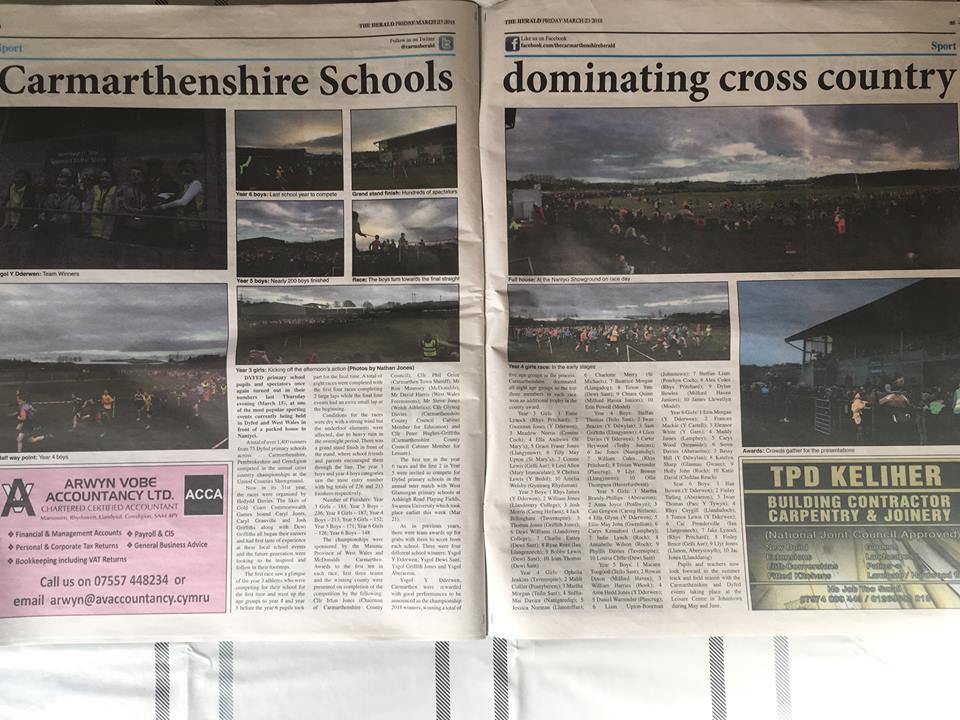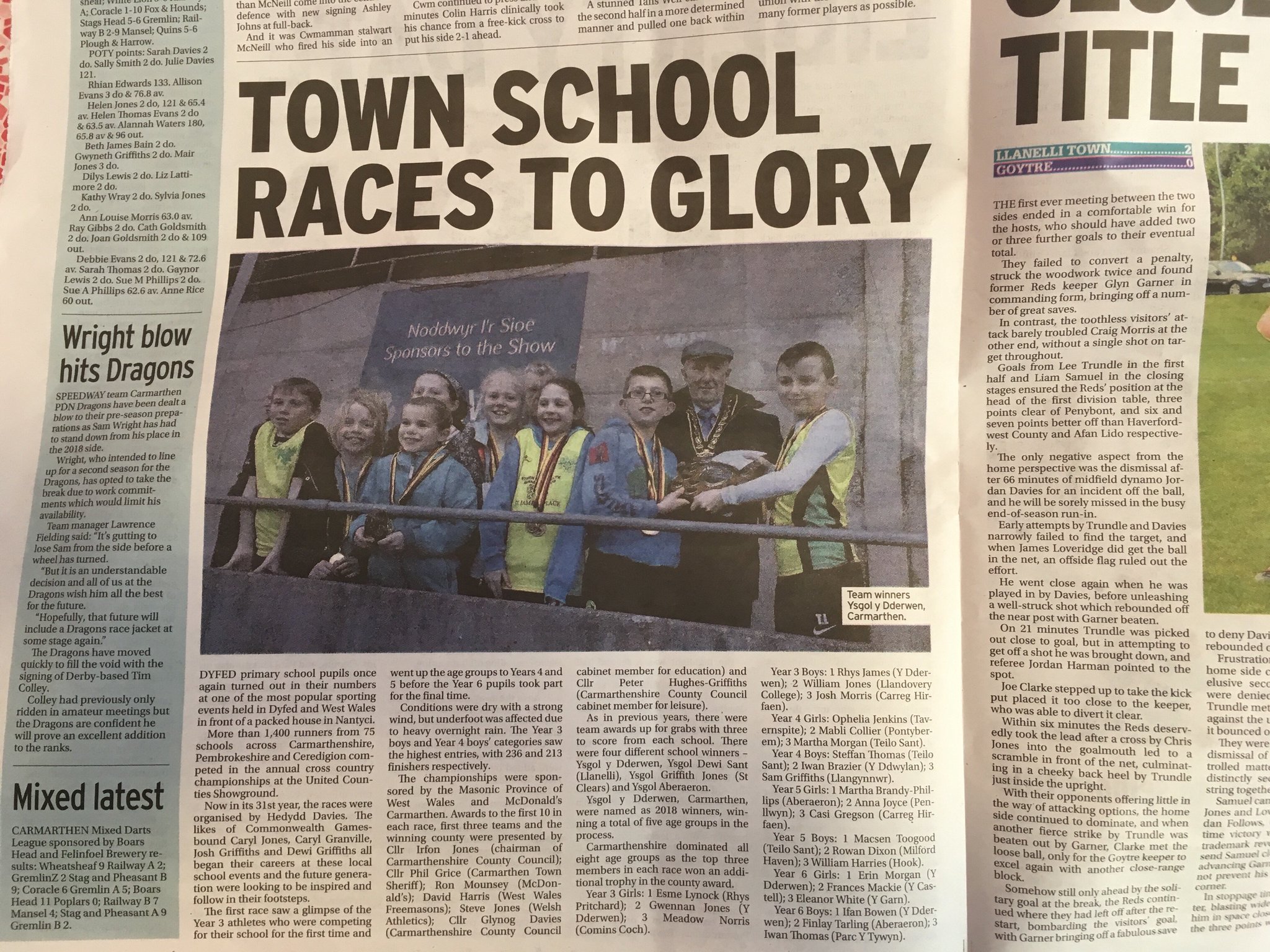 Welsh Athletics Website
http://www.welshathletics.org/news--media/news/dyfed-primary-schools-cross-country-championships.aspx
West Wales Schools Latest - Welsh Athletics website
http://www.welshathletics.org/schools/schools-news/west-wales-schools-latest.aspx
Llanelli Online Website
http://llanellionline.news/2018/03/16/dyfed-primary-schools-cross-country-championship-attracts-crowds/
Carmarthen Harriers Club Website
http://www.carmarthenharriers.co.uk/index.php?option=com_content&view=article&id=1314:dyfed-primary-schools-cross-country-a-terrific-thursday-evening-of-schools-action-at-the-showground&catid=1:latest-news
Plenty of track and field school competitions coming your way during the forthcoming weeks and month...full details, information, timetables and results will be published www.carmarthenharriers.co.uk between now and the end of August!