| | | | |
| --- | --- | --- | --- |
| #SIAB2018: Countries in competition at annual cross country season climax for all ages - Nottingham... | | | |
Written by Nathan Jones
Saturday, 24 March 2018 16:05
SIAB SCHOOLS & HOME COUNTRIES INTERNATIONAL RESULTS, REPORT & IMAGES: Fifty-six of Wales' cross country youngsters made the 430-mile round trip to Nottingham over the weekend / Gwnaeth 56 o athletwyr Cymru orffen eu tymor traws gwlad dros y penwythnos yn Nottingham...
Fifty-six of Wales' cross country youngsters and seniors finished off their 2017/2018 winter competition over the weekend (Mar 24), by making the 430-mile round trip for the annual end of season SIAB Schools International Athletic Board and Home Countries International in the East Midlands. A total of nearly 250 athletes were in action from all areas of the United Kingdom.
Gwnaeth 586o athletwyr Cymru orffen eu tymor traws gwlad dros y penwythnos (Maw 24) wrth iddynt wneud y daith o 430 milltir ar gyfer pencampwriaeth blynyddol Rhyngwladol Ysgolion SIAB a Gwledydd Cartref Rhyngwladol yng Nghanolbarth Lloegr. Wnaeth bron i 250 o athletwyr o bob rhan o'r Deyrnas Unedig gymryd rhan.
Daeth y brif gystadleuaeth yn ol i Loegr ar ddydd Sadwrn 24ain Mawrth; mae'n cael ei gynnal ymhob gwlad unwaith bob pedair blynedd. Yn 2018, daeth y bencampwriaeth rhyngwladol i Barc Wollaton yn Nottingham lle roedd cwrs heriol yn aros i gystadleuwyr o bob oed. Roedd y gystadleuaeth yn cau'r tymor traws gwlad y gaeaf am eleni.
This top competition returned on Saturday 24th March which takes place in each country once every four years. Wales took its turn 12 months ago to put on the event at the historic and scenic Margam Park near Port Talbot and provided with a great setting for the competition. In 2018, the international fixture headed to Nottingham's Wollaton Park where a testing course awaited the competitors of all ages and annually closed the domestic cross country campaign.
Teams from Welsh Schools, English Schools, Irish Schools and Scottish Schools battled it out in the under 15 junior and under 17 intermediate races before it was the turn of the under 20's followed by the senior categories in the Home Countries International. The Midland Counties, North of England, East of England, England, Scotland, Wales and Guernsey provided opposition and featured in the upper age groups.
The #SIAB2018 gave an opportunity to test form against the cream of cross country talent from across the UK and Ireland. There were a number of experienced athletes out on show however they ran alongside a number of debutants making their first appearance on the international stage.
The South and North Wales contingent made the road trip on the coach to the Team HQ on the outskirts of Nottingham on Friday morning and following an evening meal with the other competing teams and an overnight stay, the athletes and team managers continued to the venue where team photographs were taken before battle commenced on the course at 11.30am on Saturday morning. Pic: Alan Rowe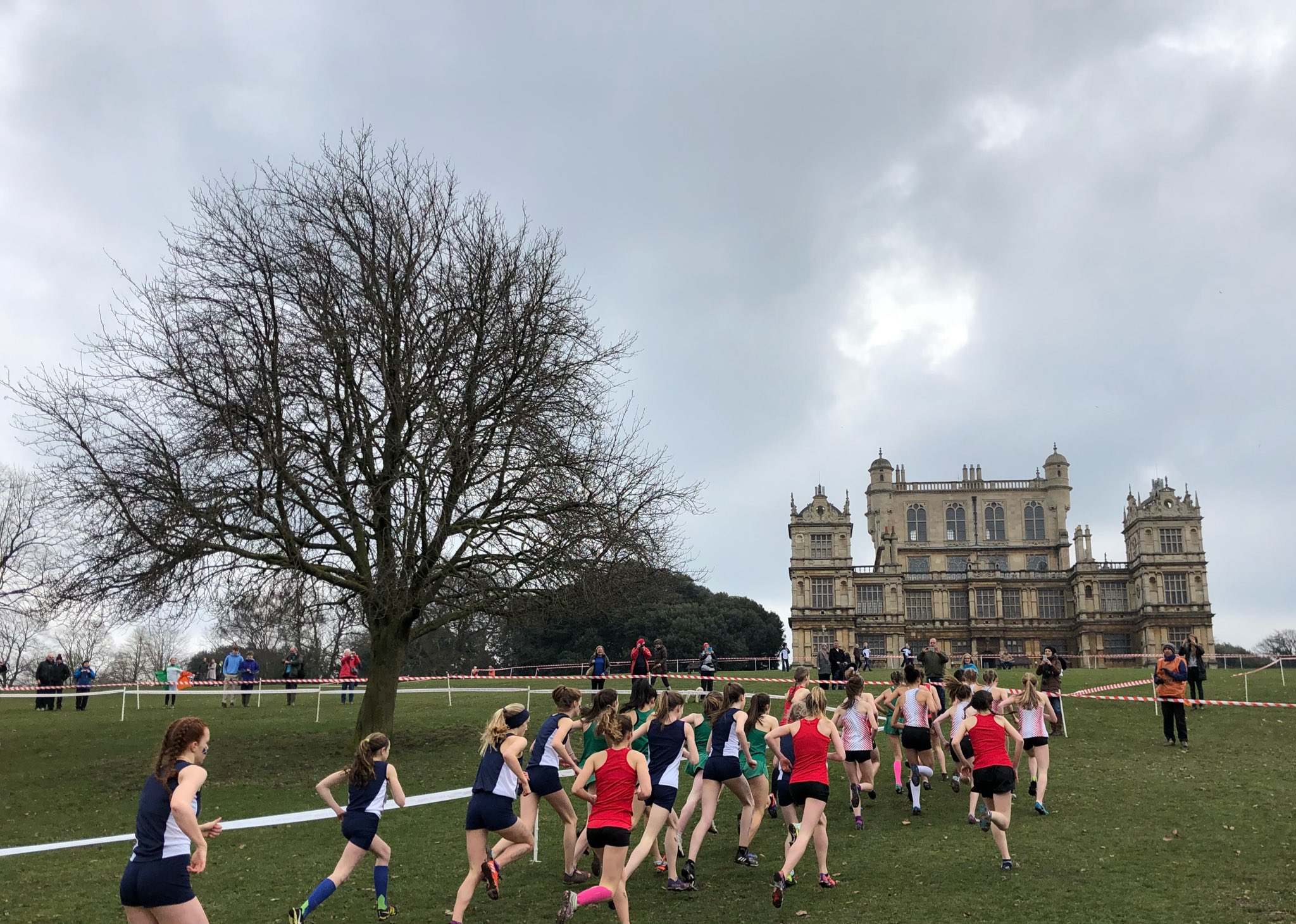 Ahead of the day itself, a number of former SIAB Schools participants, who have now gone on to bigger success commented on their experiences and inspired the next generation on Twitter @SchoolsAthletics; here is what they had to say to those running:
Jess Judd: "SIAB was my first experience of being in a team and making friends that I'm still close with now. Good luck, enjoy it and whatever happens, smile! Use the experience as a great way to see off the XC season after all the hard work in the snow!"
Melissa Courtney: "Most important thing is to have fun! Take in the whole experience from the race to travelling & staying with the team & meeting new friends. Just enjoy it. I still remember my first SIAB XC so well yet it was 11yrs ago, so make sure you make it a good one!"
Harriet Knowles-Jones: "You've earned this! I hope you all have the best time! Good luck good luck."
Christopher Thompson: I still remember the buzz and having no idea where in the race I was positioned until I got my number tag at the end. The purest form of running an event. Have fun have fun have fun, nothing else matters."
Each age group completed the required number of laps around the main field in front of the magnificent towering Wollaton Hall Museum, with an extension loop of around 500m added in for races 2 and 3. The junior girls set things off completing 2 full laps with the concluding senior men's race going round a total of five times (10,000m). The top three countries in each age group received awards with the race winners also being recognised.
At Nottingham, English Schools were pre-race favourites to dominate most of the junior age groups and in the end, it went to form. With several top English Schools and UK champions in their ranks, they continued their success achieved in Wales in 2017 and made home advantage count this time round to win all SIAB team titles. England also continued to dominate into the Home Countries races too winning the double along with winning all age group races completed.
Welsh Schools pupils wearing the red vest of Wales were selected following the Welsh Schools National Cross Country Championships, in Brecon on 7th March. The first eight respectively "past the post" in the under 15 and under 17 age groups that day were automatically chosen to be involved in this end of winter SIAB match.
In terms of the Home Countries International, they were selected from performances across the season with the recent Welsh Championships at Singleton Park (February 24th), Swansea the major indicator of form. Welsh Schools and Welsh Athletics sent teams to participate in the under 20 category while there were three seniors each on the start line in the men's and women's races at the end of the day.
The Welsh teams were accompanied for the weekend by a management team of eight. Dai Gatehouse as the team leader was supported by his team of Steve Jones, John Messum, Joan Goldsmith, Carol Jones, Med Richards and Delyth Brown while Graham Finlayson led the Welsh Athletics contingent at an event where young athletes and seniors competed together at the same venue on the same day. A small army of parents, coaches and family members also travelled to support the children and country.
Welsh Schools' best results of the day were silver and bronze team medals respectively won in the junior boys and middle boys' races. in addition, the Welsh Athletics junior women and senior men's squads ran to two sets of bronze medals in the concluding events in the programme.
WELSH SCHOOLS & WELSH ATHLETICS ROUND-UP / CANLYNIADAU YSGOLION CYMRU AC ATHLETAU CYMRU
JUNIOR GIRLS / MERCHED IAU
English Schools got their day off to the best possible start by securing 1st and 2nd individually and were supported by five in the next eight. Scottish Schools took silver while Ireland were third. Wales came fourth.
5 Samia Jones (14:48); 20 Lily Williams (15:56); 21 Abigail Davies (15:57); 24 Abbi Parkinson (16:06); 25 Moli Lyons (16:09); 26 Fiona Bostock (16:12); 27 Neisha Roberts (16:13); 32 Alanah Hill (16:34)
JUNIOR BOYS / BECHGYN IAU
This turned out to be a real thriller in the closing stages with English Schools duo crossing the line at the same time, with a photofinish needed to decide the winner. The English boys packed in between two Welsh athletes to win the second junior team title of the day. Welsh Schools' eight athletes performed brilliantly to win team silver while Scottish Schools just held off Irish Schools to ensure bronze medals headed back up north.
3 Huw Jones (15:41); 7 Adam Beer (15:55); 11 Dafydd Jones (16:11); 12 Jacob Reynolds (16:14); 15 Iori Humphreys (16:21); 17 Liam Edwards (16:27); 19 Charlie Holland (16:31); 23 Frank Morgan (16:41)
INTER GIRLS / MERCHED GANOL
English Schools dominated this third event with their scoring athletes crossing the line in the top seven positions, with only a second place for Scotland stopping them from taking the first six places. Scottish Schools were second with Irish Schools in third, just in front of Welsh Schools.
15 Nia Clatworthy (18:12); 20 Eluned King (18:26); 22 Ashleigh Willis (18:38); 23 Darcie Bass (18:40); 27 Ffion Jones (18:53); 30 Bethan Davies (20:16); 31 Caitlin Gwyther (21:51)
INTER BOYS / BECHGYN GANOL
English Schools made it a clean sweep of medals (SIAB races) as they made the podium for the first time in four races. The eight boys wearing the white of England finished in the top eight positions showing the strength in depth that they have. Irish Schools and Welsh Schools were the silver and bronze medallist respectively with Scottish Schools filling fourth spot.
9 Joe Reardon (20:34); 12 Louis Spencer (20:48); 16 Osian Perrin (21:03); 19 Carwyn Owen (21:10); 21 James Penrose (21:19); 22 Lloyd Sheppard (21:28); 24 Finley Hines (21:33); 25 Spencer Smith (21:34)
JUNIOR WOMEN / MERCHED HYN
Wales (3rd): 8 Kiara Frizelle (23:18); 10 Abi Fisher (23:33); 16 Gracie Wheeler (24:08); 23 Martha Owen (24:51)
Welsh Schools (7th): 22 Naomi Reid (24:40); 26 Megan Bowen (25:33); 27 Laura Wright (25:53); 28 Lucy Omnet (26:17); 29 Carys Bill (26:27)
JUNIOR MEN / BECHGYN HYN
Wales (5th): 13 James Vincent (27:20); 18 Dominic Smith (27:43); 19 Joe Crutchley (27:55); 24 Oliver Dickinson (28:18)
Welsh Schools (8th): 14 Elliot Lawrence (27:22); 28 Larry Ryan (28:36); 30 Ethan Eckroyd (28:44); 32 Morgan James (28:50); 37 Ben Bartlett (29:26); 38 Jackson Mountford (29:32)
SENIOR WOMEN / MENYWOD
Wales (5th): 5 Beth Kidger (30:25); 13 Bronwen Jenkinson (32:10); 19 Lauren Cooper (33:19)
SENIOR MEN / DYNION
Wales (3rd): 8 Phil Matthews (33:18); 10 Ciaran Lewis (33:29); 18 Gareth Griffiths (34:38)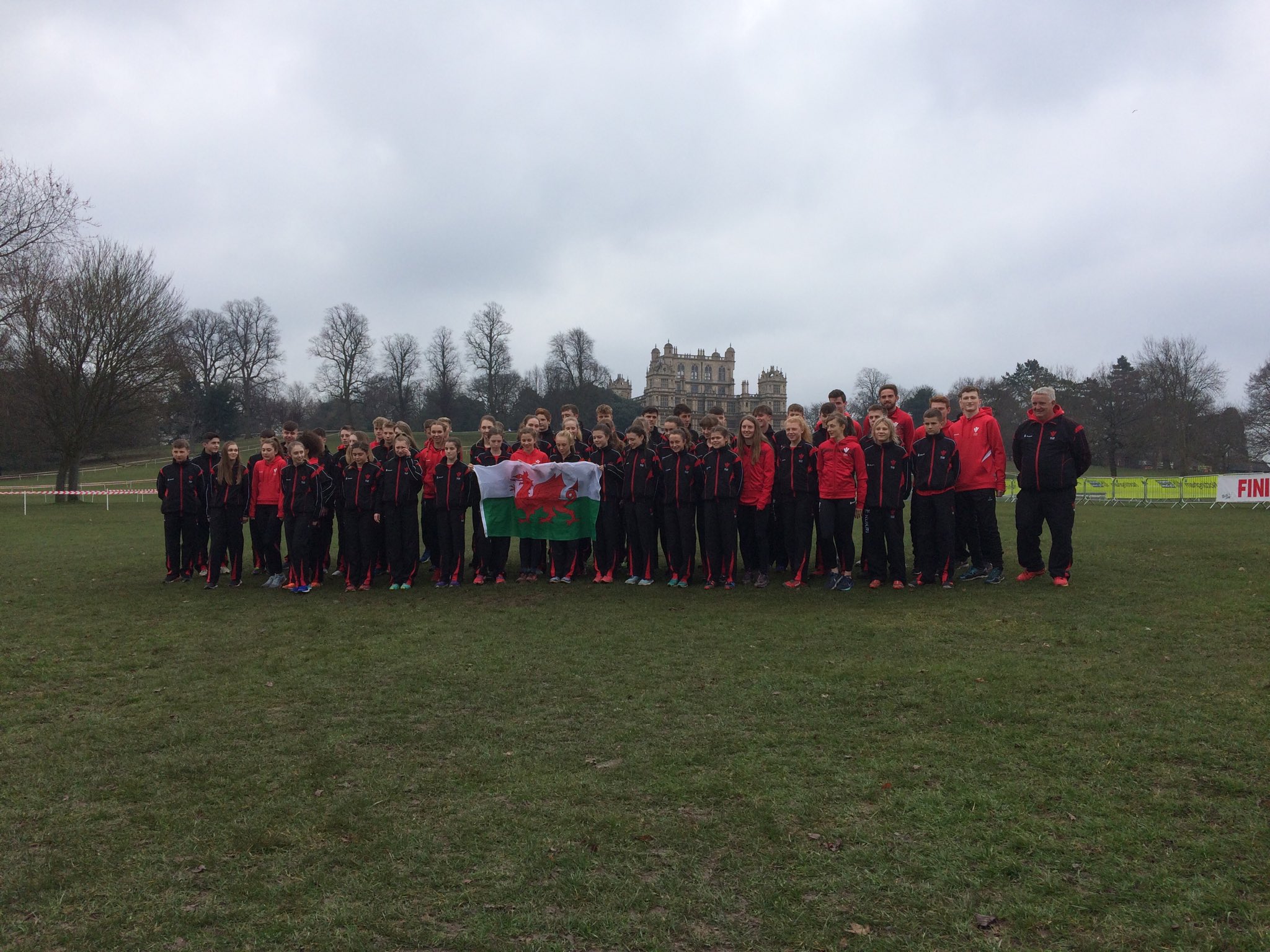 SIAB SCHOOLS INTERNATIONAL RESULTS/CANLYNIADAU
HOME COUNTRIES INTERNATIONAL RESULTS/CANLYNIADAU
Many congratulations to all the athletes selected to represent their countries and we hope that you all had a great experience of competing at the highest level possible!
Llongyfarchiadau i'r athletwyr i gyd wnaeth rhedeg dros ei gwlad ac rydym ni'n gobeithio wnaethoch chi fwynhau'r progiad o gystadlu mewn cystadleuaeth safon uchel!
Next up in the International calendar will be the SIAB Track & Field International for athletes in the under 17 age group. Santry Stadium, Dublin was the venue last summer but this year, the international will head up to Grangemouth Stadium, Scotland on Saturday August 4th 2018. Wales will select two athletes per events for the trip up North. All disciplines of track and field will be open in the SIAB T&F International.