| | | | |
| --- | --- | --- | --- |
| Carmarthen Open Throws Meetings 2018 - Johnstown | | | |
Written by Nathan Jones
Friday, 23 March 2018 20:27
The ever popular Carmarthen Open Throws Meetings returns in 2018 and will be held on the last Thursday evening of each month in April, May, June and July at 18:00 for all club athletes from under 13 above.
The Carmarthen Open Throws Meetings will return to Carmarthen this summer at the end of April, May, June and July. All four evenings take place at the Carmarthen Athletics Track in Johnstown SA31 3NQ, starting at 18:00.
Entry is on the evening from 17:00 at £2 per athlete to compete.
These friendly Thursday evenings at the end of every month is open to all athletes from all clubs in the under 13, under 15, under 17, under 20 and senior age groups. Performances will be sent to Power of 10 and provides a great opportunity to practice ahead of forthcoming league and championship fixtures.
It has been going strong for the last eight years with athletes turning out from across Wales. Javelin coach Ralph Siggery has organised each one.
Bydd cyfarfodydd taflu agored Caerfyrddin yn dychwelyd i Gaerfyrddin ar ddiwedd mis Ebrill, Mai, Mehefin a Gorffennaf a phob un yn cymryd lle ar drac Canolfan Hamdden Tre-Ioan, Caerfyrddin SA31 3NQ. Amser dechrau yw 6 o'r gloch.
Cofrestru ar y noson o 5 o'r gloch gyda mynediad o £2 yr un i gymryd rhan.
Mae'r nosweithiau Iau cyfeillgar hyn ar diwedd bob mis yn agored i bob athletwyr o bob clwb yn y grwpiau oedran canlynol: dan 13, dan 15, dan 17, dan 20 ac athletwyr hyn. Danfonir perffomiadau i "Power of 10" ac mae'n gyfle gwych i ymarfer cyn pencampwriaethau a chystadleuaethau sydd i ddod yn ystod y misoedd nesaf.
Mae'r digwyddiadau wedi bod yn mynd o nerth i nerth am yr wyth blwyddyn dwethaf gyda taflwyr yn troi allan o bob rhan o Gymru. Hyfforddwr gwayaffon Ralph Siggery sydd wedi trefnu bob un.
DATES / DYDDIADAU
18:00 Thursday 26th April / Dydd Iau 26ain Ebrill: JAVELIN, SHOT & DISCUS
18:00 Thursday 24th May / Dydd Iau 24ain Mai: JAVELIN & SHOT
18:00 Thursday 28th June / Dydd Iau 28ain Mehefin: JAVELIN & HAMMER
18:00 Thursday 26th July / Dydd Iau 26ain Gorffennaf: TBC in June
Two of the events will be Memorial Events with the April fixture named the "Richard Wyer Memorial Event" and the June fixture named the "Ossie Morgan Memorial Event."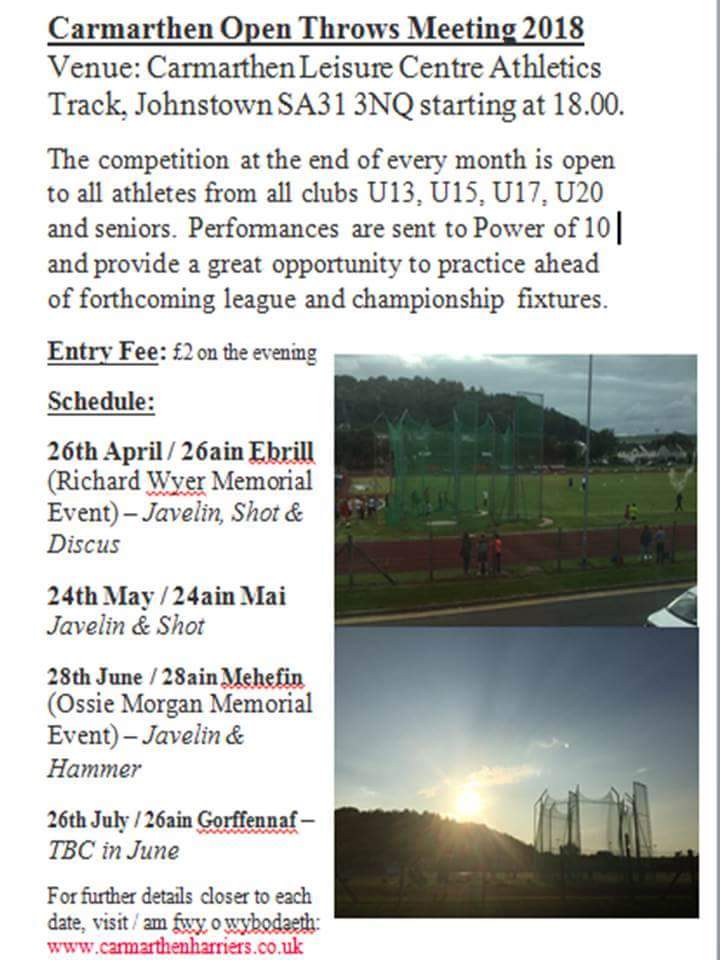 http://www.welshathletics.org/competitions/events/track--field/2018/april/carmarthen-throws-open-meeting-1.aspx
For further details closer to each date, visit / Am fwy o wybodaeth yn agosach at pob dyddiad, ewch i www.carmarthenharriers.co.uk