| | | | |
| --- | --- | --- | --- |
| Carmarthenshire's sporting talents celebrated - Llanelli 02/02/18 | | | |
Written by Nathan Jones
Friday, 02 February 2018 21:51
A host of Carmarthenshire's top sporting talents were celebrated on Friday evening, 2nd February, at the Actif Carmarthenshire Sports Awards. It took place at the Ffwrnes Theatre, Llanelli and organised by the Carmarthenshire County Sports and Leisure team - for the 20th time.
Dathlwyd llu o dalentau chwaraeon gorau Sir Gaerfyrddin nos Wener, 2ail Chwefror, yng Ngwobrau Chwaraeon Actif Sir Gaerfyrddin. Fe'i cynhaliwyd yn Theatr Y Ffwrnes, Llanelli a'i drefnwyd gan dîm Chwaraeon a Hamdden Sir Gaerfyrddin.
After weeks and months of people nominating before each category was shortlisted down to three, the winners were finally revealed at this ceremony attended by finalists, supporters and guests. Thirty seven of the county's best were up for 12 awards.
A range of over 10 sports and backgrounds were celebrated this year, from Athletics, Cycling, Hockey and Rugby to Gymnastics, Football, Cricket, Squash, Netball, Kick Boxing, Bowls and Basketball.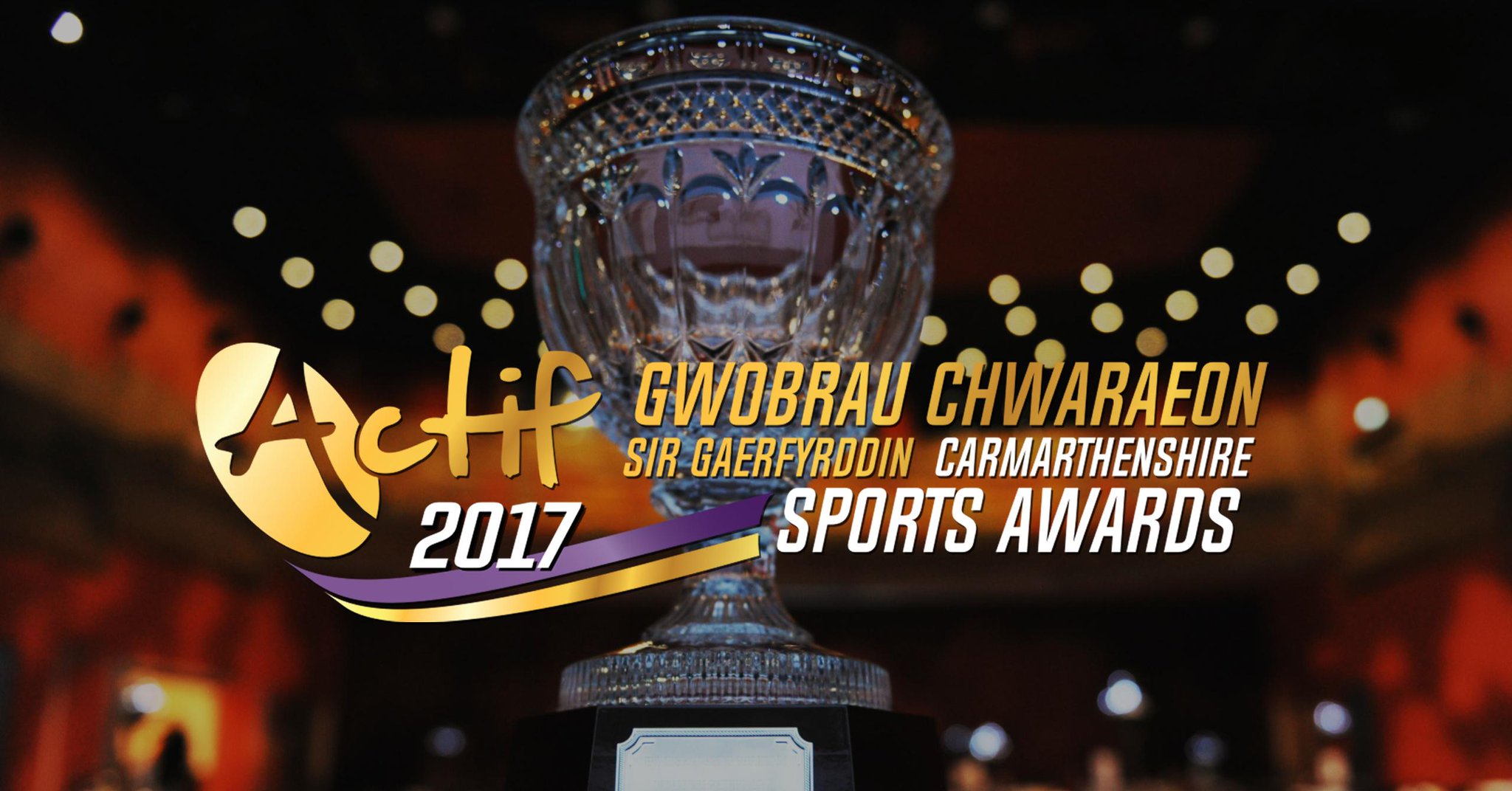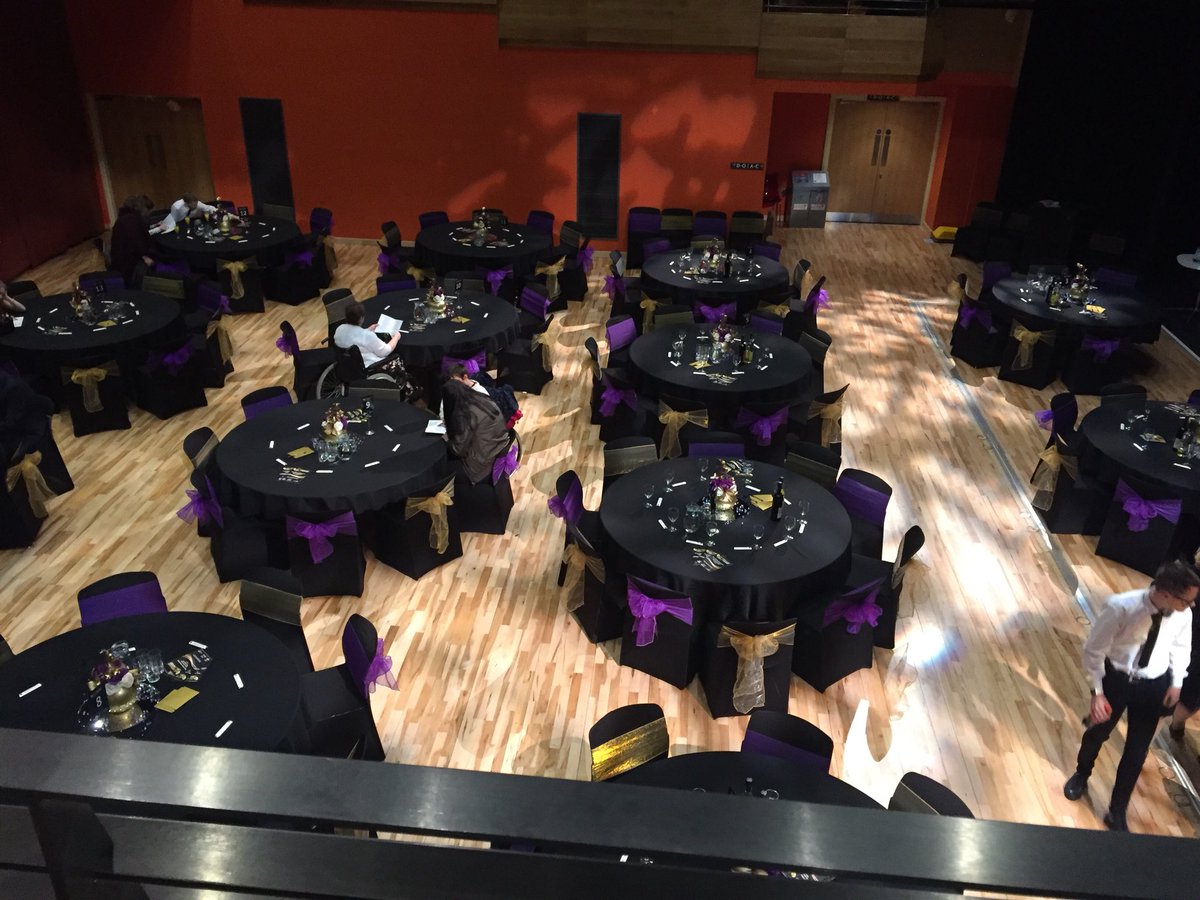 The annual Actif Carmarthenshire Sports Awards recognised the sporting achievements and successes of individuals, sports clubs, schools teams as well as acknowledging the contribution made by dedicated coaches and hardworking volunteers who make a difference through sport and our communities. Some of these represent their sport on a local, national or even international level and the event again recognised those people.
The awards give local people the opportunity to honour sporting stars and unsung heroes who keep their clubs on the go. Nominations have been open over the past few months for the public to nominate their coach, athlete and volunteer before the panel have had the hard job recently in cutting each category down to three shortlisted people or groups to attend the awards evening.
As well as the sports personality of the year, the categories over the course of the evening included young sportsman and sportswoman, disabled sportsman and sportswoman, sports coach, sports volunteer, team of the year, young team of the year, community sports coach, high performance coach and the Ryan Jones Memorial Award for outstanding services to sport. There was also a presentation from the Gold Young Ambassadors for Carmarthenshire.
A full house once again gathered in the centre of Llanelli and welcomed main sponsor Owens Group and Media partners Radio Carmarthenshire. Awards sponsors were from: Coleg Sir Gar, Radio Carmarthenshire, Sport Wales, Active Young People Carmarthenshire, Actif Sport & Leisure, TAD Builders, Toppers Wales LTD, Andrew Scott, Owens, Magstim and Alliance Leisure. The evening was hosted by the Radio Carmarthenshire Radio Presenter, Jay Curtis.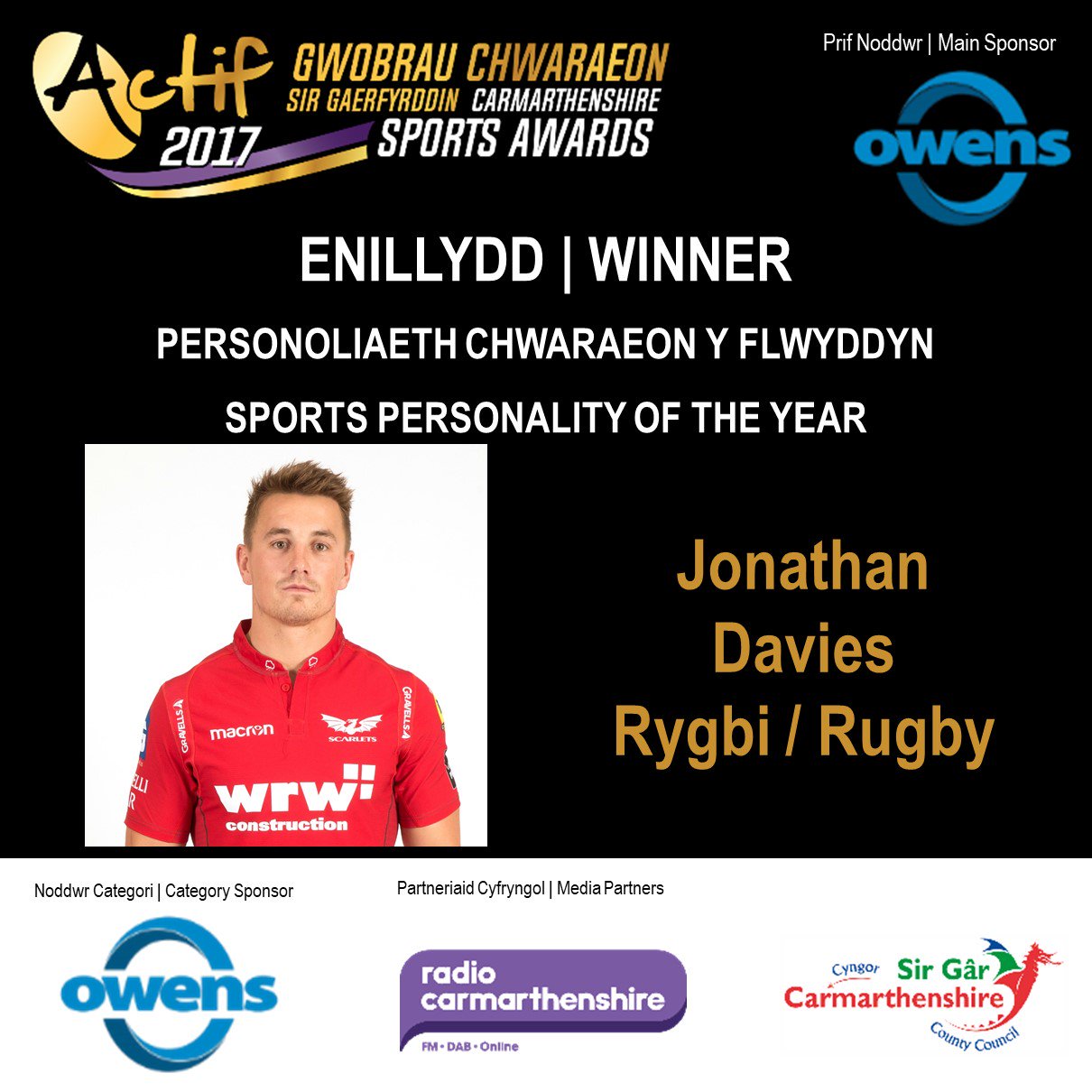 Here's the CONFIRMED LAST OF WINNERS tonight at this year's Actif Carmarthenshire Sports Awards for 2017 - congratulations to all the winners, shortlisted finalists and nominees / llongyfarchiadau i'r enillwyr, y terfynwyr a'r enwebwyr i gyd!
Sports Personality of the Year Winner: Jonathan Davies (Rugby)
Shortlisted Finalists: Joshua Griffiths (Athletics); Scott Davies (Cycling)
Young Sportswoman of the Year Winner: Ella Barnwell (Cycling)
Shortlisted Finalists: Sioned Thomas (Gymnastics); Niamh Roberts (Athletics)
Young Sportsman of the Year Winner: Ben Thomas (Cross Country and Athletics)
Shortlisted Finalists: Morgan Griffiths (Kick Boxing); Ifan Knott (Cricket and Football)
Disabled Sportsman of the Year Winner: Oliver Griffith-Salter (Basketball)
Shortlisted Finalists: Michael Beynon (Athletics); John Andrew Hayes (Athletics)
Disabled Sportswoman of the Year Winner: Tyler Charleston (Skiing Slalom and Giant Slalom)
Shortlisted Finalists: Gwenda Humphreys (Archery); Lauren Larkin (Rhythmic Gymnastics)
High Performance Sports Coach of the Year Winner: Wayne Pivac (Rugby)
Shortlisted Finalists: Carol Sargeant (Gymnastics); Rhian Davies (Netball)
Community Sports Coach of the Year Winner: Jenny Jones (Squash)
Shortlisted Finalists: Mark Jenkins (Football); Nico Setaro (Rugby)
Sports Volunteer of the Year Winner: Marc Jones (Rugby)
Shortlisted Finalists: Steve Percy (Cycling); Mari-Ann Jones (Netball)
Young Sports Volunteer of the Year Winner: Joshua Boyce (Bowls)
Shortlisted Finalists: Jessica Thomas (Hockey); Sion Thomas (Football)
Team of the Year Winner: Amman United RFC (Rugby)
Shortlisted Finalists: Carmarthen Wanderers Cricket Club (Cricket); Scarlets Rugby (Rugby)
Young Team of the Year Winner: Tim Pel Rwyd Parc Y Tywyn (Netball)
Shortlisted Finalists: Carmarthen Wanderers Cricket Club under 13 (Cricket); Dyffryn Aman 7's Rugby (Rugby)
The Ryan Jones Memorial Award for Outstanding Service to Sport Winners: Tudur Thomas (Cycling); Christopher Jones (Rugby)
Shortlisted Finalists: David Davies (Boxing)