| | | | |
| --- | --- | --- | --- |
| Cross Country Relays: Carmarthen H & Deeside AC long journeys rewarded as Cardiff secure senior double! | | | |
Written by Nathan Jones
Sunday, 05 November 2017 21:57
Half term Saturday on 4th November saw the third edition of the Welsh Athletics Cross Country Relays come to the Monmouthshire Showground. It welcomed its largest number yet with around 120 teams pre-entered, including more than 70 children taking part in the opening primary school races. This got the five-race programme underway for the day and concluded with the seniors and masters, totalling 16 different age groups with medals up for grabs.
This event followed on from the Road Relays which took place with us in Pembrey, Carmarthenshire back in September. As with on that day, Saturday was all about working as a team rather than individuals only. Age groups varied with some scoring as a trio while others were quartets meaning only one person within their team were out on the course at one time.
Carmarthen Harriers and Deeside AAC both had a successful day winning five team medals a piece. Both clubs' long travel journeys from West and North Wales to support the event were rewarded.
Newport Harriers and Neath Harriers were also victorious with Cardiff Archers, Cardiff AAC and Bridgend AC making it onto the podium in Monmouth throughout the junior age groups.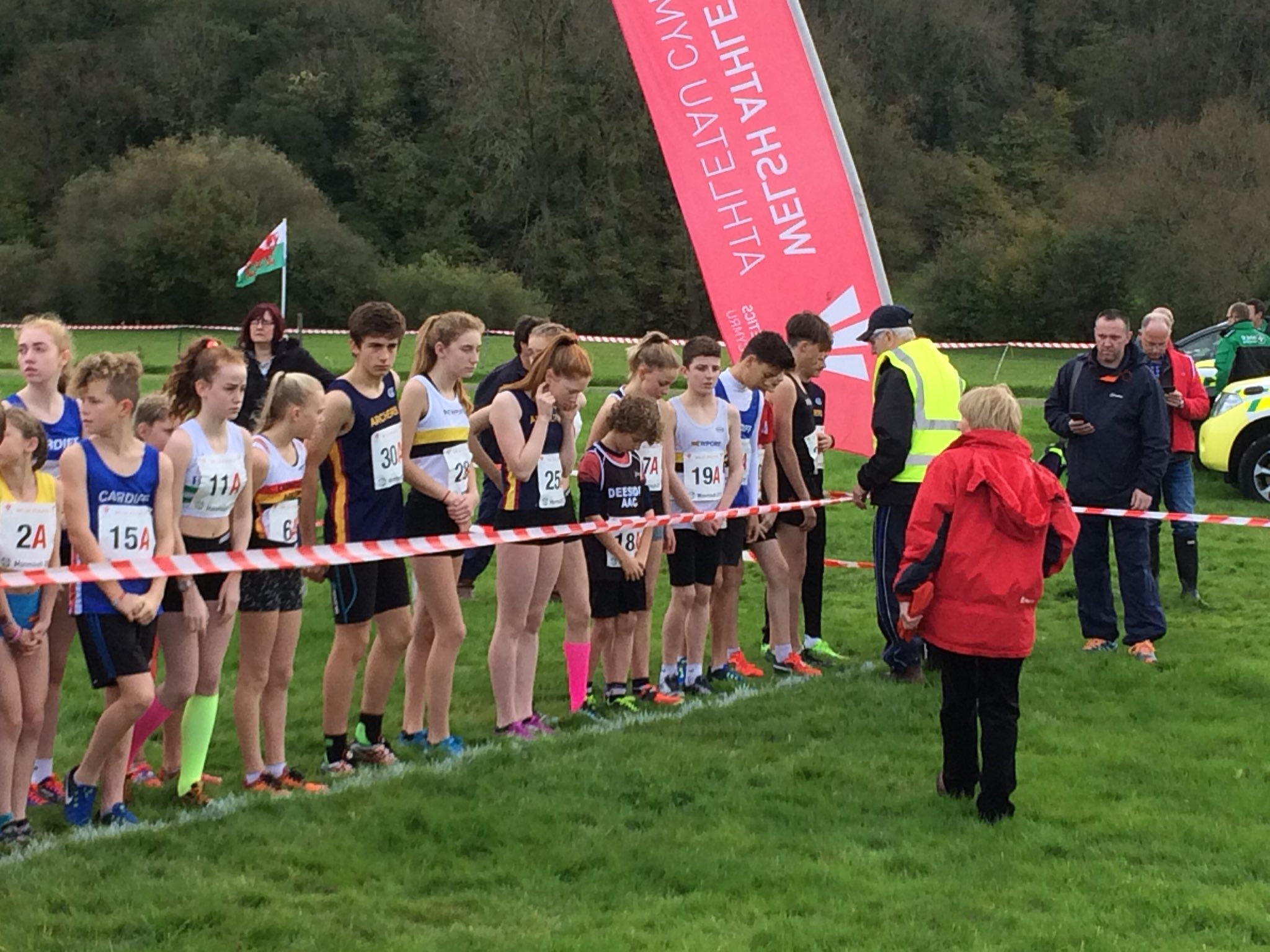 In the penultimate races of the day where Swansea' main athletes were absent, Cardiff AAC's men and women produced excellent split times performances to win both categories with ease, the men led home by Jake Heyward. Masters winning clubs were shared between Swansea Harriers, Pontypool & District Runners, Les Coupiers, Parc Bryn Bach Running Club, Cardiff Met University, Pontypridd Roadents, Lliswerry Runners, Brecon AC & Aberdare VAAC.
Thanks go to Alex Donald, Darran Williams, Rhiannon Lingington-Payne and all other volunteers and marshals that contributed on race day.
FULL RESULTS / CANLYNIADAU LLAWN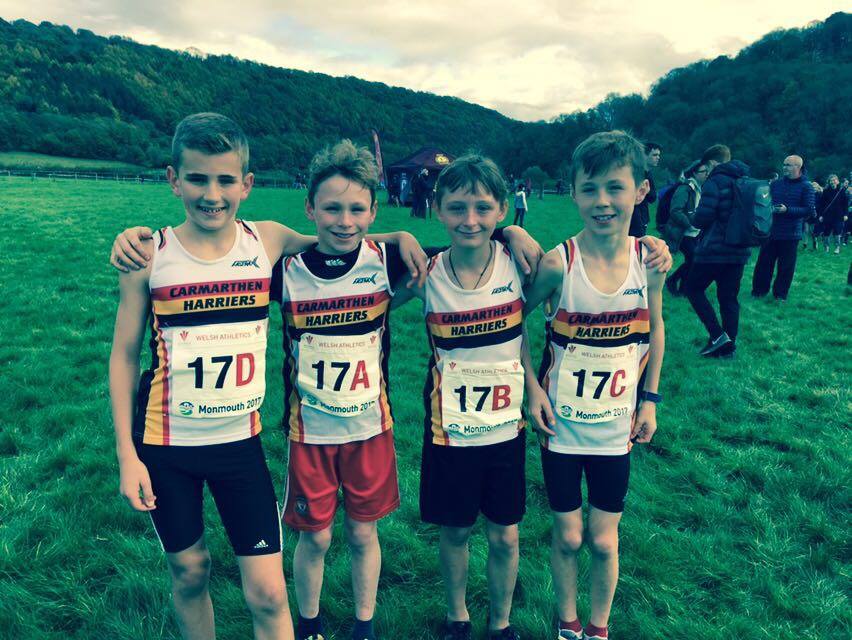 The day after an inspiring talk by Dewi Griffiths, local boy and this year's leading UK marathon runner, a sizeable Harriers travelled to Monmouth for the Welsh cross country relays.
A bright day and fast course helped the Harriers have a great day finishing with the most junior medals in the competition. A number of strong age groups teams delivered 3 golds, 2 silver and a bronze medal. In addition, Frank Morgan got the championship's fastest leg for the under 13 boys and Iwan Thomas won the under 11 boys race.
The under 11 team dominated the opposition in the first race with the boy's winner Iwan Thomas striding away in an outstanding time of 6 minutes 16 for the mile long course. He led from halfway running easily eventually winning by 5 seconds from a Monmouth runner. He was followed home by Ifan Bowen in 3rd and Liam Upton-Boorman in fourth for the trio to take gold for the team.
In a fascinating race for the under 13's Ioan Cressey-Rodgers (Bro Myrddin) took the first leg giving them a commanding lead, he was followed by Jack Thomas (QE High) who was neck and neck with a Cardiff athlete as the capital's club placed their fastest runner on the second leg. Next cam Scott Price (Bro Dinefwr) who ran hard finishing close behind Cardiff who were still running well. On the final leg, Frank Morgan (Bro Myrddin) then took the lead on the first bend and as Cardiff faded he stretched away for the fastest leg of the day and a comfortable win by well over a minute from Bridgend with Cardiff holding on for bronze.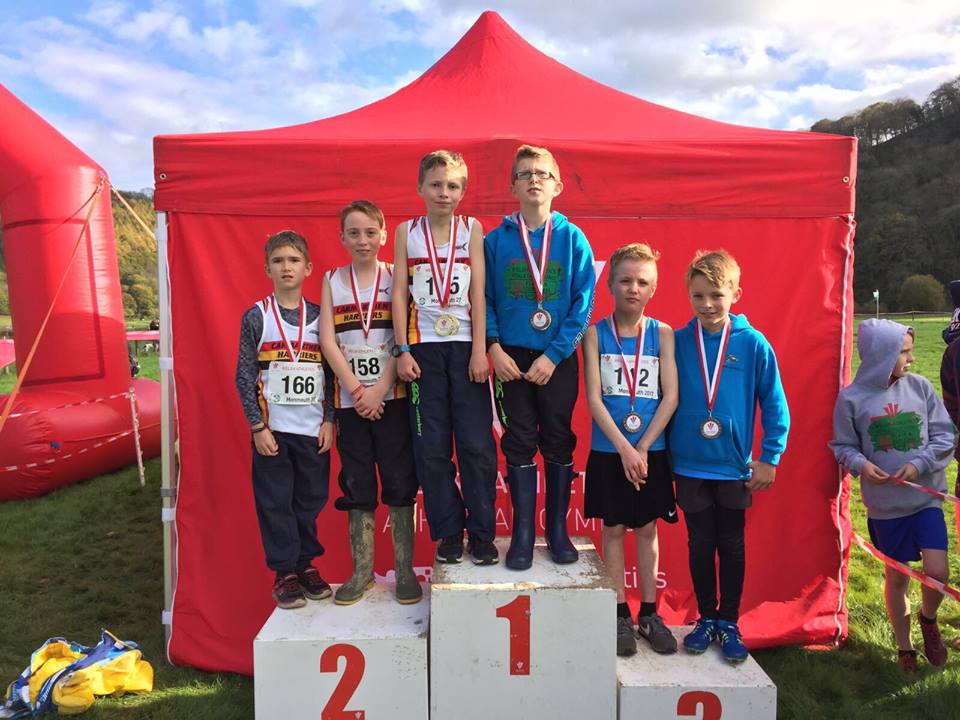 In the under 11 girls, Erin Morgan ran well finishing 3rd with her usual determined effort to lead the girls home for a team gold, taking the individual bronze. She was supported for the team gold by Frances Mackie winning her first national medal in 7th. It proved to be a team effort for these girls with every placing counting as they were level on points with Bridgend but, after a tense wait for the results, got the gold on countback with Carys Wood's excellent 10th place the vital final score. Nia Seren Thomas and Ellie-May John were also taking part and finished well on only their debut season with the club.
Carmarthen Harriers won two silvers with the under 17 boys team consisting of Iestyn Williams, Tomos Rees and Ben Thomas. Thomas ran well with the 4th fastest overall time as they finished behind a strong Newport team. Williams and Rees were up there too in sixth and seventh respectively. The next silver came with the group who surely have the greatest strength in depth; the under 11 boys where Jake Lynock (5th), Macsen Toogood (10th) and Tygan Davies (14th) taking silver behind thir gold winning team mates. Also, Alex Coles, Huw Cressey-Rodgers and James Sloyan were representing the club in the C team and also finished high up in a fantastic 6th place ensuring the boys took half of the top 6 in the team rankings.
The under 17 girls then gave the club a full set of medals with Cerys Davies, Grace Page and Non Morgan taking a well deserved bronze medal only just behind a strong Newport team. These girls have worked hard in training all season and got a well deserved reward.
There were also good performances from the under 13 girls with four girls (Keira Carmody, Faye Jones, Milly John and Amy Greatrick) who were recently silver medallists in the road relays taking to the cross country. This time round, 7th was the best result in the most competitive of races with some close competition where the quartet gave a 100%; Carmody the fastest leg in 7 minutes.
Due to holidays, we were unable to field under 15 boys and girls teams this time round.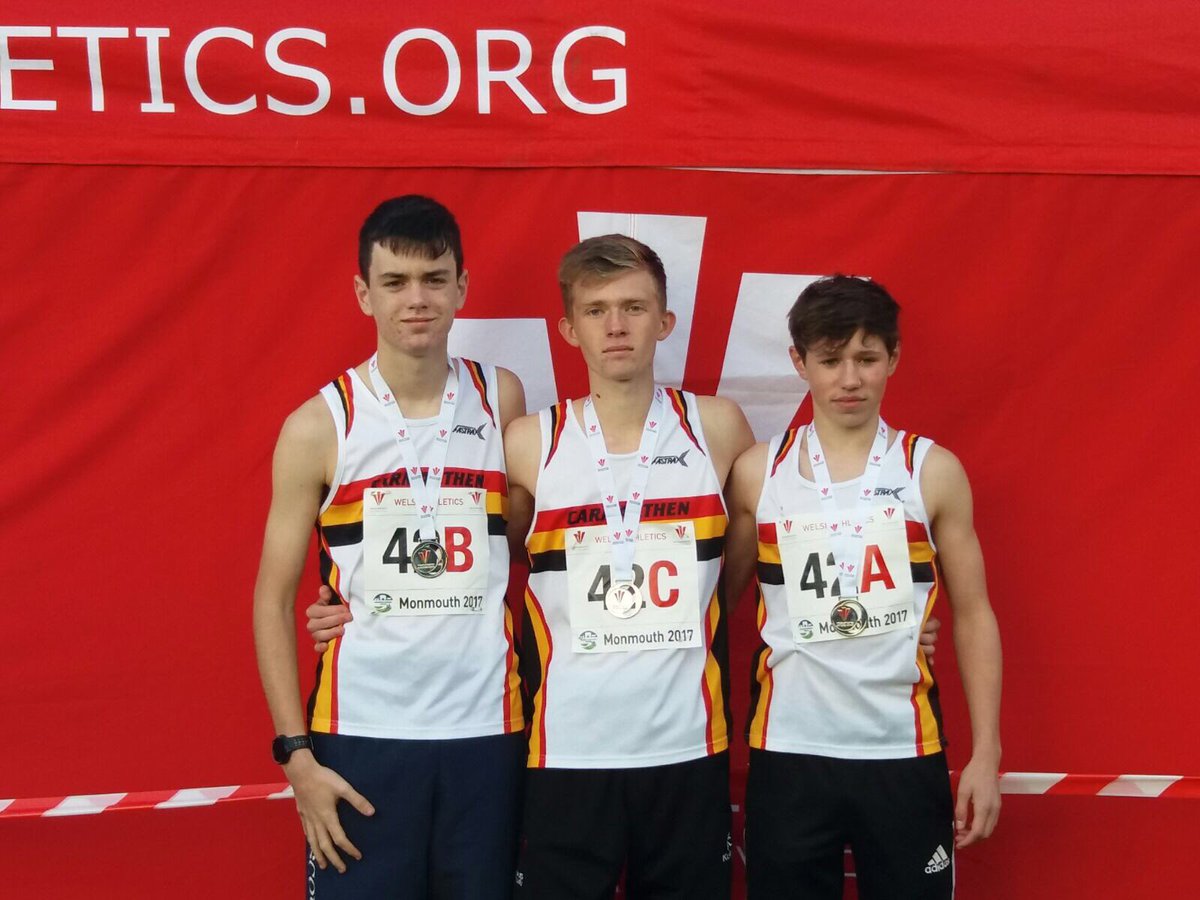 Among the senior's two outstanding performances stood out in the over 35 category with Liz Tremlett and Jack Tremlett both finishing with the second fastest legs of the day narrowly missing an individual gold for their efforts. In the teams, Liz led team mates Lisa Forest and Wendy Price to an excellent 4th overall missing the bronze by only 4 seconds from Les Croupiers. Kate Lynock ran the first leg for the Harriers B team. Jack's excellent run led the times with the men who finished 6th overall with Huw Davies, Dafydd Bowen and Paul Clarke running well. Final finishers were club stalwarts Gordon Orme and Peter Moody who competed in the over 45 category.
Elsewhere...
28/10/17: Snowdon Marathon: Sharon Leech finished 3rd F45 3:19:59 and Jamie Best crossed the line in 4:27:23.
05/11/17: Richard Burton 10K 2017: Iwan Davies finished in 0:58:14