| | | | |
| --- | --- | --- | --- |
| THE EVENING'S COVERAGE IN FULL...Dewi Griffiths stars in standing ovation speech at annual dinner! | | | |
Written by Nathan Jones
Friday, 03 November 2017 23:40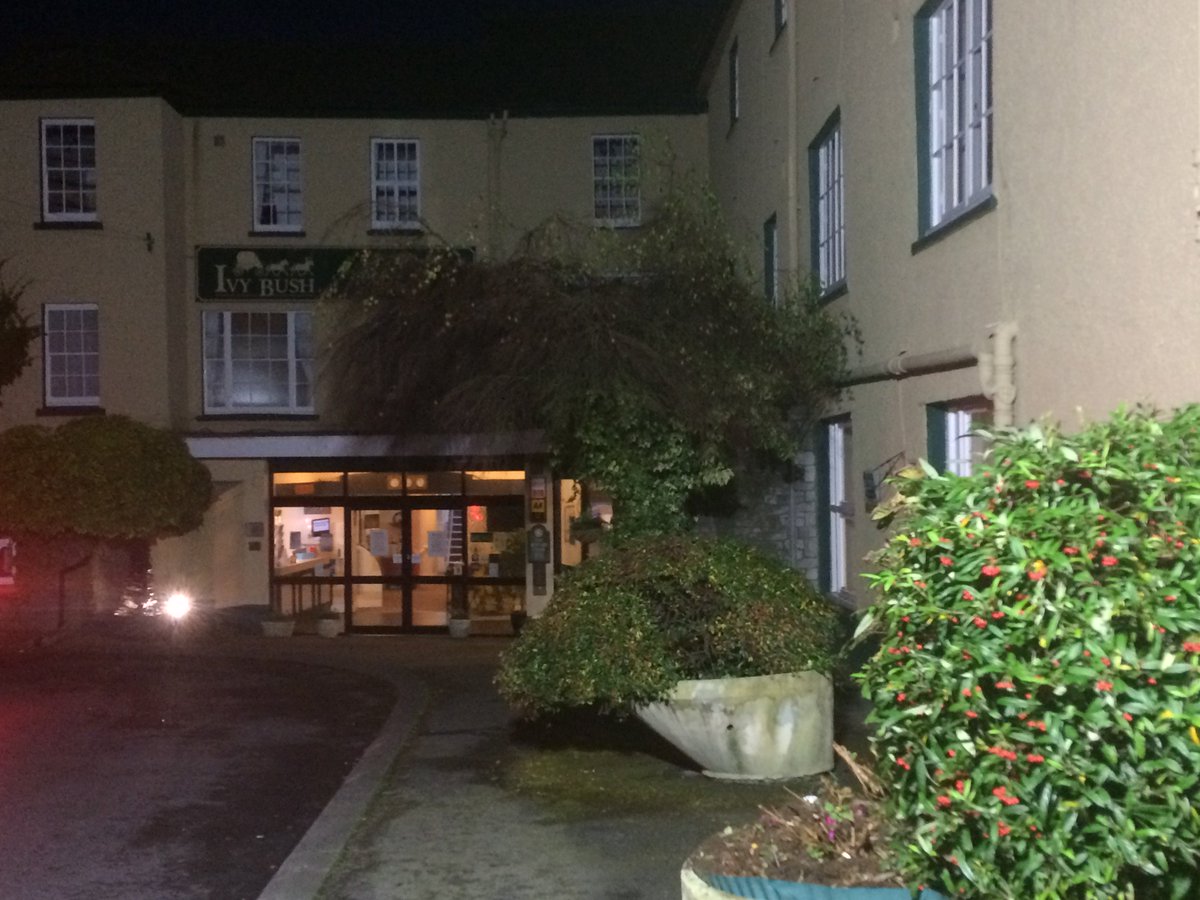 Ivy Bush Hotel in the heart of Carmarthen Town Centre has been the host venue of the Carmarthen Harriers Annual Dinner & Awards Evening for several years and we back there again in 2017 using the fantastic facilities on offer at one of the town's main hotels.
This year's gathering saw it take place during the school October half term holidays. The room was once again full of athletes, members and friends where around 150 people attended the dinner to meet and celebrate the successes of the club and its members during the year along with thanking those who work hard in front of, and behind the scenes and by supporting.
We saw a number of guests and visitors attend the dinner. The top table guests and presentations were assisted by the following: Eiddwen Davies, Lynette Harries (President of Welsh Athletics), Mrs Jean Jones, Cllr Irfon Jones (Chairman of Carmarthenshire County Council), Hedydd Davies (Carmarthen Harriers Chairman), Dewi Griffiths, Kevin Evans (Carmarthen Harriers President), Cllr Alun Lenny (Mayor of Carmarthen), Mrs Ann Lenny & Janet Evans. The Welsh Athletics Dyfed Network Officer Andrew Lloyd-Hughes had also joined this year's dinner.
A total of more than 60 awards across 20 categories were made on the evening - from athletes themselves to volunteers and coaches. New awards were also introduced in 2017 including the club records awards to recognise those who broke records during the year. Six athletes ranging from under 15 to under 20 were the recipients of these (full list of awards are available further down the report). Three special awards were made to those who have supported the club over many years, in this case down at the Showground Nantyci for the primary schools championships held annually in Carmarthenshire and Dyfed. Guest speaker Dewi Griffiths also received his own appreciation award from the club.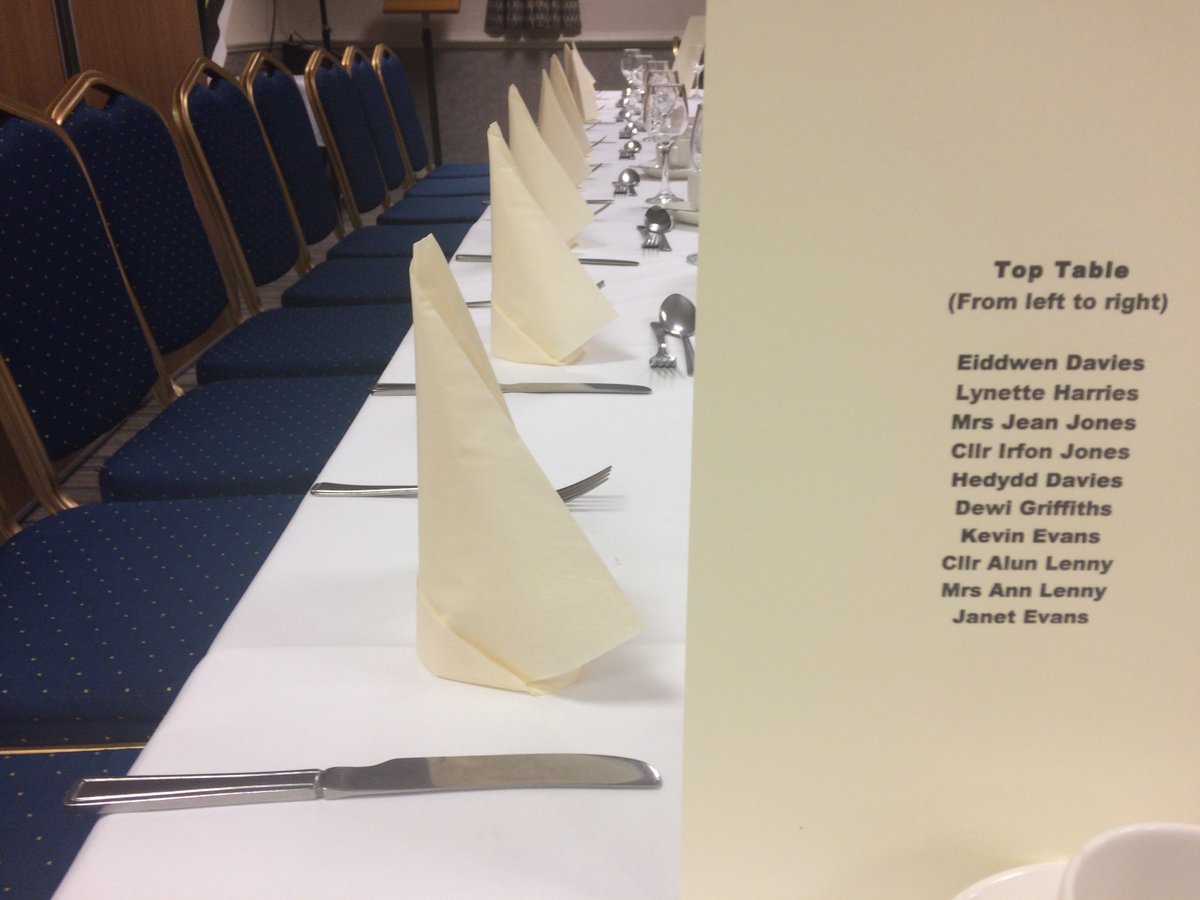 Year Highlights / Chairman Report - Uchafbwyntiau'r Flwyddyn:
- Third in the 2017 Welsh junior U15 league (Louise Arthur League) in the overall competition, boys section and girls section; Third in the 2017 Gerald Codd Trophy (9-15) competition; Seventh in the 2017 Welsh Senior (U17/U20/Senior) League; Eighth in the 2017 Welsh Junior (9-15) Junior League Cup Final; Won the 2016/17 under 13 boys Gwent Cross Country League team competition, second in the U11 boys and third in the U15 boys and U17 team championships; Third in the 2016/17 Gwent League George Crump MBE Trophy competition.
All the Harriers teams had a reasonably successful year and these team results would not have been possible without the support of the whole Club. We are indebted to our elite athletes but also the ordinary club athlete who regularly compete for the Club and gain valuable points in team competitions. Many Harriers members were members of this year's successful Dyfed Schools and West Wales teams.
In 2017, the Carmarthen and District Harriers Athletics Club organized 18 events in Carmarthen and the Harriers members took part in 85 individual or team competition events during the year. Ralph Siggery is to be congratulated once again on organizing the five Carmarthen Throws competitions held this year.
A very successful Gwent League cross country league match was held in Pembrey Country Park on Saturday 4 March 2017. It was arranged by Carmarthen Harriers in conjunction with Carmarthenshire County Council. On Saturday 16 September 2017, the Club again in conjunction hosted the 2017 Welsh road relay championships at Pembrey.
In the last 25 years Carmarthen Harriers has been involved in hosting in Carmarthen 25 Welsh road race championships (in conjunction with the Carmarthen Mayor's Race), 20 Welsh championships or international athletics events (including 4 Celtic Games) at the Carmarthen Athletics Track and many major cross country events at the Showground.
In June 2017, we hosted 4 athletes from Melbourne Australia who were on an eight week tour of Europe. Thanks to the Carmarthen Harriers who organised training sessions for the group as the Dyfed secondary schools championships on 10 June had to be cancelled on the morning of the competition.
This year once again, Carmarthen and District Harriers Athletics Club has been sponsored by Ffoshelig Coaches Carmarthen. The Club is extremely grateful to Rhodri Evans of Ffoshelig Coaches for his support at all times.
McDonalds sponsored once again this year at our Carmarthenshire and Dyfed primary schools athletics and cross country championships. We are extremely grateful to Ron Mounsey for his support to the Club over many years and so pleased that Carmarthen Harriers in 2016 and McDonalds won the Welsh Athletics Partnership Award.
We are again this year indebted to all the following local business firms and charitable organizations for their generous sponsorship and their support this year: West Wales Freemasons Provincial Council, McDonalds, Ffoshelig Coaches, Tovali and Rotary Club of Carmarthen.
Carmarthen Harriers also acknowledge with gratitude the support and assistance it has received this year from Carmarthenshire County Council, UK Athletics, Welsh Athletics and Sport Wales without whose support and that of local businesses we would not have been able to organize and compete at events on our home athletics track in Carmarthen or travel to compete at venues all over Wales and England.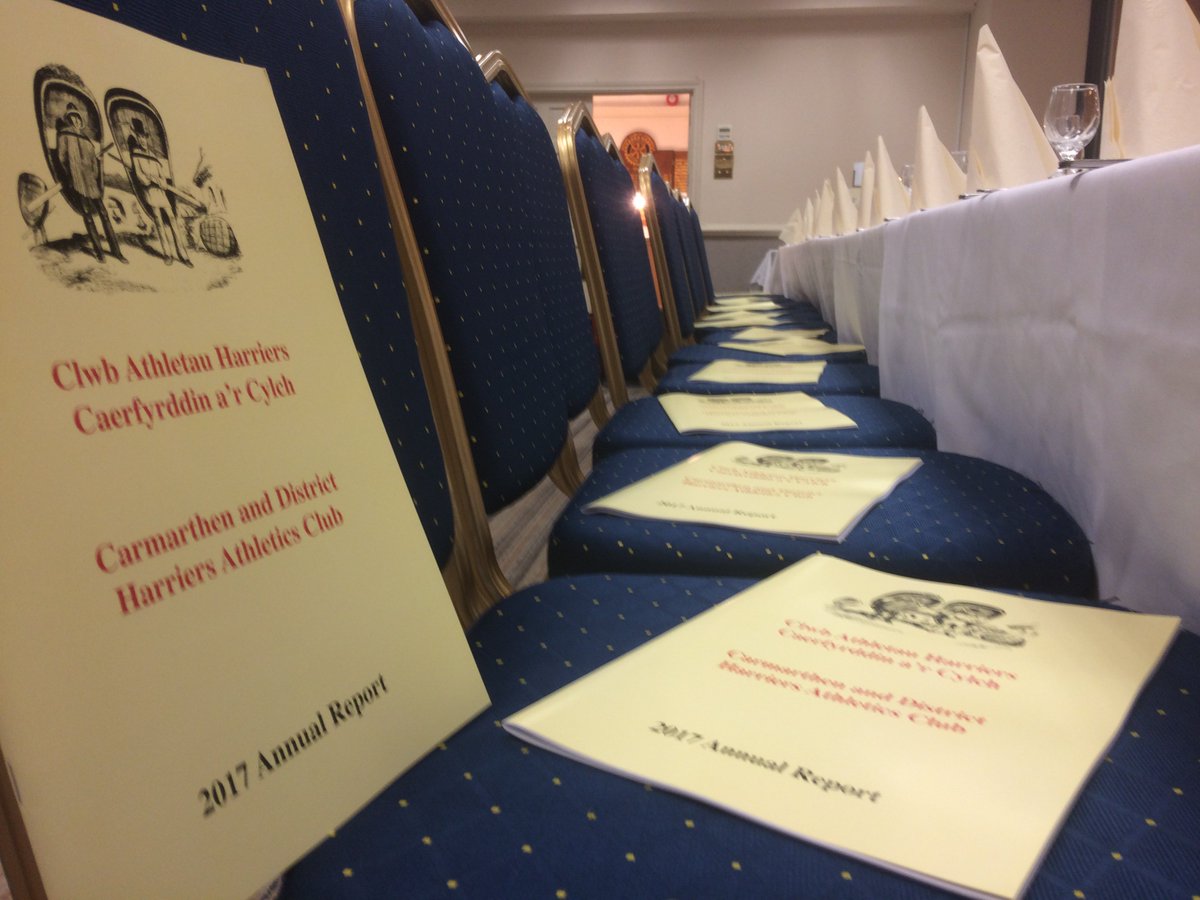 Also / Hefyd:
Sincere thanks to Edward Morgan and his team of helpers for arranging all the catering at competitions at the Carmarthen Athletics Track. Club members have assisted and their efforts this year have raised over £1100 for the Club.
The Carmarthen Harriers website has been a great success. Club is indebted to our secretary Nathan Jones for maintaining our website in a professional manner.
Once again, many thanks to Rhian Glynn for organising an excellent Annual Dinner in November 2017.
Thanks also to Rhian Glynn and Hayley John for organizing a very successful ten pin bowling evening and to Cressy Morgan for arranging the Tesco bag packing day in December 2017 and the sale of raffle tickets.
We would like to thank Sarah Jones, Duty Manager of the Carmarthen Leisure Centre and her staff for their assistance again this year in the preparation before the day, and their support on the day at all our events at the Carmarthen Athletics Track. The County Council grounds staff is to be thanked for their excellent maintenance of the grounds at the Athletics track. Thanks are also due to all the members of the Carmarthen Division of the St Johns Ambulance Brigade for attending all our events and giving us a first class service.
The Carmarthen and District Harriers Athletics Club would like to thank all the Headteachers and staff of all the primary and secondary schools for supporting all the events arranged by the Club in the last twenty-five years. The success of the Club is a result of the excellent relationship, co-operation and support of the schools in West Wales.
All our coaches and volunteers are to be thanked for their contribution to the success of the Club. Without them there would be no Carmarthen Harriers club.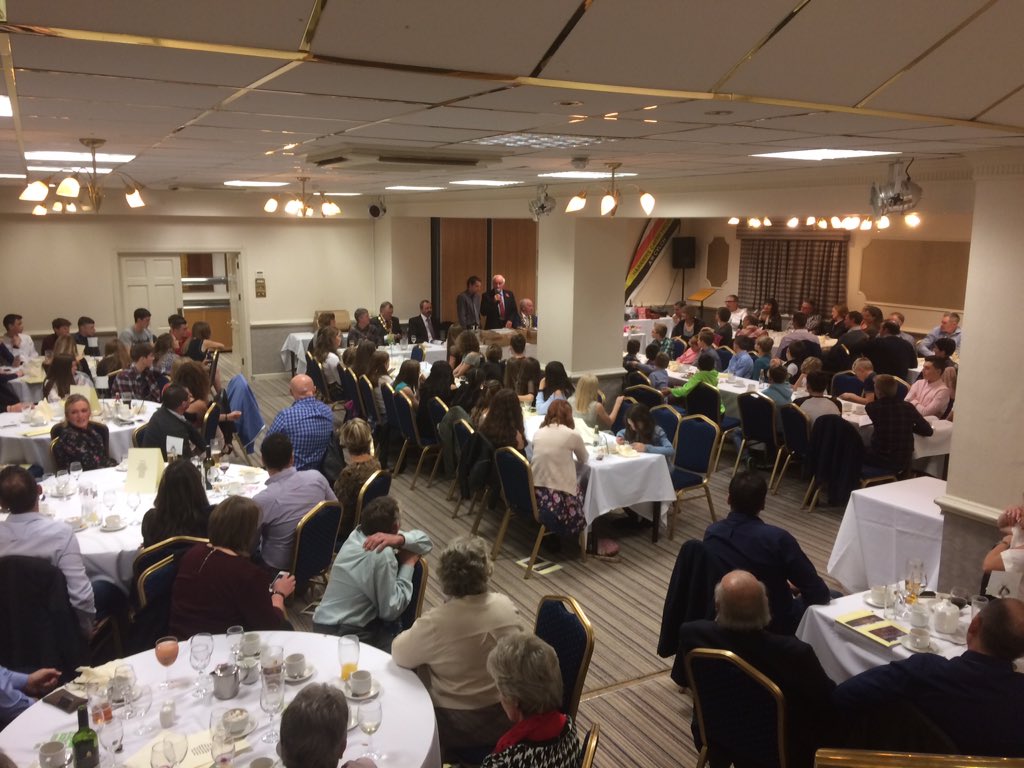 We are indebted to all the parents of our young athletes. We recognise and appreciate the sacrifice and effort put in by the parents so that their children can experience the training and competition opportunities offered by the Club. It is always a pleasure to us to see Carmarthen Harriers be successful at all levels (individual and team) and a great satisfaction to see the young athletes of all abilities, competing as true sportsmen and sportswomen at venues all over England and Wales.
All our athletes are excellent ambassadors for the Club and town of Carmarthen and it is an honour for us all to be associated with the success of the Carmarthen and District Harriers Athletics Club.
The club would like to thank the staff at the Ivy Bush Hotel for their excellent service all evening.
A full annual report copy was given out on the evening including reports from the year's events along with a few pictures and team successes. This is also available for you to read on the link at the end of this report.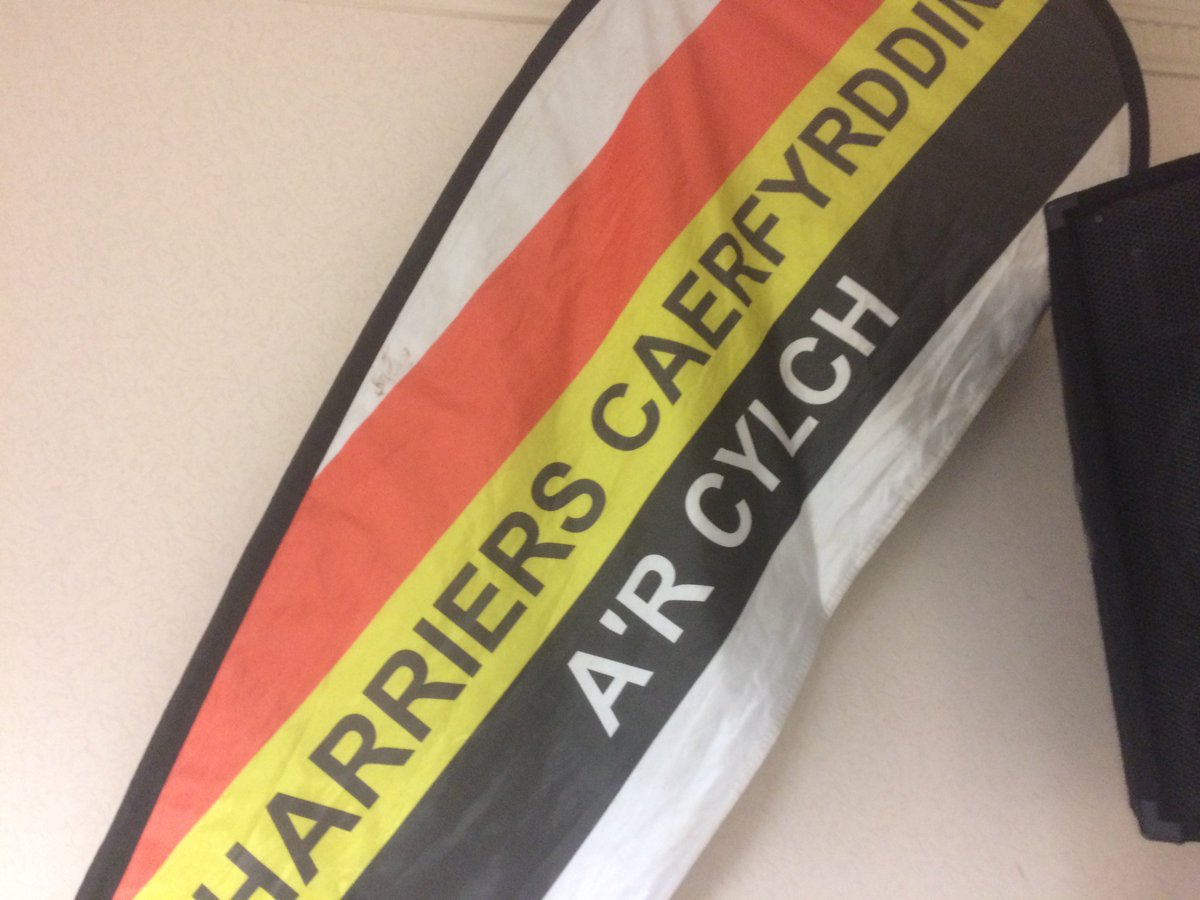 GUEST SPEAKER / SIARADWR GWADD:
Following some great speakers over the years, we were delighted this year to welcome our former club athletes but a friend to us all, from Llanfynydd Carmarthenshire, Dewi Griffiths coming back to his roots where it all began. Dewi has some outstanding achievements to date at only 26 years of age. Dewi continues to be one of us and he trains regularly at the track in Johnstown.
Some of Griffiths' successes to date include: 17 GB vests; 55 Welsh vests; Winner of 40 Welsh championships; Winner of 2 UK inter country cross country championships (under 15 and senior) Dewi has held Carmarthen Harriers records for U15 and U20 age groups but not U13 and U17 (this was due to out of action treatment during these periods)
Dewi Griffiths & Hedydd Davies spoke about Dewi's achievements to date and his way of approaching races. It was in the form of "Dewi Rhys Griffiths - This is your life so far". When Dewi began his cross country career at primary school level, it was reminded that he only finished 16th in the Carmarthenshire schools championships and 48th in the Dyfed schools championships (Griffiths said that it was a surprise to see 150 other athletes go off in front of him).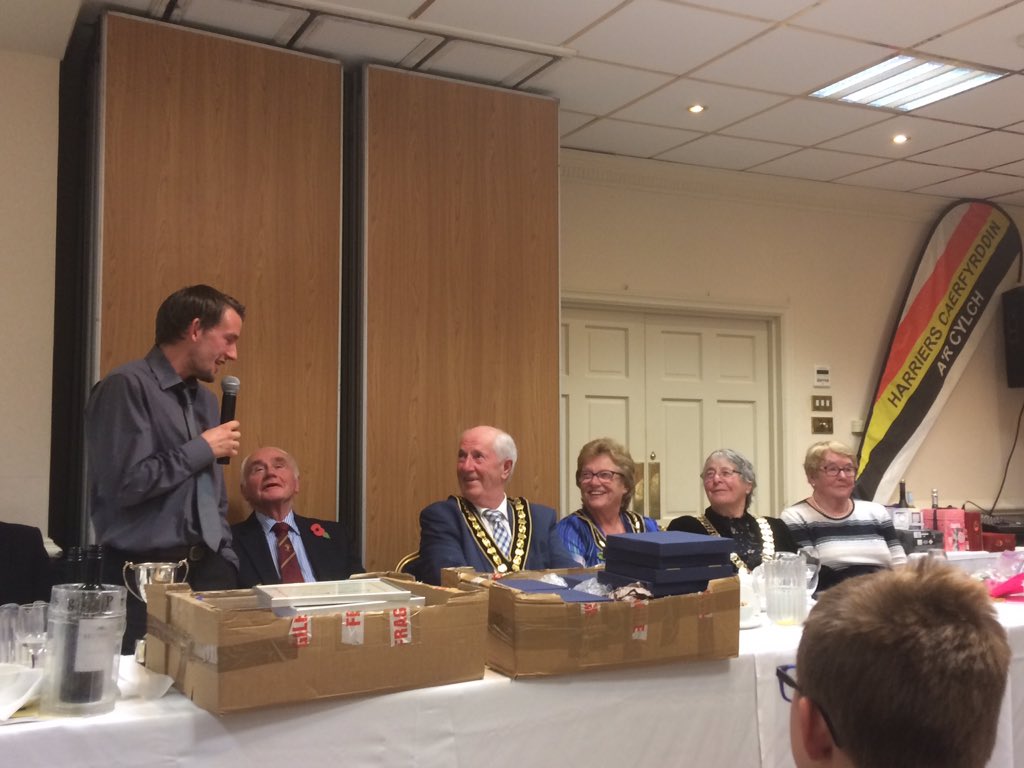 Dewi explained his early days back in school and home life. Then the duo went on to the present time and all that Griffiths has achieved up to now. In the last month alone, he first went to win the Cardiff 10K in the Welsh capital followed by an impressive 7th at the Great North Run in the North East of England. A week later, Dewi was back on home turf in Carmarthenshire helping the Swansea Harriers senior men's A team win the Welsh Road Relays in Pembrey supported by fellow local athlete - the first British athlete to finish at the London Marathon this year - Joshua Griffiths.
On September 24th, Dewi was over at the Swansea Bay 10K Road Race. This time he was a runner up to the Kenyan winner however he produced a personal best performance for this race. With training and competition having gone well over the past month, he was then back East in Cardiff at the Cardiff University / Cardiff Half Marathon 2017 run by over 19,000 athletes of all ages and abilities. On the day, Dewi performed brilliantly keeping up his pace for the whole race eventually finishing in a creditable 4th position.
It doesn't stop there for the Welshman. He had again travelled into England up to Birmingham. Here, Griffiths helped the Swansea team win the England Athletics 6 stage relay road races, to add to the 12 leg competition they had won earlier in the year.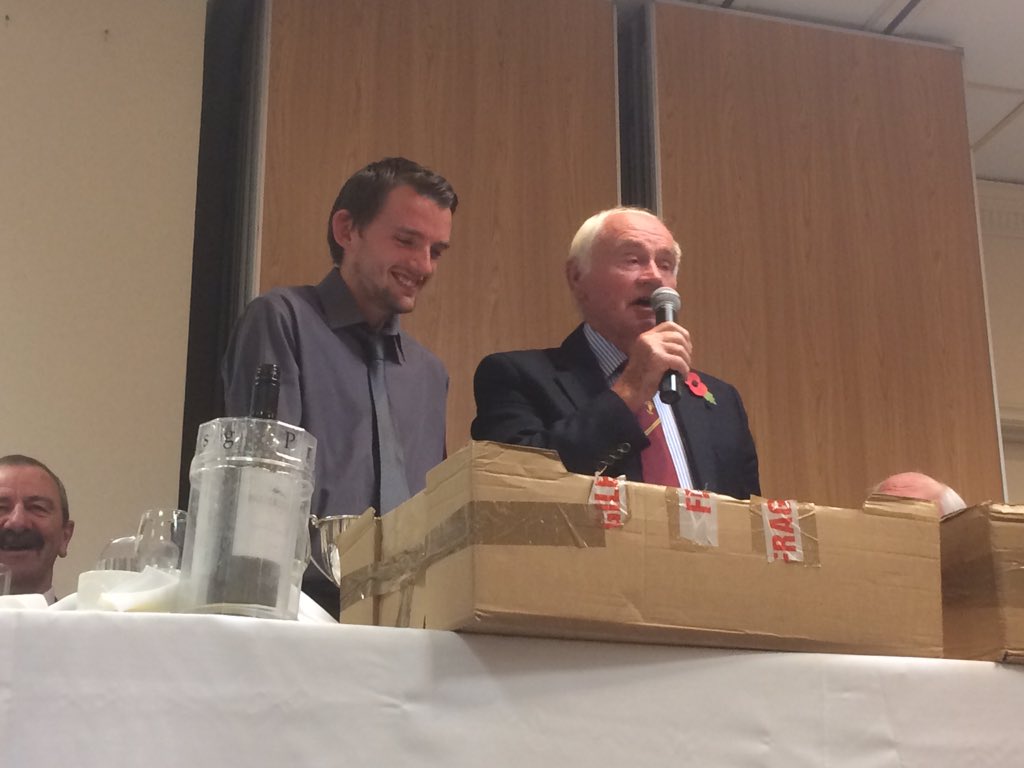 On Sunday 29th October (a few days before the dinner) Dewi had made the journey to Germany to take part in the Frankfurt Marathon with his coach watching on the side. Dewi explained to those in attendance at the dinner that he was going to try out a longer distance to the usual 10K/half he had been familiar to. And what an experience it was finishing off with a sub 2:10...2:09:49 was his first marathon time shocking not those watching but also himself. This was the second fastest of all time by a Welsh runner behind former world record holder Steve Jones putting him on top of the Welsh rankings. He said he started to struggle at the 35k point but was determined to carry on to the finish on his trip out on the Germany roads last Sunday morning. He commented on his preparation to the race itself and his training programme leading up to it. Following his latest success, the S4C cameras were down at the Carmarthen track the Tuesday after to welcome him home along with the Harriers Club Chairman.
Leading up to the next few months...Griffiths is looking forward to the challenges ahead. His aim next is to secure his place in the Gold Coast 2018 Games to be held in Australia next year and with this kind of form, nobody will be surprised to see him feature! The time recorded was a Commonwealth Games A standard and also qualified him for the British team for next year's European championships. He is qualified for the 5,000m, 10,000m and marathon in Australia with decisions to be made as to what event he would compete in.
After Hedydd & Dewi's interview, Club President and his coach, Kevin Evans addressed those present. Kevin commented that Dewi and himself continue to form a close relationship on the ups and downs. As well as thanking Dewi himself, Evans also mentioned Dewi's parents. They have continued to support the pair over the years and all of Dewi's successes would not be possible without all the support that they have given up to now, and long may this continue.
Dewi was given a standing ovation from every single person in the room to show their appreciation to him as an athlete and an inspiration to young athletes not only in Carmarthen Harriers & Carmarthenshire but also in West Wales, Welsh Athletics and further afield. It is pleasing to see the young juniors still getting involved with Dewi on training club nights at the Carmarthen Harriers athletics track. Diolch Dewi am dy holl waith dros y blynyddoedd a chefnogaeth i'r clwb. A very profressional speech on Friday evening that everyone would have listened to carefully from an upcoming future talent for many other sportsmen and sportswomen.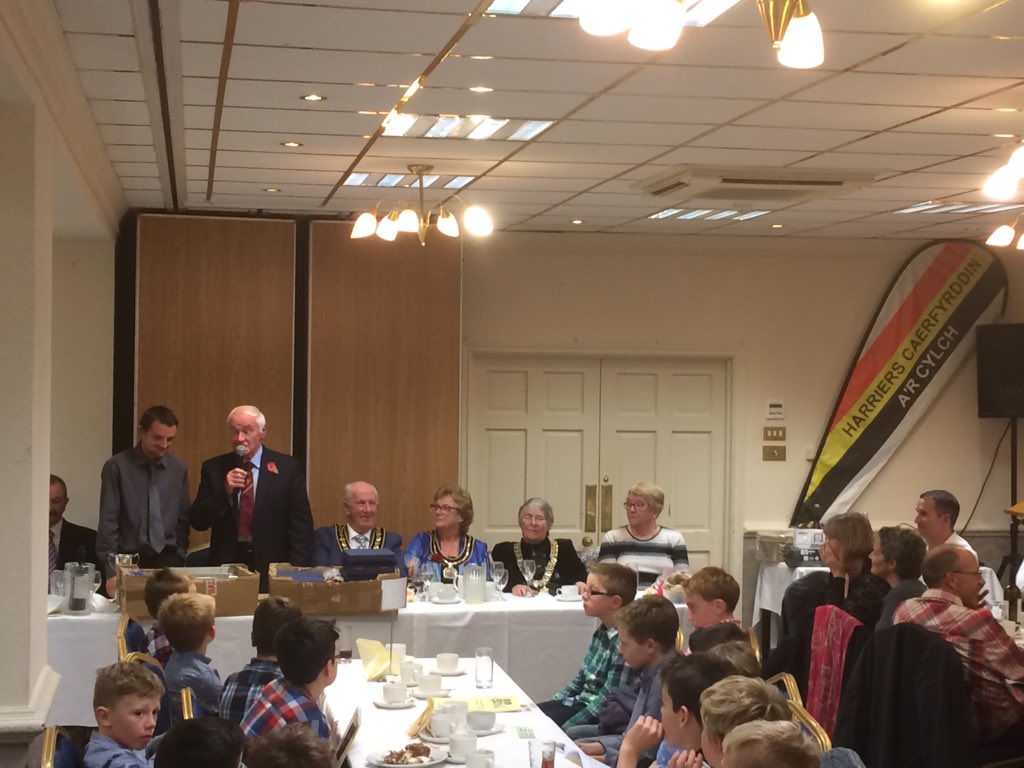 2017 AWARDS / GWOBRAU 2017 full list of your winners
2017 Bursary Awards: Bessy Hill (Y Ddwylan); Jake Lynock (Rhys Pritchard); Jack Thomas (QE High); Keira Carmody (QE High); Zara Evans (Henry Richard); Faye Jones (Bro Pedr); Amy Greatrick (QE High); Thaia Davies (Bro Dinefwr); Ryan Thomas (Bro Myrddin); Beca Roberts (Bro Pedr)
2017 Club Record Award: Frank Morgan (1500m U15); Iwan Glynn (300m U15); Ben Thomas (1500S/C U17); William Edwards (High Jump U20); Kyran Roberts (1500m U20); Joe Worrall (Discus U17)
2017 Welsh Champion and International New: Frank Morgan (Bro Myrddin); Phoebe Davis (Bro Dinefwr); Jake Morgan
2017 Welsh Champion New: Ellie Tromans (Bro Teifi)
2017 Welsh International New: Liam Edwards (Bro Myrddin); Tomos Rees (Dyffryn Aman); Dafydd Jones (Bro Myrddin)
2017 Welsh Champion and International Repeat: Daisy Thompson (Bro Myrddin); Ben Thomas (Strade); Lili Church (Aberaeron); Danielle Jones (QE High); Joshua Thomas (QE High); Gordon Orme; William Edwards; Carys Jones (Bro Dinefwr); Lauryn Davey (Gower College); Glen Elsdon; Thomas Jones (Bro Myrddin)
2017 Welsh Champion Repeat: Iwan Glynn (Bro Myrddin); Aled Price (Birmingham University); Olivia Haines (Llandovery College); Sharon Leech; Paul Clarke
2017 Welsh International Repeat: Peter Moody; Ellie Kiff (Bro Dinefwr); Alicia Samuel (Dyffryn Aman); Iestyn Williams (Bro Dinefwr); Joe Worrall (Emlyn); Kyran Roberts (Loughborough University)
2017 Welsh Under 13 Cross Country Team Champions: Liam Edwards (Bro Myrddin); Dafydd Jones (Bro Myrddin); Morgan Lloyd (Bro Myrddin); Frank Morgan (Bro Myrddin)
2017 Under 17 Welsh Fell Running Team Champions: Thomas Jones (Bro Myrddin); Iestyn Williams (Bro Dinefwr); Morgan Llewellyn (Dyffryn Aman)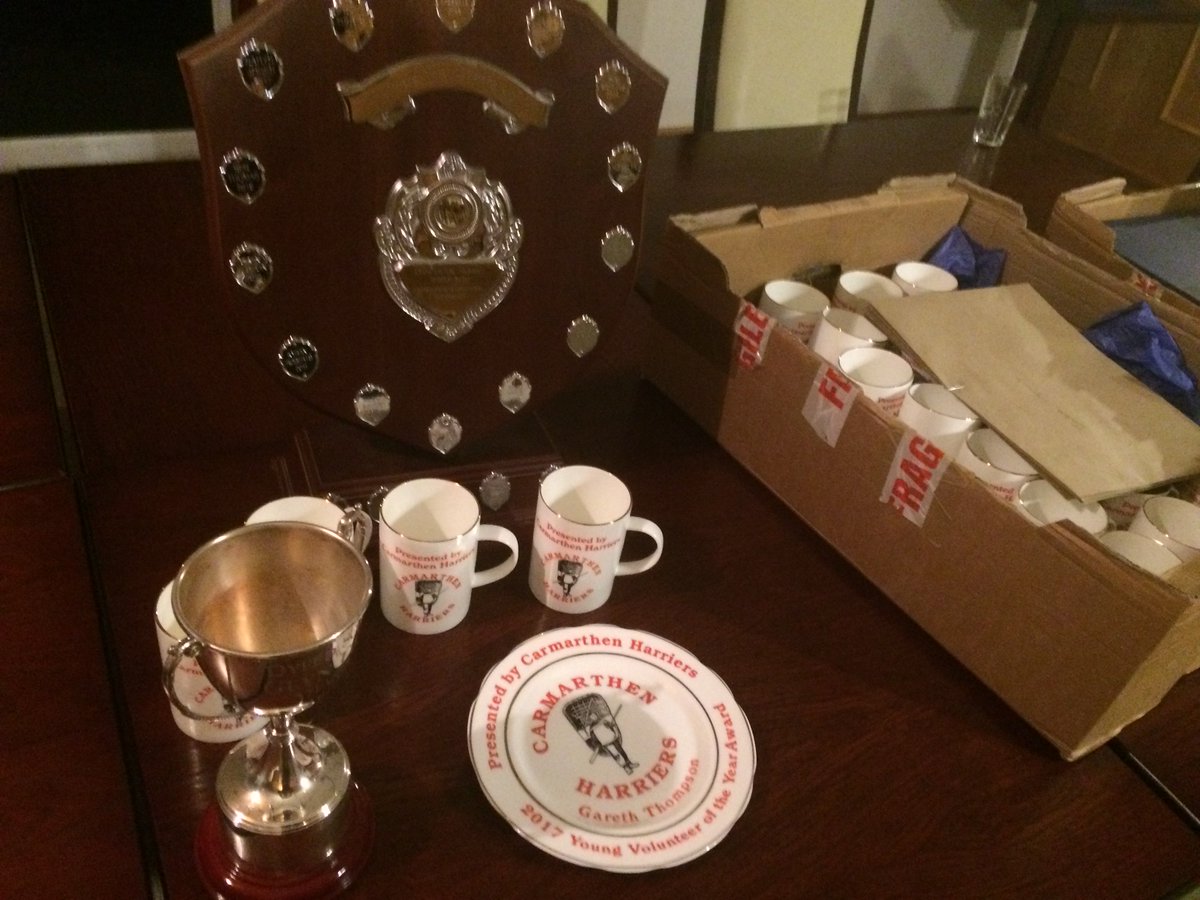 2017 Richard Wyer Memorial Throws Award: Nia Williams (Bro Dinefwr); Cordelia Walker (Llanarth)
2017 Ossie Morgan Memorial Hurdles Award: Haydn Davies (Bro Dinefwr)
2017 Carmarthen Harriers Achievement Award: Grace Page (Bro Pedr); Caspar Farquahar; Trystan Leech (Dyffryn Aman); Callum Lovatt (Dyffryn Aman)
2017 Young Volunteer of the Year Award: Gareth Thompson (Preseli)
2017 Club Service Award: Alan Walker
2017 Ernie Jones Memorial Award: William Edwards
2017 J Eirwyn Walters Memorial Award: Carys Jones (Bro Dinefwr); Ben Thomas (Strade)
2017 RB Evans Award: Jane Batten
2017 Special Awards: Hywel Rees; Lloyd and Sylvia Thomas; Dylan and Glenys Jones
2017 Appreciation Award: Dewi Griffiths
Online: Social Media / Ar Lein: Tudalennau Cymdeithasol
Photographs from the awards were taken including all the presentations; provided by Wayne Griffiths from Pembrokeshire Harriers, providing excellent action shots at all events which West Wales athletes are involved in. Thanks to Wayne for coming up to be with us on Friday.
IMAGES / LLUNIAU: https://www.facebook.com/pg/CarmarthenHarriers/photos/?tab=album&album_id=695341423992490
DEWI'S SPEECH: https://twitter.com/CarmsHarriers/status/927132308242681857
We were busy also up on social media as there were images and posts added on our club Facebook and Twitter pages throughout the evening LIVE as they happened for people to follow who were not in attendance; click the links to read the evening's progress and catch up.
https://www.facebook.com/Carmarthen-Harriers-Athletics-Club-401809230012379/
https://twitter.com/CarmsHarriers
Carmarthen Harriers Annual Dinner & Awards Evening 2017 - Cinio a Gwobrau Blynyddol Clwb Harriers Athletau Caerfyrddin 2017; thanks to all that attended and contributed towards a great evening!
PDF: Carmarthen Harriers Annual Report 2017