| | | | |
| --- | --- | --- | --- |
| Big Numbers at the Afan Nedd Tawe & Pembrokeshire Latest Action...Full Story | | | |
Written by Nathan Jones
Friday, 27 October 2017 16:30
October has seen a smaller number of club events take place, however it has been a busy last fortnight for schools and pupils / teaching in West Wales (Swansea & Pembrokeshire). We report from the three recent fixtures at Pontarddulais, Neath & Narberth.
Mae mis Hydref wedi gweld nifer o ddigwyddiadau ysgol dros y pyfthefnos dwethaf yng Nghorllewin Cymru (Abertawe a Sir Benfro). Adroddiad llawn o dri ddigwyddiad diweddaraf ym Mhontarddulais, Castell Nedd ac Aberth.
AFAN NEDD TAWE SCHOOLS & COLLEGES CROSS COUNTRY DEVELOPMENT RACES
Supported by Apollo Teaching Services
The winter cross country season for pupils in the Swansea, Neath Port Talbot area got underway over in Pontarddulais comprehensive school back on Monday 9th October with the Apollo Teaching Services Afan Nedd Tawe Schools & Colleges Cross Country Development Race. Unfortunately, due to the wet weather, the first date planned was postponed at the end of September but the re-arranged date turned out to be a sunny afternoon even though the ground was still wet following the conditions in the lead up to the race over the previous 24 hours.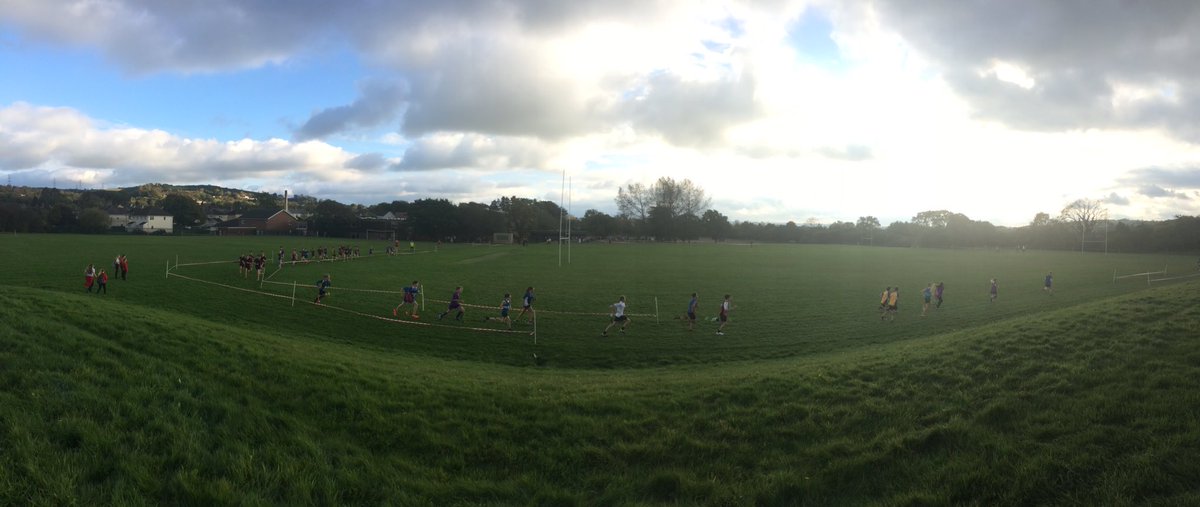 Athletes ran around the perimeter of the school's sports field before coming back in the middle before arriving at the finish line on the corner of the field, where friends and teachers were waiting. There were races for boys and girls in all year groups for comprehensive schools - year 7 to 13. The Year 7 girls were the first to set off on their 2 lap course before the respective boys did the same (the first opportunity for these youngsters to compete at secondary school level). The Year 8 & 9's ran a total of 2.5 laps while the Year 10-14 all running together completed 3 laps.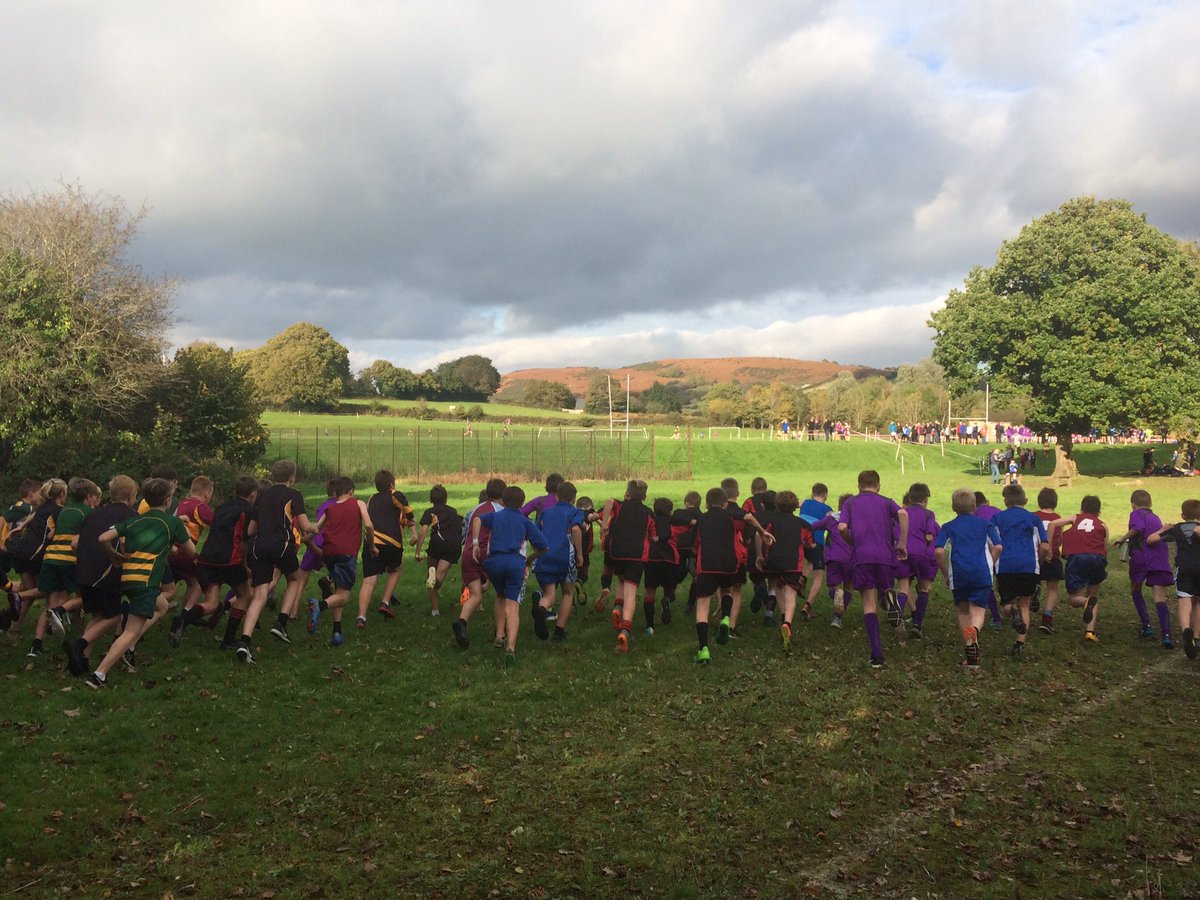 In total, around 240 pupils were in attendance taking part in this early season opener. The event was aimed at giving young children from across the district to get involved in these development races, with some not involved with Welsh clubs and not getting any other opportunity to compete at other levels throughout the year.
Gwyr, Ystalyfera, Morriston, Bae Baglan, Penyrheol, Olchfa, Bishop Gore, Gowerton, Cefn Hengoed, Bishopston, Pontarddulais, Bishop Vaughan, Bryntawe, Dylan Thomas and Birchgrove were the schools represented at the 2017 first competition. Dechrau gwych i'r tymor yma!
FULL RESULTS / CANLYNIADAU LLAWN
PICTURE GALLERY / ALBUM O LLUNIAU
AFAN NEDD TAWE SCHOOLS & COLLEGES CROSS COUNTRY RELAYS
Supported by Apollo Teaching Services
14 days after the first of many races to come, runners in the Swansea district travelled up the M4 over to Cwrt Herbert in Neath where the latest staging of the Apollo Teaching Services Afan Nedd Tawe Schools & Colleges Cross Country Relays was held on Monday afternoon 23rd October. Weather forecast suggested it would improve during the afternoon following a rather wet start to the day, but there was no sign of that. Despite constant drizzle, cool conditions and tough underfoot conditions, the competition did go ahead as normal next to the Neath Harriers athletics track. The cross country relays returned to Cwrt Herbert's Sports Centre field after a very successful fixture in 2016.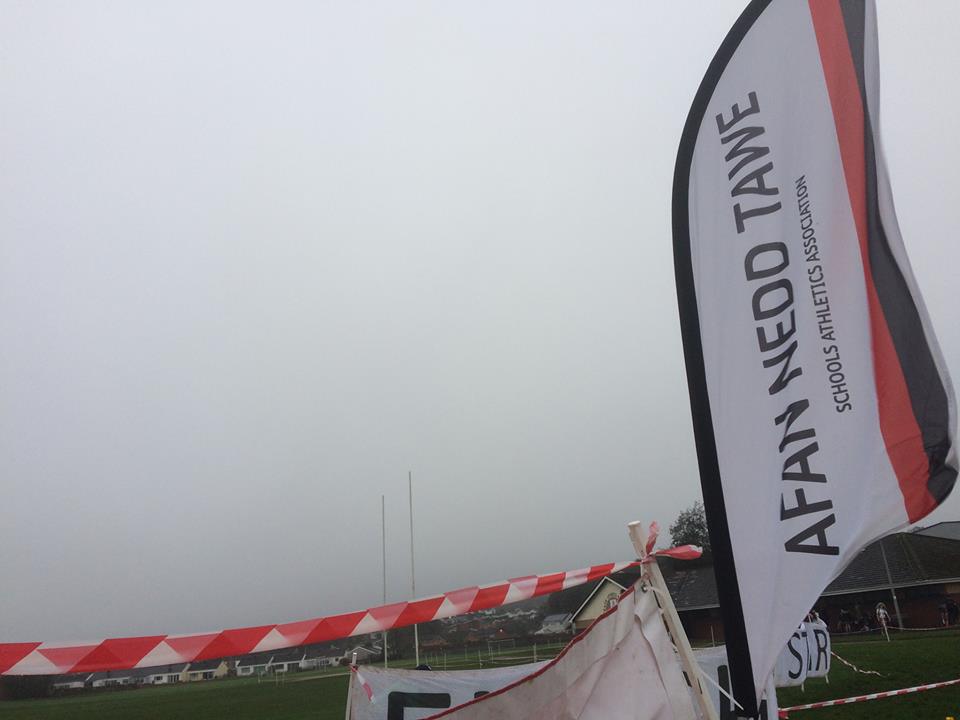 Indeed, it was a different challenge to many of the school athletes as this was more of a team event rather than an individual one. Teams who finished all got their own team total time.
70 teams in total were involved. A team consisted of 3 members per school per age group who each ran a 1000m leg around the field and down the middle on the way back, before handing over to their teammate who were encouraging them at the handover point. In each race, all boys and girls went off together at the same time, but were still in competition in their gender.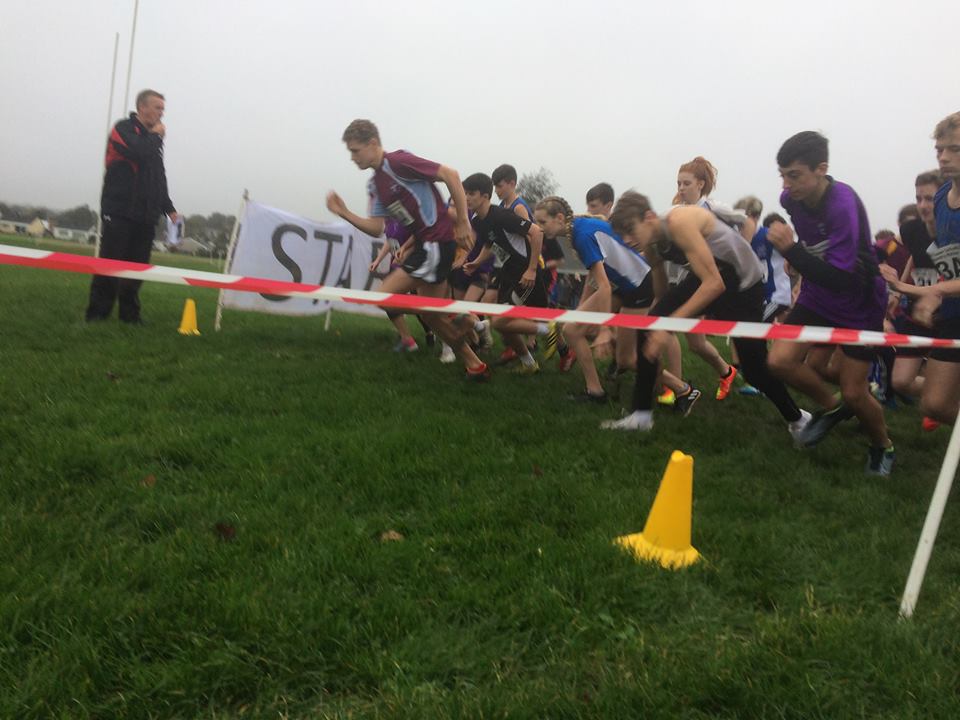 The Year 8 & 9 race saw the most number of teams take part - 27 were on the start line. Elsewhere, the Year 7 age groups who went first had 24 squads and the year 10-14 (seniors) saw 23 teams complete the course. Thanks to everyone who turned up to compete or volunteer, it was a great afternoon with close to 200 children enjoying the race day atmosphere.
Next stop for the Afan Nedd Tawe district is the indoor sportshall championships which takes place at Swansea University on December 15th. Entries are now open for the meeting for years 7, 8, 9 and 10. Closing Date is Friday 8th December.
FULL RESULTS / CANLYNIADAU LLAWN
PHOTO GALLERY / ALBUM O LLUNIAU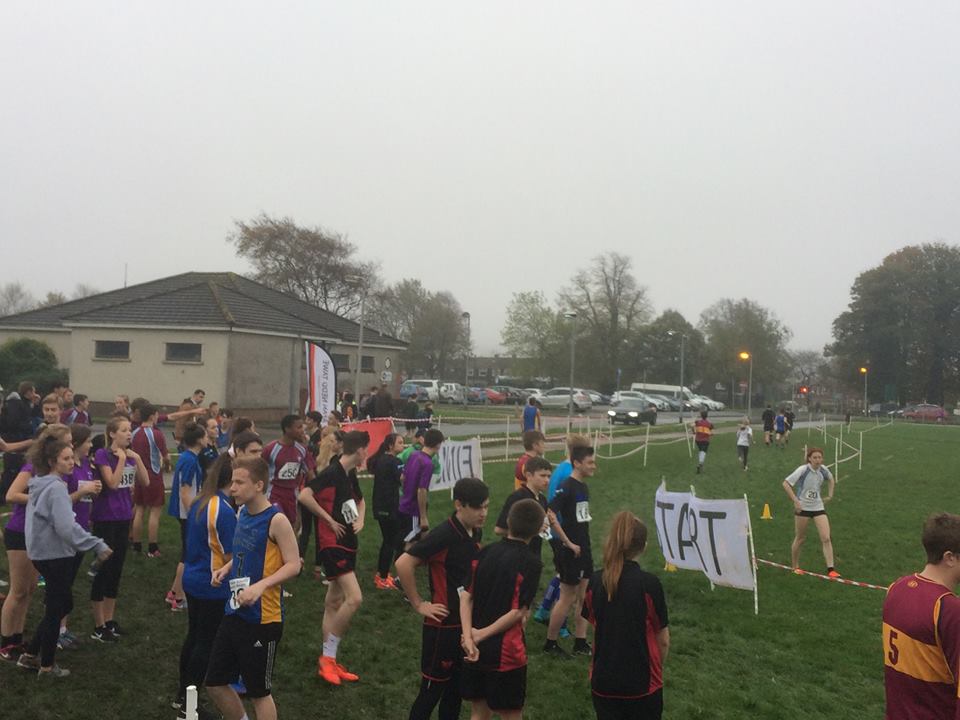 PEMBROKESHIRE PRIMARY SCHOOLS CROSS COUNTRY CHAMPIONSHIPS 2017
Over 1,000 turnout to Oakwood and more than 2,000 get involved in Dyfed's two county races in the last month...
For sporty primary school children, teachers and parents in Pembrokeshire, all roads on Wednesday led to Oakwood Theme Park in Narberth for the 2017 staging of the Pembrokeshire Primary Schools Cross Country Championships, which has continued to be organised by our friends at Pembrokeshire Harriers and supported by Sport Pembrokeshire Department where athletics is this year a priority with the council.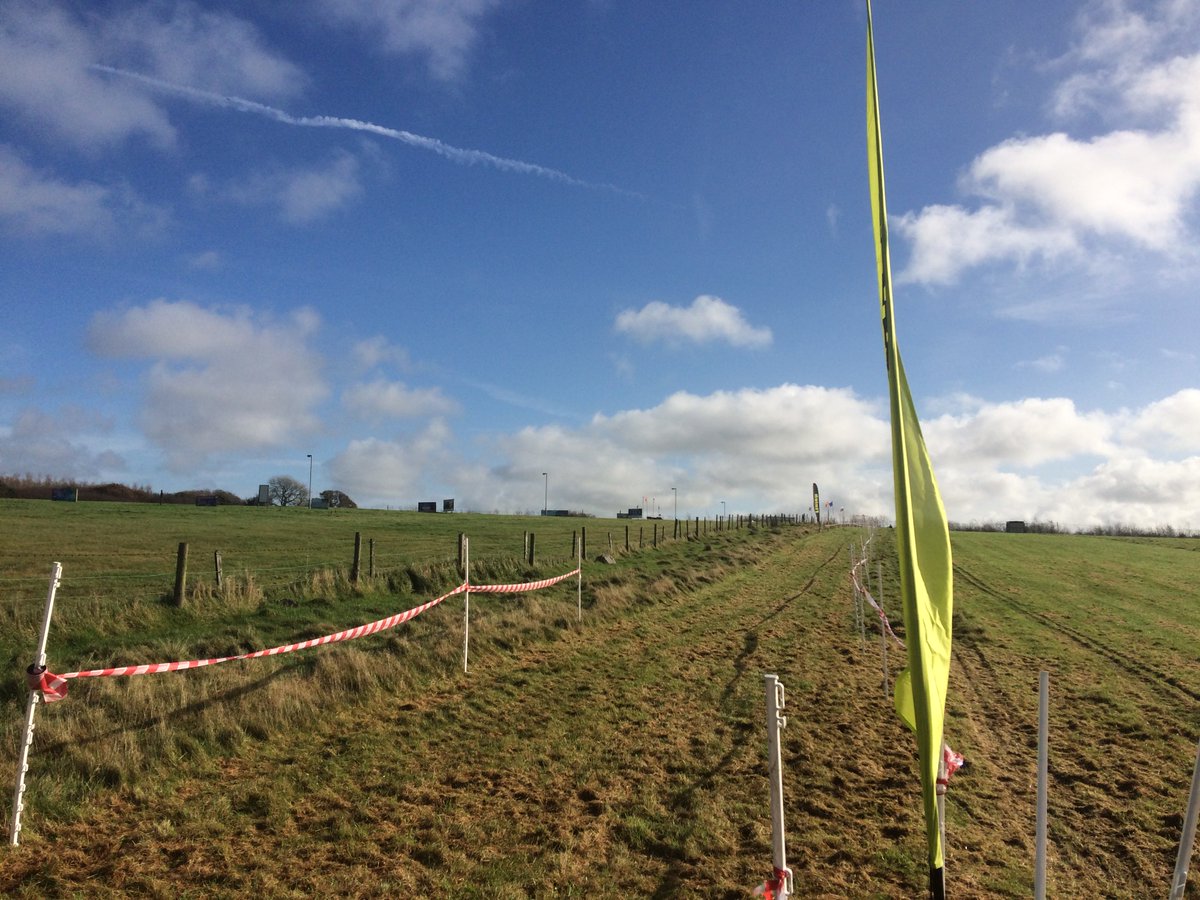 The Pembrokeshire event followed on from the bumper turnout seen at the Carmarthenshire Primary Schools Cross Country Championships last month (September) where hundreds took to the course at the Showground in Nantyci. Coming as no surprise, Oakwood had the same excitement and success.
In a repeat of the event at Pontarddulais a few weeks before, this event was held at the second time of asking after poor weather on Thursday 19th October resulted in the original date being postponed on the morning. Despite this, organisers were lucky to be able to hold it before the half term holidays when families will visit the park. This year's championships got the go ahead on Wednesday 25th October. The course was situated on the field near the entrance to the venue overlooking the many attractments and activities on offer at Oakwood Theme Park. Once again, Pembrokeshire schools supported and competed in their numbers in what is now one of the biggest and most attended sporting events in the county.
In its 27th year by now, the championships has been led by Pete Freeman who was involved in the very first race in 1990. The race originally was held at Haverfordwest Racecourse, then Haverfordwest Rugby Club before moving in recent years to the fantastic facilities available at Oakwood.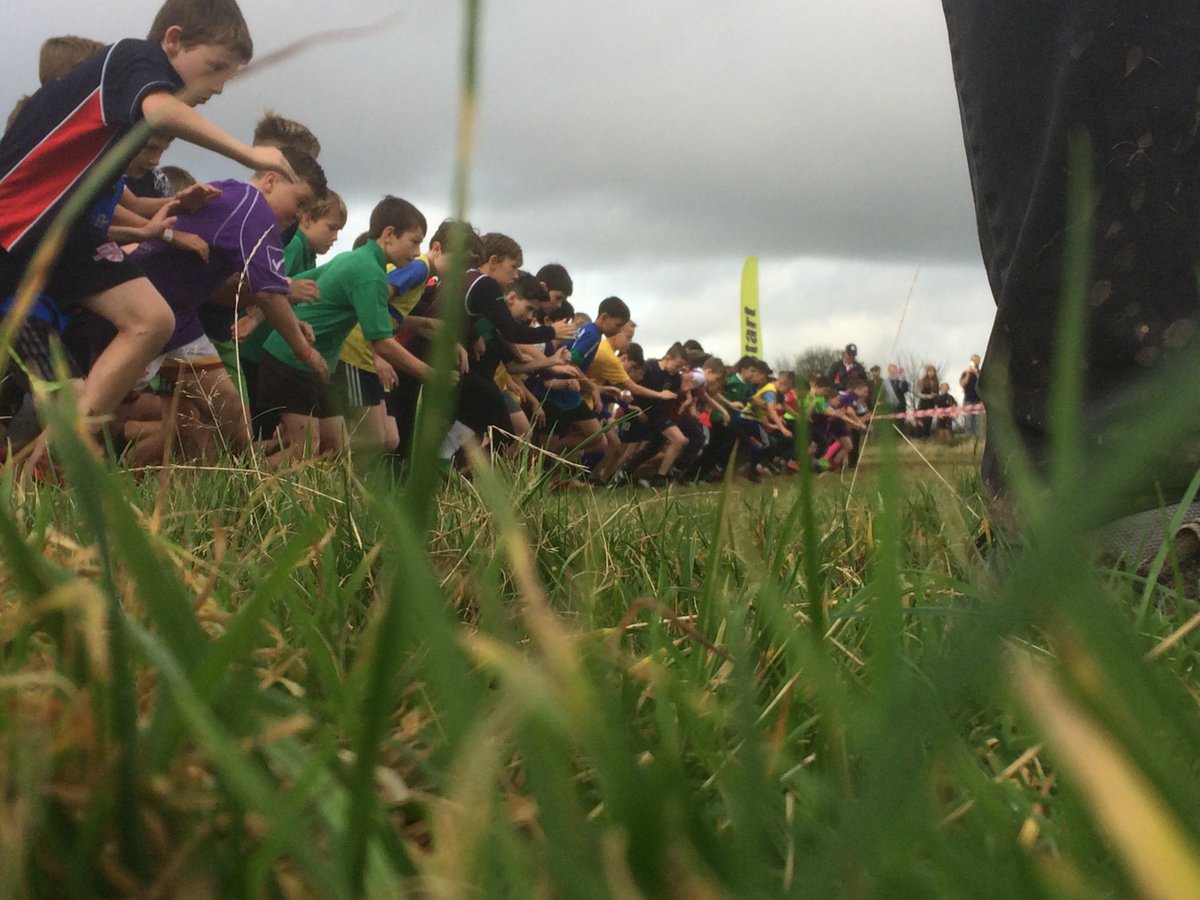 A team of 9 were out on the course first thing on Wednesday morning setting up the course and ensuring that everything was ready to go ahead of the 2pm start. Amongst these were members of Pembrokeshire Harriers and friends who worked tirelessly during the day as well as many other marshals & volunteers.
Race organiser Pete Freeman, was pleased with how everything went: "After calling off the previous Thursday, it was a rush to then re-arrange for the following Wednesday. To get over a thousand young athletes to compete was very rewarding. Many thanks to Oakwood management, all volunteers and the youngsters for making the event a resounding success."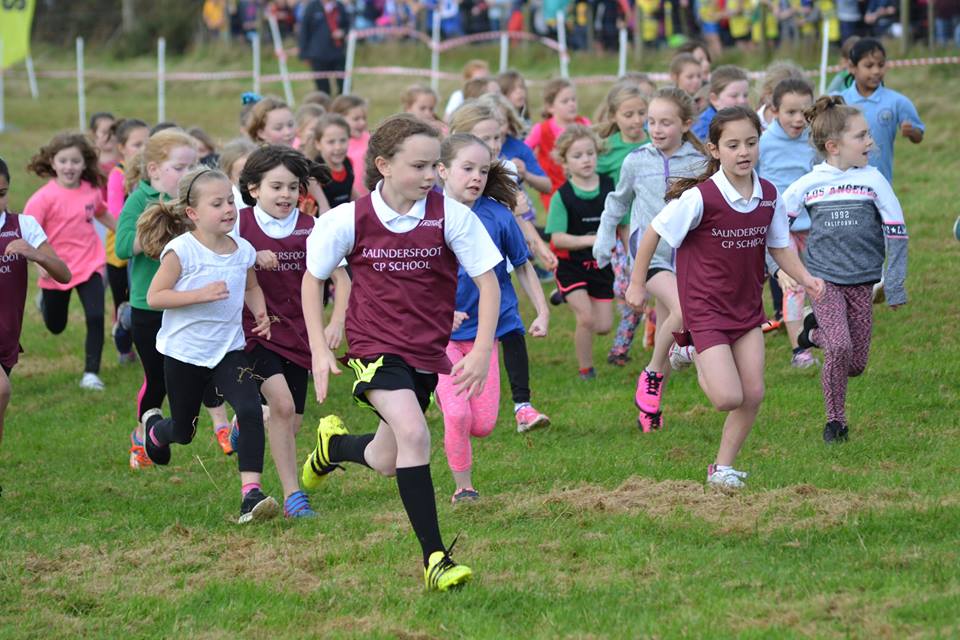 A number of schools were represented and between the eight races, a large number of 1,037 children finished and crossed the line, totalling over 2,000 at the districts' two events in a matter of weeks which is fantastic. Year 3 athletes in particular, got their first taste of a proper competition and were able to watch the upcoming future athletics stars in action.
Number of Finishers / Nifer wedi Gorffen:
Year 3 Girls / Merched Blwyddyn 3 - 125
Year 3 Boys / Bechgyn Blwyddyn 3 - 148
Year 4 Girls / Merched Blwyddyn 4 - 125
Year 4 Boys / Bechgyn Blwyddyn 4 - 157
Year 5 Girls / Merched Blwyddyn 5 - 103
Year 5 Boys / Bechgyn Blwyddyn 5 - 149
Year 6 Girls / Merched Blwyddyn 6 - 108
Year 6 Boys / Bechgyn Blwyddyn 6 - 122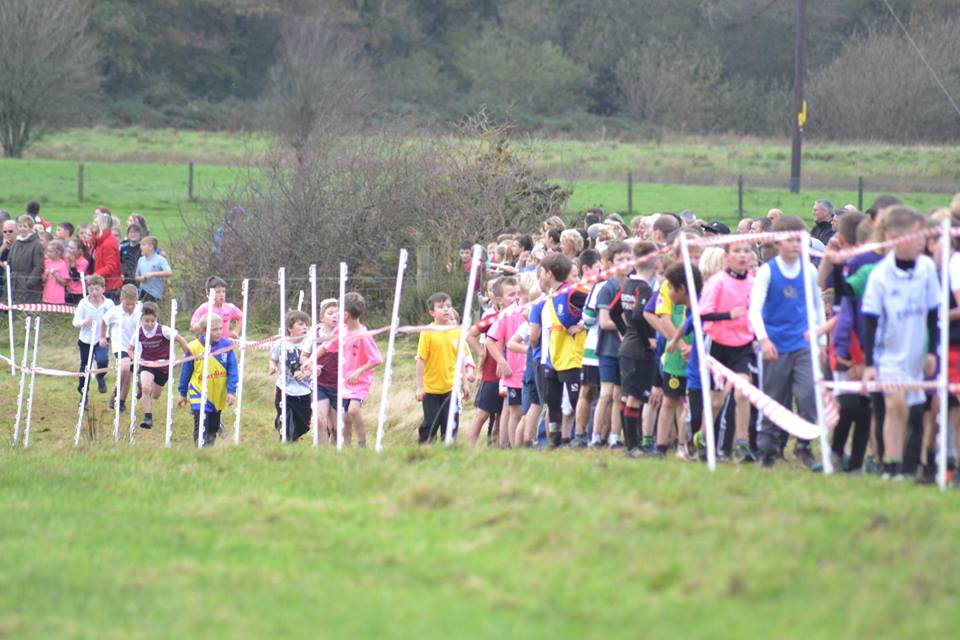 Races were open to anyone in years 3, 4, 5 and 6 at primary school age. The course was split into two - year 3 and 4 ran 1 big lap while the year 5 and 6 children completed 1 small and 1 big, with the route ideal for families and friends to spectate and support. After the heavy rain the day before, the field was wet and cut up easily especially as the races got towards its conclusion, however it was clear that all those taking part enjoyed themselves in the mid-week afternoon sunshine.
Runners were in good company, led at the front and back as "hares" by middle distance athletes at Pembrokeshire Harriers - Grace Griffiths, Megan Poupard, Amy White, Seren James, Alice Evans, Eliza Martin, Hannah Birch, David Evans, Iori Humphreys, Rhys Llewellyn and James Price. Each one did an excellent job encouraging and helping the athletes behind the winners to cross the finishing line.
Medals & awards were given out to the winners at the presentation area on completion of all the races with trophies up for grabs for all the team winners (3 athletes in a school to score) the team winners on the day came from six different schools: they were Milford Haven Juniors, Saundersfoot, Fenton, Mary Immaculate, Roch and Gelli Aur.
Golden Grove school retained the overall championship shield, beating Milford Haven Juniors by a single point in a very close competition and Templeton won the small school shield trophy. 22 schools had full teams to challenge for the winning trophy.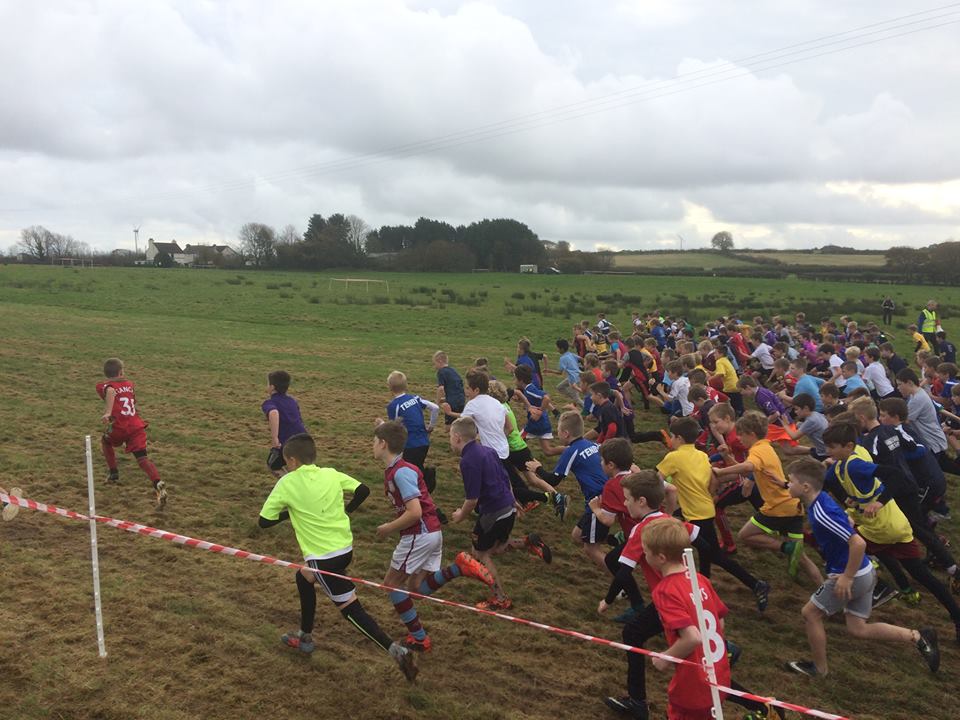 Year 3 Girls / Merched Blwyddyn 3: 1 Chloe Norman (Milford Haven Juniors) 2 Lexie Allen (Mary Immaculate) 3 Keira Bruce (Penrhyn)
Year 3 Boys / Bechgyn Blwyddyn 3: 1 Cayden Fox (Prendergast) 2 Connor Archer Jones (Tenby Juniors) 3 Soloman Silverstone (Narberth)
Year 4 Girls / Merched Blwyddyn 4: 1 Ophelia Jenkins (Tavernspite) 2 Dilphie Beck (Saundersfoot) 3 Chiara Quinn (Milford Haven Juniors)
Year 4 Boys / Bechgyn Blwyddyn 4: 1 Finlay Atyzo (Glan Cleddau) 2 Niall Smith (Roch) 3 Dylan Evans (Milford Haven Juniors)
Year 5 Girls / Merched Blwyddyn 5: 1 Carys Kenniford (Lamphey) 2 Indie Lynch (Roch) 3 Annabelle Wilson (Roch)
Year 5 Boys / Bechgyn Blwyddyn 5: 1 William Harries (Hook) 2 Rowan Dixon (Gellyswick) 3 Toby Middlemast (Fenton)
Year 6 Girls / Merched Blwyddyn 6: 1 Maddy James (Lamphey) 2 Eleanor White (Roch) 3 Holly John (Roch)
Year 6 Boys / Bechgyn Blwyddyn 6: 1 Harry Billingham (Tavernspite) 2 Rhys Kagall (Glan Cleddau) 3 Finlay Bruce (Golden Grove)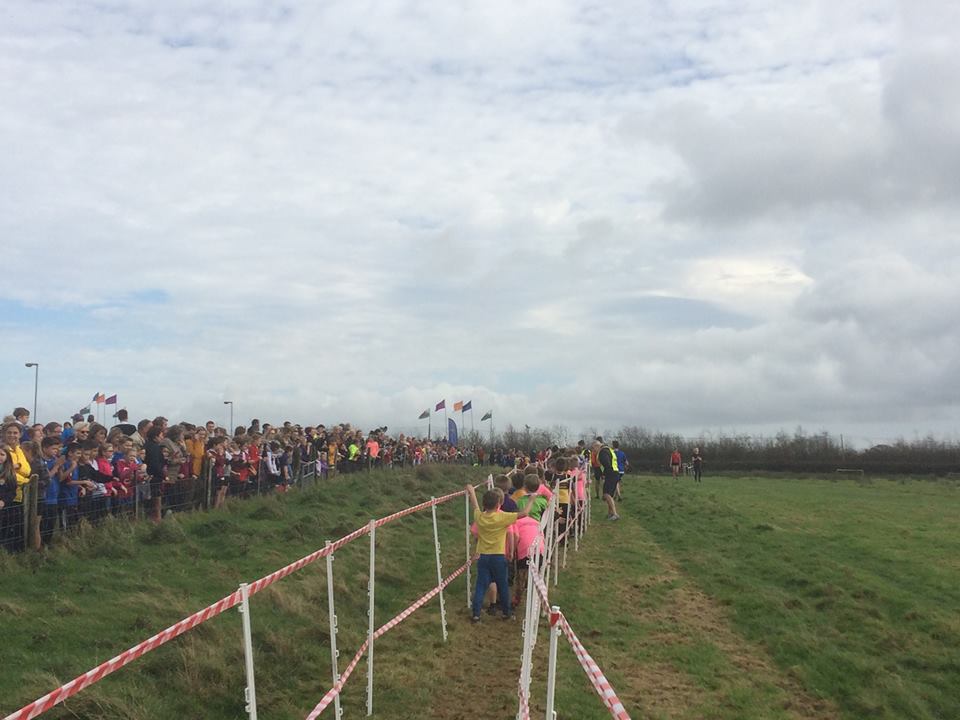 The organisers would like to thank everyone who contributed towards a fantastic day, including Oakwood for the use of their venue as well as members friends and family of Pembrokeshire Harriers. Another top class event in Dyfed!!
Pembrokeshire primary schools will next join schools from across Carmarthenshire and Ceredigion in March 2018 as the 2018 Dyfed Primary Schools Cross Country Championships arrives at the Nantyci Showground in Carmarthen on Thursday 15th March.
FULL RESULTS / CANLYNIADAU LLAWN (first 10 individuals & top 3 teams)
PHOTO GALLERY / ALBWM O LLUNIAU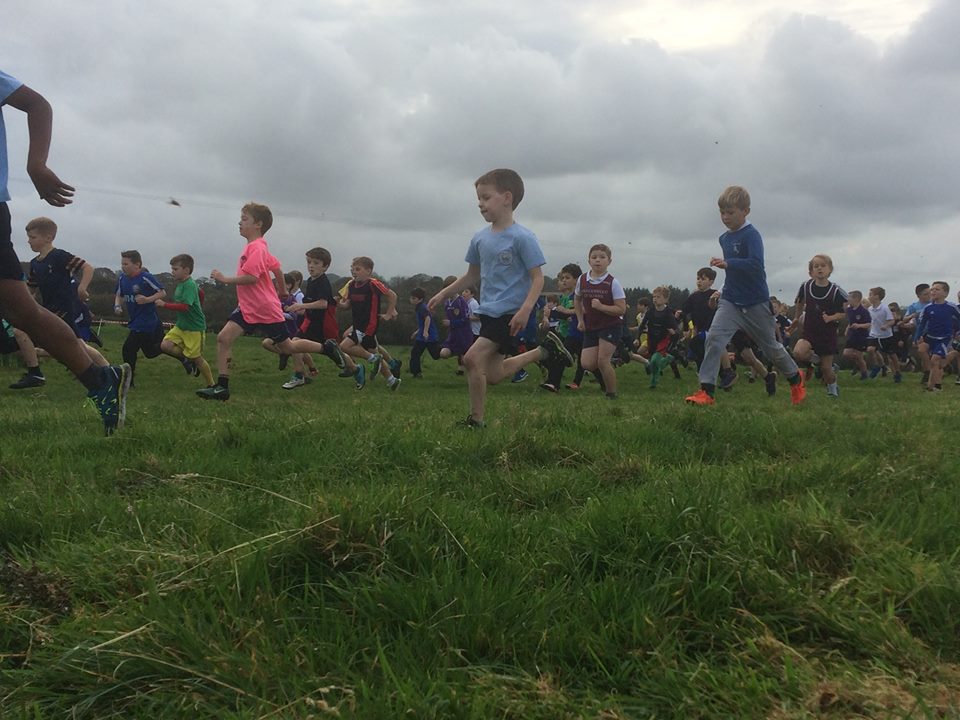 Event Report from Oakwood will be included in the Pembrokeshire Herald next week (Fri 3 November)! Make sure you pick up your copies.