| | | | |
| --- | --- | --- | --- |
| Carmarthen Myrddin Triathlon & Swansea Bay Races - All the Weekend's Action! | | | |
Written by Nathan Jones
Sunday, 24 September 2017 20:41
All Photos/Videos and Live Social Media Coverage from Nathan Jones all weekend...
https://www.facebook.com/Carmarthen-Harriers-Athletics-Club-401809230012379/
https://twitter.com/CarmsHarriers
Part 1 23.09.17 Carmarthen Myrddin Junior Triathlon 2017 / Treiathlon Iau Myrddin Caerfyrddin 2017
The Carmarthen Myrddin Junior Triathlon returned to our home - Carmarthen Leisure Centre on Saturday 23rd September and saw its highest ever number of participants take part. After a rather wet start to the day, the sun came out around lunchtime and attracted a large number of athletes and spectators alike to this end of season event as the triathlon season came to a close. This event was organised by Noelwyn and Sharon Daniel at Healthy Life Activities, who continue to do a great amount of work providing these events for children and adults.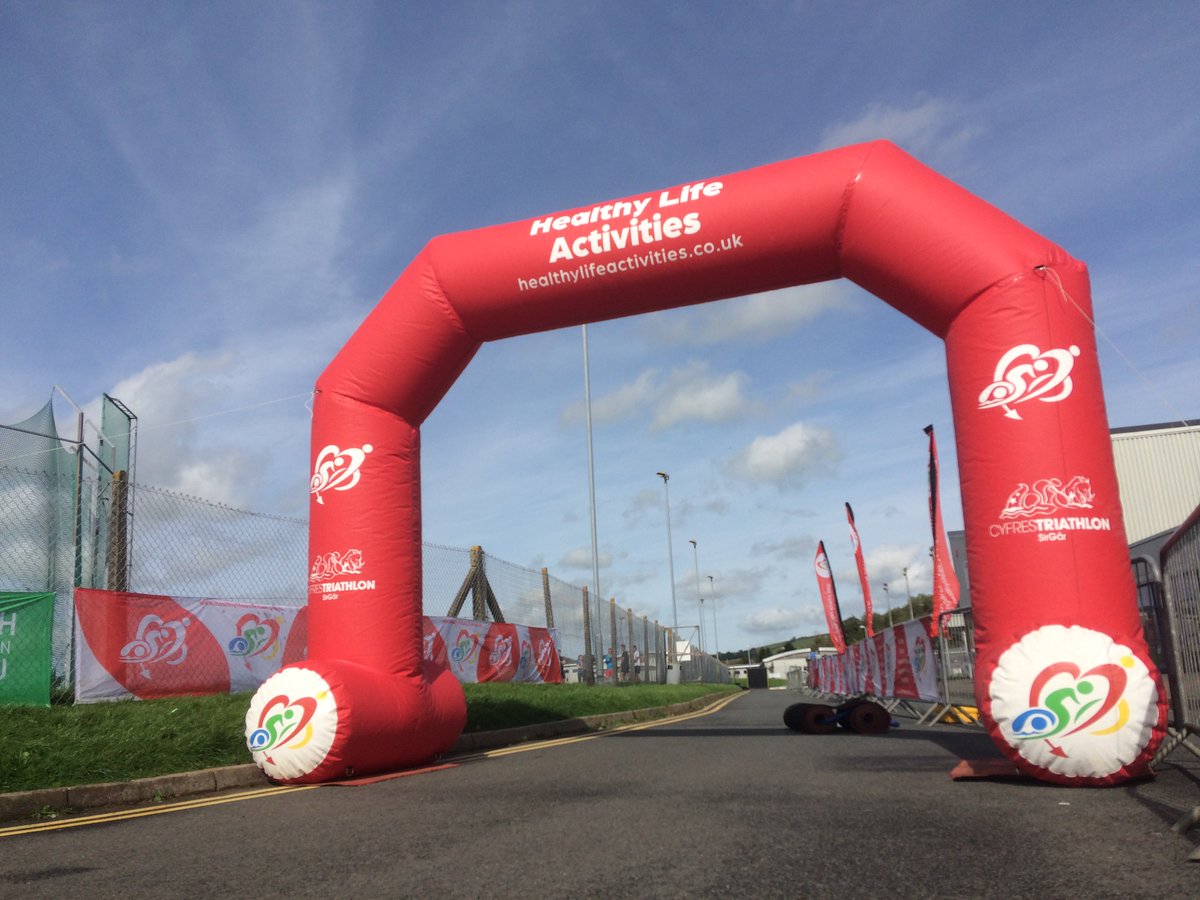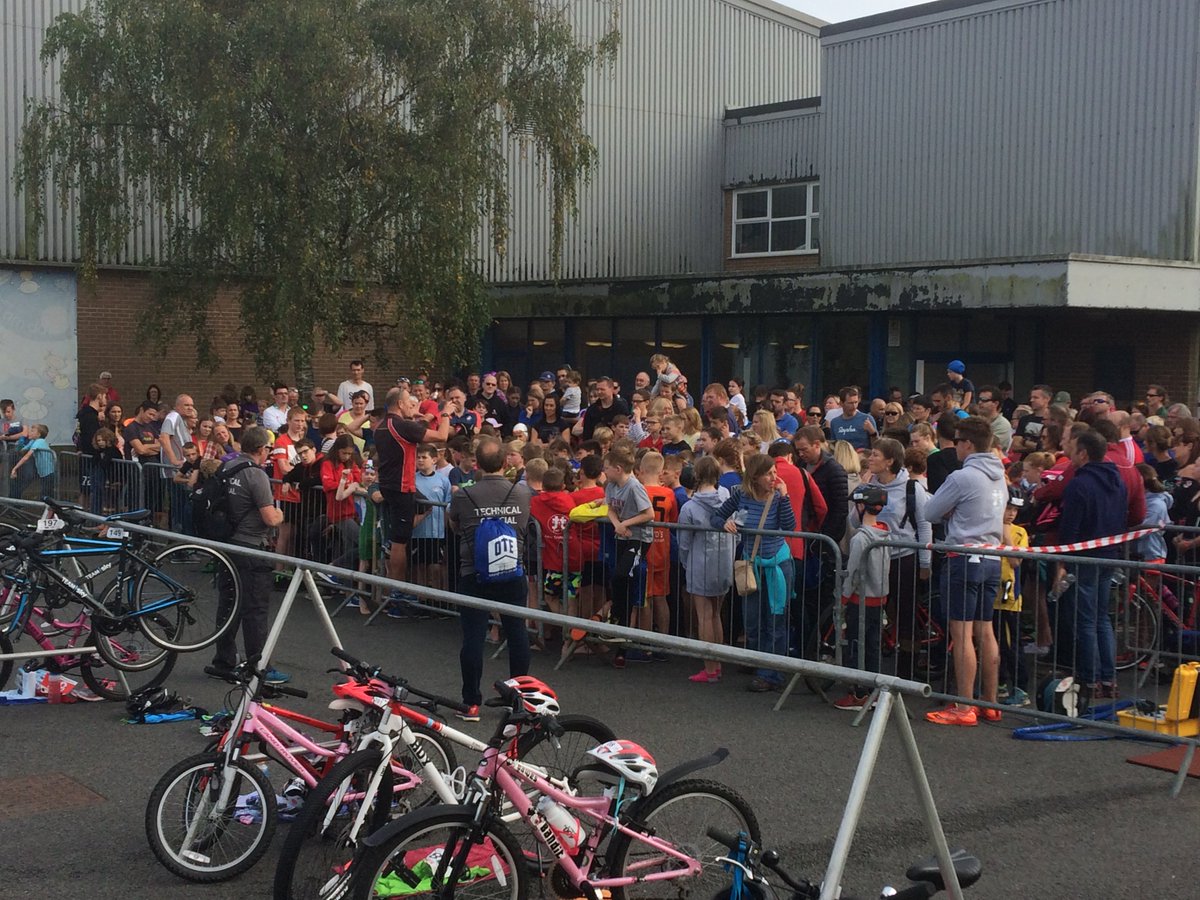 It gave youngsters aged 8 to 14 years old the opportunity to take part in a friendly triathlon. All athletes were given race numbers to make them look like professionals - including a timing chip, wrist band and tattoo!
There were four age groups available for this one with each one going off at different intervals.
Tristar S - 8 years old; Tristar 1 - 9/10 year olds; Tristar 2 - 11/12 year olds; Tristar 3 - 13/14 year olds.
Following a quick brief for all atheltes and parents from Daniel, it was the young 8 year olds (many competing at any event for the first time ever) who were the first to set off at around 4.15pm on a pleasant Saturday afternoon.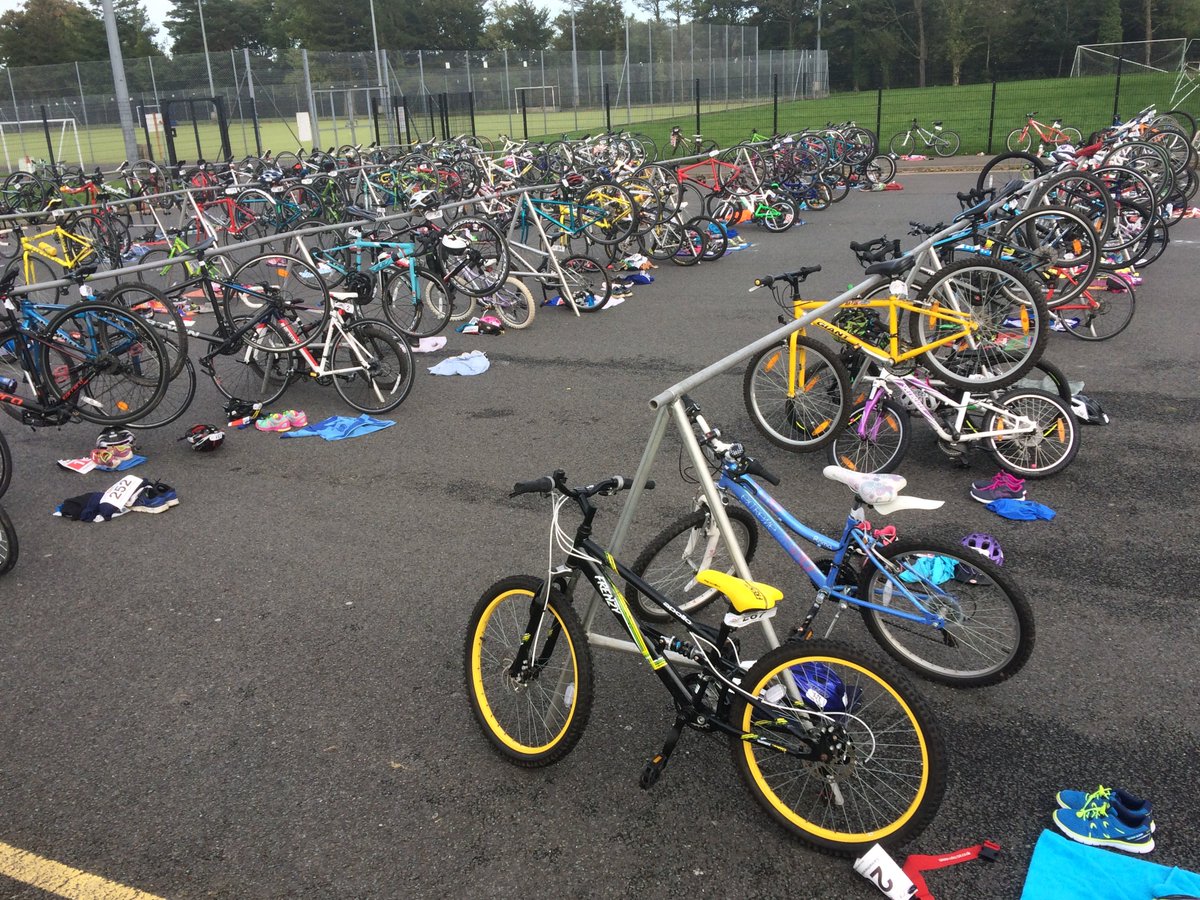 The whole event took place around the Carmarthen Leisure Centre grounds. The eight-lane swimming pool was the first step of the course as the children went off at different waves. The distance and lengths varied from one age group to the next. After running round to transition which was located near the Astroturf, they picked up their bikes and completed loops around the QE High Secondary School. On return to transition, the run was the final part to do. This took place on the Carmarthen Harriers Athletics Track and after completing the required laps, there was a grand stand finish outside the Leisure Centre building.
Around 185 competitors entered for this one all with a smile on their faces, the highest number ever recorded. They were supported on the side by their friends and family who turned out in their numbers to this junior event in Johnstown. As a well done, all finishers of the Myrddin Junior Triathlon were presented with a medal along with some sweets.
Noelwyn Daniel, organiser at Healthy Life Activities said: "Ensuring our youngsters are active and healthy is one of our guiding principles. We were delighted to attract nearly 200 youngsters to the Triathlon on Saturday and all enjoyed the race and the atmosphere at the event. Many were taking part in their 1st ever triathlon and we will hopefully attract even larger fields for our 2018 junior events."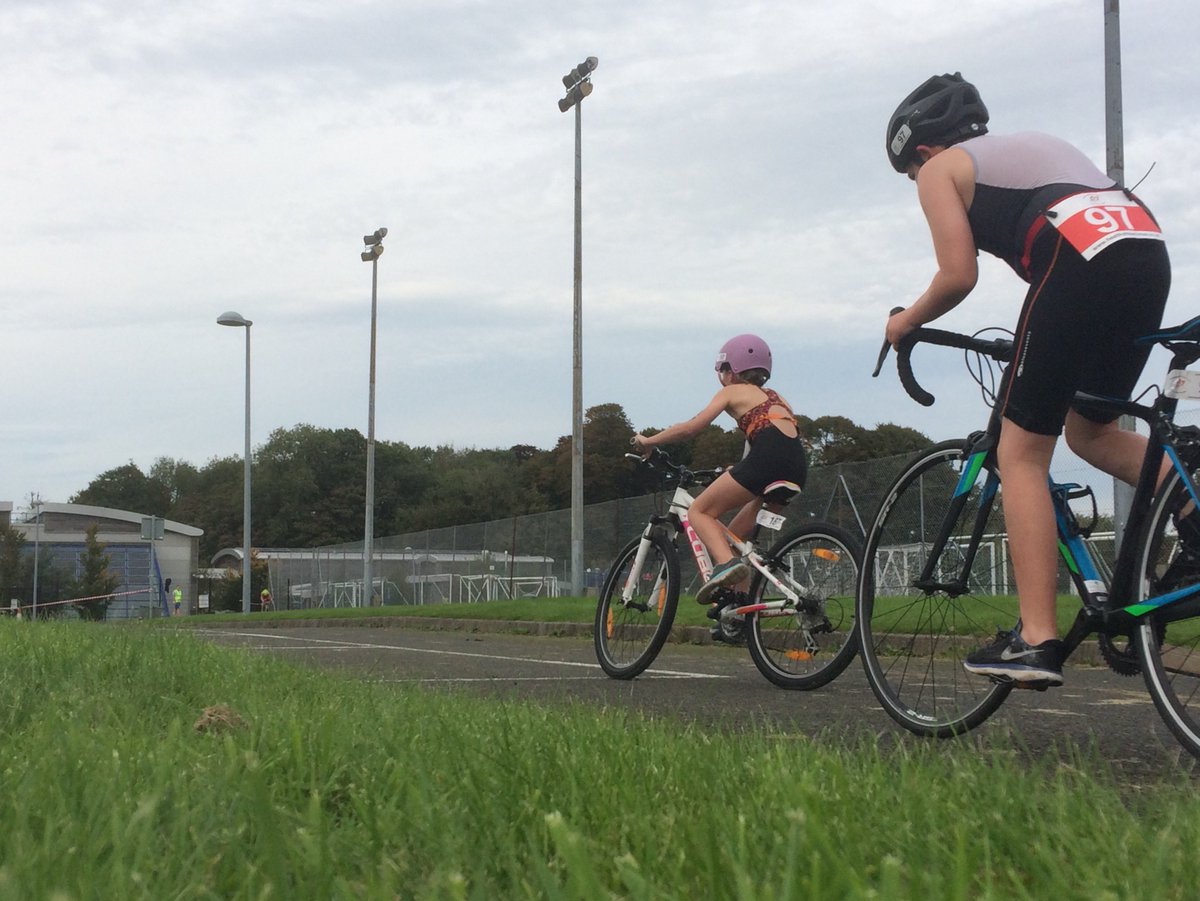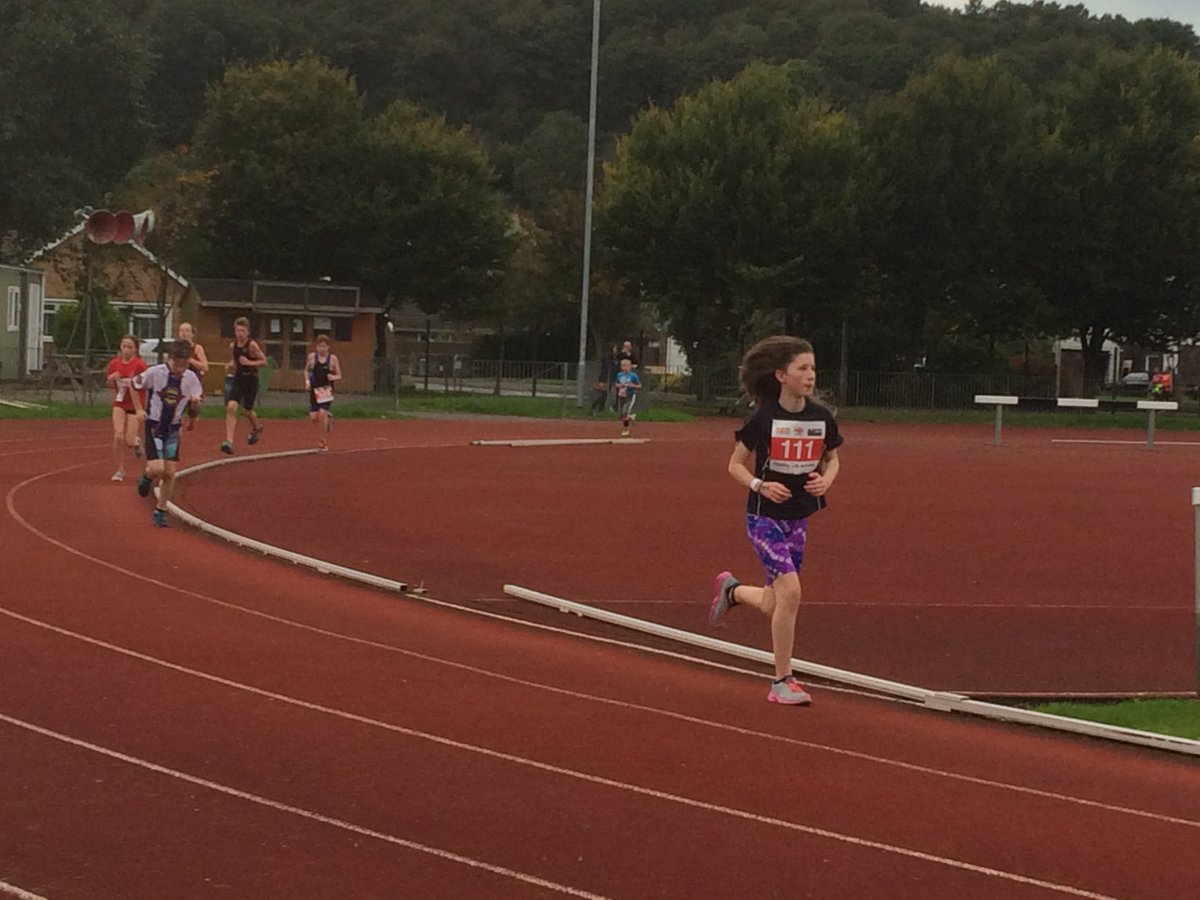 In addition, this race had trophies up for grabs for the top three in each age group, as well as incorporating the final event of the Welsh Triathlon 10 event series. These were all presented by Owen Rodgers, the Director of Business at Welsh Triathlon who travelled down to be in attendance.
The trophy winners in each group were / Enillwyr pob grwp oedran:
Tristar S Boys / Bechgyn Tristar S:
1st / 1af - Tristan Warrender; 2nd / 2ail - Liam Reading; 3rd / 3ydd - Ando Hannant
Tristar S Girls / Merched Tristar S:
1st / 1af - Libby Hale; 2nd / 2ail - Imogen Mcadie; 3rd / 3ydd - Lili Collier
Tristar 1 Boys / Bechgyn Tristar 1:
1st / 1af - Finlay Thapa; 2nd / 2ail - Cai Prenderville; 3rd / 3ydd - Louis Roberts
Tristar 1 Girls / Merched Tristar 1:
1st / 1af - Millie Hannant; 2nd / 2ail - Lily Roberts; 3rd / 3ydd - Josephine Hurst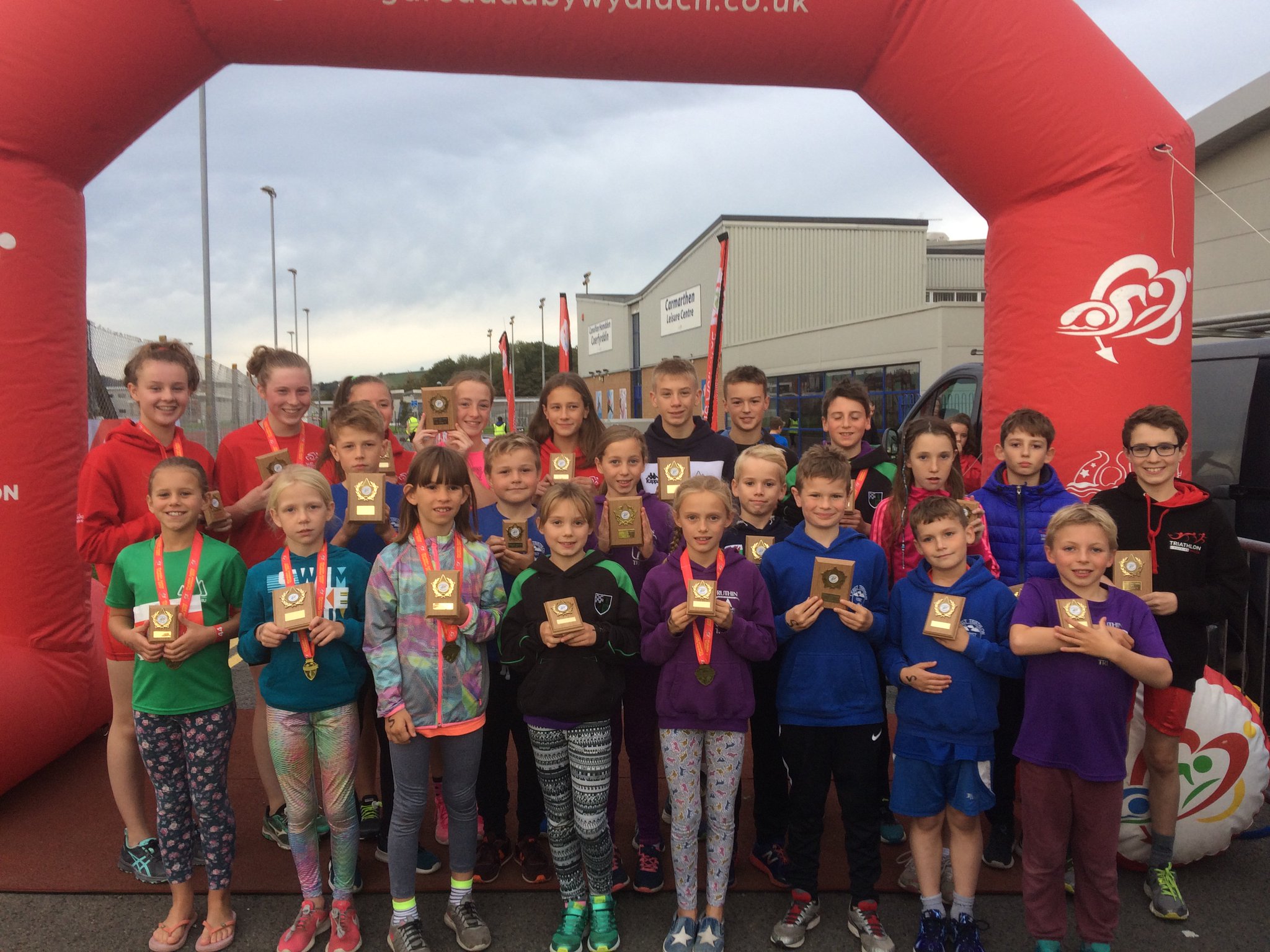 Tristar 2 Boys / Bechgyn Tristar 2:
1st / 1af - Finlay Catling; 2nd / 2ail: William Stone; 3rd / 3ydd - Deri Mabon
Tristar 2 Girls / Merched Tristar 2:
1st / 1af - Anwen Nesham; 2nd / 2ail: Freya Thapa; 3rd / 3ydd - Eleanor White
Tristar 3 Boys / Bechgyn Tristar 3:
1af / 1st - Liam Edwards; 2nd / 2ail: Neo Seppman; 3rd / 3ydd - Osian Williams
Tristar 3 Girls / Merched Tristar 3:
1af / 1st - Fiona Bostock; 2nd / 2ail - Tia Froom; 3rd / 3ydd - Orla Davies
Healthy Life Activities continues to put on big events across Carmarthenshire and the season concludes next Sunday (1st October) with the Carmarthen Sprint Triathlon from 7.30am. Around 200 athletes have already entered where they will face a swim, bike to Llansteffan and run along with the river to Carmarthen.
Congratulations - Llongyfarchiadau to all those who took part and thanks to all the marshals and volunteers who helped out during the afternoon, including those from Llanelli Gymnastics Club and Llandysul Hockey Club without forgetting the main organisers Noelwyn and Sharon. Da iawn blant, gobeithio wnaethoch chi gyd fwynhau'r digwyddiad a'r profiad!
RESULTS / CANLYNIADAU- from the Carmarthen Myrddin Junior Triathlon
Part 2 24.09.17 Admiral Swansea Bay 10K & Junior Races 2017 / Rasys Plant a 10K Bae Abertawe 2017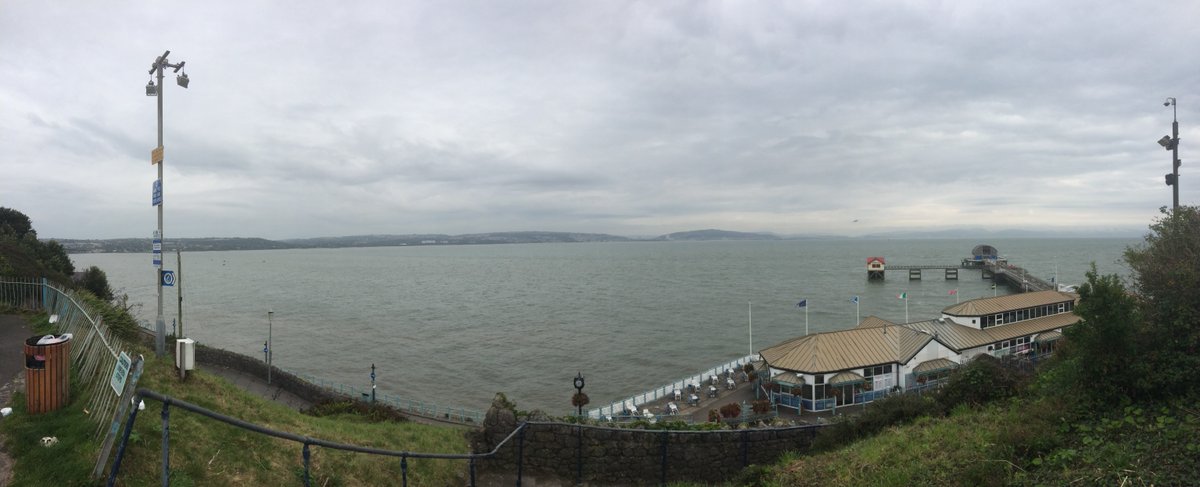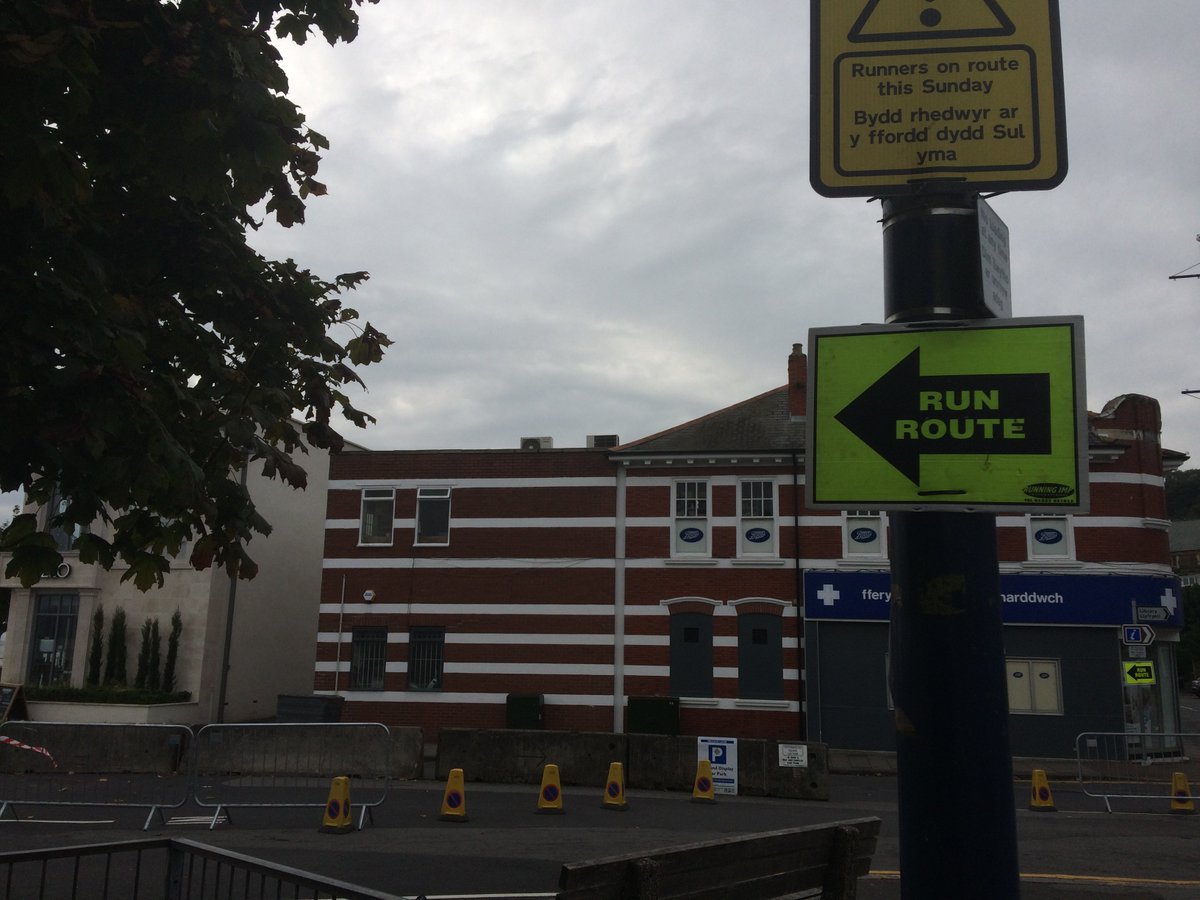 Less than 12 hours following the triathlon, we were back out on the road this time heading East up the M4 to Swansea on Sunday 24th September for the 2017 edition of the Admiral Swansea Bay Races. On a day that started rather windy near the Mumbles but dry, the rain arrived just as the 10k runners were about to head off, and this remained for the rest of the afternoon.
Following the World Athletics Championships in London earlier this summer, it had inspired people to get their shoes on and this was evident with this year's event. Entries had all been taken up with a week to spare in all four races!
The Admiral Swansea Bay 10K took place along the beautiful and iconic sweep of Swansea Bay open to all abilities. The course was a firm favourite with both experienced and first time runners as thousands took to the streets of the city. The day was certainly described as: a fun day out for the whole family.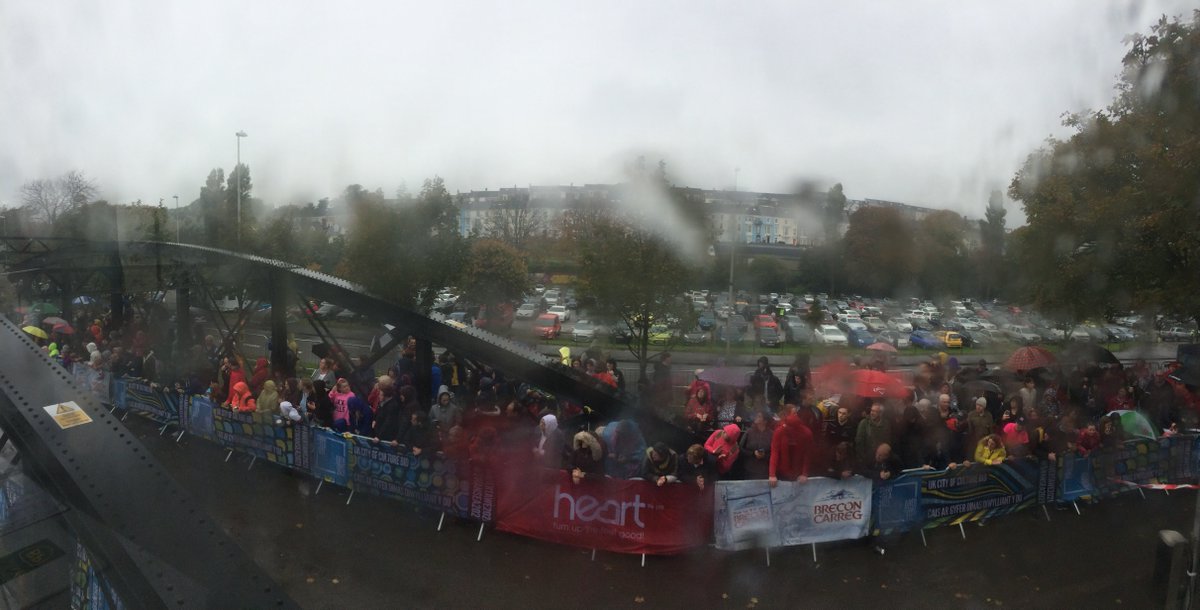 A minutes silence was held a few minutes before race start, to remember a volunteer who had worked hard throughout the years at the event, John Collins who passed away earlier this year. Starting alongside St Helen's Rugby Ground, the first half of the course followed the road down to the picturesque Mumbles, before returning along the stunning Swansea prom. The course finished through the iconic Slip Bridge towards the Cenotaph. It continues to be a firm favourite amongst runners due to its fast, flat surface and gorgeous scenery.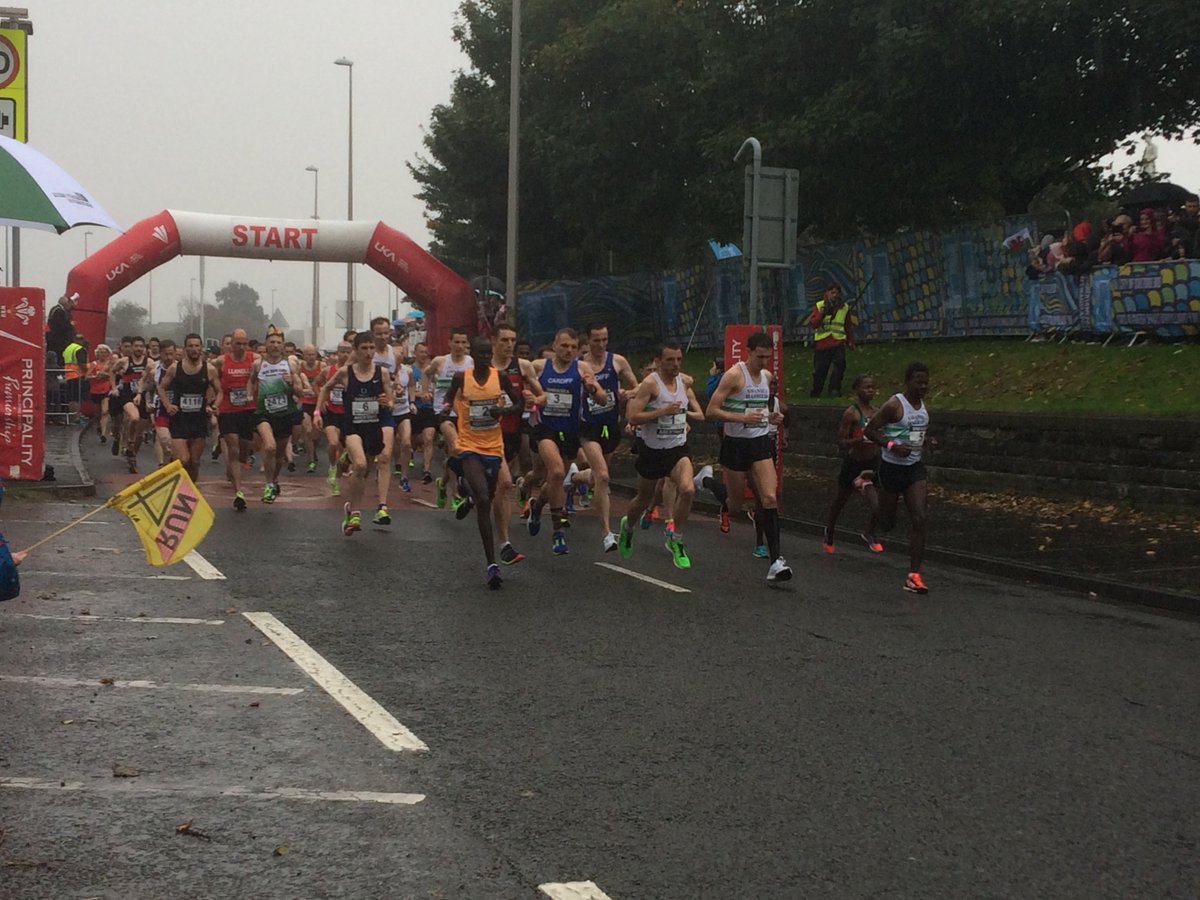 Swansea Harrier and local favourite Dewi Griffiths was one of the athletes in action, following his string of good performances lately at the Cardiff 10K, Great North Run and the Welsh Road Relays just to name a few. Peter Huck and Matthew Clowes were two athletes who were hoping to keep in contention with Griffiths and the sole male Kenyan in the race - Elias Kiptoo Kemboi.
With the leading pack starting at a steady pace, it was commented throughout that Griffiths and Kemboi were close together. And so it proved coming into the last 100 metres, as the Keynan just saw off Griffiths' challenge to win the 2017 Admiral Swansea Bay 10K in a time of 28 minutes and 20 seconds, just 8 seconds ahead of the Welshman who was the first British home. There was a huge cheer from his home fans for Griffiths as he sealed a big personal best in the process and is top of the 2017 UK British rankings, watched on by a happy coach, Kevin Evans. A great race from the both of them, as Griffiths described at the end that he gave it his all. Huck came through in third and Clowes held onto fourth position.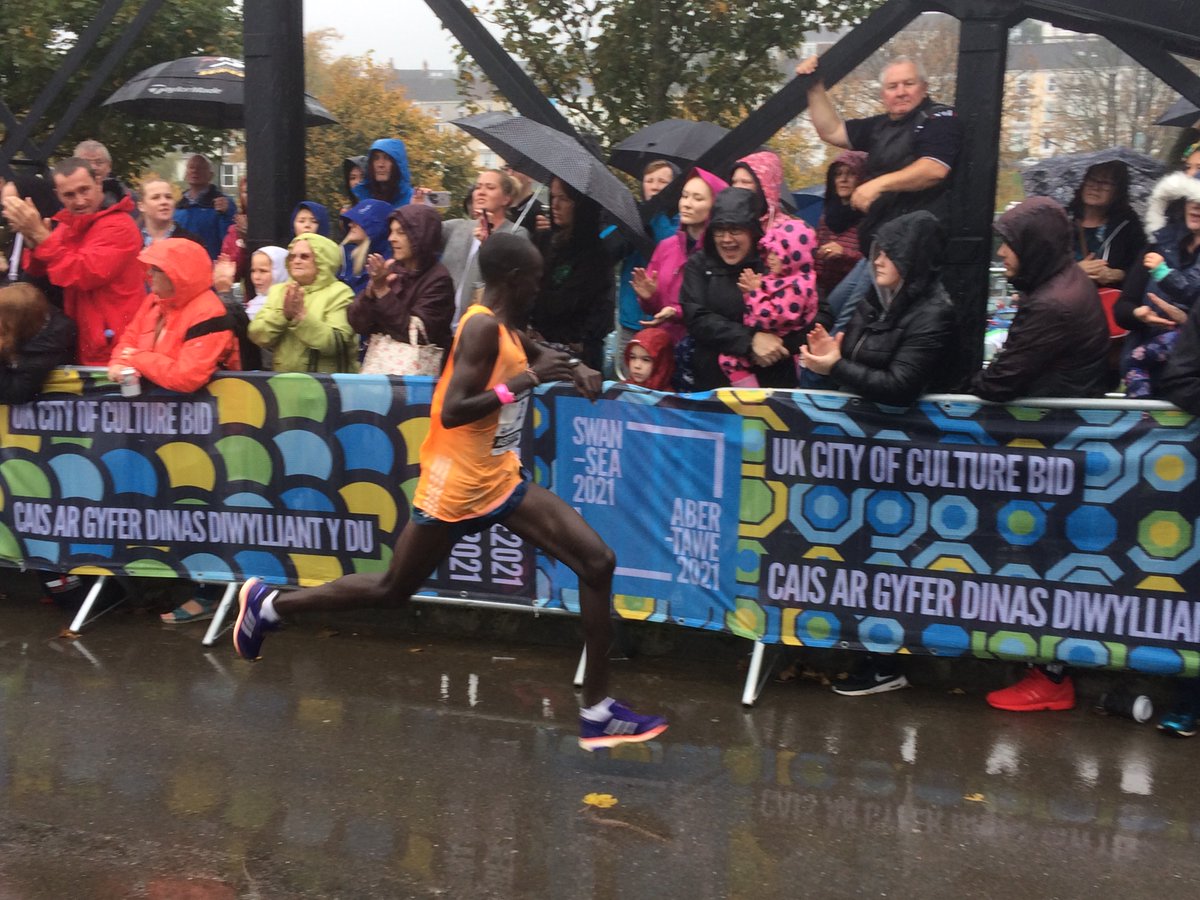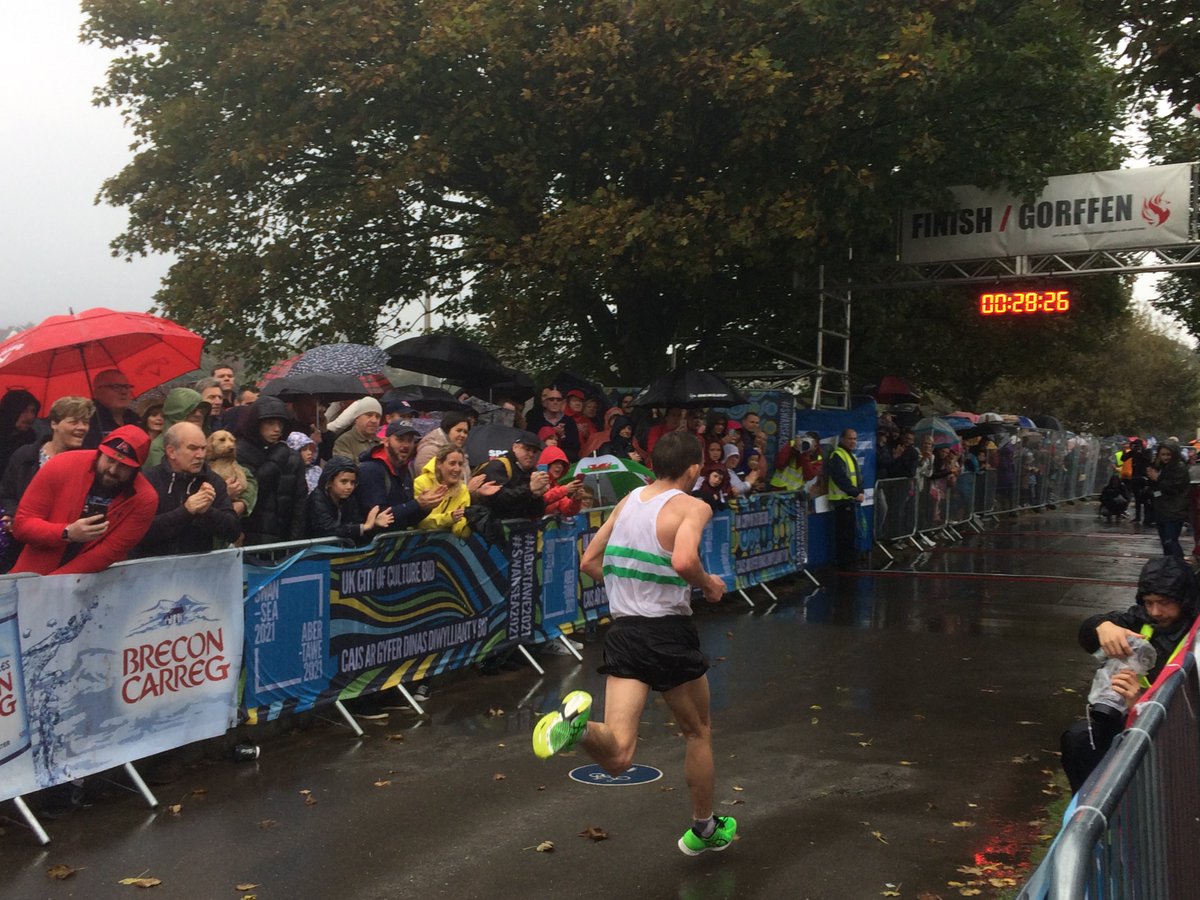 In the women's race, it was a one-two domination for the Kenyan athletes Caroline Nyanguthi Nyaga and Dorcas Jepchumba Kimeli. It was the latter who took the title just ahead of her teammate in 32.14. Gemma Steel, the Charnwood AC athletes completed the top three places with a fine run.
Richie Powell from Disability Sport Wales, the only wheelchair athlete entered this year took the 2017 Swansea Bay title with a finishing time of 29.29.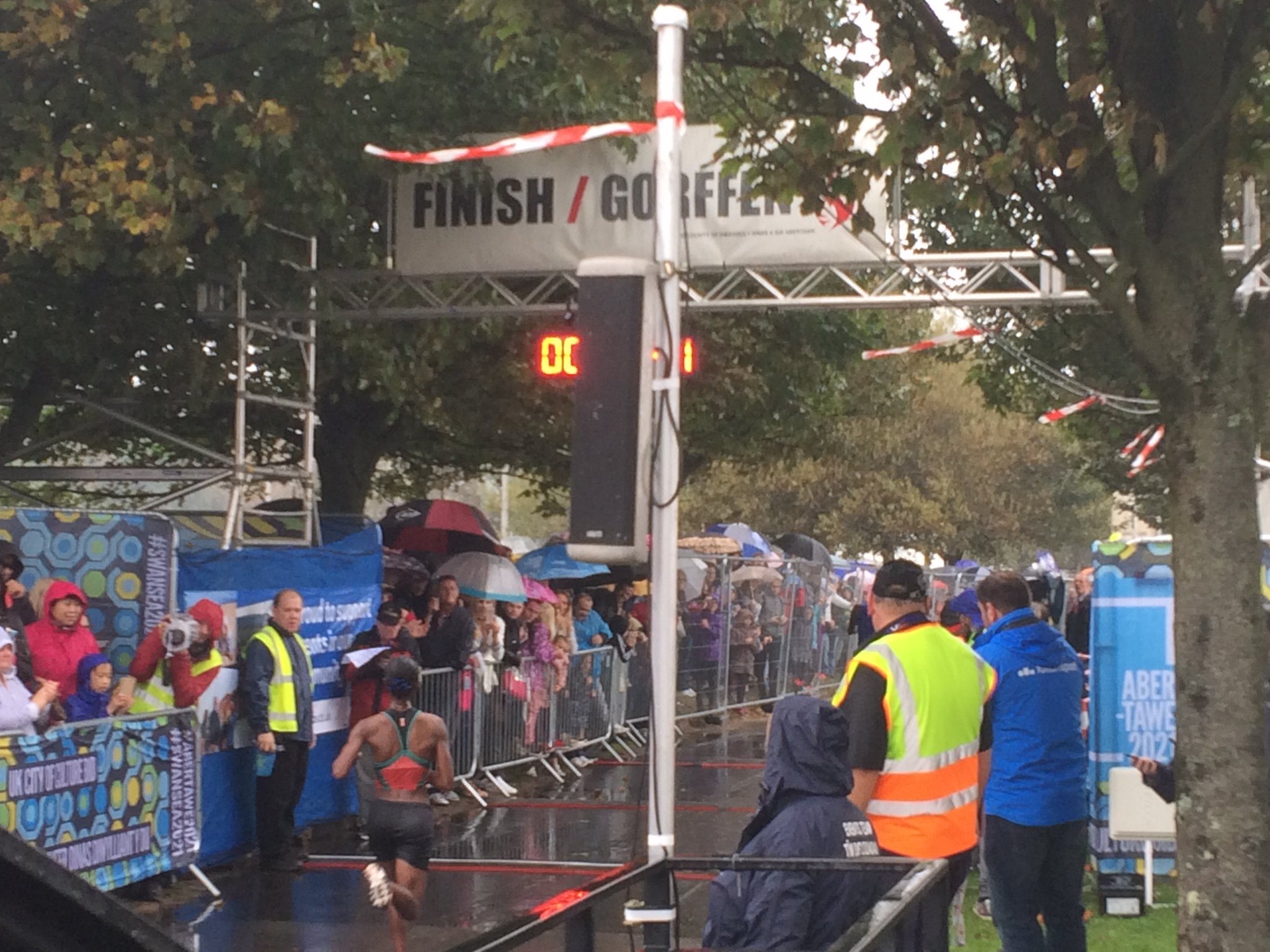 A total of 3517 runners all completed the course, with many doing it for the first time and others regulars on an annual basis. Carmarthen athletes Huw Davies (40:49), Trystan Leech (41.37), Gill Edwards (54.00) and Liz Davies (55.50) were amongst those taking part from the club.
As well as the main 10k, also returning was the junior races which also sold out a couple of weeks in advance. Unofrtunatley, due to this many Carmarthen Harriers middle distance athletes were not involved this year because of the early closure of entries where they missed out. However, a couple of them did get their forms in on time!
The 1K, 3K and 5K was a great introduction to running on the road. The first race of the day started at 10.45am with the two 1k races due to its popular turnout. The 7 years and under got their chance first to run alongside their parents before the older 8-11 old children took part with over 150 getting their opportunity to experience the race day atmosphere for the first time.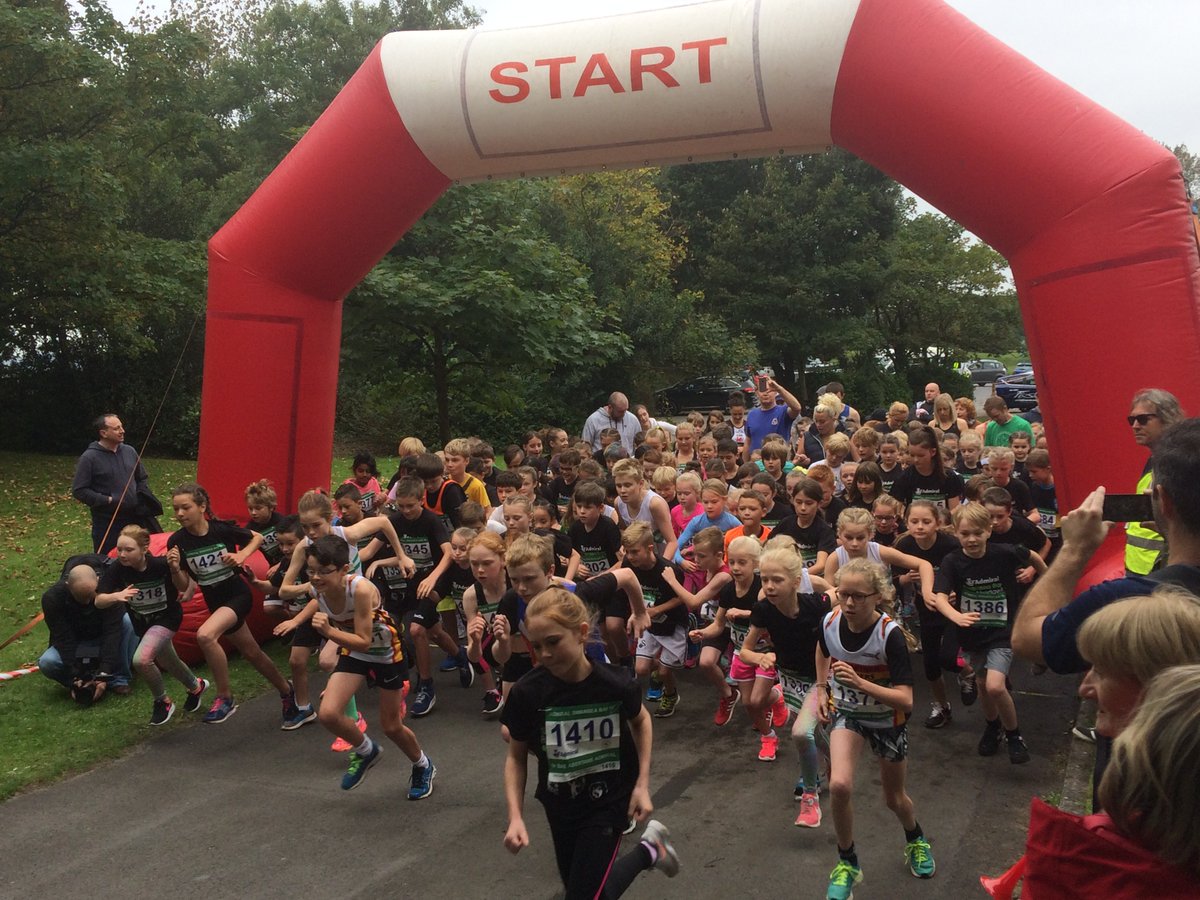 Then, the more competitive athletes got underway, first the 3K starting from near Blackpill before finishing off with the 5K race from Oystermouth Square. It was disappointing to see the 5K only having a handful of runners getting involved.
From a Carmarthen Harriers point of view, it was a good start to the day with both Steffan Davies (2nd boy 3.38) and Amy Greatrick (3rd girl 3.39) making it onto the podium after running side by side for the full mile. Congratulations.
The next set of results was the 3K led in by Liam Edwards who came 3rd in the boys section (10.10). Dafydd Jones was not too far behind him in 5th (10.27). Swansea Harriers took the girls gold and silver positions with Llanelli the bronze. Swyn Dafydd (15.07)
In a field of only 13 athletes, the first winner of the day came from Eva Edwards who took the girls title, finishing in 6th place overall (19.52) Cerys Davies was our other representative finishing as the fourth girl (22.04)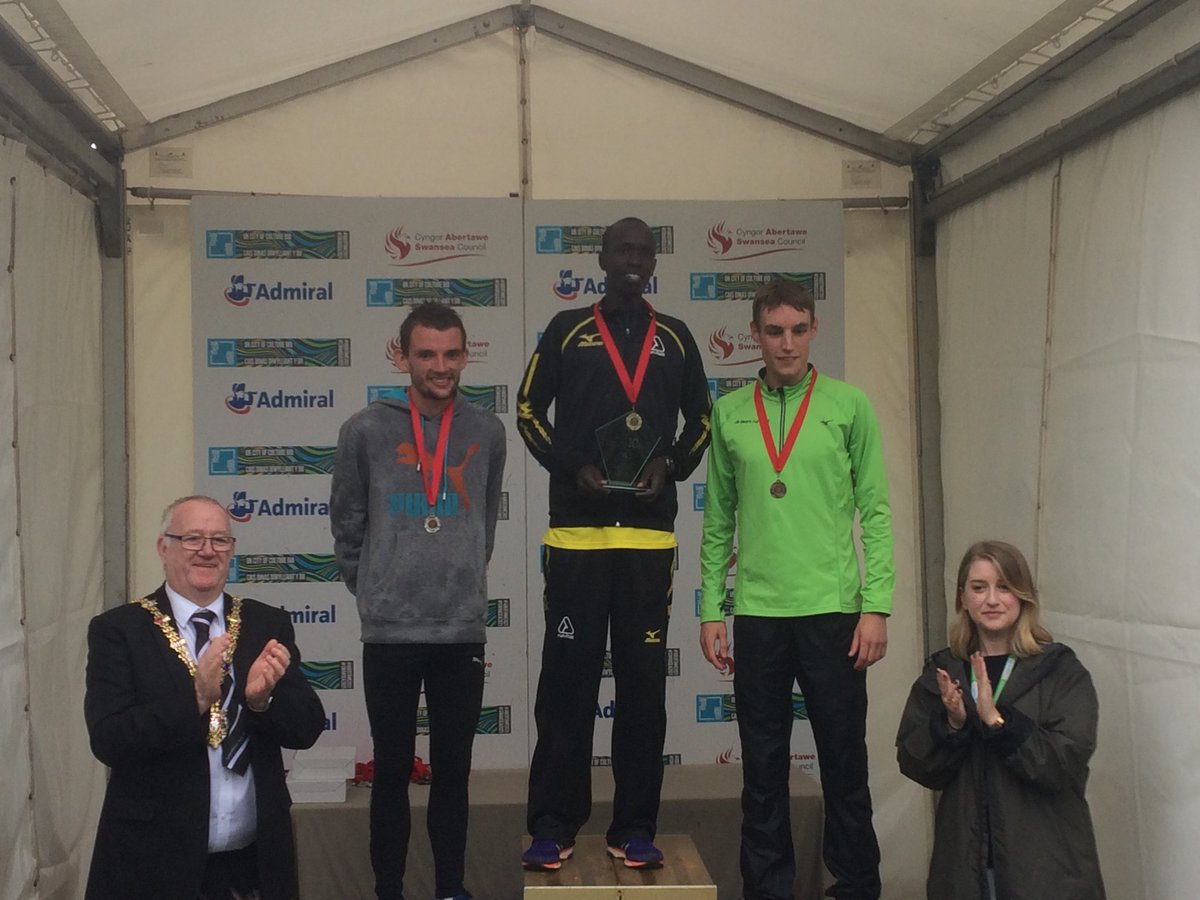 Another great edition of the Admiral Swansea Bay 10K this year. Da iawn i bawb gymerodd rhan!
RESULTS / CANLYNIADAU - from the Admiral Swansea Bay 10k & Junior Races
White Park cattle 2017: 23rd September @ Dinefwr Park, Llandeilo
10K: Jack Tremlett 41:02; Gordon Orme 54.47; Peter Moody 55.43