| | | | |
| --- | --- | --- | --- |
| Cardiff & Carmarthen set to host weekend events.. | | | |
Written by Nathan Jones
Thursday, 07 September 2017 20:33
Cardiff University / Cardiff Half Marathon Festival of Races - 30/09/17 / Rhedeg Hwyl Caerdydd - 30/09/17
An entire day of athletic entertainment for the whole family. The Cardiff University/Cardiff Half Marathon is more than just 13 miles on a Sunday morning. There is a full day of fun activities, entertainment and road running for all ages and abilities to take part in.
As a warm up for the main event on Sunday, The Welsh Mile Road Championships will once again take place on a multi-lap loop of Cardiff Civic Centre on Saturday 30th September, starting and finishing outside Cardiff City Hall. There are races for all age groups from U11 to Masters, starting at 11.00am. It incorporates the Welsh Mile Championships, British Masters Road Race Championships and Open Mile Races.
Age Limits: All ages are at 31st August 2017 (except for Masters) Competition year is from 1st September 2016 to 31st August 2017.
Under 11 Boys and Girls (School Year 5 & some year 6) aged 9 or 10 on the day of competition.
Under 13 Boys and Girls (School Year 7 & 8 and some year 6) aged 11 on day or 12 on 31st Aug.
Under 15 Boys and Girls (School Year 9 & 10) aged 13 or 14 on the 31st August.
Under 17 Men and Women (School Years 11 & 12) aged 15 or 16 on 31st August.
Senior Men and Women (Under 20 athletes compete as seniors in senior teams) Road Running events for men shall be confined to competitors who are at least 35 years of age on the day of competition.
Saturday's programme also includes the Family Fun Run, Mascot Race, Toddler dash and family activities in the Race Village.
Throughout the day there will be an exciting mix of live music, food and street entertainment to dive in to and keep everyone entertained throughout the day. So even if you're not taking part in any of the events, there will be plenty to see and do.
All enquiries should be directed to This e-mail address is being protected from spambots. You need JavaScript enabled to view it
What's included in your registration fee: Event pack including information booklet and running number, commemorative t-shirt, commemorative medal, helpful student wellbeing advice, access to the event facilities and opportunity to win a VIP package at the Cardiff Half Marathon.
WELSH MILE ROAD RACE CHAMPIONSHIPS 2017 ENTRY LINK
Cardiff University / Cardiff Half Marathon - 01/10/17 / Hanner Marathon Prifysgol Caerdydd - 01/10/17
The following day after the excitement at Civic Centre, the Cardiff Half Marathon takes place around the streets of the Welsh Capital on Sunday 1st October. This is the UK's IAAF only silver label race. Course records were shattered as a record number of runners took to the streets last year. In the elite race, Kenya's Shadrack Korir and Violah Jepchumba broke the existing men's and women's course records, while more runners than ever before completed Wales' biggest mass participation event. They recorded times of 60:54 and 68:14 respectively.
The 2017 edition is a sell-out for the first time in its fourteen year history. The final general entries were snapped up very quickly to make this year's race the biggest ever. A total of 25,000 runners have booked their place on the start line in a few weeks with just under 4 weeks to go.
Once again it will attract the world's best elite athletes and BBC Wales will be covering all the action live on 1st October as runners flood the streets. The flat, fast, iconic Cardiff University/Cardiff Half Marathon route remains for 2017. The race starts outside Cardiff Castle and runners then head down past Cardiff City Stadium on the way to Penarth. They take in Penarth Marina before crossing the barrage and heading to Cardiff Bay. Runners run right through the heart of the bay taking in the Norwegian Church and Wales Millenium Stadium.
The course then heads towards the north of the city and runners will complete a loop of the beautiful Roath Park Lake before the grandstand finish in the heart of the city at the Civic Centre.
The race will start at 10am. The wheelchair race will start at 9.50am and both races will start on Castle Street. A park and walk facility will be provided at the Cardiff City Football Club car park on Leckwith Road, CF11 8AZ.
EVENT WEBSITE / GWEFAN Y DIGWYDDIAD (live tracker is available on the day)
Meanwhile during the same weekend...there's a triathlon competition returning to West Wales and Carmarthen...
Carmarthen Sprint Triathlon - 01/10/17 / Treiathlon Sprint Caerfyrddin - 01/10/17
A week after the Myrddin Junior Triathlon, Healthy Life Activities will be back at Carmarthen this time hosting an event for the adults and best triathlete athletes, an event that has been well attended over the last few years. The Carmarthen sprint triathlon is being held on Sunday 1st October, starting from 7.30am organised by Noelwyn Daniel. This is the final of five races which is part of the 2017 Carmarthenshire triathlon series. The race is run under British Triathlon rules.
Race Venue & HQ: Carmarthen Leisure Centre
Llansteffan Road, Johnstown
SA31 3NQ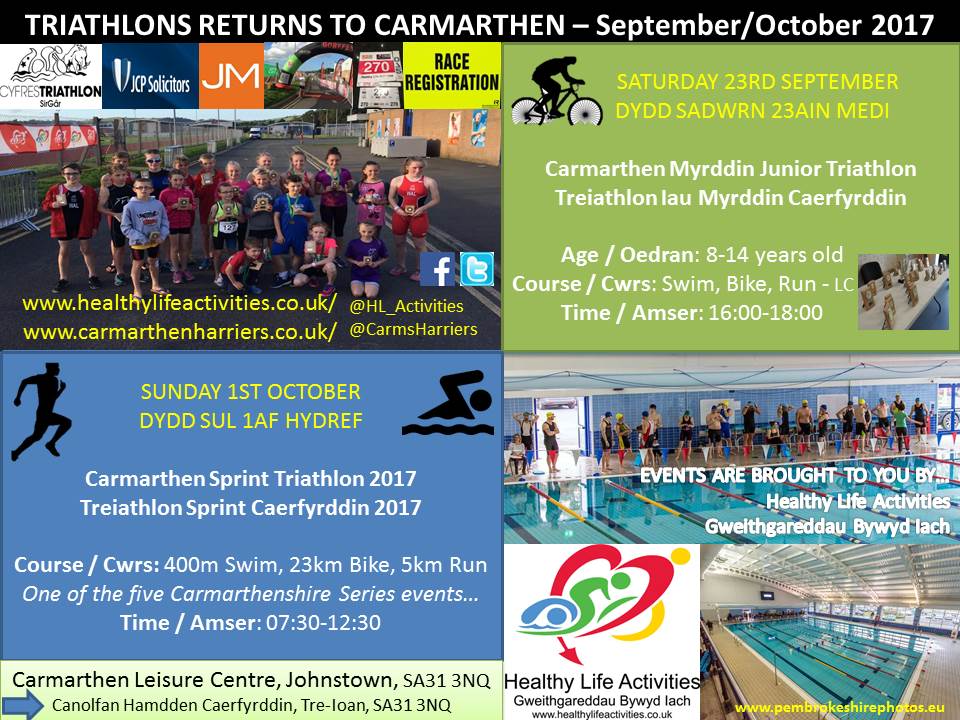 A 400m swim in the eight lane Carmarthen pool followed by a 23km bike ride down to Llansteffan. On returning from Llansteffan, it will then be a 5km run along the Tywi river. This is an out and back run course with a grand stand finish back at the Leisure Centre.
It is also open to relay teams. A relay team is a great way of getting into triathlon and experiencing the unique atmosphere of an event. It's also an excellent way of having some team bonding or club bonding as you work for one and another to get the best possible finishing time. Find two friends who will join you with one doing each of the 3 stages.
All competitors who have registered for the event will have received a confirmation email. If you have not received this, or if you are unsure about your entry, please email This e-mail address is being protected from spambots. You need JavaScript enabled to view it
Entry
Entries are going very fast and only a few places remain. You can enter online
Registration
This will be located at Carmarthen Leisure Centre. Competitor information will also be available here together with course maps. Your race pack will include:
Race Bib Number x2, Bike and Helmet Numbers, Arm Race Tattoo, Security wristband and a triathlon day membership along with timing chip at poolside.
Registration will be open for one hour on Saturday 30th September for competitors to collect if you live locally - 15:00-16:00.
Registration will re-open on Race morning at 06:15 this is when transition will also be open. The first swimmers will begin at 7.30am with prize presentation at approximately 12.30pm. It is advised that athletes register and then check into transition in plenty of time so you don't panic and get to poolside in plenty of time.
FOR THOSE ENTERED - WHAT YOU NEED TO KNOW?
I'R RHAI SYDD WEDI COFRESTRU - BYDD SYDD ANGEN GWYBOD?
You will be given a race briefing sheet once you enter the swimming pool. You will be required to read this prior to entering the water.
The swim start times will be published the week before the event. Your start time will reflect the estimated swim time you provided. Slowest swimmers will go first. You need to be at poolside at least 15 minutes before.
Swim - 400m
This is a fantastic swimming pool made for swimmers. There will be up to 3 swimmers per lane. You will start at the far end of the pool and after completing the 16 lengths, you will exit through the Fire exit door which is located to the left hand side of the pool as you view the photo. We will have a counter per lane and they will make it clear to you when you have two lengths to go.
Bike - 23km
The bikes course takes you down to Llansteffan. You will mount your bike at the designated Mount Line (please see Transition map). You will turn left out of QE High School and head down to Llansteffan. As you cycle into Llansteffan you will turn left towards the Car Park. There will be a dead turn around a traffic bollard before you take the narrow road down to the car park. This will be clearly sign posted and marshalled. You will then re-trace your steps back towards the Leisure Centre. You will turn right back into QE High school car park.
Run - 5km
You will be directed out through the top of transition and onto the path which will take you down the Tywi riverside path. You will follow this path alongside the river and towards Carmarthen town centre. Once you get to the Quayside in Carmarthen you will move from the path and up towards Tywi Works where you will take a right turn across the old Town's river bridge and right again towards the railway station. You will then be directed over the new Tywi bridge and back towards the Leisure Centre. When you get back, you will be directed onto the Harriers running track before a grand stand finish in front of the Leisure Centre.
The event uses electronic chip timing. Return your timing chip to the marshals in the finish area at the end of your race. Competitors who fail to return their timing chip will be charged as per the terms and conditions of entry.
Transition Area
There is no allocated space in transition. Please allow sufficient space for your fellow athletes. No-one other than athletes wearing a security wristband will be allowed into transition. Please only enter and exit transition at the designated point.
Finish Line
The finish area will be located near the Leisure Centre and transition area, with plenty of space for friends and family to cheer you over the line.
Upon finishing you will receive your finishers memento, welsh cake, banana and water.
Presentations
To be made at approximately 12.30pm. Overall Male & Female champion will not be eligible for category prizes. There are 1st, 2nd and 3rd place trophies for all categories both male and female.
Car Parking
With over 200 athletes expected to enter this year, all athletes are encouraged to share cars if possible. Parking is available for free at the Leisure Centre.
Toilets
Public Toilets are available in the Leisure Centre together with shower facilities.