Written by Nathan Jones
Sunday, 20 August 2017 17:09
A few events to catch up on from the middle weekends in August, the main highlights coming from the British Combined Events Championships & Welsh Junior Club Championships as well as British Men's League update.
With the World Championships finished in London last week, which turned out to be a great 10 days of competition (see Facebook & Twitter pages for coverage) it was back to local and Welsh club action and here are some of the reports...
British Athletics Under 15 & U17 Combined Events Championships: 12-13/8/17
At the British Athletics under 15 and 17 combined events championships, Beca Roberts from Ysgol Bro Pedr took Welsh silver in the hextathlon (6 events) at Manchester sport city stadium over 2 days last weekend (August 12th and 13th). Coached by Dorrien Thomas, she finished 15th from 30 athletes overall in the UK championships.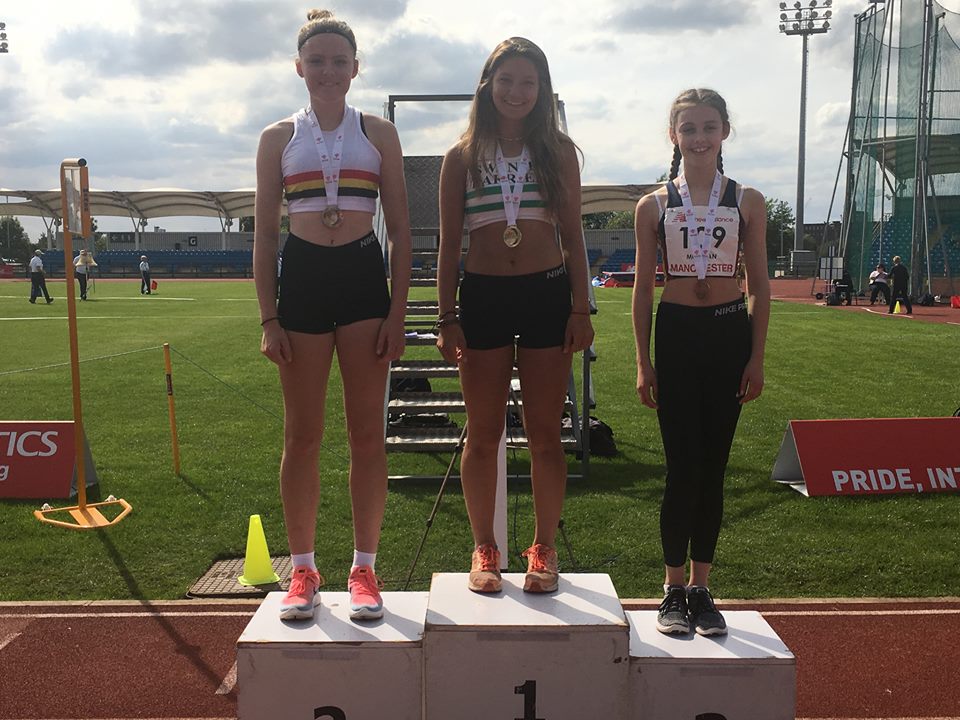 Her performances, alongside four new personal bests include:
75m hurdles 12.53; Long Jump 4.54m; Javelin 17.74m; Shot 6.81m; High Jump 1.50m and 800m 2.45.21. This was a splendid performance from her as she only started combined events athletics in May. This compliments her Welsh Schools bronze CE won in June at Swansea. Well done Beca!
Welsh Junior Club Athletics Championships 2017: 19-20/8/17; From Manchester to Wrexham...
Over the weekend just gone, August 19th and 20th, the Welsh Junior Club Athletics Championships returned for another year...and this time it made its way to North Wales for the staging at the Queensway Stadium in Wrexham. The champs, which had taken place in Cardiff last year, ran on the Saturday and Sunday with athletes of all ages in action on the track and field. Open to athletes from all over Wales, in the under 13 to under 20 age groups, it also had championships medals up for grabs. Both days saw a variety of events held, including sprints, middle distance, steeplechase, walks alongside the throws and jumps on the field. Some events were rather depleted however there were some great races especially in the sprint finals with many close finishes. Over 300 were in attendance and the weather stayed mostly dry, despite wet conditions further south during Sunday afternoon.
From West Wales, 17 Carmarthen Harriers members and families travelled the long distance up to Wrexham during the summer holidays to take part against the best in the country. Over the weekend, they won a total of 14 between them which included 5 golds, 5 silver and 4 bronze positions. Results/Canlyniadau:
U20W Olivia Haines: Triple Jump GOLD (9.61m); 400m Hurdles GOLD (82.73)
U17M Iestyn Williams: 1500m SILVER (4.13.51)
U13G Cordelia Walker: Javelin SILVER (23.53m); Discus BRONZE (19.94m)
U13G Holly Jeff: Javelin (15.53m); Discus (12.25m)
U20M William Edwards: High Jump GOLD (1.95m)
U13G Thaia Davies: 100m Final SILVER (13.90)
U20W Megan Rowe: 400m (66.17); 100m (14.09); 800m SILVER (2.37.54)
U15G Lili Church: Javelin (26.94m); High Jump GOLD (1.65m)
U20W Carys Jones: Pole Vault GOLD (3.40m)
U15G Beca Roberts: Long Jump BRONZE (4.92m); High Jump (1.45m)
U15B Iwan Glynn: 800m SILVER (2.06.29)
U15B Dafydd Jones: 800m (2.16.12)
U13G Zara Evans: 200m (30.31); High Jump (1.20m); Long Jump (3.96m)
U17M Josh Thomas: Javelin BRONZE (49.85m)
U17M Gareth Thompson: 800m (2.08.16)
U15G Ellie Tromans: 300m Final BRONZE (43.63)
U13B Frank Morgan: 1500m (DNF)
Well done to them all and the others who competed with several personal bests performances recorded, and not forgetting a big thanks to all the officials and volunteers who helped out during the two-day event.
Click here for the results page which was updated live throughout Saturday and Sunday as they happened. We were also updating on our Facebook and Twitter pages throughout the two-days. @CarmsHarriers
IN OTHER NEWS / NEWYDDION DIWEDDARAF
Our congratulations goes to the Swansea Harriers & Cardiff AAC Men's teams who have both been promoted from the first div to the Premier Division of the British Men's Athletics League for 2018. Both teams confirmed their places in the top division of the UK following good positions at the final match in Manchester today (Sunday 20th) we wish them both well next year! Double promotion for the Welsh clubs, Llongyfarchiadau.