Written by Nathan Jones
Sunday, 23 July 2017 19:54
Week's club reports from a local sports day, Louise Arthur & Youth Development League plus we bring you news from the Bahamas (James Tomlinson & Bethany Moule)
McDonalds Inter Stores Sportsday - 18/07/17
In a midweek event, Carmarthen Harriers were once again delighted to host the Annual McDonalds Inter Stores Sports Day at the Leisure Centre track last Tuesday on a rather humid day! This great event included the usual track and field events, but other races took place on the field in the middle including the sack race, egg and spoon and the two legged race. 16 stores from across South and West Wales attended from Pembrokeshire right up to Cardiff and Newport.
It was organised by Ron Mounsey, who has supported a number of athletics events in Carmarthenshire and Dyfed by sponsoring and presenting medals over the last few years.
At the end of the 4 hour programme during the afternoon, presentations were made to the top three in each event and after store points were added, it was the Carmarthen's McDonalds store who came out as the 2017 winners on home soil.
The club hopes that all those in attendance had a good day and enjoyed their visit to the track!
U11, U13, U15 Louise Arthur League fixture 4 - 22/07/17
As the school holidays got underway, the final Louise Arthur League match of the year arrived up in Mid Wales at the Penlan Arena track at Brecon Leisure Centre. The fixture was in doubt due to no photo finish and officials, however thanks to those parents and officials from all clubs who ensured that the meeting could be finished on time, despite some of the rain showers that did arrive during the afternoon making it difficult at times. The weather unfortunately cancelled the final high jump event of the day - the under 13 girls due to the safety.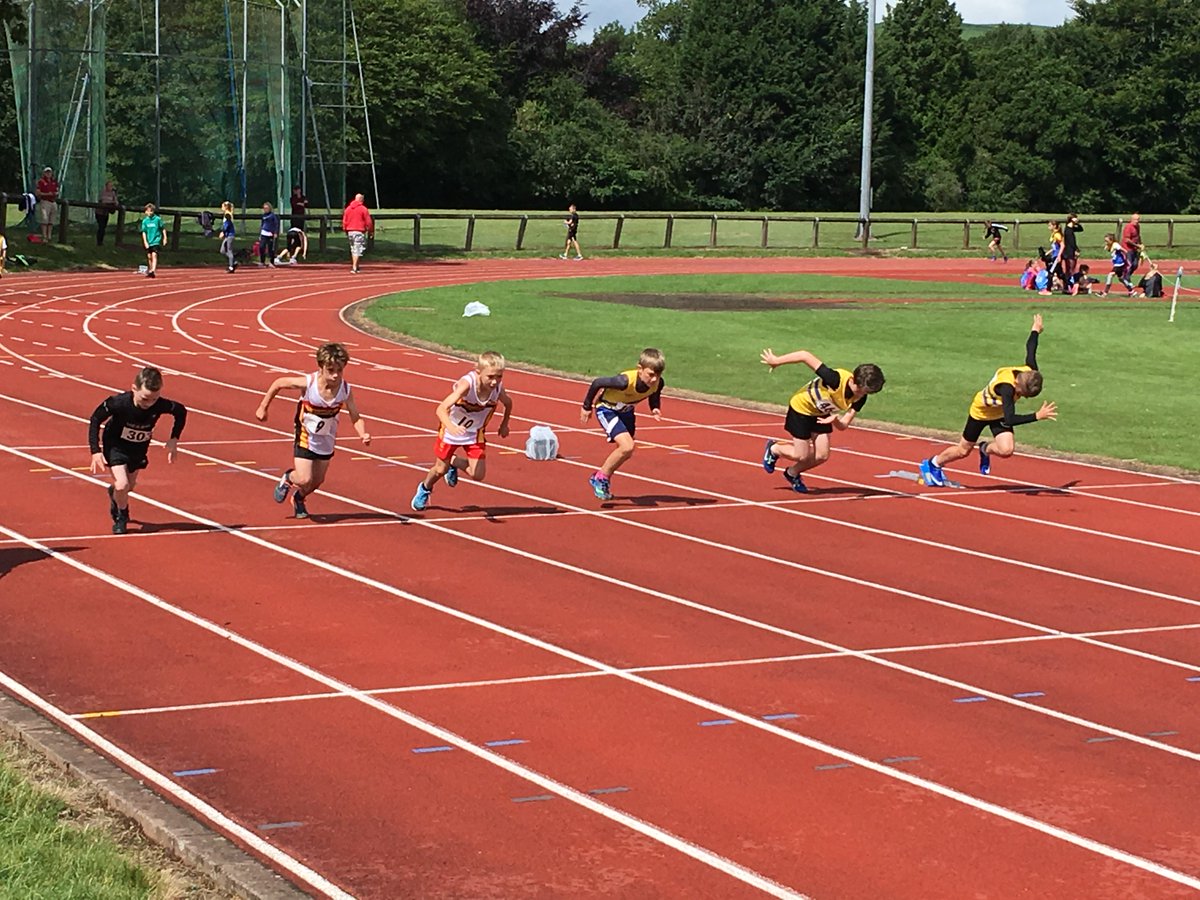 After seeing 60 athletes out a fortnight ago in Swansea, it was a shame to see a few athletes drop out on the day however a total of 47 made the effort to compete in Brecon including a number of those who made their debuts, in particular the under 11 age group and it is hoped that they will continue to develop and gain experience. At Brecon, there was a total of 376 athletes - down on the third fixture that saw nearly 500 present but not helped with the competition date.
The team was depleted in parts of the field events but on the whole, plenty of points were picked up on the track with several youngsters standing out in the sprints and middle distance heats. A strong turn out from the Brecon side on home soil saw the Harriers in 4th place (811pts) at this match but finished third overall after the four summer competitions (Neath abandoned)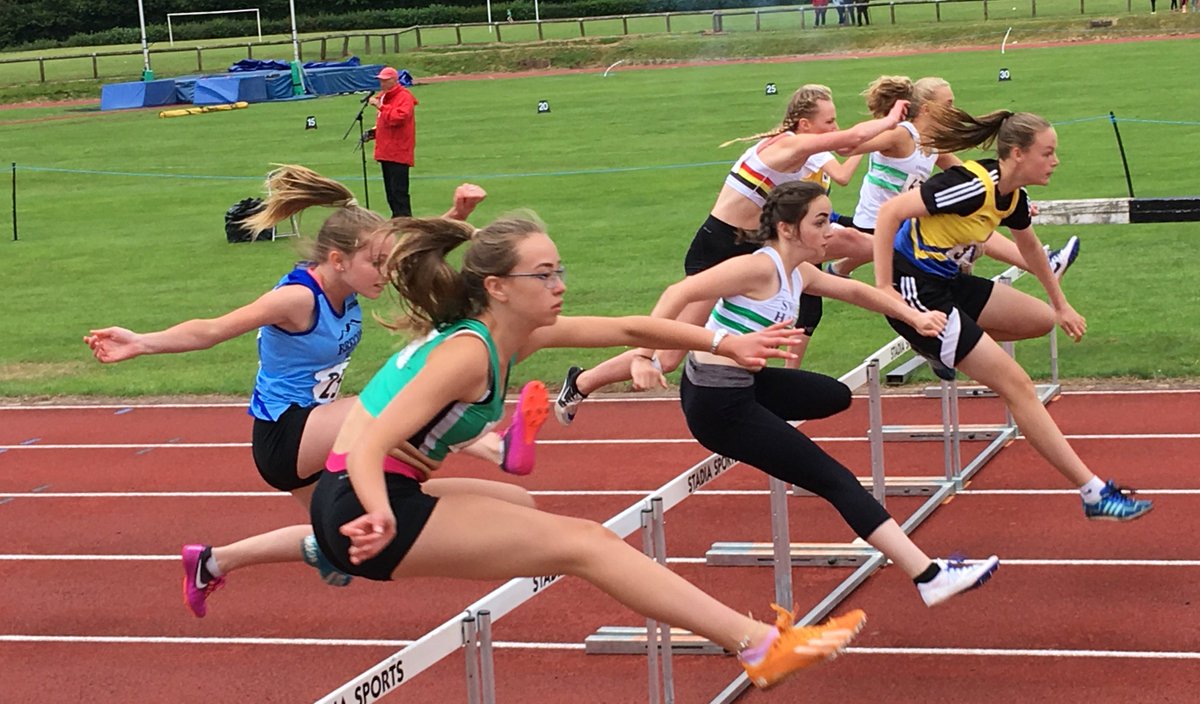 Thanks as usual to all athletes, parents and coaches. Great team spirit shown when competing and around the team tent.
Carmarthen athletes Match 4: Our annual list of "athlete recognition 2017" will be published in the next week or two.
Under 11: Tygan Davies, Iwan Thomas, Ifan Bowen, Aron Bowen, Dion James, James Sloyan, Oliver Dawson-John, Gwyndaf Jones, Alexander Coles, Daniel Wilds, Luisa Reid-Thomas, Ruby Skone, Erin Morgan, Ella Glynn, Bessy Hill, India Skone
Under 13: Owain-Hari Davies, Steffan Davies, Jack Thomas, Frank Morgan, Harri Howells, Rhydian Jones, Eric Buck, Osian Roberts, Kacper Krawcewicz, Keira Carmody, Sophia Reid-Thomas, Megan Roberts, Thaia Davies, Megan Rees, Hanna Evans, Leia Vobe, Zara Evans, Cordelia Walker, Holly Jeff
Under 15: Rhys Homffray, Iwan Glynn, Trystan Jones, Gruff Giles, Tal Davies, Liam Edwards, Ryan Thomas, Shon Jones, Matthew Evans, Beca Roberts, Lili Church, Maddie Morgan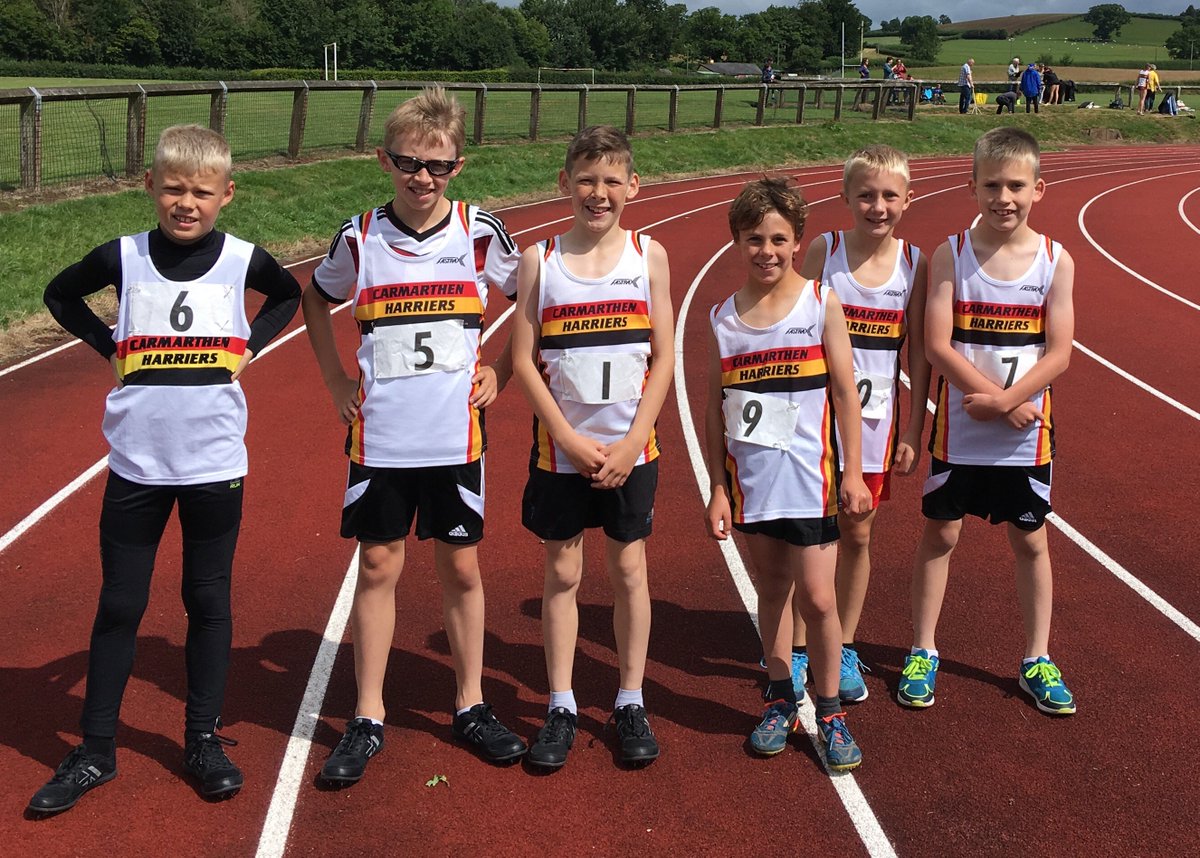 Sunday 30th July: U11, U13, U15 Gerald Codd Trophy Match (Haverfordwest)
Sunday 6th August: U11, U13, U15 Welsh Junior League Cup Final (Newport)
Youth Development League U17, U20 S/W Promotion Match - 23/07/17
As part of another busy weekend with two events in two days, the Youth Development League for under 17 and under 20 athletes concluded with the South West Promotion & Relegation Match at Newport Stadium. After a poor start to the season during the exam period, the West Wales composite team have come back strongly and after the 2nd place finish at the final league match in Cardiff last month, the team just missed out on the top three place to go on to the regional final, therefore it was the promotion match instead over in East Wales.
Despite gaps in the team again due to the holiday period, It turned out to be a great day for the two West Wales teams - with Swansea Harriers and West Wales finishing in the top 2 on the day, and in the process maintaining their positions in the main premier division for next season where they will still be up against the top teams in Wales and England. Performance today by the athletes that turned out was above and beyond expectation with many of them volunteering to do events that they would never usually do.
After long journeys and hard competition, it's been great to finish off on a positive note. Thank you to all the athletes from all clubs - Pembrokeshire, Carmarthen, Llanelli and Neath and the team managers who has been part of the composite teams' success this summer. It starts all over again next April!
Handful of Carmarthen athletes in Newport Results:
Trystan Leech; 400m (59.02) 800m (2.22.76) & High Jump (1.55m)
Tomos Rees; 400m (57.35) & 1500m (4.23.69)
Gareth Thompson; 800m (2.14.24) & Shot (6.70m)
Ben Thomas; 1500m (4.16.40) & 1500m SC (4.59.76)
Archi Morgan; 1500m SC (5.08.23)
Carwyn Morris; Javelin (48.11m)
Lauryn Davey; Long Jump (5.03m) & High Jump (1.55m)
Amy Evans; Javelin (28.47m) & Discus (10.44m)
Celyn Williams; 100m (13.09m) & 200m (27.03)
Eva Edwards; 1500m (5.21.04) & Triple Jump (7.37m)
Grace Page; 1500m SC (6.26.32)
Danielle Jones; Shot (10.44m) Discus (33.26m) & Javelin (21.99m)
Cerys Davies; 1500m (5.37.33)
In other news: two of our talented West Wales throwers out in the Bahamas...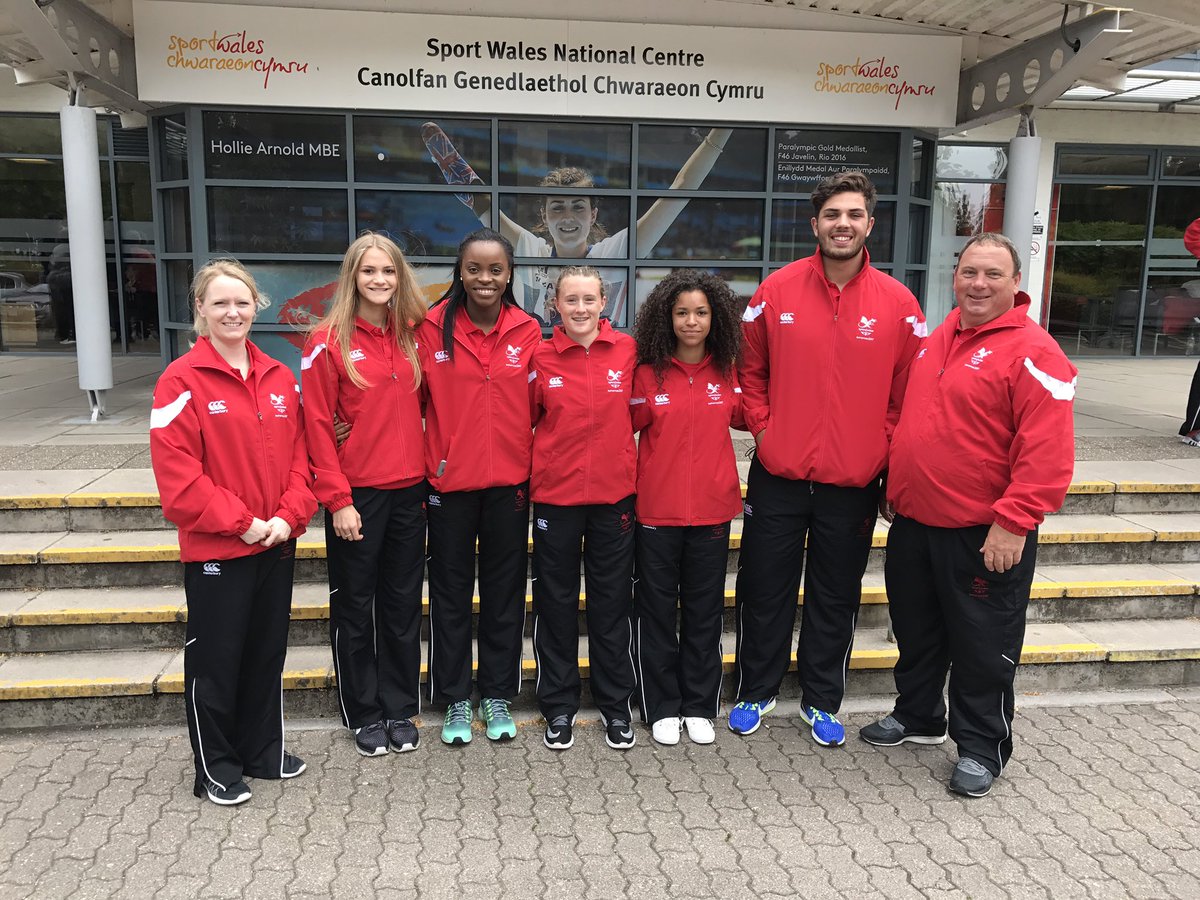 This week, the Commonwealth Youth Games have taken place out in the Bahamas on July 18th to the 23rd and Team Wales was being represented in several sports. Young athletes from 70 nations and territories experienced the event and was the largest international sporting event ever to be hosted in the Bahamas, with up to 1300 athletes aged 14-18 making the most of an inspiring and immersive mix of impactful sporting competition, personal development and new Commonwealth friendships.
As the Team Wales chef de mission said before the games "It's not about medal-winning - it's about the learning and education that the young athletes will have in that environment."
It was great news to everyone in Wales to hear that six athletes were selected to compete at the games, including two of West Wales' finest throwers: James Tomlinson & Bethany Moule.
JAMES TOMLINSON: James competed in the boys discus on Thursday evening (July 20th) After opening round distances of 59.11m and 60.04m, he improved again and threw out beyond 60m to 60.11m and this was good enough to earn him a silver medal in second position. James during the competition also had to contend with an hours delay due to the stormy weather. He was also joined on the podium that evening by Sarah Omoregie (Cardiff) who claimed a silver medal in the U18 shot with a new British record; best of 16.74m. Sarah started her athletics career with Pembrokeshire Harriers before moving to Cardiff.
Tomlinson is with Pembrokeshire Harriers and regularly trains at the Carmarthen track, a pleasure to see attend and compete at the Carmarthen open throws on the last Thursday of each month, is a very reliable athlete at Dyfed schools and West Wales competitions and trains hard.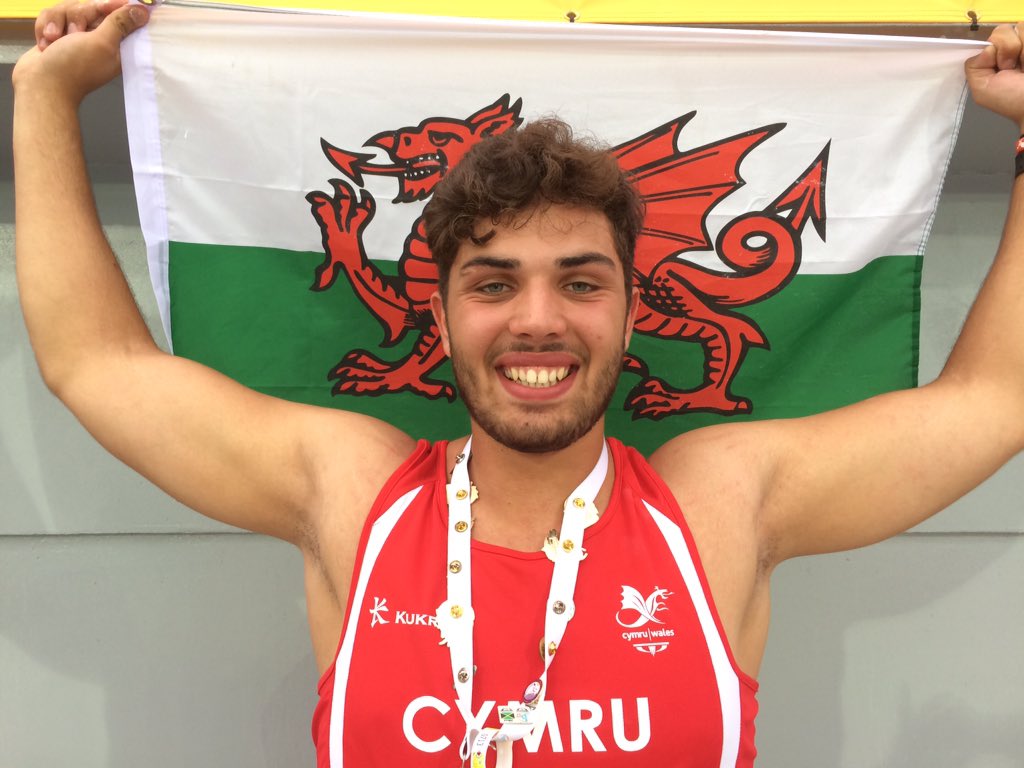 BETHANY MOULE: Bethany competed in the girls javelin on Saturday afternoon (22nd July) and was the youngest member of the Wales squad at only 15 years of age. Again, she had to contend with blustery conditions however she handled it very well. Bethany's first throw of 39.22m was improved by almost 5 metres with her best of the evening of 43.27m with the other throws also being consistent. She finished in a respectable 6th position out of a total of 14 competitors and would have certainly learned so much from the experience at being at a high level event at such a young age!
Moule, who has already broken several records this year including the Afan Nedd Tawe Schools and Welsh Schools, is with Neath Harriers and is a pleasure to see attend and compete at the Carmarthen open throws on the last Thursday of each month, is a very reliable athlete at Afan Nedd Tawe and West Wales competitions and trains hard.
James & Bethany are great role models for all young athletes in West Wales and helped along by the coaches Paul Jensen and John Davies. Congratulations to both and hope to see others following in their footsteps in the future!