Written by Nathan Jones
Sunday, 16 July 2017 18:45
It's all about the U17+ this weekend with action from the Welsh Athletics Outdoor International, SIAB Schools International & Welsh Athletics League Latest / Merthyr Mawr on July 12th-16th...
Welsh Athletics Outdoor International 2017 - Cardiff
The facilities of the Cardiff International Sports Stadium again welcomed the best regional under 20 teams from England South, England Midlands, England North, Welsh Schools and the Welsh under 20 to compete at the end of summer season outdoor international with a string of strong performances for the home team where Wales were victorious with 132 points, rounded off with quick times in the sprint relays of 41.66 and 48.91. Welsh Schools also were invited to field a team in which they all also produced encouraging results.
The Wednesday (12th July) evening's action also included the 3000m championships for under 15 and seniors along with the finals of the 4 x 100m U13/U15 club relays. In a great meeting which kept on delivering, the races continued long into the night with the presentation of team award made at 21:30.
Dyfed athletes from across Carmarthenshire, Pembrokeshire and Ceredigion played their part towards the success of the international and their results include the following: Congratulations to all nine on their achievements!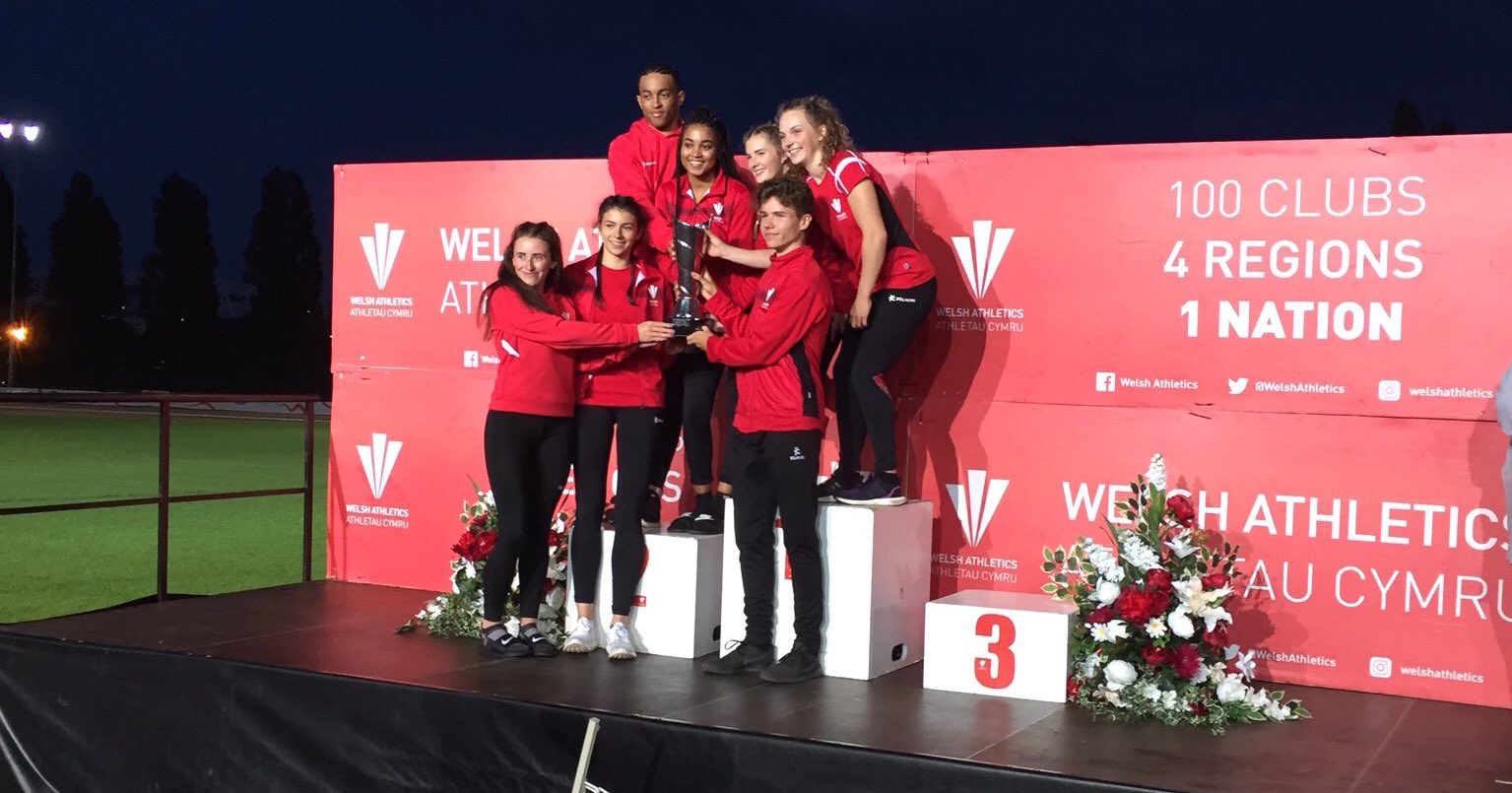 Iori Humphreys U15B 3000m (10.10.63)
Abigail Buxton High Jump WA (1.62m)
Lauryn Davey High Jump WSAA (1.58m)
Lucy Omnet 1500m WSAA (5.04.46)
Matthew Williams 800m WA (1.53.79)
Carys Jones Pole Vault WSAA (3.35m)
Nathan James Javelin WA (62.46m)
William Edwards High Jump WA (1.96m)
James Tomlinson Discus WA (57.96m)
SIAB Schools International - Ireland
Saturday 15th July saw the highlight of the WSAA summer programme with the Schools International Athletic Board's track and field international, this year hosted by Irish Schools at the Morton Stadium in Santry on the outskirts of Dublin, with the nations having another opportunity to compete against each other from England, Ireland and Scotland.
A team of 72 athletes (36 boys and 36 girls) was chosen by selectors from across Wales with 4 North Wales based athletes complimenting those chosen from the South. Following a ferry trip from Pembroke and an overnight stay, the team were ready for battle on Saturday morning.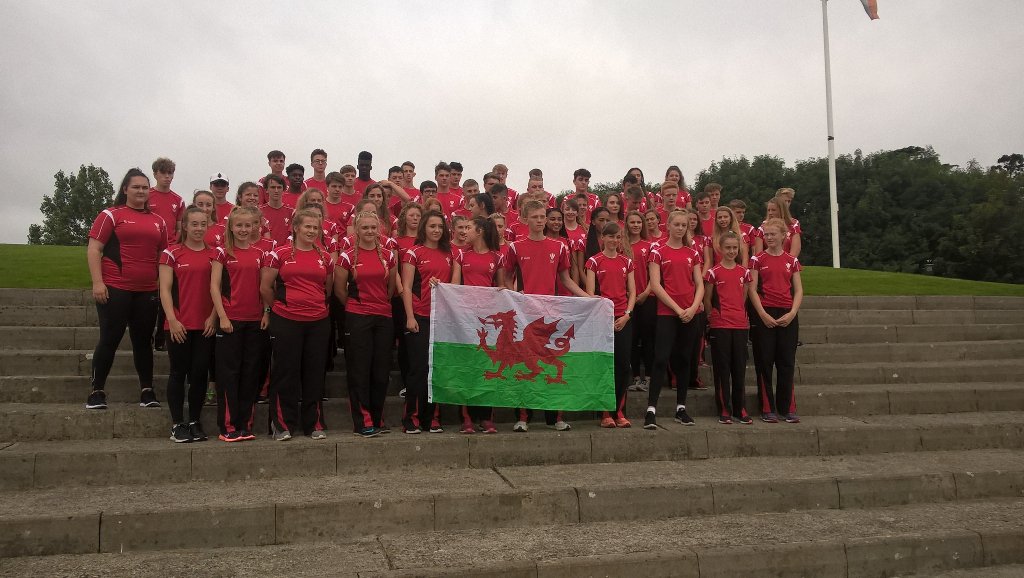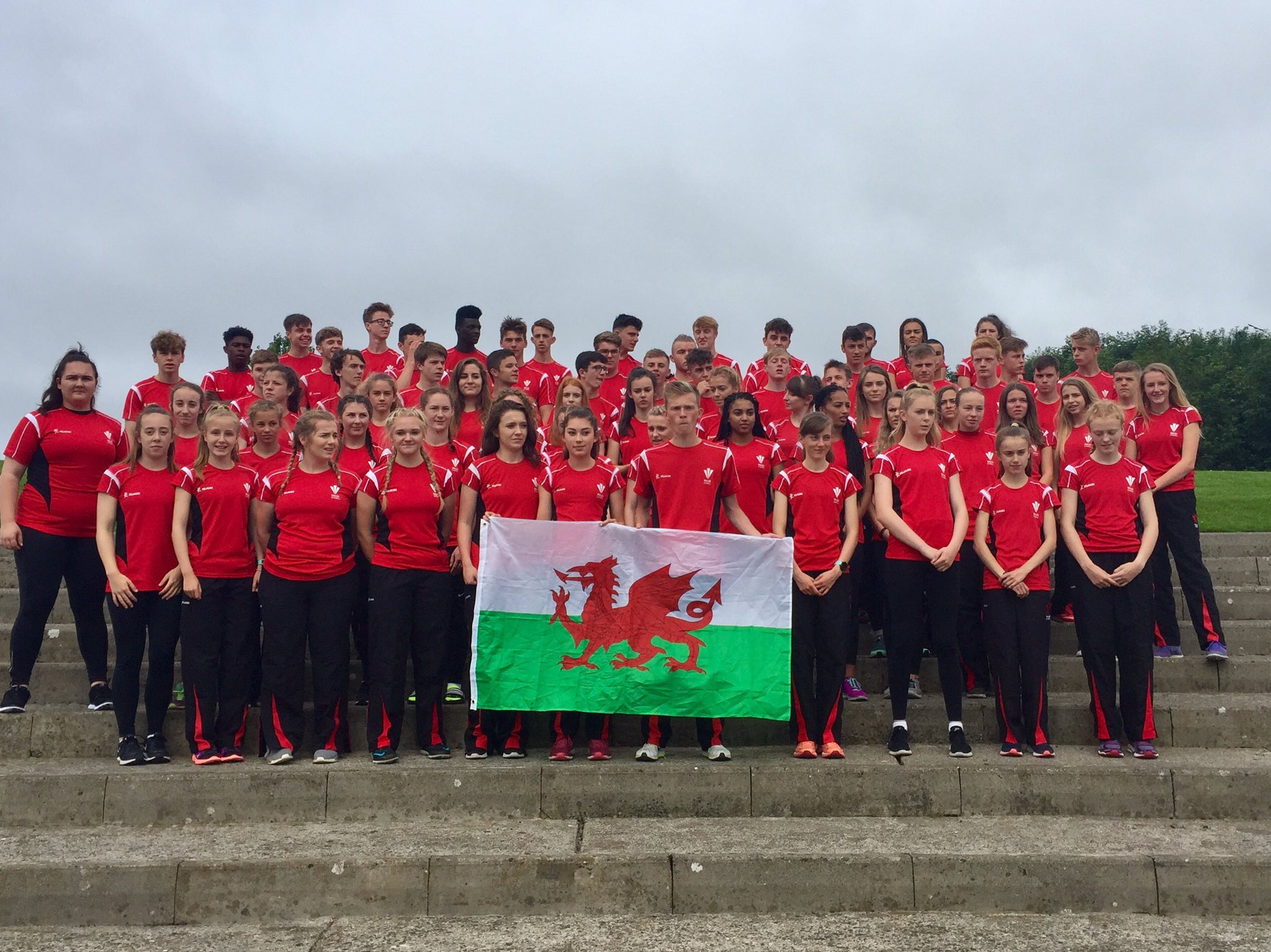 The majority of athletes selected were from the Middle age grouping (under 17s) however there was a small number of outstanding juniors (under 15s) who were given the opportunity to gain experience of this level of competition for the first time. The squad were supported by a management of 8 led by Welsh Schools International Secretary Dai Gatehouse. The others were: Joan Goldsmith, Helen John, Delyth Brown, Naomi Davies, Graham Thomas, Zane Maynard, Peter Walton and Steve Jones.
The team looked to improve on the medal tally of 14 achieved last year in Kent and they certainly did that by collecting more 15 this time around...24 altogether (including relays)! The team will target up to 20 at the 2019 event in Swansea. Team score wise, both girls (118) and boys (134) came third in their gender and as a result were third overall ahead of Scotland.
All 72 excelled on the big stage as they went head to head with Scotland and particular strong line ups in the England and Ireland teams. In amongst them, it was great to see a total of 12 Dyfed schools athletes selected to join up with their country teammates. Many congratulations go to them and their coaches/parents who have encouraged and prepared them towards SIAB:
Alicia Samuel Dyffryn Aman 100m NS (12.86) & Relay BRONZE (49.46)
Ben Thomas Strade 1500m steeplechase SILVER (4.29.31)
Mollie Dainton Coedcae 3K walk (18.23.22)
Thea Jenkins Dyffryn Taf High Jump (1.55m)
Lili Church Aberaeron High Jump (1.55m)
Danielle Jones Queen Elizabeth Discus (35.08m)
William Lloyd Preseli 400m hurdles (58.00)
Owain Nicholas Bro Gwaun 3K walk (17.17.93)
Caleb Nicholas Preseli High Jump (1.75m)
Joe Worrall Newcastle Emlyn Discus (48.49m) & Shot (11.43m)
Josh Thomas Queen Elizabeth Javelin (50.12m)
Eli Onyewu Dyffryn Aman Relay SILVER (42.11)
Welsh Athletics Senior League - Neath
Having been to Newport and Brecon already over the last few months, our next destination of the Welsh Athletics U17, U20 and Senior league moved onto Cwrt Herbert Track in Neath on Sunday 16th July for fixture 3 of 4. With the fourth match in Swansea at the end of the month, the West Glamorgan event involved most of the events on the track and field.
Following the SIAB the day before including British men's and women's league too across the UK, the number of top class Welsh athletes were not all out on show, nonetheless there was a decent turn out of around 180 registered to compete throughout the day. Another rather small squad from the Harriers made the relatively short trip up the M4 to compete and results are listed below: well done and thanks to those who made the effort, including one or two held up in traffic after an accident en route!
Megan Rowe 100m (13.30) & 400m (63.00)
Kyle Bishop 100m (12.17) & Relay
Tomos Rees 400m (57.52) 800m (2.03.1) & Relay
Dwayne Griffiths 400m (53.86) & Relay
Jake Morgan 400m (55.67)
Non Morgan 1500m (5.41.20)
Grace Page 1500m (5.56.00)
Trystan Leech 1500m (4.49.75) & Relay
Cerith Evans 1500m (4.45.09) & Relay
Sam Bleach Javelin (41.56m)
Carwyn Morris Javelin (47.20m)
Merthyr Mawr Trail Running Festival
It was another good day for one of our senior members - Sharon Leech who on Saturday finished as the 2nd female in the Giant Rabbit 18 mile fell race as part of the Merthyr Mawr Trail Running Festival. The run was through variety such as sand, mud, dunes and marshland.