Written by Nathan Jones
Thursday, 13 July 2017 23:40
A double-header midweek special took place this week on Thurs 13th July for primary and secondary school children featuring all Welsh districts. All the coverage from our day out on the road...
All photos from Nathan Jones at Brecon & Carmarthen on 13/07/17. For more online updates, photos and tweets as it happened for those who couldn't be present and for followers to follow back home, visit the club's social media pages: These events will also appear in the Dyfed local newspapers next week!
https://www.facebook.com/CarmarthenHarriers/
https://twitter.com/CarmsHarriers
#Part1 of Thursday's Double-Header: NASUWT Cymru Cup & Plate Schools Finals 12:00-17:00
After the success of the Welsh National Track & Field Championships in Cardiff at the start of the month, it was the turn of school teams to make the most of their opportunity at arguably the biggest grass roots competition secondary schools in the summer term - the NASUWT Cymru Cup & Plate Finals held at our first destination of the day - the Penlan Arena Track in Brecon.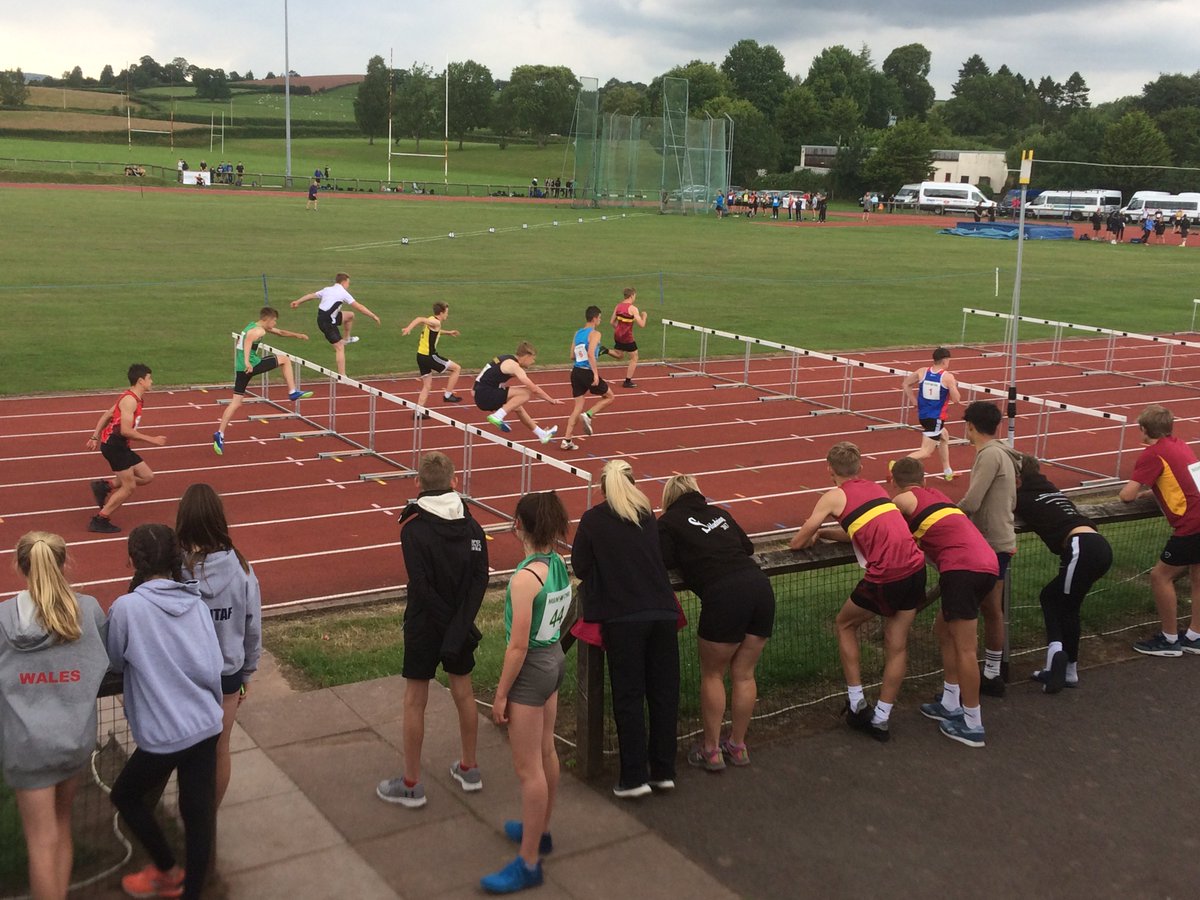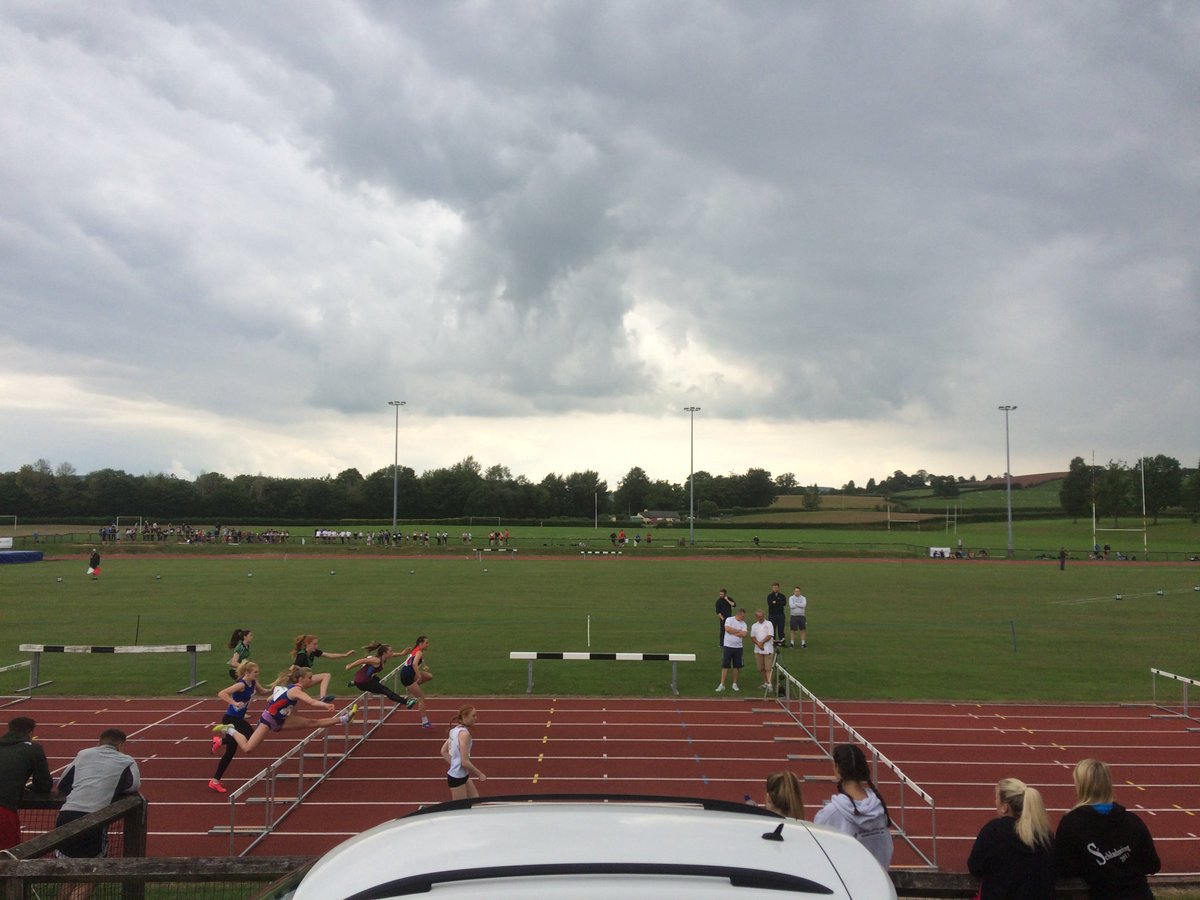 The cup competition had been organised each year since 1988 while the plate final was added in 2007. A total of 38 schools from across the eight districts in Wales - Afan Nedd Tawe, Cardiff & Vale, Dyfed, Eryri, Glamorgan Valleys, North East Wales, Powys and South East Wales - qualified to field sixty-four teams at the finals.
Under 14 / O dan 14 - Under 14 years (normally year 7 & year 8 pupils) on August 31st, 2017
Under 16 / O dan 16 - Over 14 and under 16 years (normally year 9 & year 10 pupils) on August 31st, 2017
Each representative taking part was awarded with a medallion in recognition of their achievement in being a member of the winning team within their district and progressing to these finals, meaning that this was a team competition than individuals. The sprint hurdles started the races at 12 midday and team scores were announced 5 hours later when all events had been calculated and recorded. Events over the duration of the competition were:
Track: Sprint Hurdles, 1500m, 200m, 300m, 100m, 800m & 4 x 100m Relay Field: Long Jump, Triple Jump, High Jump, Shot, Discus & Javelin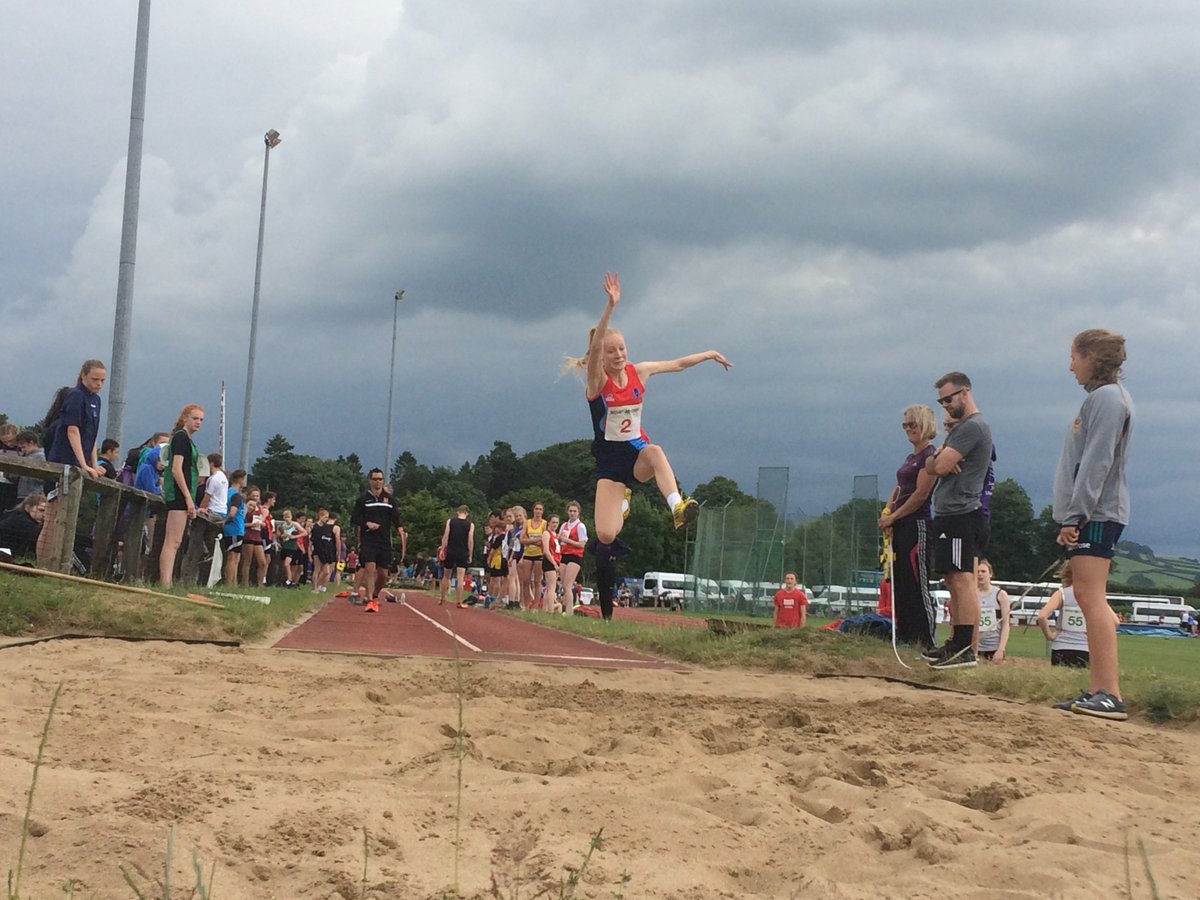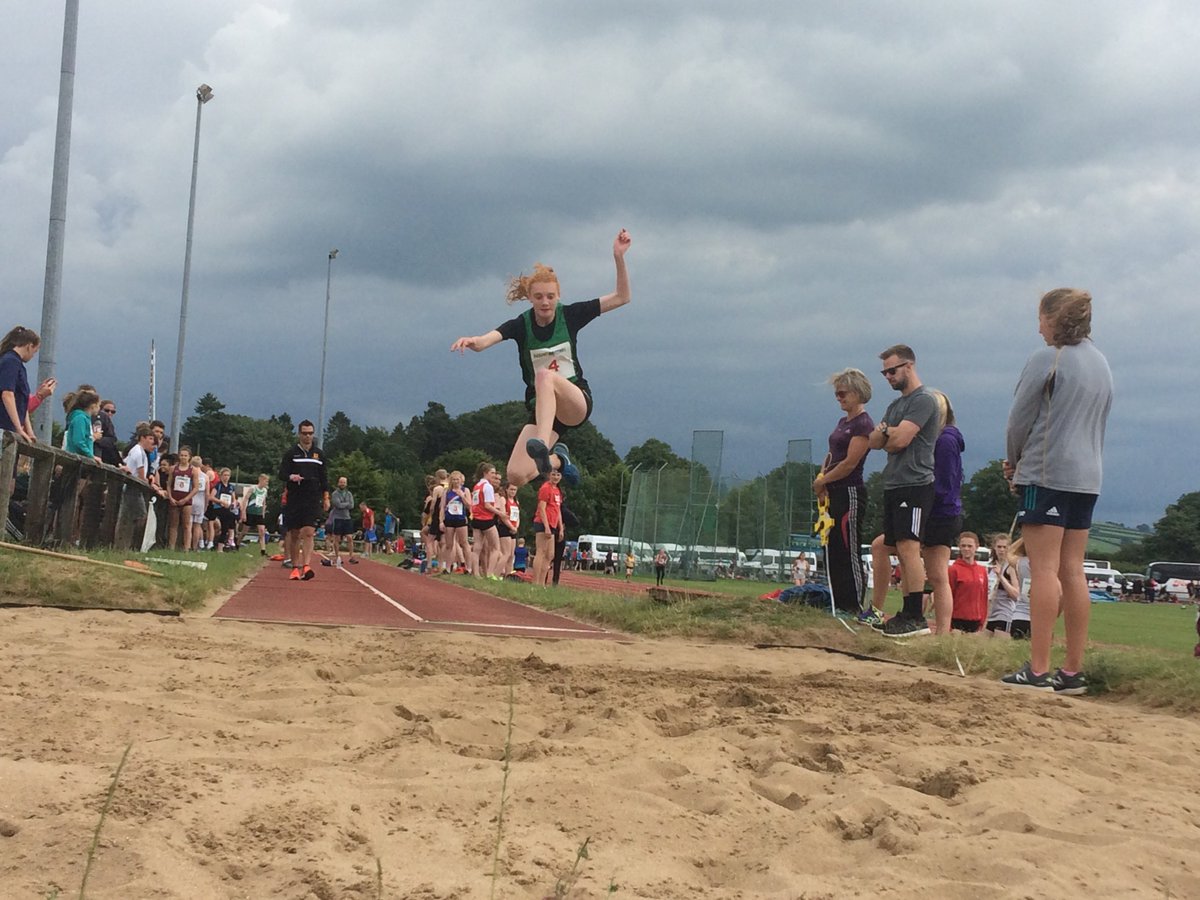 It turned out to be a great day of top class athletics up in Mid Wales and despite a few heavy showers forecasted, it remained dry for most of the day with a light breeze making for ideal conditions to get a good performance. In addition, the competitions did see a few new championship best set - 6 in the cup competition and 8 in the plate competition. With team scores close throughout the day, every single point was important in every position.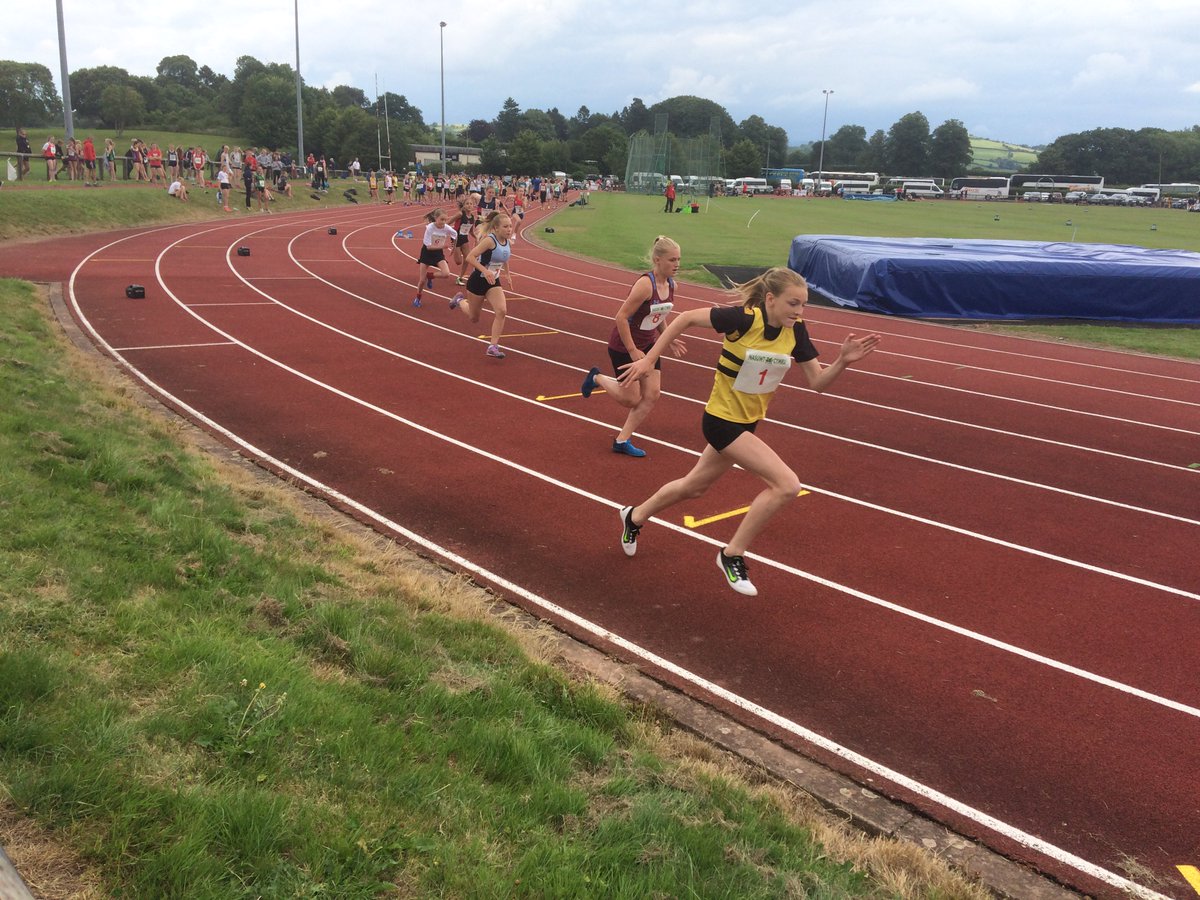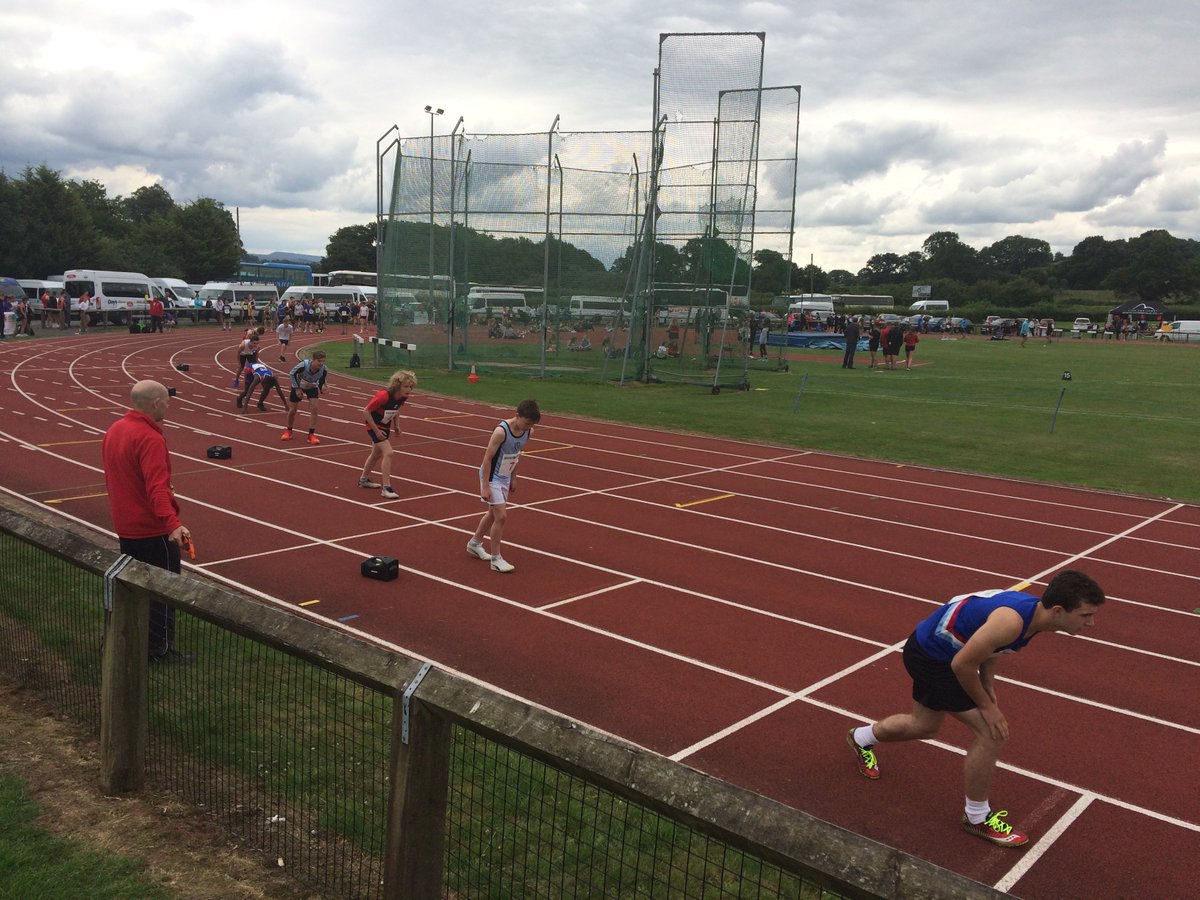 This year, athletes were able to compete in front of an Olympic athlete in Goldie Syers who had an outstanding career. One of her achievements was an Olympic bronze medallist in 2008. Goldie was present aspiring future stars and also presented medals to all the team captains.
Six schools from the Dyfed district won their respective age groups in the Haverfordwest area final last month (21 June) and travelled to Brecon looking to compete with the best in the country in a competition full of high stands. All schools excelled, with numerous wins and top placing finishes. The best result of the day came from the Bro Dinefwr junior girls, who were the plate winners.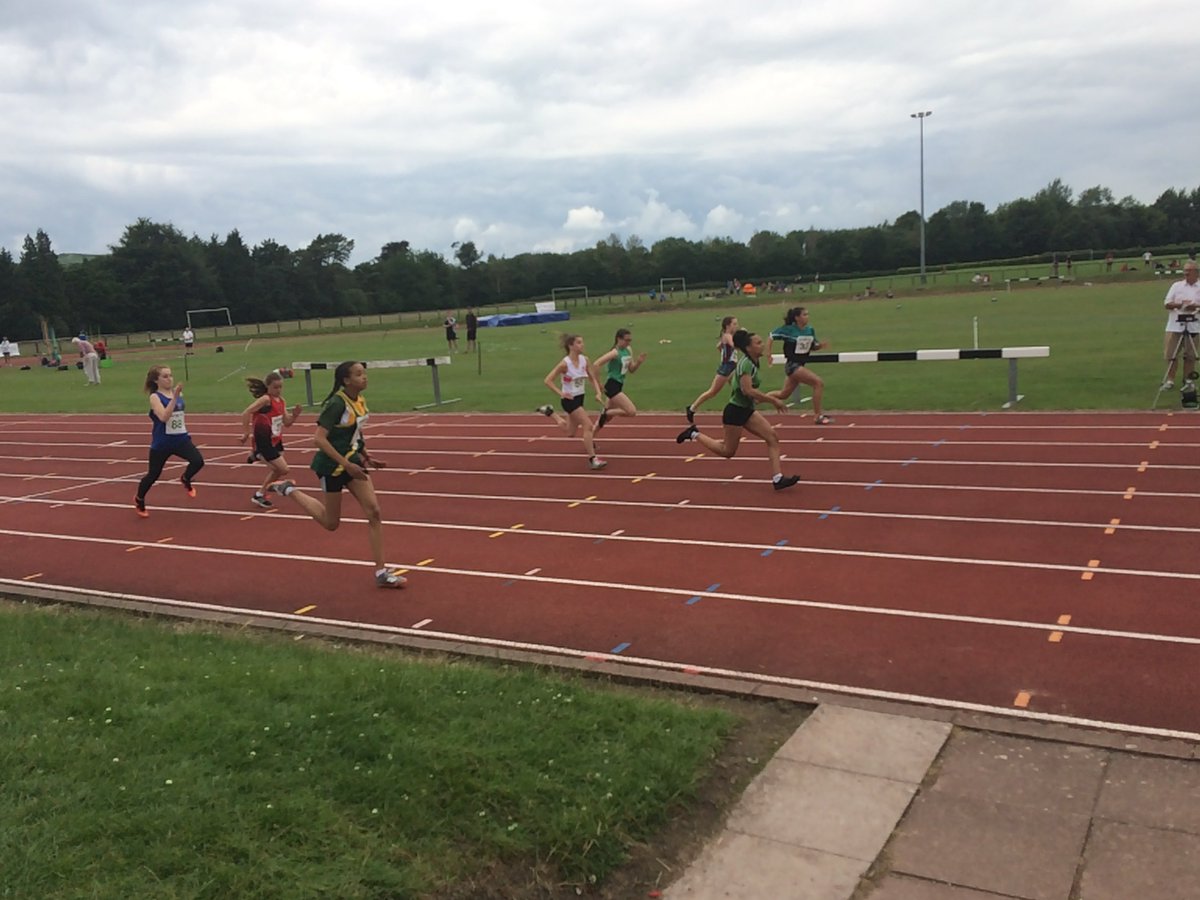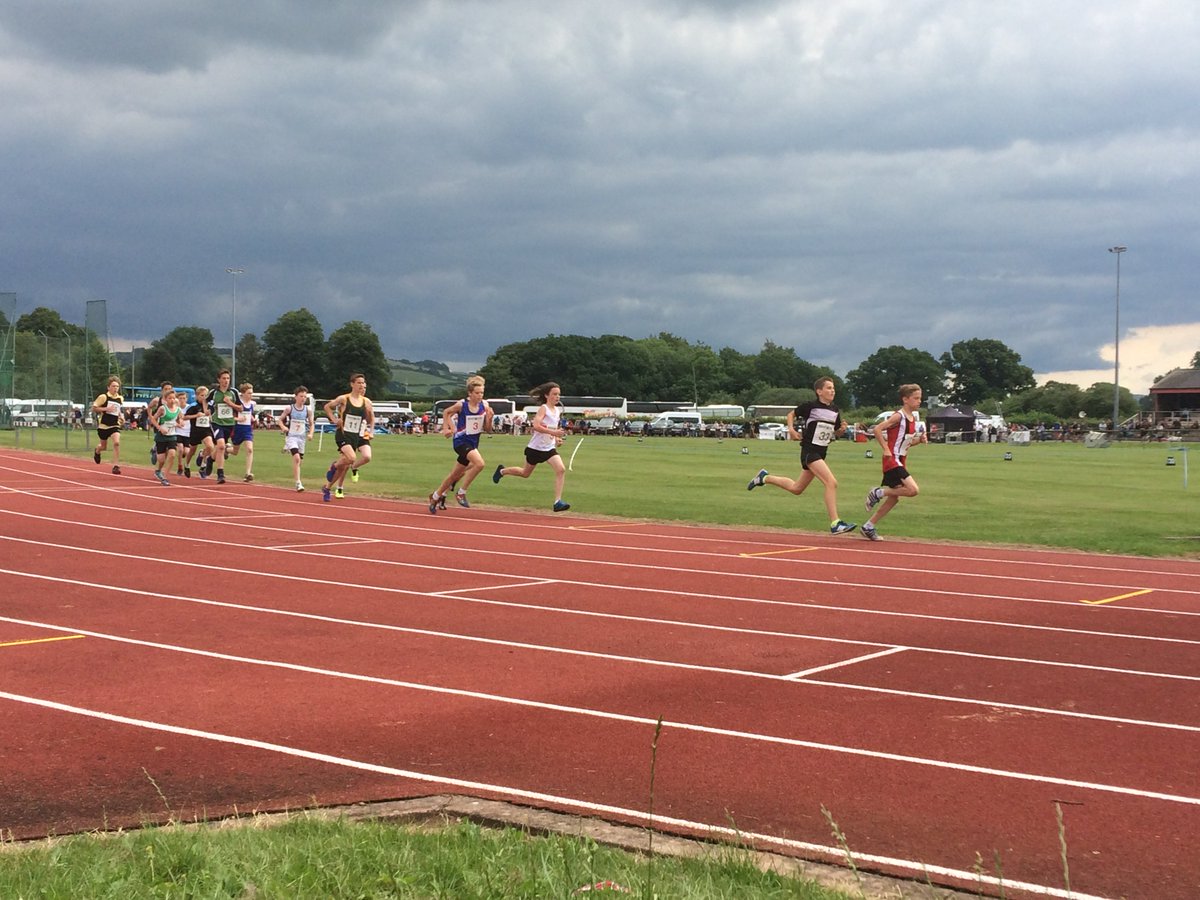 DYFED SCHOOLS TEAM RESULTS IN FULL:
Dyfed Schools Results: Ysgol Bro Myrddin, Brianne (Junior Boys Plate 4th 53pts & Junior Girls Cup 6th 46pts); Ysgol Bro Dinefwr (Junior Girls Plate 1st 73 pts); St Thomas Picton School (Junior Boys Cup 3rd 59pts, Middle Girls Cup 7th 48pts & Middle Boys Plate 2nd 75pts); Ysgol Y Preseli (Middle Boys Cup 3rd 72pts) & Ysgol Dyffryn Taf (Middle Girls Plate 3rd 64pts)
Junior Boys Cup / Cwpan Bechgyn Iau: 1 Cardiff High School (80pts) 2 Cwm Rhymni Gelli Haf (77pts) 3 Sir Thomas Picton (59pts) 4 Olchfa (54pts) 5 Croesyceiliog (53pts) 6 Hawarden High (48pts) 7 Syr Hugh Owen (38pts) 8 Caereinion (34pts)
Junior Boys Plate / Plat Bechgyn Iau: 1 Whitchurch High (72pts) 2 Monmouth (66pts) 3 Bishopston (64pts) 4 Bro Myrddin (53pts) 5 Botwnnog (52pts) 6 Morgan Llwyd (50pts) 7 Welshpool High (50pts) 8 Brynteg (34pts)
Junior Girls Cup / Cwpan Merched Iau: 1 Glantaf (89pts) 2 Syr Hugh Owen (64pts) 3 Gwyr (63pts) 4 GCRh Y Gwyndy (52pts) 5 Caereinion (50pts) 6 Bro Myrddin (46pts) 7 Caerleon (41pts) 8 Hawarden High (38pts)
Junior Girls Plate / Plat Merched Iau: 1 Bro Dinefwr (73pts) 2 Radyr (69pts) 3 Cwm Rhymni Gelli Haf (62pts) 4 Brynrefail (59pts) 5 Bishopston (49pts) 6 Newtown (45pts) 7 Bassaleg (44pts) 8 Morgan Llwyd (42pts)
Middle Boys Cup / Cwpan Bechgyn Canol: 1 Gartholwg (78pts) 2 Stanwell (78pts) 3 Y Preseli (72pts) 4 Friars (60pts) 5 Newbridge (59pts) 6 Newtown (46pts) 7 Olchfa (43pts) 8 Maelor (41pts)
Middle Boys Plate / Plat Bechgyn Canol: 1 Corpus Christi (79pts) 2 Sir Thomas Picton (75pts) 3 GCRh Y Gwyndy (72pts) 4 Castell Alun High (56pts) 5 David Hughes (55pts) 6 Caerleon (52pts) 7 Gwyr (46pts) 8 Welshpool High (40pts)
Middle Girls Cup / Cwpan Merched Canol: 1 Glantaf (71pts) 2 Olchfa (70pts) 3 Caerleon (55pts) 4 Morgan Llwyd (54pts) 5 Y Creuddyn (53pts) 6 Cwm Rhymni Gelli Haf (51pts) 7 Sir Thomas Picton (48pts) 8 Welshpool High (41pts)
Middle Girls Plate / Plat Merched Canol: 1 Radyr (73pts) 2 Gwyr (67pts) 3 Dyffryn Taf (64pts) 4 GCRh Y Gwyndy (60pts) 5 Eirias (57pts) 6 Newtown (49pts) 7 Gwynllyw (46pts) 8 Hawarden High (20pts)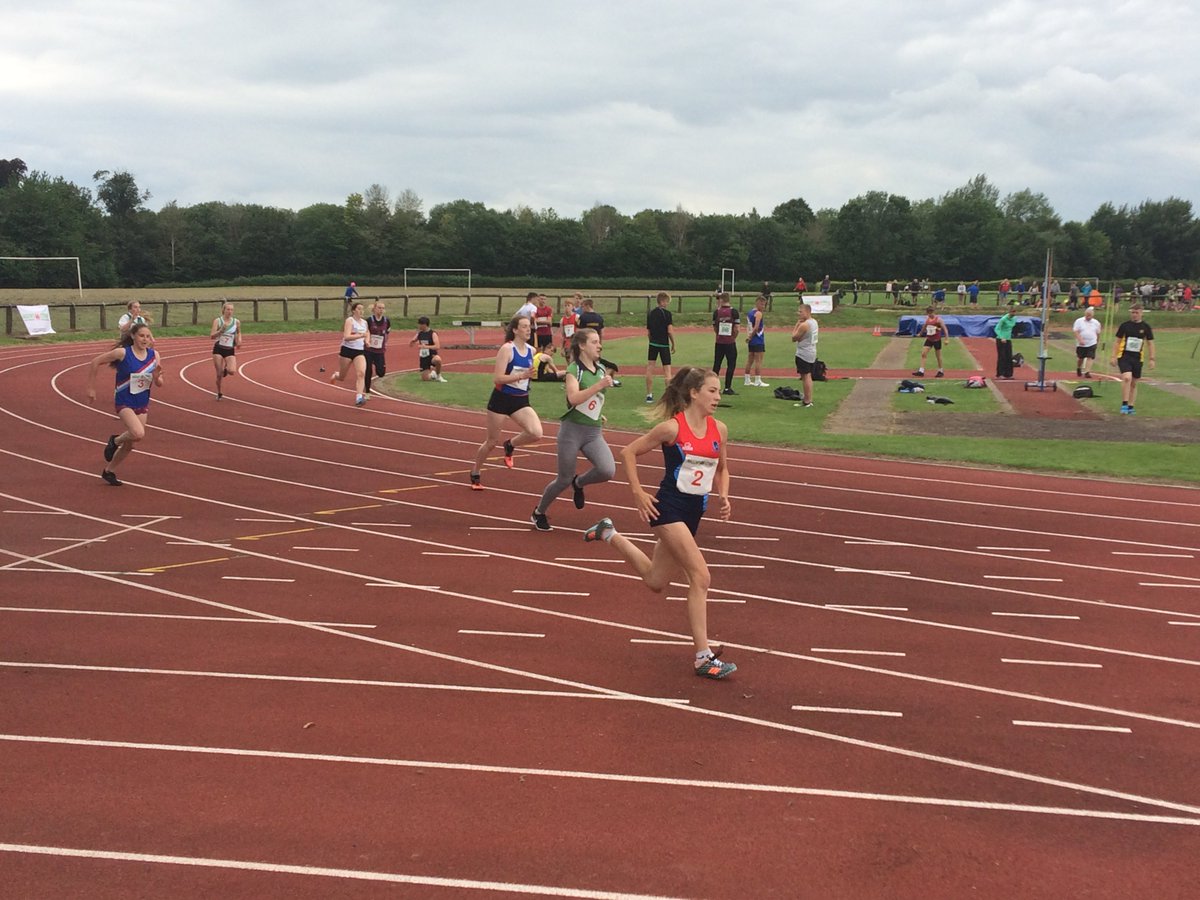 NASUWT CYMRU CUP & PLATE FINALS 2017 RESULTS
Results Coordinators: Darran Williams & Rhiannon Linington-Payne

#Part2 of Thursday's Double-Header: Dyfed v West Glamorgan Primary Schools Match 17:15-19:00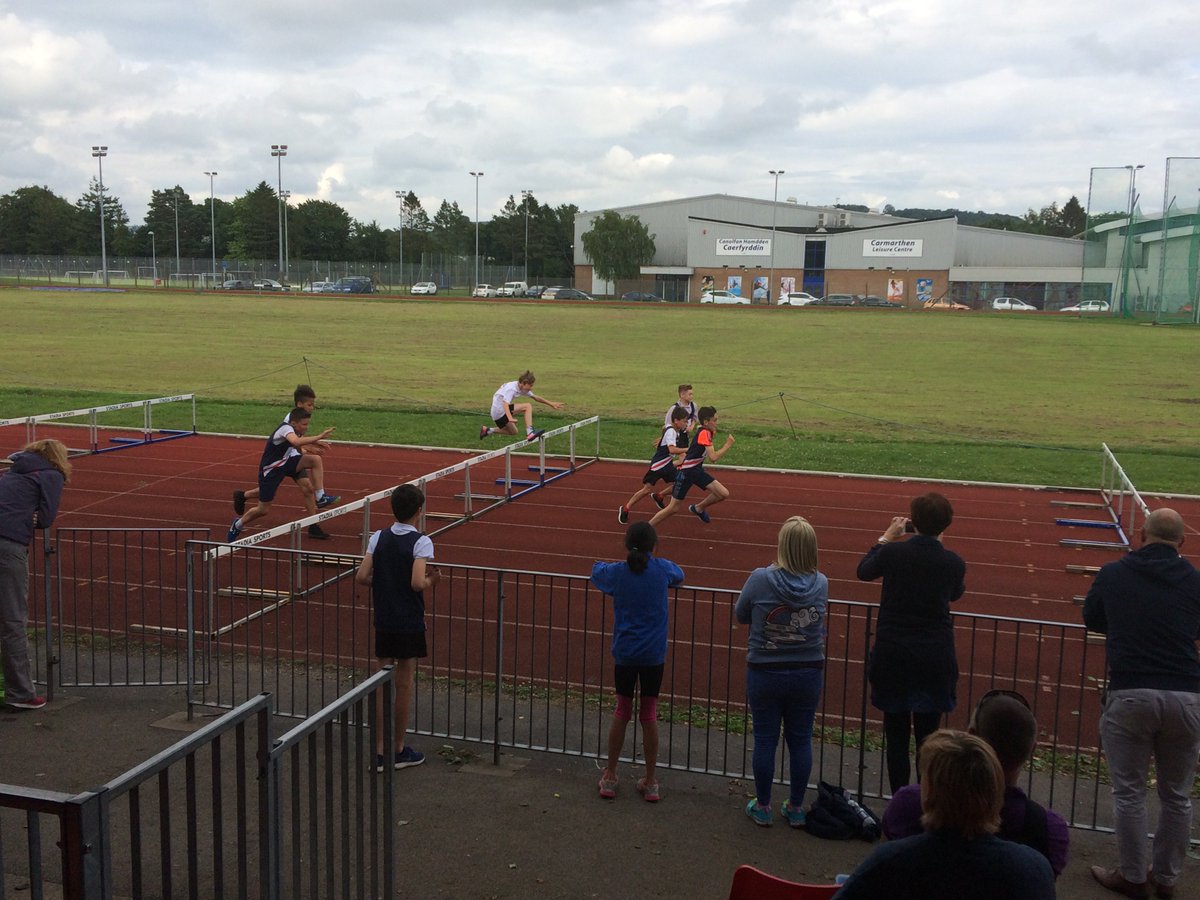 As the action finished in Brecon, we were back in Carmarthen as the evening's programme was just getting underway in West Wales for event number 2.
The annual Dyfed v West Glamorgan Primary Schools Inter County Athletics match this year came to the Carmarthen Leisure Centre Track in Johnstown this week in an end of the season friendly meeting which has now become a fantastic event on the annual calendar, giving young athletes from across West Wales the chance to compete at primary school level. All those that took part in the competition were selected after finishing in the top 4 at the respective Dyfed Primary Schools and West Glamorgan Primary Schools events throughout the recent weeks: Dyfed (14 June) West Glamorgan (3 July)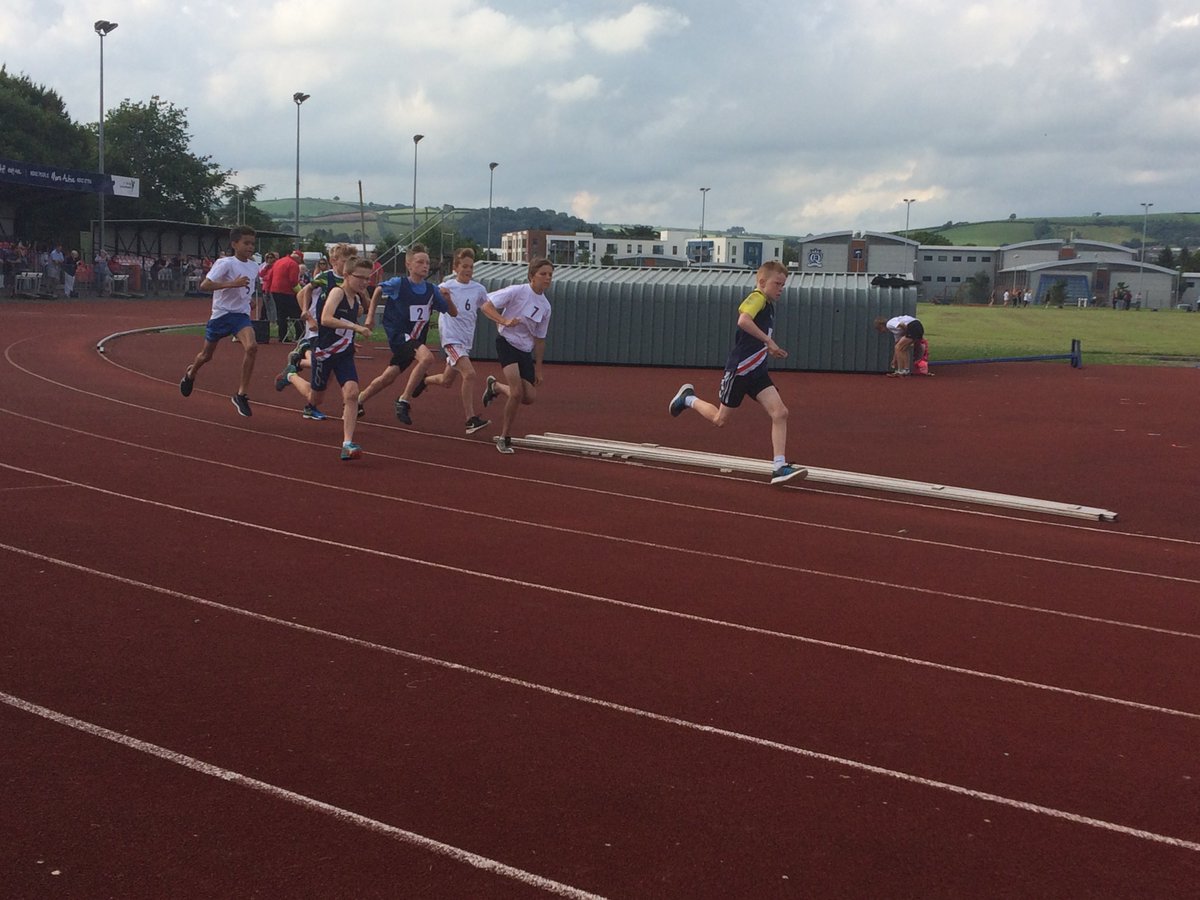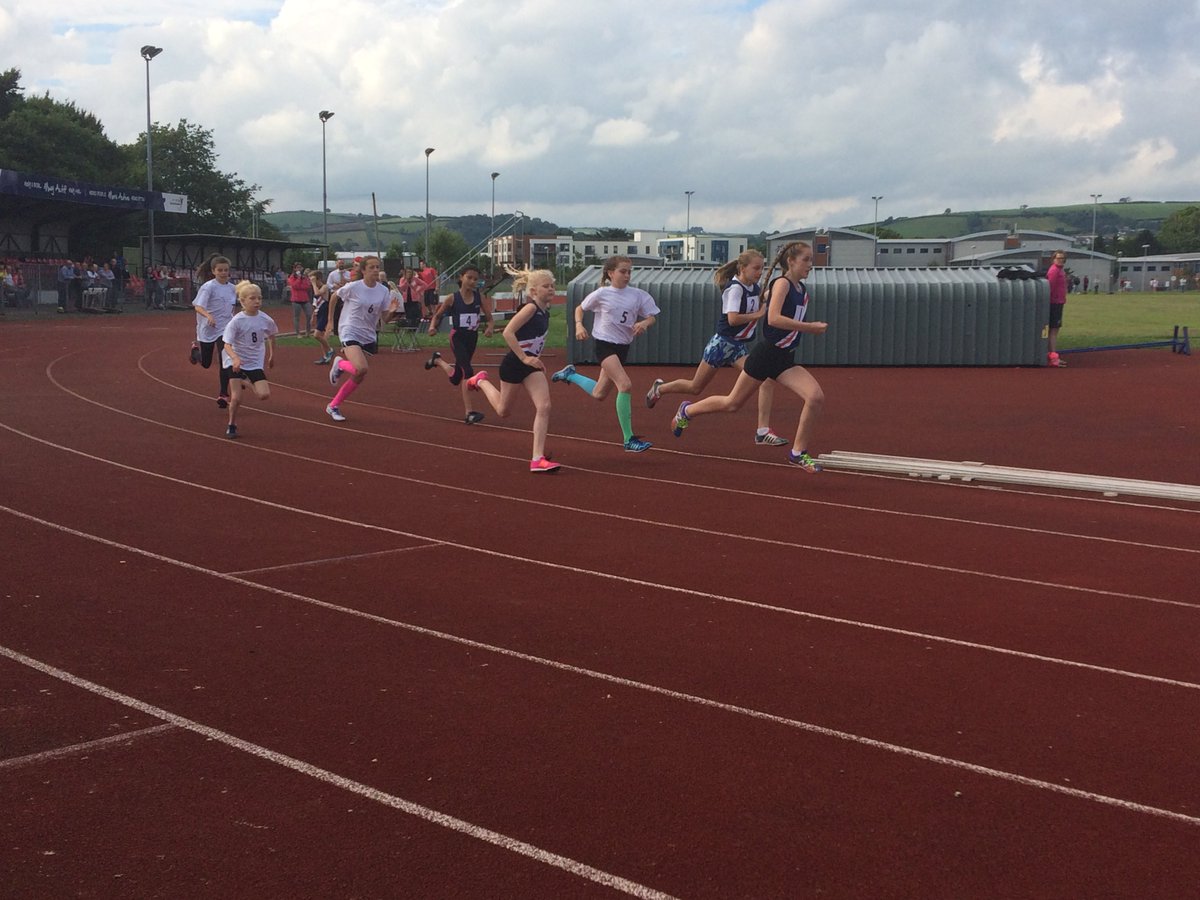 Watched on by a good crowd who was present, The events on the evening included: 100m, 70m Hurdles, 800m, 4 x 100m Relay, Long Jump, Shot Put and High Jump with medals awarded to the top three in each event, presented by the Mayor of Carmarthen, Alun Lenny. There was a particular interest in the high jump as there were a few personal bests recorded and good entertainment.
Dyfed claimed the top positions in several events, including the sprint, middle distance and relays, with this contributing to the overall final score of Dyfed 179; West Glamorgan 100.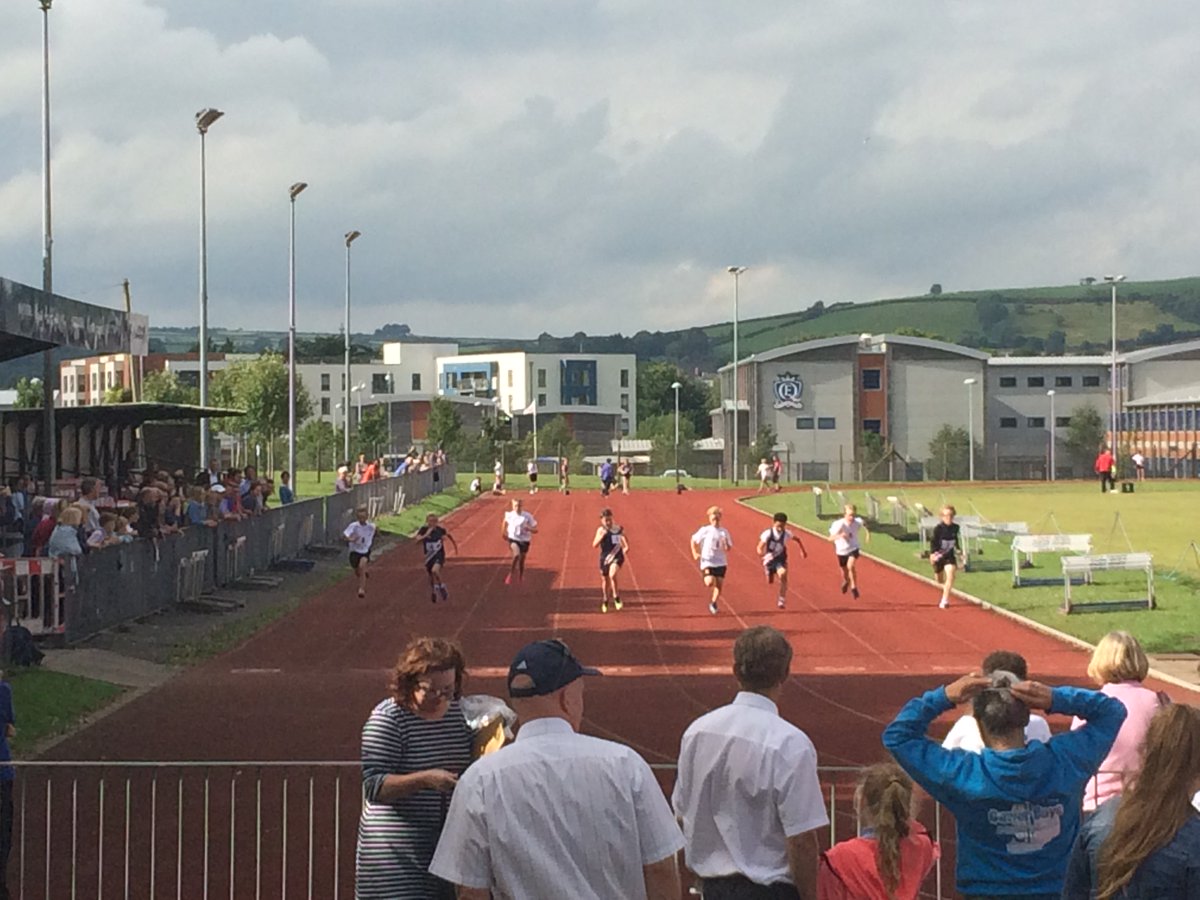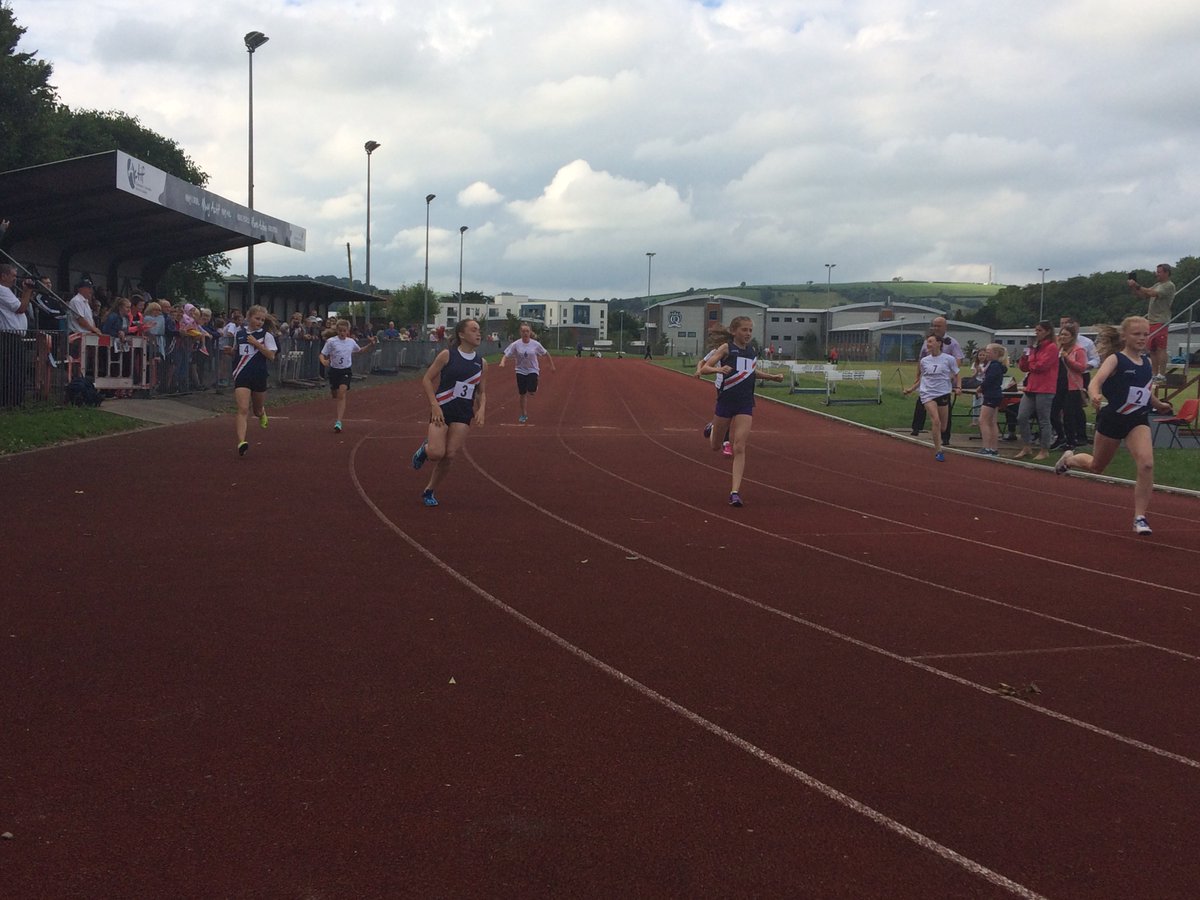 On a sunny evening, it proved to be a good win for the strong Dyfed team at home to continue the good form following the cross country in Margam Park during the winter. All those athletes were congratulated on their achievement in reaching the final to represent their district after producing good performances and hard training. The West Glamorgan team were second. The first event got going at 17:15 and the awarding of medals were completed by 19:00.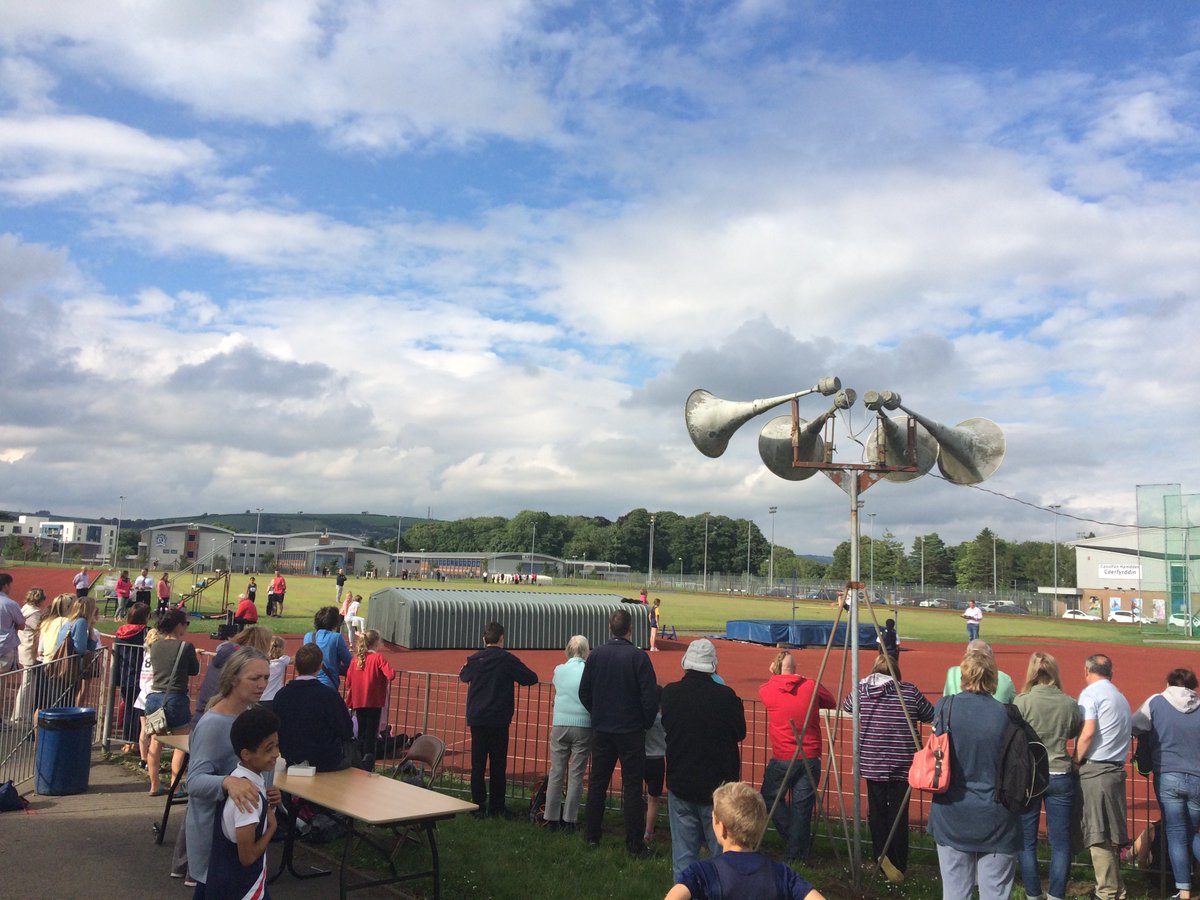 Congratulations to those from both districts that contributed to the cross country and athletics fixtures in making sure that they were again very successful in 2017; we look forward to next season. As usual, it's important to thank all those who have spent hours and days putting on all the qualifying and group matches during the year which led to this final event. Also to those who supported on Thursday without them the fixture would not have been possible.
Dyfed team: Tiaan Sparrow Gymraeg Rhydaman; Shivo Hinds Y Bedol; Llew Vardill Y Dderwen; Sion Davies Gymraeg Rhydaman; Harri Howells Y Dderwen; Jake Lewis Bro Banw; Osian Roberts Carreg Hirfaen; Steffan Hopkins Aberaeron; Ifan Bowen Y Dderwen; Jack Thomas Parc Waundew; Rhys Jenkins Aberaeron; Cai Lewis Brynaman; Dion James Y Dderwen; Jake Williams Griffith Jones; Bryn Southgate Aberaeron; Ceri James Penygaer; Oscar Miles Tenby; Tomos Lewis Y Dderwen; Morgan Evans Griffith Jones; Levi Morgan Y Castell; Ioan Mutter Lamphey; Tomos Phillips Gymraeg Rhydaman; Kasper Kracewicz Bro Pedr; Ioan Thomas Llangadog; Jason Clark Griffith Jones; Owain-Hari Davies Nantgaredig; Keira Carmody Model; Sophia Reid-Thomas Llangynnwr; Megan Roberts Gorslas; Chloe Simmonite Bigyn; Maisie Williams Griffith Jones; Julia Dabrowska Richmond Park; Bethan Adams Llangennech; Lucy Wintle Hafan Y Mor; Erin Morgan Y Dderwen; Bessy Hill Y Ddwylan; Hannah Forkuoh Bigyn; Freya Evans Griffith Jones; Eleanor White Roch; Jessica Lee Llys Hywel; Hanna Evans Y Ddwylan; Nell Allen Hafan Y Mor; Mila Roberts Griffith Jones; Julia Makejew Templeton; Ioan Melrose Llangennech; Lowri Jones Aberaeron; Ffion Davies Saron
West Glamorgan team: Zane Entwistle St David's; Joey Davies Cwmrhydyceirw; Alfie Downing Brynymor; Harrison Garcia Bryniago; Euan Riley Penyfro; Oliver Clarkson St David's; Jay Jardine Oystermouth; Matthew Lewis Bishopston; Christian Garcia Bryniago; Morgan Willis Sketty; Bradley Butchell Penllegaer; Max Thomas Ynystawe; Iwan Batcup Pontlliw; Tiago Pontes Terrace Road; Solomon Dilly Lonlas; Katie Lake Penllegaer; Megan Gwyther St Joseph's; Leni Beard Knelston; Jessica Lloyd Penllegaer; Sarah Lyons Christchurch; Lili Keeble Cwmrhydyceirw; Mai Davies Bryniago; Macie Lee Williams Cwmrhydyceirw; Sasha Powell St Joseph's; Libby Hale Newton; Evelyn Bray Newton; Neve Dodd Penyfro; Misaal Khuram Trallwn; Izabelle Rabey St Joseph's; Daisy Bottrill Brynymor
DYFED V WEST GLAMORGAN PRIMARY RESULTS
Results Coordinator: Nathan Jones
Out on the road in Powys and Carmarthenshire...Thursday 13th July