Written by Nathan Jones
Monday, 26 June 2017 00:27
Another week...summer competitions are hotting up...more events to catch up on including from those at Tipton, Cardiff, Swansea, Italy, Germany & Dewi Griffiths.
BMC Tipton 20.06.17: On a warm and sunny Tuesday night (20th) 4 of the middle distance training group went to Tipton for the latest BMC Regional Race open to all ages. It turned out to be a successful evening with all 4 securing personal bests:
Ben Thomas 800m (1.59.3) 800m Iwan Glynn (2.03.9) 800m Callum Lovatt (2.09.9) & 1500m Archi Morgan (4.34.5) Thomas & Glynn's times are the fastest set in Wales so far this summer! Well done and keep up the good work.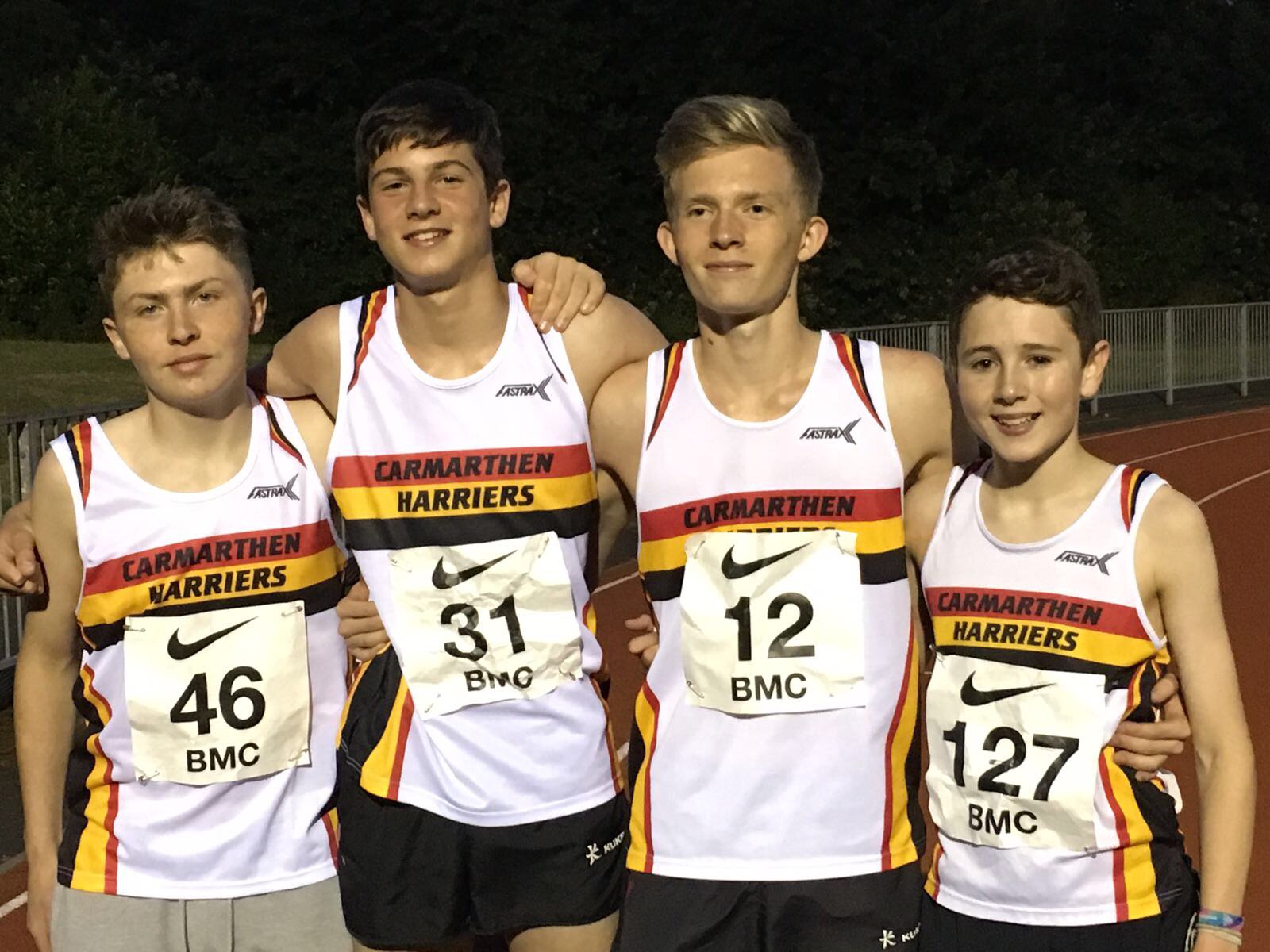 Welsh Athletics #RunWithTheWind Sprints Open Meeting 21.06.17: After a busy day of schools competitions in West Wales with the Dyfed & Afan Nedd Tawe U14 & U16 NASUWT Cup Finals at Haverfordwest and Swansea respectively, the third fixture of the day came from Cardiff International Sports Stadium with the 2nd sprints open meeting where over 100 athletes present recorded personal bests, some featured from the small talented Harriers U17, U20 and senior sprinters. Full Results below:
Glen Elsdon 110m Hurdles: 14.60; 100 metres: 10.86
Zak Daly 100 metres: 12.11 PB; 200 metres 24.29 PB
Rhun Edwards 100 metres: 12.35; 200 metres 24.43 PB
Alicia Samuel 100 metres: 12.57 PB
Celyn Williams 100 metres: 13.05; 200 metres 26.73 PB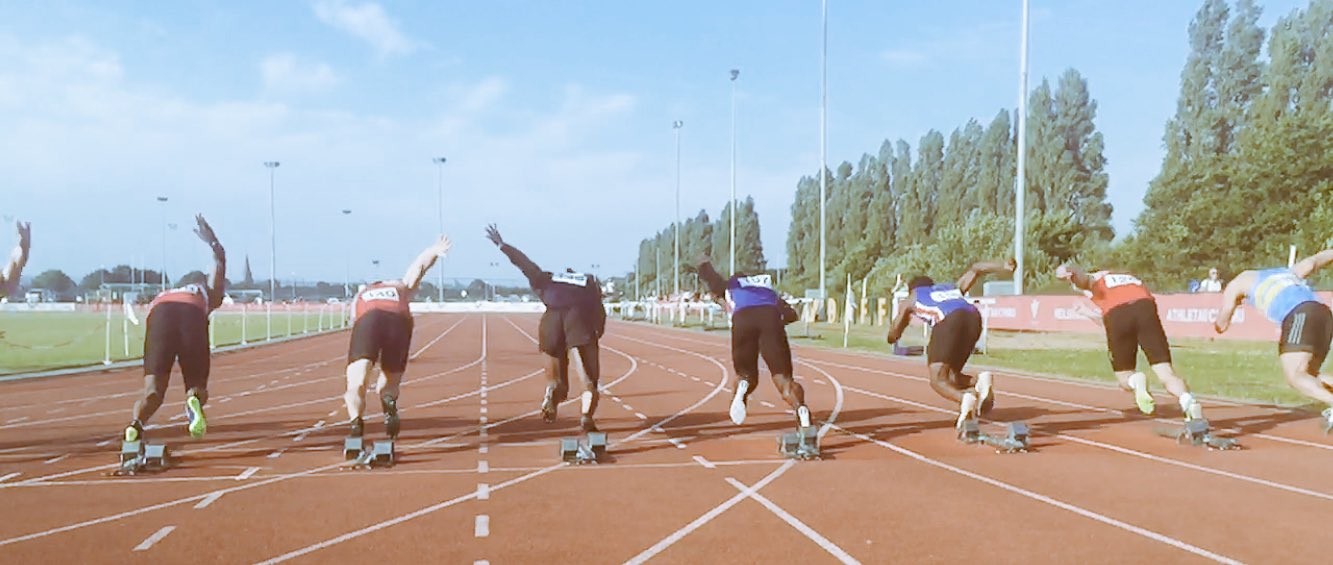 Combined Events Championships 24.06.17: Following a success last year, the Welsh Athletics & Welsh Schools Combined Events Championships returned to Swansea University on Saturday 24th June with events different in each age group. The event incorporated a run, throw, jump meeting for the under 11's.
Around 120 competitors from across Wales came to compete in the disciplines which included: sprint hurdles, 200m, 800m, high jump, long jump and shot.
For many it was a new challenge and a different experience competing in events that they are not familiar to. A handful of Dyfed schools athletes took part and each one gave it their best. Standout performance to note is the under 15 girls High Jump where Lili Church cleared a massive 1.65m to put her 4th in the UK rankings. Also Beca Roberts, following consistent performances finishing in individual bronze medal spot. (coach Dorrien Thomas)
Team wise Dyfed filled second place in both the under 15 girls and boys categories.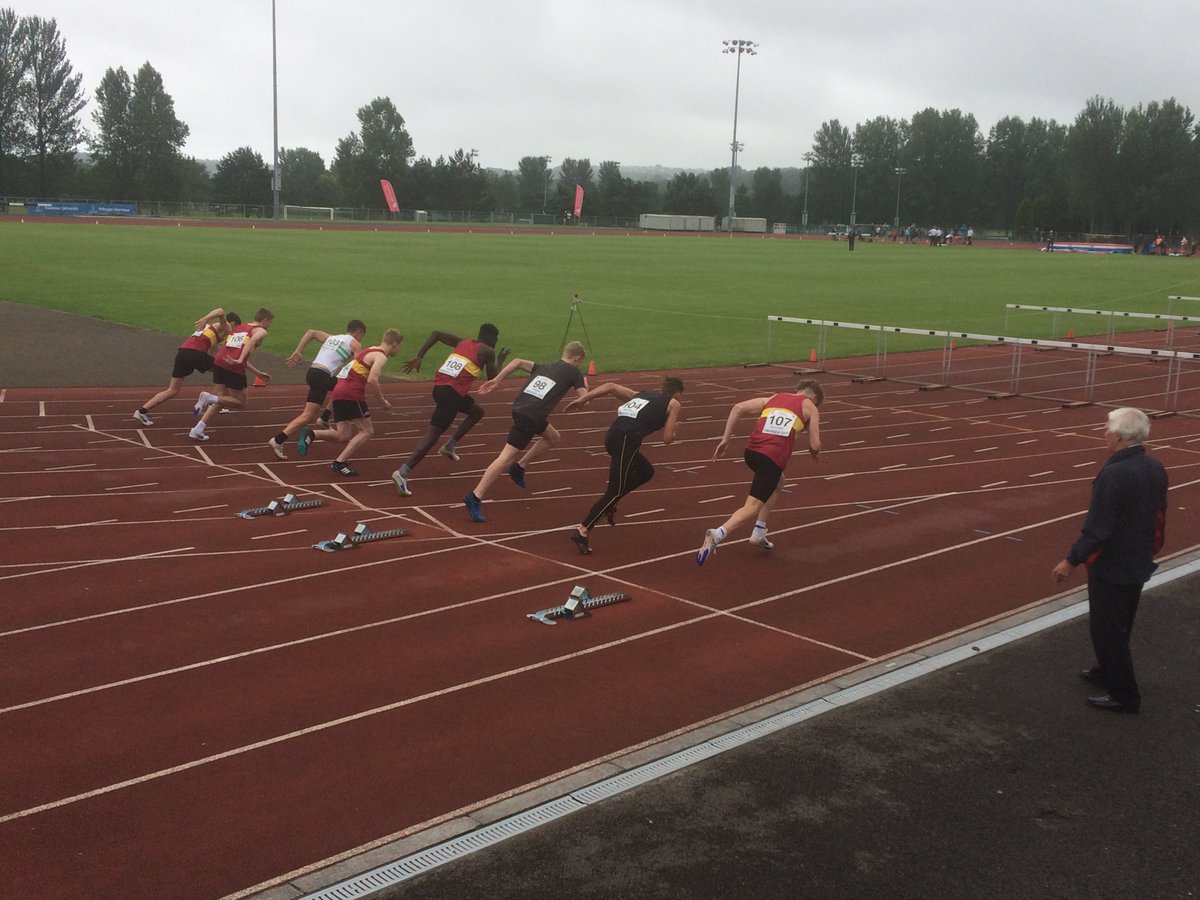 The team was made up of Llanelli, Pembrokeshire and Carmarthen club athletes including 4 from the Harriers. Their results are listed below and will be ready to try again in the coming seasons.
Dafydd Waters - U15 Boys (14th) 80m Hurdles: 15.67 800m: 2.41.05 Shot: 6.78m Long Jump 3.75m High Jump: 1.14m
Zara Evans - U13 Girls (7th) Shot: 5.75m Long Jump: 4.22m 75m Hurdles: 14.08 800m: 3.02.99
Beca Roberts - U15 Girls (3rd) Long Jump: 4.81m Shot: 6.42m High Jump: 1.41m 75m Hurdles: 13.07 800m: 2.33.36
Lili Church - U15 Girls (7th) Long Jump: 4.28m Shot: 8.50 High Jump: 1.65m 75m Hurdles: 13.23 800m: 3.38.26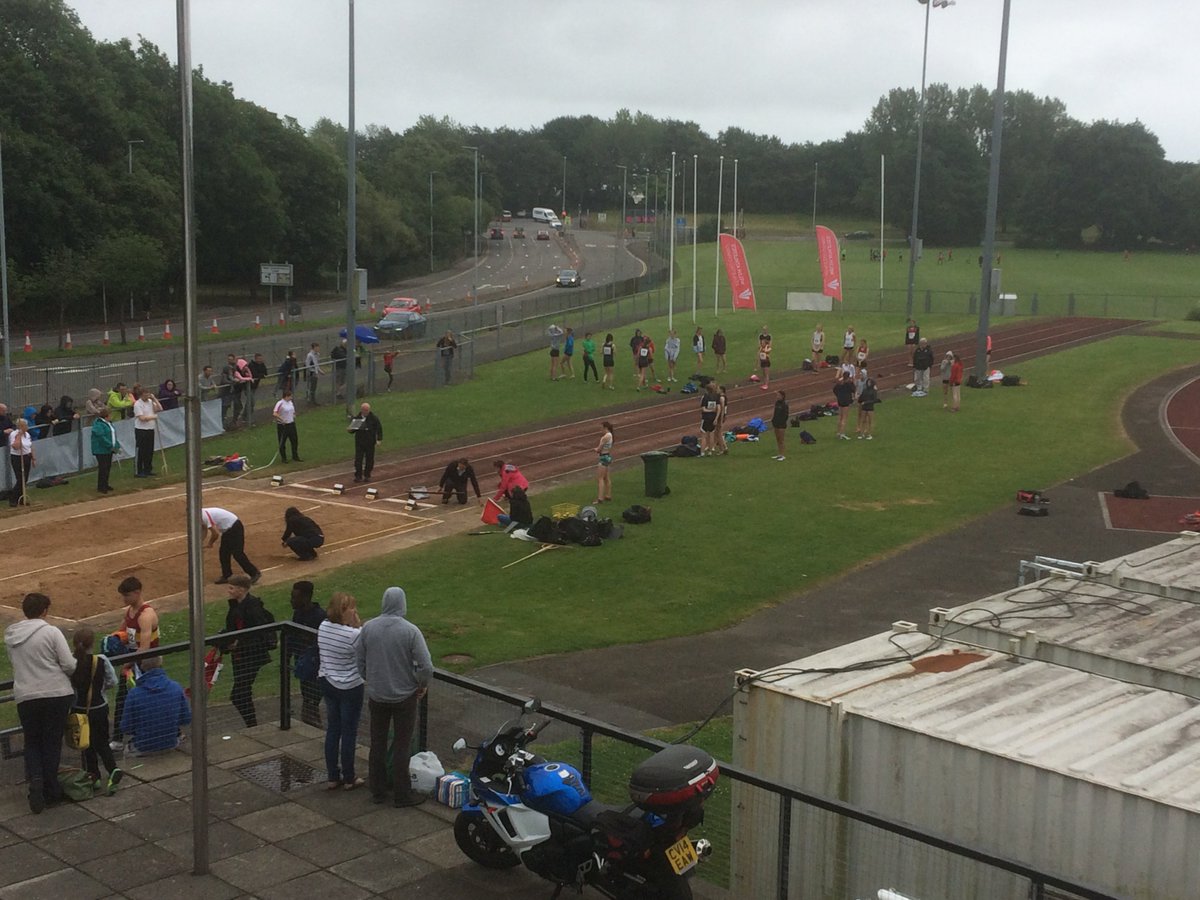 World Youth Cup Mountain Running Championships 24.06.17: West Wales runners were represented at the World Youth Cup Mountain championships which took place in Gagliano Del Caprio, Italy on Saturday 24th June. Carmarthen Harriers athletes Thomas Jones, Iestyn Williams and Ellie Kiff (all under 17s) were selected to travel where they competed for Wales in the youth cup. This year's event saw another 15 countries involved taking part over the gruelling up and down course.
The event was a good opportunity for the 16 & 17-year-old athletes to compete on an international stage against athletes of a similar age, this will also prepare them for the next stage which is aiming for the Great Britain team and honours on a European and World Stage. The girls race consisted of an up and down two lap course of 3850m (250m up, 130m down). The boys race consisted of an up and down three lap course of 5300m (340m up, 220m down). Humidity levels were predicted to be high at the event and team managers Arwel Lewis & Delyth Brown highlighted that the trip was beneficial to all athletes involved.
Young Development League U17, U20 Premier Division 25/06/17: On Sunday, after two long journeys into England, this time the journey time was closer to home at Cardiff International Sports Stadium for the third round of the Young Development League Premier Division match including Team DC, Avon, Cardiff, Swansea, Cheltenham and WW (featuring Pembrokeshire, Carmarthen, Neath, Llanelli & Sarn Helen teammates)...and what a day it turned out to be. With great team spirit on and off the track, the youngsters secured their best result of the season finishing in 2nd overall behind the host club with 621.3 points. It's now onto the UK South/West promotion match in a few weeks time!
Carmarthen Results: Trystan Leech 800m (2.19.93) William Edwards High Jump (1.95m) Sam Bleach Hammer (20.45m) & Javelin (39.65m) Zak Daly 200 (25.44) Callum Lovatt 800m (2.17.96) Gareth Thompson 1500m (4.37.86) Ben Thomas 400m Hurdles (61.35) & 1500SC (4.48.12) Joe Worrall Shot (7.17m) & Discus (46.01m) Rhun Edwards 4 x 100m Relay Olivia Haines 200m (28.02) & Triple Jump (9.92m) Megan Rowe 400m (63.76) Lauryn Davey High Jump (1.55m) & Shot (9.38m) Amy Evans Javelin (29.44m) Alicia Samuel 100m (12.83) Celyn Williams 100m (13.46) & 300m (43.57) Grace Page 800m (2.54.43) & 1500m (6.03.27) Eva Edwards 800m (2.35.64) Cerys Davies 3000m (12.59.26) Danielle Jones Shot (10.13m) & Discus (32.93) Good effort all round!
Swansea Half Marathon 25.06.17: The streets of Swansea City Centre were full of runners, close to 5,000 of them as the 2017 JCP Swansea Half Marathon Road Race took place leaving in the middle of the city centre and heading down Oystermouth Road to the Mumbles before heading back on the promenade overlooking some great scenery. It was no surprise to see the local Llanfynydd athlete Dewi Griffiths winning the overall race again retaining the title he won last year - in a time of 1.04.49. Llongyfarchiadau mawr Dewi o bawb yn y clwb!
Elsewhere, three of the Harriers senior members who in action taking in the race day atmosphere, congratulations to the three.
Sharon Leech F45 (1.29.38) Vince Bailey M40 (1.36.06) and Lisa Forrest F35 (2.02.45)
ISSF World Championships: Emily Shawyer at the age of 15 was the youngest member of the British team competing at the ISSF Target Sprint World championships at SUHL Germany at the weekend and had fantastic results in all 3 events she participated in; Individual junior up to 21 - Qualified 2nd to the world juniors and broke the British record and a personal best (5.45.6) Then in the women's team open she was 4th with another British record. Finally in the mixed pairs (no age limit) she was 4th securing a third record of the day, she now goes forward to compete in the world junior championships.
Also...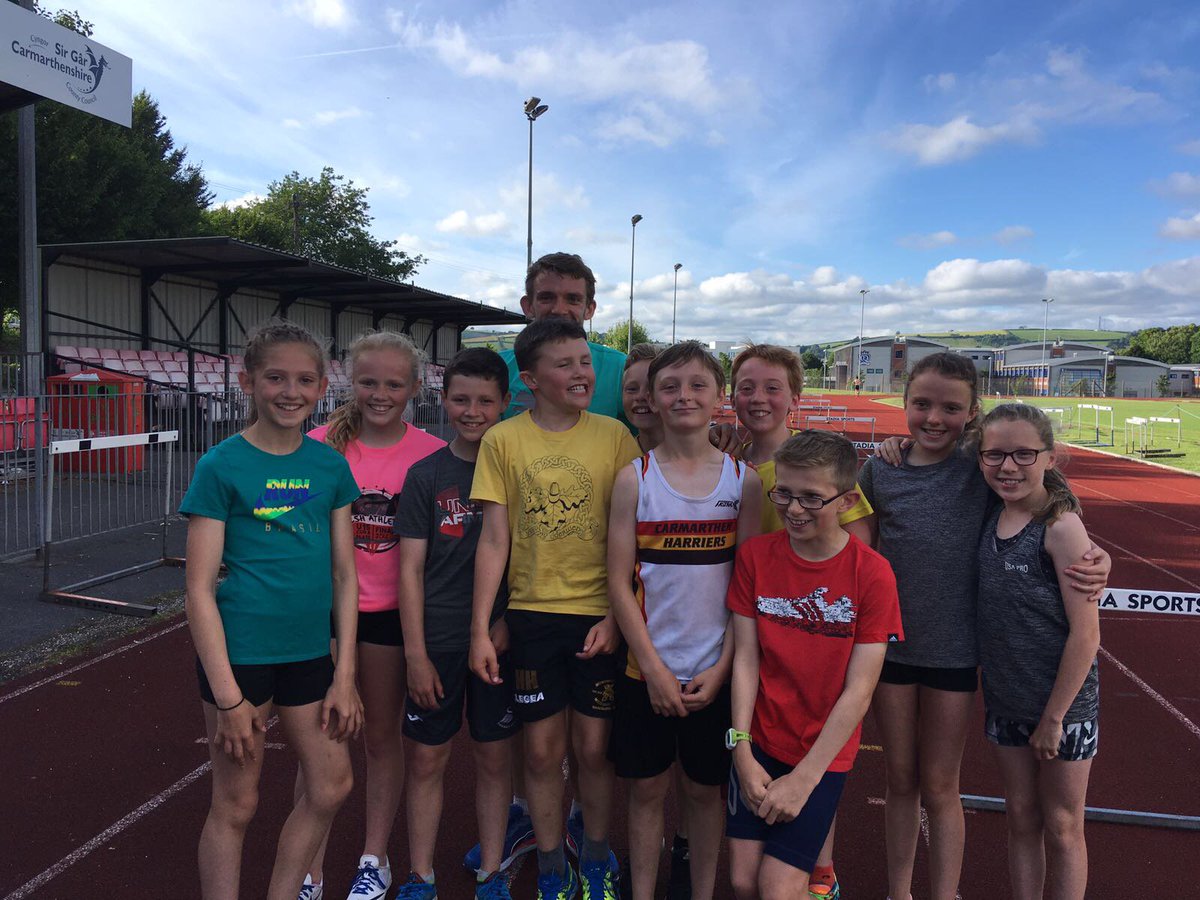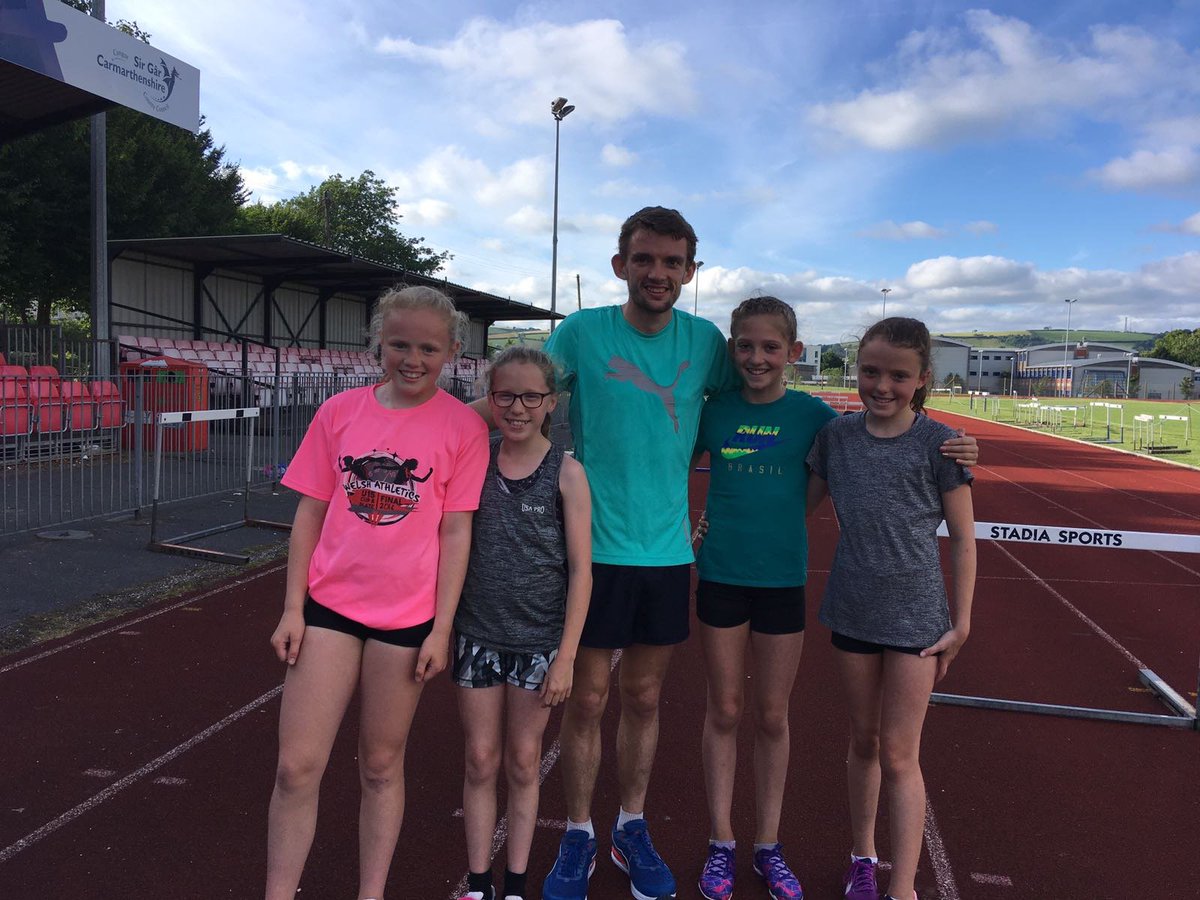 Speaking of Griffiths (Dewi) he was down the track last Thursday evening with coach (& club president) Kevin Evans preparing for Sunday's half marathon. In the middle of his training for the weekend's road event, he kindly stopped with some of the younger children in Johnstown for a photo! #localfavourite