Written by Nathan Jones
Wednesday, 14 June 2017 23:54
DYFED PRIMARY 2017 Full Round-Up from Johnstown: Our Coverage from tonight's Dyfed Primary Schools as the summer athletics season continues in West Wales! / Ein Darlleniad ni wrth i dymor athletau ysgolion barhau yng Nghorllewin Cymru!
Dyfed, one of the eight districts within Welsh Athletics, held the popular Dyfed primary schools athletics fixture at Carmarthen last Wednesday sponsored by McDonalds and the Rotary Club of Carmarthen, which again delivered as they turned up in their hundreds.
Fe wnaeth Dyfed, un o wyth ardal o fewn Athletau Cymru, gynnal Bencampwriaeth athletau ysgolion Cynradd Dyfed yng Nghaerfyrddin nos Fercher dwethaf. Unwaith eto, wnaeth darparu gannoedd o bobl ir digwyddiad.
Following excellent numbers at the Dyfed cross country edition at the Carmarthen United Showground back in March, attention turned to the track and field athletics which continues to go from strength to strength.
On a pleasant, warm and sunny evening in West Wales after a rather wet and windy weekend, the 30th annual event attracted an impressive number of just under 400 athletes and hundreds of spectators from Pembrokeshire, Carmarthenshire and Ceredigion primary schools. These championships have grown every year since Hedydd Davies Carmarthen Harriers Chairman organised the first event twenty seven years ago in 1990.
The schools athletics season here in Dyfed continued with the annual Midweek Dyfed Champs in Carmarthen as approximately 45 schools from across the three areas attended. Once again the track was full, car park packed and food was quickly sold, with plenty of local talent out on show watched on by family and friends. The event programme included a series of 14 events in total and saw the championships go on until late with the presentations finishing just after 20:00, three hours after action had got underway. The 100m & 800m were certainly races that turned out to be popular with a number of heats having taken place, with 35 heats, 6 finals, 2 time trials and 6 field events having been completed in good time.
The West Wales Athletics Network Officer Andrew Jenkins said: "A fantastic evening of athletics at the Dyfed primary championships on an ideal evening for holding an outdoor sporting event. Well done to all pupils, teachers and officials who participated and contributed towards a successful meeting. From our point of view, the aim is that school competitions will hopefully gain experience and attract children to join athletics clubs from the talent that is shown, with the potential for many to progress further in the future."
The winners this year for 2017 was Ysgol Y Dderwen, the Carmarthenshire schools athletics champions last month, scoring 49 points and finishing off in style with both teams in the relay final. Ysgol Aberaeron were rewarded for their long journey down south with a second place finish (26). Not far behind were familiar top placing schools: Ysgol Iau Llangennech with 24, Griffith Jones (21) and Gymraeg Rhydaman (20) It was good to see a total of 30 schools scoring after good results that was produced during the evening from the young runners and field jumpers/throwers.
Special Guests were on hand to help with the presentation of awards to the top 3 in each event with a good crowd staying on as darkness fell to cheer the athletes who made it onto the podium. Presentations were made by the following: Cllr Irfan Jones Chairman of Carmarthenshire County Council, Cllr Phil Grice Sheriff of Carmarthen, Raja the President of the Rotary club of Carmarthen and Lynette Harries President of Welsh Athletics who were all impressed with the turn out and the standard of the competition.
As usual, volunteers played a huge part in supporting the competiton and organisers would like to thank everyone who helped in any way to ensure that the Wednesday evening event was once again a high quality occasion with great performances and team spirit all round - from the Welsh Athletics and schools event officials to the ones behind the scenes including on refreshments, results and first aid.
Carmarthen Harriers Social Media & Press Officer Nathan Jones added: "it is great to see so many schools and children supporting the events arranged by the club in Dyfed and West Wales, as were evident with the large number of visitors at the recent Carmarthenshire and Dyfed championships. For the last 25 years, athletics meetings have been arranged in Carmarthen to give young people the opportunity to compete and to find the stars of the future. Whatever their ability, the evenings programme was open to everyone in the district to get involved in running while enjoying the race day atmosphere supported from the side-lines by friends, teachers and families. It is also encouraging to see the local press and social media taking continued interest in athletics across all levels in Wales."
Dyfed schools host the annual primary schools match with West Glamorgan on Thursday 13th July in Carmarthen (5.15pm) and the team have been selected - the first three in the Dyfed championship along with 1 other to be chosen and notified soon - following the staging of the Welsh NAS/UWT Track and Field Cup and Plate competitions at the Brecon athletics track earlier that day, where the best secondary teams from the eight districts (Afan Nedd Tawe, Cardiff & Vale, Dyfed, Powys, South East Wales, North East Wales, Eryri and Glamorgan Valleys) will battle it out to be crowned Welsh schools champions (12 noon)
Excellent effort by everybody and thanks for your support (parents, teachers, athletes) - well done / da iawn! Pick up your copy of the newspaper next week, where coverage from this year's Dyfed Athletics should be included.
Enjoyed the championships at Carmarthen? Another opportunity to enjoy the fun with the Ammanford Junior Fun Run on June 28th
Girls 70m Hurdles
1. Fiona Allen (St Florence)
2. Maisie Williams (Griffith Jones)
3. Julia Dabrowska (Richmond Park)
Boys 70m Hurdles
1. Harri Howells (Y Dderwen)
2. Jake Lewis (Bro Pedr)
3. Osian Roberts (Carreg Hirfaen)
Girls 100m
1. Keira Carmody (Model)
2. Megan Roberts (Gorslas)
3. Sophia Reid-Thomas (Llangynnwr)
Boys 100m
1. Llew Vardill (Y Dderwen)
2. Tiaan Sparrow (Gymraeg Rhydaman)
3. Shivo Hinds (Y Bedol)
Girls 800m
1. Bethan Adams (Iau Llangennech)
2. Lucy Wintle (Hafan Y Mor)
3. Erin Morgan (Y Dderwen)
Boys 800m
1. Ifan Bowen (Y Dderwen)
2. Jack Thomas (Richmond Park)
3. Rhys Jenkins (Aberaeron)
Girls 4 x 100m Relay
1. Bigyn
2. Llangynnwr
3. Iau Llangennech
Boys 4 x 100m Relay
1. Y Dderwen
2. Gymraeg Rhydaman
3. Tenby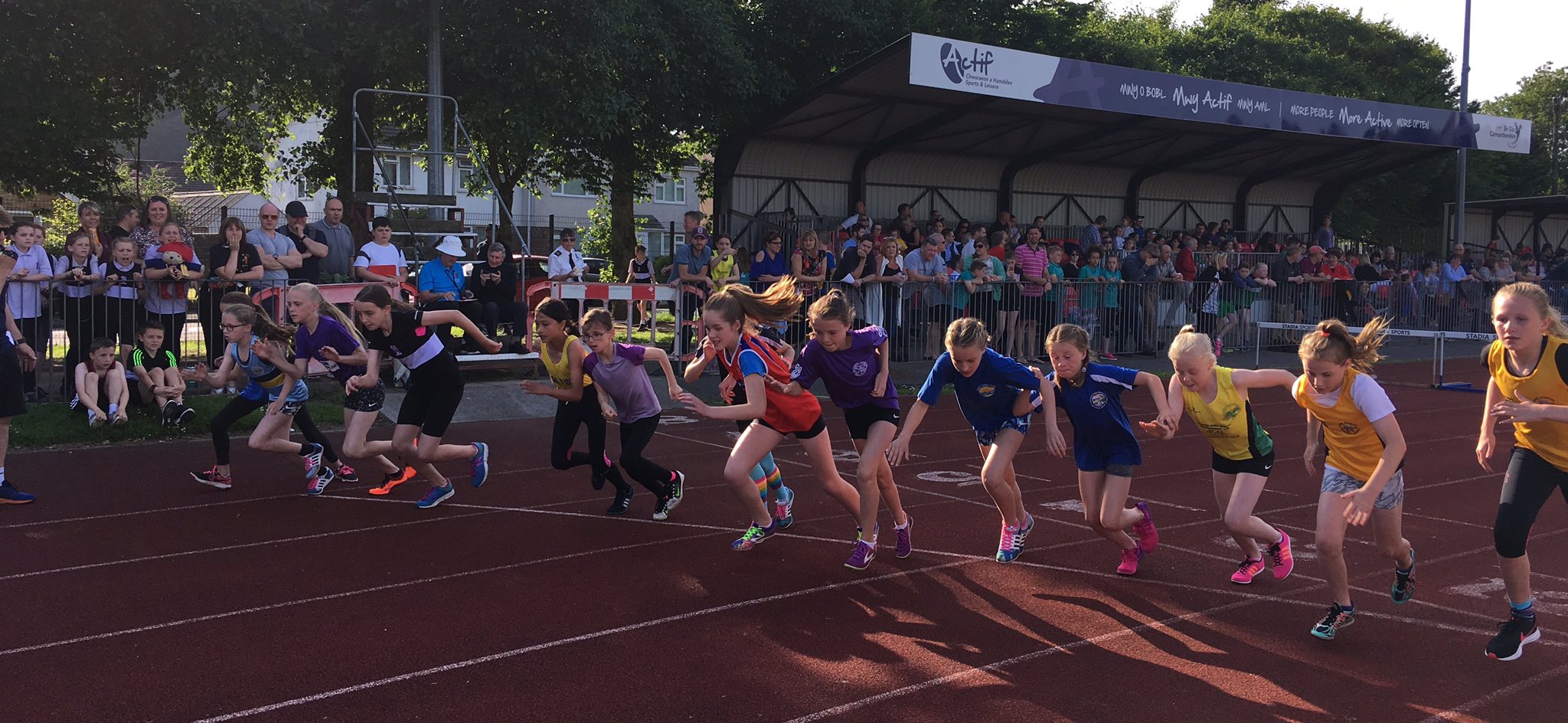 Girls High Jump
1. Hannah Forkuh (Bigyn)
2. Freya Evans (Griffith Jones)
3. Eleanor White (Roch)
Boys High Jump
1. Dion James (Y Dderwen)
2. Jake Williams (Griffith Jones)
3. Ceri James (Penygaer)
Girls Long Jump
1. Jessica Lee (Llys Hywel)
2. Hanna Evans (Y Ddwylan)
3. Mel Allen (Hafan Y Mor)
Boys Long Jump
1. Oscar Miles (Tenby)
2. Morgan Evans (Griffith Jones)
3. Ioan Mutter (Lamphey)
Girls Shot
1. Julia Makejew (Templeton)
2. Lowri Jones (Aberaeron)
3. Ffion Davies (Saron)
Boys Shot
1. Tomos Phillips (Gymraeg Rhydaman)
2. Casper Kracewich (Bro Pedr)
3. Jenson Lloyd (Aberaeron)
Dyfed Primary Schools Athletics Championships - Carmarthen - Wednesday 14 June - Results/Canlyniadau
Boys and Girls Results / Canlyniadau Bechgyn a Merched
Overall Result / Canlyniad Terfynol
More Photos Available on our Facebook & Twitter Pages, take a look at more items and follow the latest weekly.
@CarmsHarriers